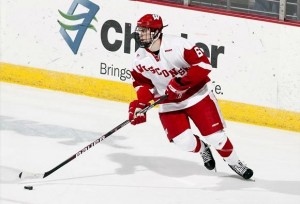 Defenceman Justin Schultz was originally drafted in the second round by the Anaheim Ducks in 2008, 43rd overall. He was highly touted back then, but still something of a raw talent. After being drafted he spent the next three years with the University of Wisconsin in the NCAA where he blossomed as a defenceman, scoring 40 goals and 113 points. His progress impressed many scouts, who considered him to be the best blueliner not playing in the NHL. Everyone had heard that line before, with players like Fabian Brunnstrom, Matt Gilroy and Jonas Gustavsson. None of those players panned out to their high expectations, but scouts say Schultz is in a different category. Unlike the other three, Schultz was drafted into the NHL. He wasn't a late bloomer, he was a prospect that has continued to get better. That high regard led the Ducks to be very confident they had a real gem in their system. So confident in fact, that they were able to trade Schultz's college defensive partner Jake Gardiner to the Toronto Maple Leafs.
But for whatever reason, the Ducks and Schultz couldn't come to terms on a contract, meaning he was slated to become a free agent once he left school. The Ducks had an exclusive window to try and negotiate a deal, but it seemed evident that Schultz wanted to go elsewhere. The Ducks, obviously, aren't too happy with the situation, but thanks to a clause in the CBA, Schultz had every right to explore his options after not signing a contract in Anaheim. Much to the Ducks dismay, their prized d-man tested the market, and it caused one of the biggest hoopla's the NHL has seen in recent years. As many as 26 NHL clubs presented offers to Schultz in hopes of convincing him to play for their team. Because all he could earn was an entry level contract, it was all about the destination, not the money. So teams gave their pitches, and the hockey world waited with bated breath as a 21 year old who had yet to play a game in the NHL weighed his options.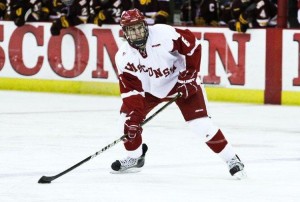 Now Schultz drew a lot of criticism for "holding teams hostage" as he made his choice, but the reality is that it was his right. He didn't sign a contract with the team that drafted him, and the appropriate time had passed for him to become a free agent. The media created a circus around him, and then questioned his character as the charade went on. Though the Ducks are the ones who really lost out, Schultz didn't break any rules. Sure, he hasn't earned anything yet. He hasn't proved himself, he hasn't shown he can be effective at the NHL level. But, media hype created a monster, and a weak free agent pool caused teams to do everything they could to land the young stud defenceman. And his decision? The future powerhouse Edmonton Oilers.
A British Columbia native, Schultz clearly wanted to play hockey in a northern climate, as his final choices were thought to be Edmonton, Ottawa, Minnesota and Vancouver. He saw a team loaded with young potential, a team on the rise who desperately needed his services, and the choice was made. The Oilers have their prized defenceman. Now many are left wondering, will he live up to the hype? Will Schultz be worth all the fuss? It will be difficult considering how much has been swarming around him. But one thing can't be denied: Schultz is talented. The Oilers are hoping that he can be that piece they are missing to take the next step forward. For them, it's not about living up to the hype, but rather continuing to develop so he can help this team. His character has been trashed, probably unfairly, but he seems to be a good kid. Based on this comment, he doesn't think anything else will be handed to him:
"It was awesome when I met him [coach Ralph Krueger] and I'm really excited to hopefully get the opportunity to play for him," said Schultz. (CBC Sports)
Hopefully get the opportunity. The decision drama is over. Now it's time to earn it.
Marcy, a former hockey player, is a hockey correspondent on CTV News and TSN radio. She began her career as a Sports Journalist in 2009 and has been part of The Hockey Writers since 2010, where she is currently a senior writer and editor.