As the Ontario Hockey League prepares to open its 38th season, Commissioner David Branch and the twenty competitive teams realize the opportunity for increased marketability and competiveness with an increasing likelihood of the National Hockey League entering another lockout. It has been a rather busy and frustrating summer for Branch and the 30 Canadian Hockey League franchises as they have been forced to deal with a possible introduction of the CHLPA (Canadian Hockey League Players Association). Fortunately, even with the distraction of the CHLPA front-and-centre, the imminent start of the 2012-13 OHL season will soon give fans something positive to talk about and, more importantly, satisfy their hockey cravings.
The OHL has been one of the top development leagues for the National Hockey League for several decades and it stands to benefit significantly if the NHL enters into another lockout under Commissioner Gary Bettman. At the 2012 NHL Entry Draft, eleven names from the OHL were called in the opening round including two of the first three picks in Sarnia's Nail Yakupov (1st, Edmonton) and Alex Galchenyuk (3rd, Montreal). Over the past few seasons, the trend of drafted players stepping right into the lineup has become more common allowing many of the top junior aged players to graduate from their OHL teams. First overall selection, Nail Yakupov, has dominated the league over the past few seasons and if NHL action is put on hold then it is expected that Yakupov will return to his hometown in Russia and play in the Kontinental Hockey League (KHL). Sarnia Sting GM Jacques Beaulieu knew last year that his team would be without the services of Yakupov. However, Montreal Canadiens' 3rd overall selection, Alex Galchenyuk, is a different story. Limited to a handful of games last year due to injury, Alex Galchenyuk will return to the Sarnia Sting and lead his team using another season of major junior to strengthen his knee and showcase his elite hockey skills. As a top pick, Galchenyuk was expected to contend for a roster spot with the Canadiens but due to the potential work stoppage and his lost year of development Galchenyuk would be one player to benefit from returning to the OHL.
Under normal circumstances (no lockout), players are permitted to compete in the American Hockey League (AHL) if they turn 20-years of age by December 31st of that season or have exhausted their four years of major junior eligibility. For example, Ryan Strome is ineligible to play in the AHL as he will not turn 20 until next July and has only completed three OHL seasons. On the other hand, a player such as Brandon Saad does not have to return to the OHL as he will turn 20 in late October deeming him eligible to compete for Chicago's affiliate, Rockford IceHogs. Every team stands to benefit from an NHL lockout by welcoming back their top talents but several notable franchises could receive massive boosts including Niagara Ice Dogs (Ryan Strome, Dougie Hamilton), Kitchener Rangers (Radek Faksa, Tobias Rieder, Ryan Murray), Barrie Colts (Mark Scheifele, potentially Tanner Pearson) and the Sarnia Sting (Alex Galchenyuk, Connor Murphy). Obviously, none of the aforementioned OHL star players are guaranteed to return but in the event of a lockout their chances improve dramatically and the entire OHL will benefit.
To kick-start the 2012-13 OHL Season, I have devised my pre-season predictions (broken down into several parts) including leading scorers and final standings, based on the understanding that an NHL lockout will occur. With less than two weeks until the puck drops on the OHL season, plenty of changes can certainly take place but based on several OHL camp and exhibition viewings, here is how things could unfold.
OHL WESTERN CONFERENCE
1st Kitchener Rangers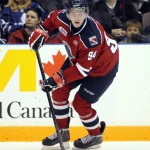 With the potential return of Radek Faksa (Stars), Ryan Murphy (Hurricanes) and Tobias Rieder (Oilers), the Kitchener Rangers will be a force to be reckoned with. If those three impact players aren't enough, Matt Puempel (Senators), Matia Marcantuoni (Penguins), Ben Thomson (Devils) and goaltender John Gibson (Ducks) will surely make the Kitchener Rangers one of the heavy favourites to win the Western Conference. The Rangers are deep with experienced talent from top to bottom and have some promising young players in Josh Sterk, Brent Pedersen, Justin Bailey, Matt Schmalz and Darby Llewellyn to add more offensive fuel to the fire. Steve Spott went from having zero overage players to filling his three OA spots in less than a few days acquiring veterans Domenic Alberga (from Sarnia), Jeff Braithwaite (from Windsor) and Nick Czinder (from Windsor) adding key role players to his squad.
Top Scorers: Radek Faksa, Ryan Murphy, Tobias Rieder
First Year Players to Watch: Justin Bailey, Matt Schmalz, Darby Llewellyn
2nd Plymouth Whalers
Always a contender, Plymouth will return a star-studded roster for the upcoming season including as many as eleven NHL-drafted players including Rickard Rakell (Anaheim Ducks), JT Miller (New York Rangers), Stefan Noesen (Ottawa Senators), Tom Wilson (Washington Capitals), Garrett Meurs (Colorado Avalanche), Mitchell Heard (Colorado Avalanche), Cody Payne (Boston Bruins), Connor Carrick (Washington Capitals), Simon Karlsson (Nashville Predators), Gianluca Curcuruto (Columbus Blue Jackets), and goaltender Matt Mahalak (Carolina Hurricanes). The Whalers are also expecting a big season from 2013-draft-eligible Ryan Hartman, who has been extremely impressive in pre-season action. Besides the tremendous NHL drafted talent, Plymouth will continue to rely on overager Alex Aleardi and rookies Zach Bratina and Thunder Bay native Connor Sills for scoring as the Whalers send out endless waves of offensive attacks.
Top Scorers: Stefan Noesen, Alex Aleardi, JT Miller, Rickard Rakell
First Year Players to Watch: Zach Bratina, Connor Sills
3rd London Knights
The defending J. Ross Robertson Cup winners (OHL Champions) will remain a Western Conference powerhouse through immaculate drafting and player development. The Knights have lost some key pieces from their championship squad including 2011-12 OHL Player and Goaltender of the Year Michael Houser (signed with Florida Panthers), Russian import Vladislav Namestnikov (Tampa Bay Lightning), alternate captain Jared Knight (Boston Bruins), playoff MVP Austin Watson (Nashville Predators), Greg McKegg (Toronto Maple Leafs) and captain Jarred Tinordi (Montreal Canadiens). Fortunately, the Hunter brothers have created a competitive environment in London and several key players are ready to thrive under the spotlight. The offense will be led by Seth Griffith (Boston Bruins), Chris Tierney (San Jose Sharks), Josh Anderson (Columbus Blue Jackets), Matt and Ryan Rupert (Toronto Maple Leafs), newly drafted Alex Broadhurst (Chicago Blackhawks), Bo Horvat (2013), and Max Domi (2013) – the latter three should rise to OHL stardom this season. On the blue line, the loss of Tinordi is replaced by the addition of 6'5" Russian Import Nikita Zadorov as he joins Pittsburgh Penguins prospects Olli Määttä and Scott Harrington. There are a lot of players to like on the London Knights and they will battle with the Rangers for first place in the Midwest Division and Western Conference.
Top Scorers: Seth Griffith, Max Domi, Bo Horvat, Ryan Rupert
First Year Players to Watch: Alex Broadhurst, Remi Elie, Nikita Zadorov, Miles Liberati
4th Owen Sound Attack
Just a few years removed from their OHL Championship, the small market team in Owen Sound appear ready to challenge the powerhouse teams in the Western Conference. Coach Greg Ireland has an extremely deep roster made up of hard-working gritty players. The Attack have lost leading scorer Michael Halmo and starting goaltender Scott Stajcer (New York Rangers) but have the talent to replace these impact players. Led by Daniel Catenacci (Buffalo Sabres), Owen Sound will call upon Gemel Smith (Dallas Stars), Joseph Blandisi (Colorado Avalanche), Artur Gavrus (New Jersey Devils), Cameron Brace, Zach Nastasiuk (2013), and hopefully injured Jarrod Maidens (Ottawa Senators) can return to boost this team. Hard-working rookie Jaden Lindo should fit perfectly into the Attack's lineup with his high compete level and ability to play responsible in all three zones. On defense, look for 2013-draft eligible Chris Bigras to make significant strides joining Jake Dotchin (Tampa Bay Lightning) and Kyle Hope as offensive options on the backend. Acquiring Nathan Chiarlitti, a veteran leader, earlier last week from Sarnia will have a positive trickle-down effect through this lineup as he serves as a great mentor to freshman Jacob Middleton.
Top Scorer: Dan Catenacci, Gemel Smith, Artur Gavrus
First Year Players to Watch: Jaden Lindo, Jacob Middleton
5th Guelph Storm
The Storm surprised many by making playoffs and pushing the Plymouth Whalers in the opening round. Entering the 2012-13 season, Coach Scott Walker has a team plastered with NHL talent including forwards Scott Kosmachuk (Winnipeg Jets), Tanner Richard (Tampa Bay Lightning), Brock McGinn (Carolina Hurricanes), defensemen Matt Finn (Toronto Maple Leafs), Andrey Pedan (New York Islanders) and goaltender Garret Sparks (Toronto Maple Leafs), who has shown great poise and improvements over the past year. If that wasn't enough, Jason Dickinson, Hunter Garlent and Tyler Bertuzzi are fantastic prospects for the upcoming 2013 NHL Draft and will received increased roles. For Guelph Storm fans, the biggest excitement might come the way of some exceptional rookie talent as Robert Fabbri, Brody Milne and Kyle Locke look poised to become great OHL players. Specifically, Fabbri is a tremendously hard working skilled forward who can skate, pass and score with the OHL's best and he should make an immediate impact and contend for top rookie honours.
Top Scorers: Zack Mitchell, Scott Kosmachuk, Tanner Richard
First Year Players to Watch: Robert Fabbri, Brody Milne, Kyle Locke
6th Sarnia Sting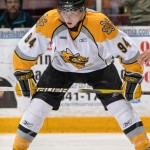 The Sarnia Sting are coming off a disappointing 2011-12 season after being eliminated in the opening round by Saginaw crushing their high expectations. Losing Nail Yakupov will certainly hurt but with a more team-oriented offensive and defensive approach, Sarnia could surprise and actually improve on last season's point totals. The team's success depends largely on the health of JP Anderson in net (huge boost) and whether management decides to unload several key talented players (Alex Galchenyuk, Reid Boucher, Charlie Sarault and/or Connor Murphy) mid-way through the season to maximize their assets. Sophomores Anthony DeAngelo, Reid Boucher, and Connor Murphy are poised to take the next step to OHL stardom while newcomers Bryan Moore, Davis Brown and import picks David Nemecek and Nikolay Goldobin are eager to introduce themselves to the OHL. It should be an interesting season in Sarnia as the team weighs athe pros and cons of entering into a quick rebuild.
Top Scorers: Alex Galchenyuk, Charlie Sarault, Reid Boucher
First Year Players to Watch: Bryan Moore, Davis Brown, Alex Renaud, Brett Hargrave, David Nemecek
7th Windsor Spitfires
Looking to put an offseason filled with fines and penalties behind them, Windsor prepares for a season in which a young team should remain fairly competitive in spite of losing their superstar forward Alexander Khokhlachev. Headed towards the 2013 NHL Draft, Kerby Rychel looks poised to lead this Spitfires' team in scoring for the second straight year and catapult him to the top of 2013 NHL Draft lists. Rychel will be joined by Windsor's 5th overall selection in dynamic forward Joshua Ho-Sang, who has been dubbed one of the most-dangerous '95-born players. Troubled with injuries in his freshman year, draft-eligible forward Jordan Maletta is a big bodied forward looking to cash in on his impressive potential. After being drafted to the NHL last season, Brady Vail (Montreal Canadiens), Ben Johnson (New Jersey Devils), Michael Clarke (Colorado Avalanche), Patrick Sieloff (Calgary Flames) and Nick Ebert (Los Angeles Kings) will form the backbone of this Spitfires squad. Specifically, Johnson and Vail showed good improvements in Spitfires camp and defenseman Nick Ebert looks revitalized showcasing his tremendous talents that once had him labelled a potential top-10 pick. Goaltender Pavelka and DeKort (who impressed me) should provide the stability in net to lead Windsor to a playoff placing in the extremely difficult Western conference.
Top Scorers: Kerby Rychel, Ben Johnson, Brady Vail
First Year Players to Watch: Joshua Ho-Sang, Ryan Verbeek, Patrick Sanvido, Jordan DeKort
8th Erie Otters
After finishing dead last in the OHL with a mere 10 wins, the Erie Otters made significant off-season strides to improve their squad and with that comes bigger expectations. Connor McDavid, the second player to be granted exceptional status in as many years, will give the Otters a bonafid star player to build around. Adding Columbus Blue Jackets second round selection, Oscar Dansk, via the CHL Import Draft will provide Erie with a tremendous goaltender to play in front of. Not to mention, Erie Otters received Dane Fox from the London Knights last season and he will add leadership, skill and toughness in his first full season with the Erie Otters. Maple Leafs' prospect Connor Brown and sophomore Stephen Harper look to help improve the Otter's offensive struggles after scoring a league worst 169 goals. Unfortunately, Erie's 338 goals against was by far the nastiest as well (Kingston's 290 was 19th) last season but those numbers should improve with more experience from Islanders' prospect Adam Pelech and towering 6'7" defender Troy Donnay. The Erie Otters stand a chance to make the playoffs but in a competitive Western Conference, it will be a tough challenge.
Top Scorers: Connor McDavid, Connor Brown, Dane Fox
First Year Players to Watch: Connor McDavid, Oscar Dansk, Justin Felker, Hayden Hodgson, Kyle Pettit
9th Sault Ste. Marie Greyhounds
Make no mistake, the competition for the fifth through eighth spots in the Western conference is extremely stiff and these two listed non-playoff teams could easily displace one of the above-mentioned squads. Attempting to put an end to a third consecutive non-playoff finish, the Soo Greyhounds enter the season with more optimism. Goaltender Jack Campbell (Dallas Stars) has graduated and handed the reins to the very capable Matt Murray (Pittsburgh Penguins). Nick Cousins (Philadelphia Flyers), Andrew Fristch (Phoenix Coyotes), David Broll (Toronto Maple Leafs) and Michael Schumacher (Los Angeles Kings) are the key experienced fixtures up front, however, the former two players are in some legal troubles from this offseason leaving their availability uncertain. Rookie and top Greyhounds' draft pick, Jared McCann, will be a welcomed addition in Sault Ste. Marie as he has tremendous vision, a hard accurate shot and owns an incredibly smart hockey mind. After posting 5 points in 34 games last season, 2011 1st round selection Mitchell Dempsey looks to have a strong second OHL campaign to market his game in hopes of becoming drafted at the 2013 NHL Entry Draft. The Greyhounds' biggest question mark is on the blue line as veterans Ryan Sproul (Detroit Red Wings) and Colin Miller (Los Angeles Kings) will be joined by a young group of defenders in Alex Gudbranson, sophomore Darnell Nurse (2013) and freshman Kevin Spinozzi (2014). The 'Hounds should battle hard with the Sting, Spitfires, Otters and Spirit for a playoff spot but it will not be easy in a tough West Division.
Top Scorers: Nick Cousins, Andrew Fristch, Michael Schumacher
Wildcard Rookies: Jared McCann, Kevin Spinozzi, Dylan Mascarin
10th Saginaw Spirit
With 76 points in just 44 games, Brandon Saad (Chicago Blackhawks) posted the best point-per-game pace in the entire Ontario Hockey League last season earning him an emergency call up to the Chicago Blackhawk, where he didn't look out of place. For Saad, he is one of the few players eligible to play in the American Hockey League if a lockout occurs and one would have to believe that is exactly where the Blackhawks would like to see him. Much of the Spirit's 2012-13 success depends on Saad's availability but if he is unable to return then look for Vincent Trocheck (Florida Panthers) to lead Saginaw in scoring for a second straight year.  Without Josh Shalla, Michael Fine and potentially Saad, Saginaw hopes that Eric Locke, Justin Kea, David Perklin, Nick Moultrey, Sam Povorozniouk, and Jimmy Lodge improve upon last season's totals.  The top rookie to watch is Toronto Marlboros standout Jeremiah Addison as he plays a fearless skilled game. Russian import picks Nikita Serebryakov (G) and Andrey Alexeev will be welcomed additions to Saginaw as well.
Top Scorers: Vincent Trocheck, Garret Ross, Eric Locke
Rookies to Watch: Jeremiah Addison, Dylan Sadowy, Nikita Serebryakov, Brandon Prophet, Andrey Alexeev
Next Up: Eastern Conference Predictions
Follow @RossyYoungblood on Twitter for OHL News