In George Eliot's novel, Adam Bede, Arthur, an Oxford boxer, says the following of his counterpart Adam (described as a 'big fellow'):
I could hit out better than most men at Oxford, and yet I believe you would knock me into next week if I were to have a battle with you.
While there have been many different variations on this saying over the years, the main thrust is that one could be capable of inducing such physical and mental damage on his victim that they are literally launched onto a new trajectory or altered state of progression. Such was the case on November 12, 2011, in a game between the Boston Bruins and the Buffalo Sabres, where this. just. happened:
Not only would the injury suffered by Ryan Miller and the relatively weak response from his teammates significantly alter the physical and mental state of the Sabres through the rest of the season, but this incident also clearly signaled a shift in philosophy in terms of how the team as a whole is to be constructed, resulting in several off season moves which will give the Sabres a new look whenever the puck drops in 2012-13.
Ryan Miller clearly was not happy with Lucic after the game, a frustration born not only out of a potential injury incurred by the hit (later confirmed by Miller as being a neck issue), but also perhaps by the fact that the response from his teammates was minimal at best. While Paul Gaustad attempted to make amends during the Sabres next game against the Bruins on November 23rd (to little avail), Buffalo's sabres appeared to have been quite dulled after the initial incident; they would win only 3 of the next 10 games (with Miller on the shelf), and even upon his return, the star goalie appeared to be quite far removed from the kind of stellar level of play he had demonstrated during the 2009-10 season.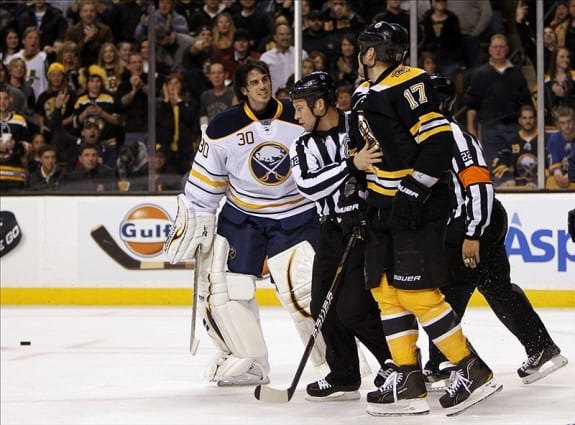 The team's collective psyche had clearly taken a hit as well, and after accumulating 20 points in 15 games through November 11th (3 points back of the conference lead), the Sabres would finish the year 9th in the East, 3 points out of the playoffs. To their credit, the team did make a late push for a playoff spot, but it was all too little, too late for this group; and as the summer has progressed, it's clear that Sabres management deemed it necessary to make some 'sizable' changes.
This shift began most noticeably at the 2012 NHL Entry Draft, where the Sabres drafted 5 centres of considerable stature in an attempt to add more size and depth at a position that greatly required a measure of both. Beginning with Mikhail Grigorenko & Zemgus Girgensons (drafted 12th & 14th overall respectively), and continuing later on in the draft with Justin Kea (3rd round, 73rd overall) & Logan Nelson (5th round, 133rd overall), Buffalo made great headway in terms of shoring up the C spot in the present and down the line, with a view to ensuring that the club would no longer be taken lightly at that position. The Sabres also added defenseman Jake McCabe (2nd round, 44th overall) who was paired with highly touted prospect Justin Schultz (EDM) last season at the University of Wisconsin, as well as the 6'4, 234lb Brady Austin out of Belleville (7th round, 193rd overall), whose size and skating ability could prove to be a boon for the club in the future should he be able to put it all together. Overall, the theme of the draft was clear – with all their top picks being listed at 6'+, and with an emphasis on adding depth at C, the Sabres sent out a message that they are building towards a more aggressive squad, one that is less easy to push around / ready & willing to get into dirty areas and involved in messy situations.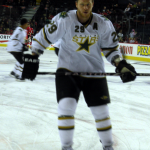 On July 2nd, the Sabres also upped their grit quotient by trading Derek Roy to the Dallas Stars for Steve Ott and Adam Pardy. Ott – who has amassed 1170 PIM over his career – is obviously no stranger to mixing it up, and has even been known to get into it with a coach or two along the way. He can also contribute in other areas of the score sheet as well (most notable in the face off circle, as he reminded us all on HBO 24/7), and should provide some experience and savvy up fron. Pardy has also demonstrated that he's more than willing to dance, particularly in the QMJHL where he put up over 300 PIMs in 2 full seasons in Cape Breton. And finally, to add insult to (potential) injury for future Sabres' opponents, Buffalo also brought in John Scott, he of the 6'8″, 270 lbs variety, with a 5 point to 236 PIM career ratio. Needless to say, Scott was signed less for his stick handling skills and more for his ability to stand up to the likes of Milan Lucic. In looking at his fight cards, it's clear that John Scott is not afraid of other notable NHL enforcers, and, to be frank, that's really the only purpose that he will serve with the team.
Add to that the fact the team has retained the service of Patrick Kaleta (along with Cody McCormick), and the Sabres will certainly possess more of an edge than in the past.
Even if the Sabres draft strategy may not have been directly related to the Lucic incident, but rather a case of taking two of the best available forwards in the first round and building that depth in the later rounds as well, the Ott / Scott additions marked a clear throwing down of the gauntlet to their Eastern Conference foes, most notably the Bruins. Sure, the Sabres had previously dealt away Gaustad and some muscle-in-waiting in Zach Kassian, but the addition of Cody Hodgson allowed the Sabres to jettison Derek Roy in order to acquire someone who has been around the block more than a few times. In trading the offensively gifted yet relatively demure Derek Roy for a more controversial and at times explosive figure like Ott, the Sabres truly revealed a shift in philosophy, more than willing to rely on their youth and established snipers for scoring while bringing in proven toughness to provide a more meaningful measure of protection around them.
But while the mantra may be "bigger, stronger, tougher" moving forward, it remains to be seen as to whether the Sabres as currently constructed are all that better as a whole. The burden will largely fall on other, more 'talented' players to step things up in order for this team to improve and get back to the playoffs; but as they attempt to do so, they can be assured that there are a few new faces out there who will have their backs in the event that someone attempts to 'Looch' them in the future.