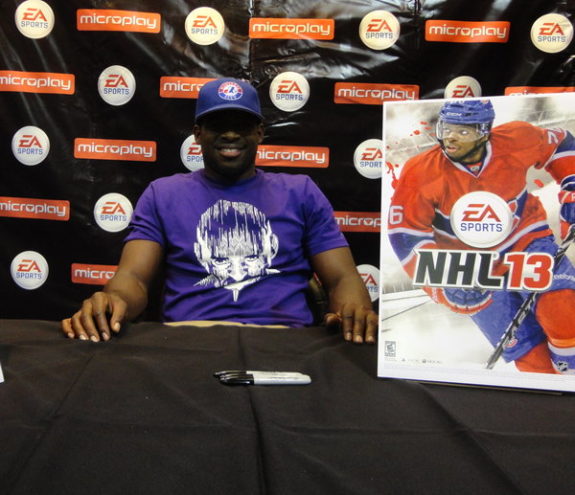 P.K. Subban was on hand in Montreal Monday night as EA Sports released the newest version of their popular "NHL" video game at midnight Tuesday. NHL 13 is the 22nd installment of the popular series. EA celebrated the release with launch events in the seven NHL cities across Canada.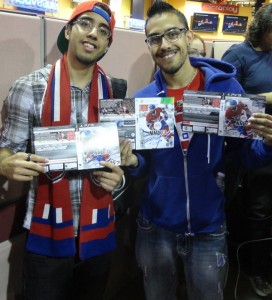 While Claude Giroux will grace the game's official cover, fans in Montreal, Ottawa, Toronto, Winnipeg, Calgary, Edmonton and Vancouver were given the opportunity to get a copy of an alternate game cover featuring a star from their team. The players on the cover, including Henrik Sedin, Phil Kessel, Evander Kane and Jordan Eberle, were at their city's event to sign autographs.
In Montreal, P.K. Subban was at Superclub Videotron to meet fans eager to get their copy of the game and their autographed P.K. Subban cover sleeve. Although they were told to arrive at 7:00 pm, some fans were there as early as 3:00 to make sure they didn't miss the opportunity.
This year, for the first time, gamers were given the chance to decide who would grace the cover of  EA's NHL game. Supporters could pick from among 60 players on the original list with the top 16 going head-to-head to decide who would be the face of NHL 13. Subban was one of 16 players in the head-to-head championship matchup, but lost in the first round to eventual champion Claude Giroux. "I did [follow the vote closely], it was pretty cool. Maybe next year [I'll make the real cover]."
Before the fans came in, Subban got a chance to test out the game firsthand, going up against Jon Behune, a marketing coordinator for EA sports. P.K., naturally playing with the Canadiens, showed off his defensive side and kept the game scoreless through three periods, sending the game to a shootout. Jon, playing with the Bruins, scored the only shootout goal to earn the win.
When asked about his performance P.K. had this to say: "I was really happy to be able to play [NHL 13]… I locked it down, protected the net. It's that defensive mentality you know. I need to score some goals though. Maybe I got to talk to my forwards to get them going."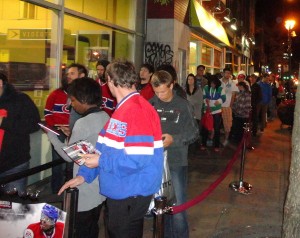 Jon echoed P.K.'s comments but had his own explanation for the win: "He's great on defense for a guy that says he doesn't play that much. He's a strong defensive player that's for sure. But Tuukka was a wall for me."
Fun and games aside P.K. is looking forward to starting the new season. Subban admits he's excited about having a new coach and a new GM to start the next campaign, "It's always exciting when you get a new group of people to come in, it's like a breath of fresh air. Last year was a little tough, it left a stale taste in everybody's mouth the way our team finished. I think that everybody knowing that there's going to be some new players and a new coaching staff…it's going to be good to see."
And does he think last season's poor result means the Habs will be more motivated to perform this year? "I think so. I think a lot of guys are training hard. We want to make a good impression, want to have a good camp, want to have a good start to the season because we don't have losers on our team, we have winners. We have guys that want to win."
When asked if he was concerned about his free agency status, P.K. was decidedly nonchalant: "I've never felt one ounce of pressure, I've never put any pressure on anybody to do anything. I've had two years and two playoffs to prove that I can play and be a top defenseman in this league and I think I've done that. A lot of people ask me questions about my contract, if I could print one out and fill it out I would. Ultimately it's not up to me – it's up to my agent and the Montreal Canadiens organization to get it done. I'm confident that they will."
With the old CBA expiring in a matter of days and a lockout impending, many players have already begun making backup plans in case next season doesn't start as scheduled. So what will P.K. be doing if there is a lockout? He says, "I haven't thought that far ahead and I won't. I'll wait until that time comes and then I'll make that decision."