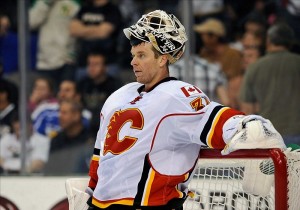 While the summer of 2012 was primarily spent over-hauling the Calgary Flames coaching staff and forwards, the team did virtually no tinkering on the roster's back-end. The club lost Scott Hannan to free agency and added Dennis Wideman from the Washington Capitals.
Beyond that, it's the same crew they went into battle with in 2011-12, give or take a back-up goaltender.
DEFENSEMEN
Much like on the front lines, the Flames have a lot of bodies under contract. One-way NHL contracts, that is. They have eight bodies on one-ways, plus T.J. Brodie (who the team insists should be on the opening night roster after a superb sophomore year).
TOP PAIRING: None
SECOND PAIRING: Jay Bouwmeester (28), Mark Giordano (28), Dennis Wideman (29) and Chris Butler (25)
Just like on the forward ranks, the Flames lack a Norris candidate defender to anchor their group. That's no huge problem, though, as Giordano and Bouwmeester are both strong role players who complement each other well. Giordano may, in fact, be the player on the Flames who hates losing the most and his attitude often trickles down throughout the roster. Wideman will help provide scoring depth from the back-end, as well as give Chris Butler more manageable minutes. Butler probably shouldn't be doing top pairing minutes, but he's well-suited to second unit duty.
THIRD PAIRING: Anton Babchuk (28), Cory Sarich (34), T.J. Brodie (22) and Derek Smith (27)
Brodie and Smith were an excellent-at-times pairing last season in-between injuries, but they need to be sheltered a bit in terms of opposition. Babchuk and Sarich are both a bit one-dimensional, but Sarich provides a nice bit of physicality and a mean streak that a lot of Flames lack. If the Flames are given an amnesty buy-out in any CBA deal, Babchuk would be a prime candidate – he's got an excellent shot from the point, but is otherwise a liability.
AHL DEFENDERS: Brady Lamb, James Martin, Brett Carson, Chris Breen and Joe Piskula
Carson is on a one-way deal, but really struggled last year. Breen, Martin and Piskula are depth options on the farm. Lamb turned some heads at development camp and could earn a call-up with a strong start to the season.
GOALTENDERS
STARTER: Miikka Kiprusoff (35)
No-brainer. Unless the Flames decide to blow it all up, Kiprusoff is their saving grace and remains one of the league's bet netminders. Despite getting up there in years, Kiprusoff remains unflappable and extremely durable. That said, he's 35 and probably shouldn't be playing more than 65 games. But that leads to another problem…
BACK-UP: Henrik Karlsson (28) and Leland Irving (24)
Last year, Henrik Karlsson looked shaky and then blew out his knee in a blow-out loss to Vancouver. Then rookie Leland Irving – a 2006 first rounder – came in and stole points from the opposition, including a stellar performance against the Canucks. Granted, neither Irving or Karlsson looks like they are destined to be an NHL starter next season, but Irving seemed to provide the Flames with more confidence in a back-up than they have seen in years. He'll be given a very, very long look at training camp. If he gets the job over Karlsson, expect the Flames to look around for a veteran body for the AHL team and perhaps find a European venue for Karlsson. (The Flames signed veterans Danny Taylor and Barry Brust to AHL deals over the summer, but the organization may want someone under an NHL contract.)
Overall, the Flames are a little bit younger on the back-end (with Dennis Wideman replacing Scott Hannan and Leland Irving perhaps ousting Henrik Karlsson) and a little bit deeper on the blue-line due to the emergence of Derek Smith and T.J. Brodie as bottom pairing options. But it remains to be seen if adding Wideman's offense will provide the Flames with enough added oomph to get back to the post-season.