The Phoenix Coyotes started their 2012 NHL playoffs series against the Chicago Blackhawks as the underdogs. That's a label that Dave Tippett's team has gotten more than used to over the last three seasons, but they have also gotten used to performing regardless. This is the third consecutive year that they've made the postseason and there is a general feeling around this roster that they are ready to win playoff series for the first time since the franchise moved to Arizona. Chicago perhaps had the better of the first two games enjoying two last second game tying goals and winning home ice advantage with a victory in Game 2. However, the Phoenix Coyotes are definitely in this series and that is a very good sign for a team that has shown it has the ability to battle and fight for its success. The following are some assorted thoughts on the first two games of this intriguing series.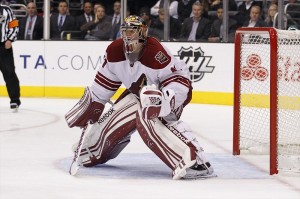 Mike Smith
Any concerns that Mike Smith would slow down or lose form in the postseason have been well and truly dismissed. Smith entered the playoffs in incredible form allowing just two goals in his last five games as the Phoenix Coyotes finished the regular season with five straight wins. Early on in the first game Smith conceded a soft backhand goal to Blackhawks' captain Jonathan Toews, but since then he has banished any possibility that he would struggle in this playoff series.
Smith has withstood the barrage from a talented Chicago line-up stopping more shots than any other goaltender in the playoffs so far. In Game 1, he made 43 saves while allowing just two goals. In Game 2, he was tested even more heavily stopping 46 shots, while allowing four goals. He has been at his best during the third period when the Phoenix Coyotes have done everything they can to concede late goals, and they have succeeded, but through no fault of Smith's. If Smith keeps up his strong level of play, then the Coyotes really do have a great chance to advance.
Corey Crawford
On the negative side of things from a Phoenix Coyotes perspective, Chicago's second year goaltender Corey Crawford has stepped up his game. This is the Crawford from his rookie season and the Crawford who gave Chicago a great chance to pull off an historic upset in last year's playoffs. He is seeing the puck well, looks calm and isn't giving up a lot in the way of rebounds.
Chicago have always been a team with the potential to sort out their defensive woes, though expecting them to do it in the playoffs may have been a bit much, and there are signs that Joel Quenneville's team are starting to come together. It's a bad sign for Phoenix because it has started with the improved play from Crawford.
Power-play
The special teams' battles are always so important and in this series a pair of anaemic regular season power-plays have come face to face. Crucially, Chicago's penalty kill is a weak spot and that's a match-up that the Phoenix Coyotes must aim to take advantage of. They may have lost Game 2, but a pair of power-play goals would have been extremely encouraging for Dave Tippett. He will know that if his team can exploit the power-play as a regular source of goals, they will have a great chance of beating the Blackhawks in a long series.
Vermette's play in these two games has been exactly what GM Don Maloney probably envisioned when he acquired the forward from Columbus. Vermette didn't enjoy the best time of it in his regular season stint with the Phoenix Coyotes, but he has made a great start to this playoff series scoring three goals in two games. The 29-year old is well known as a streaky scorer, so the hope is that he will continue to have an offensive impact for a few more games. His contributions could be even more vital if Martin Hanzal and/or Lauri Korpikoski are kept out of the line-up for any length of time.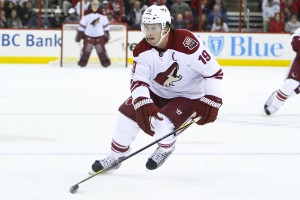 Injuries
Perhaps the biggest threat to the Coyotes' chances in this series are injuries. They managed without Radim Vrbata in Game 1, but lost Hanzal and Korpikoski during Game 2. The blows were particularly significant because Tippett was forced to rotate just 10 forwards and the game ended up going into overtime. If Hanzal's injury keeps the center out for any length of time then that would undoubtedly be a huge blow to this line-up. Hanzal is a crucial part of a 1-2-3 punch of responsible two-way centers that Tippett likes to roll out. Phoenix also needs to make it through a game with 12 forwards staying healthy.
A major concern for Phoenix Coyote fans will be the psychological impact on the team after conceding goals in the dying seconds in two straight games. The team's failure to clear the puck in Game 2 was particularly disturbing and ultimately costly. It's not easy to take on Chicago when they get some momentum going. They have a lot of skill and they have the depth to be fairly relentless in their attack. If Phoenix loses this series, then Saturday's loss may be the game that they look back with a lot of frustration.