Major junior hockey fans in Ontario are only one day away from the start of the 2012 Ontario Hockey League Playoffs as sixteen teams advanced to post-season action in hopes of lifting the J. Ross Robertson Cup as OHL Champions. The Eastern Conference's Peterborough Petes and Kingston Frontenacs finished ninth and tenth, respectively, in the rankings causing both franchises to miss out on the playoffs. In the Western Conference, the Sault Ste. Marie Greyhounds barely missed the playoffs but their 64 points placed them ninth and the Erie Otters' mere ten wins had them finishing last in the conference and league.

Teams have endured the long sixty-eight game season seeing many squads going through both highs and lows. Stretches of brilliance followed by slumps of frustration are not uncommon for teams filled with mostly teenagers. Injuries have caused many teams to persevere through the hard times and it is the hope of many franchises that post-season success will reward the players for their hard fought regular season play. Let us turn our focus to the playoff action about to get underway and throw out some bold predictions on how the series will unfold.
Eastern Conference
Niagara IceDogs (1) vs. Oshawa Generals (8)
Season Series: Split (1 win each)
Breakdown:
The Niagara IceDogs enter postseason competition as the heavy favourites in the Eastern Conference after leading the OHL in goals scored (291) as well as goals against (169). Icing a line-up featuring several NHL drafted prospects including top scoring OHL defenseman Dougie Hamilton (Bruins) as well as forwards Ryan Strome (Islanders), Freddie Hamilton (Sharks), and Brett Ritchie (Stars). In between the pipes, Niagara has leaned on Phoenix Coyotes' prospect and World Junior star Mark Visentin all season long as he continued to post impressive statistics including a record 10 shutouts. In saying that, Niagara's opponents are certainly no pushovers either.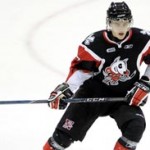 Entering the season, most experts expected the Oshawa Generals to challenge for the Eastern Conference's top seed with their veteran line-up. Unfortunately, the Generals sputtered out of the gate and battled consistency issues all season long. Oshawa will turn to Nicklas Jensen (Canucks), Boone Jenner (Blue Jackets), Christian Thomas (Rangers), Lucas Lessio (Coyotes) and 2012 NHL Draft prospect Scott Laughton to carry the offensive load. The firepower is certainly in place for the Generals to challenge the top seeded Ice Dogs but the team will need strong goaltending to advance beyond the first round.
Series Prediction: Niagara wins in 6
5 Players to Watch: Dougie Hamilton, Mark Visentin, Ryan Strome, Nicklas Jensen, Christian Thomas
Ottawa 67's (2) vs. Belleville Bulls (7)
Season Series: Ottawa won 7 of 8 games
Breakdown:
As you may notice from the season series statistic, Belleville struggled with their success versus the high-flying Ottawa 67's this season. Finishing fourth in league scoring with 268 goals, Niagara has plenty of offensive weaponry featuring Tyler Toffoli (Kings), Shane Prince (Senators), Sean Monahan (2013 top prospect) and John McFarland (Panthers). Toffoli finished as the OHL's top goal scorer with 52 goals and second in the points race. This series will be closely watched by NHL scouts as it highlights plenty of draft-eligible players including Cody Ceci (67's), Brendan Gaunce (Bulls), Daniil Zharkov (Bulls) and Malcolm Subban (Bulls).
Belleville will need a strong standout performance from netminder Malcolm Subban for the Bulls to advance in postseason action as the Ottawa 67's will be playing in front of World Junior star Petr Mrazek (Red Wings) and he has proven to be a wall in big games.
Prediction: Ottawa 67's win in 4 nah….5 games
5 Players to Watch: Tyler Toffoli, Shane Prince, Cody Ceci, Brendan Gaunce, Malcolm Subban
Barrie Colts (3) vs. Mississauga Majors (6)
Season Series: Mississauga led with 4 wins to Barrie's 2
Breakdown:
The first "upset" of the OHL playoffs could very well take place as the Barrie Colts challenges the Mississauga Majors but it is no sure thing.. Several factors are playing into the Majors' favour as the team is entering postseason play on a strong note finishing the regular season on a 7-3-0-0 run. In addition, the Barrie Colts received word last week that the team will be without the services of their leading scorer Tanner Pearson (60GP-37G-91P) after suffering a broken ankle. The Majors have been playing some real solid hockey over the past few months led by goaltender Brandon Maxwell and his two OHL Player of the Week honours.
Unless Behenna, Telegin (Jets) and Scheifele (Jets) can go nutty offensively the team could be in trouble as scoring goals consistently has been an issue with this Colts' squad. The injury to Tanner Pearson certainly hurts but the Colts' success will depend on how the team rallies around the unfortunate news – it could go either way. In the end, Mississauga's difficulty scoring goals could be their biggest hurdle to overcome.
Prediction: Colts win a hard fought battle in 7 games
5 Players to Watch: Mark Scheifele, Ivan Telegin, Aaron Ekblad, Brandon Maxwell (G), Riley Brace
Brampton Battalion (4) vs. Sudbury Wolves (5)
Season Series: The teams split the eight game series with 4 wins apiece.
Breakdown:
The Battalion-Wolves series has been a difficult matchup to predict. Entering the season, both teams were hard to project in how they would finish in the Eastern Conference standings. The Battalion and Wolves' teams are hard-working franchises and are often underrated. In Brampton, Maple Leafs' prospect Sam Carrick led the team offensively with 2012 draft eligible defenseman Dylan Blujus conducting the offense from the blue line. The team lacks a "high-end" player but plays a good team game that will need to continue as it is what made this team so successful this season. Brampton was the fifth lowest scoring team in the OHL.
The Sudbury Wolves rely heavily on Colorado Avalanche prospect Michael Sgarbossa and the veteran is playing with an extra jump in his step after finishing the regular season as the league's top point getter with 102 points. For the Brampton Battalion, their game plan will be to limit the nineteen-year-old Sgarbossa's offensive chances as he looks to continue his hot streak. If Sgarbossa is contained, Sudbury will turn to Josh Leivo (Maple Leafs) to lead the offensive charge.
Prediction: Sudbury Wolves in 6
5 Players to Watch: Sam Carrick, Dylan Blujus, Matej Machovsky (G), Michael Sgarbossa, Josh Leivo
Western Conference
London Knights (1) vs. Windsor Spitfires (2)
Season Series: London and Windsor finished with 3 wins a piece (Split)
Breakdown:
It's another year of playoffs and another Knights-Spitfires' matchup is on the schedule. The OHL Playoffs would not be the same without Windsor and London matching up. Despite being in a rebuild year, Windsor grabbed the final playoff spot from the Sault Ste. Marie Greyhounds and will look to give their fans a thrill challenging their Western Conference rivals. London has had a strong year being ranked as the top OHL team for the majority of the season but lately the Knights have struggled to put the puck into the net despite having the luxury of turning to forwards Greg McKegg (Maple Leafs), Austin Watson (Predators), Vladislav Namestnikov (Lightning), Jared Knight (Bruins), Max Domi and undrafted star Seth Griffith for offense. Windsor always plays London tough but the team enters the playoffs with an inexperienced line-up with question marks surrounding their goaltending and defence.
Offensively, Windsor will need to get beyond defensive stalwarts Jarred Tinordi (Canadiens), Scott Harrington (Penguins) and Olli Maatta (2012 NHL Draft) …and then beat goaltender Michael Houser. The Spitfires are without their offensive star player Alexander Khokhlachev (Bruins) after he experienced a kidney laceration and will miss the remainder of the season. Bob Boughner will need to lean on youngsters Kerby Rychel, Brady Vail, Ben Johnson, Michael Clarke and Chris Marchese for Windsor's offensive charge and it might be asking a little too much.
Prediction: London Knights take the series in 4 games.
5 Players to Watch: Greg McKegg, Vladislav Namestnikov, Michael Houser (G), Kerby Rychel, Nick Ebert
Plymouth Whalers (2) vs. Guelph Storm (7)
Season Series: Whalers and Storm both came away with 2 wins.
Breakdown:
Coach Mike Vellucci's Whalers have played strong consistent hockey this season and it appeared they would advance easily past the first round of playoff action…that was until Guelph crept into the seventh slot and said "hello." The Whalers have struggled when playing the Guelph Storm this season after splitting the season series and losing their last game by an astonishing 9-1 score. Guelph will certainly make Plymouth a little more nervous but the Whalers play a well-structured team game that should see them advance in the end. Stefan Noesen (Senators), Rickard Rakell (Ducks) and first year OHLer JT Miller (Rangers) have provided steady offensive production for the Plymouth Whalers this season. In addition, veterans Mitchell Heard and Jamie Devane (Maple Leafs) have demonstrated that they can be relied on for both scoring and grit – two vital components of successful playoffs.
The Guelph Storm will look to defensemen Matt Finn (2012 NHL Draft), Andrey Pedan (Islanders) and goaltender Garrett Sparks (Maple Leafs) to shut the door on Plymouth's Attack. Scott Walker's offensive attack comes from a young forward corps featuring Scott Kosmachuk (2012 NHL Draft), Tanner Richard, and Hunter Garlent. In the end, Plymouth's coaching and balanced offensive attack might be too much for the young talented Guelph Storm team to hand…this year.
Prediction: Plymouth Whalers advance in 6 games.
5 Players to Watch: Matt Finn, Garrett Sparks (G), Stefan Noesen, Rickard Rakell, Scott Wedgewood (G)
Kitchener Rangers (3) vs. Owen Sound Attack (6)
Season Series: Kitchener won 4 of the 6 meetings this season.
Breakdown:
The Michael Catenacci vs. Daniel Catenacci Series. After being injured for the start of the season, defenseman Ryan Murphy (Hurricanes) has returned to the Rangers line-up and found his offensive groove. Murphy will be counted on to lead the rush and get the puck to forwards Tobias Rieder (Oilers), Michael Catenacci, and Radek Faksa (2012 NHL Draft). However, the Owen Sound Attack could give the Rangers some trouble if they can attack with their good team depth that includes forwards Daniel Catenacci (Sabres), Gemel Smith (2012 NHL Draft), Cameron Brace and Artur Gavrus (2012 NHL Draft). Unfortunately, Owen Sound will be without injured forward Jarrod Maidens and suspended leading scorer Mike Halmo.
The series could go either way but the absence of Halmo hurts the Attack a great deal as he provides scoring and a ton of grit. Owen Sound was the OHL's most penalized team and with the Kitchener Rangers having the eighth ranked powerplay the Attack could be in for some trouble.
Prediction: Kitchener Rangers close this series out in 6 games.
5 Players to Watch: Radek Faksa, Tobias Rieder, Ryan Murphy, Gemel Smith, Daniel Catenacci
Sarnia Sting (4) vs. Saginaw Spirit (5)
Season Series: Sarnia defeated Saginaw in 4 of the 6 games this season.
Breakdown:
The Sting-Spirit series has all the makings to become the most thrilling of the Western Conference playoff bracket. Sarnia has yet to officially announce that superstar NHL draft-eligible forwards Nail Yakupov and Alex Galchenyuk will return for game one but it's expected that both players should be in the lineup together for the first time this season. Galchenyuk has missed 66 games this season to injury while Nail Yakupov has been out of the line-up for a total of 26 games this season. The Sarnia Sting have had big expectations for the 2011-12 season but injuries have put a damper on their season as the team has missed over 230 games due to injury. Sarnia possesses one of the better offensive line-ups If the Sting can dress their entire roster as Yakupov, Galchenyuk, Spooner (Bruins), Boucher (Devils), Rensfeldt (Blackhawks), Thompson and team scoring leader Charles Sarault have ample scoring punch. If the Sting hope to advance far into the playoffs they will need to find chemistry quick against a red hot Saginaw Spirit team.
Saginaw enters postseason play on a hot streak finishing 7-3 in the last ten games as Brandon Saad (Blackhawks), Josh Shalla (Predators) and Vincent Trocheck (Panthers) have proved to be dangerous offensive players. The success of the Spirit could come down to how well their goaltenders play in their first playoff series. Sarnia leads the season series but Saginaw has won the last two matchups quite decisively.
The series could very well be decided on special teams as both squads finished in the top of powerplays and penalty killing. Sarnia iced the 5th ranked powerplay and 5th ranked penalty kill this season. Owen Sound was the OHL's 4th best powerplay and their penalty kill came in at 8th overall.
Prediction: Sarnia Sting knock the Saginaw Spirit out in 7 games.
5 Players to Watch: Vincent Trocheck, Brandon Saad, Nail Yakupov, Ryan Spooner, Alex Galchenyuk
The first round OHL playoff predictions are in. Now, sit back and enjoy the stellar hockey that is about to hit the ice near you.
Be sure to follow @RossyYoungblood on Twitter for your OHL updates