The 2013 NHL Entry Draft is less than four weeks away and the Florida Panthers hold the No. 2 pick after what many would call a disappointing season. They finished as the Eastern Conference's worst team just a year after hoisting the Southeast Division crown.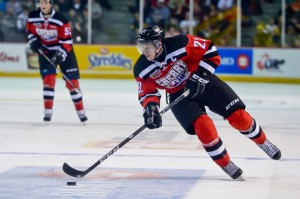 Some may blame it on injuries, while others may blame it on the shortened season, but what we can all agree on is the fact that the Panthers simply do have enough depth at the forward position to make any sort of noise in the NHL. They need to get better forwards if they are going to have a shot at making the playoffs in the 2013-14 campaign.
Luckily for Florida, the poor season provided a rich positive: a shot at Seth Jones or Nathan MacKinnon.
MacKinnon tore up the QMJHL in 2012-13. He scored 32 goals and tallied 43 assists in just 44 games for a total of 75 points. The 17-year old right winger from Halifax, Nova Scotia also recorded 33 points in 17 playoff games.
While Jones is a defensive prospect no team should pass up, the Panthers already have a strong line of defensemen ready to make an impact in the NHL. They selected Erik Gudbranson with their third pick in the 2010 NHL Entry Draft, who is already starting to show he has the skill set to be an elite defenseman in the NHL. They have veteran's Brian Campbell and Filip Kuba as well as young offensive threat Dmitri Kulikov. Not to mention, they have prospects Alex Petrovic and Colby Robak.
Panthers GM Dale Tallon has said he wants to draft a guy with their No. 2 pick that can contribute right away. Though MacKinnon will only be 18 when the season starts, he possesses an NHL-ready skill set.
The Colorado Avalanche currently hold the first pick in the draft, and are in more need of a strong defensive presence than a forward at this point. It seems likely that they would select Jones as he can help the team start rebuilding their depleted blue line.
Which would leave MacKinnon to the Panthers at No. 2. He would be a perfect complement on a line with 19-year old left-winger Jonathan Huberdeau, who is looking like the best asset the Panthers currently have on their roster.
Longtime centerman Stephen Weiss is likely to walk as an unrestricted free agent this offseason. Kris Versteeg is solid, but it's tough telling whether or not he can stay healthy for a full season.
It's pretty clear the Panthers are in rebuilding mode and there isn't a better guy available to start rebuilding around than young Nathan MacKinnon. For the next 27 days, the Panthers should be praying Colorado selects Seth Jones with the No. 1 overall pick in the 2013 NHL Draft.
Matt Schreiber is the Florida Panthers Lead Writer for The Hockey Writers. He grew up just outside of Washington, DC before moving to Boca Raton, FL, where he currently resides. He also covers the NHL for Bleacher Report.