Now that the season is over there is plenty of time to reflect back on what went right (and wrong) in Philadelphia. Ron Hextall will have a busy agenda this summer. It's time to give evaluations to each player, starting with the forwards (that regularly play).
Claude Giroux (25 G, 48 A, 73 Points)
Some people would like to say this was an 'off' year for the Flyer captain. Aside from the lockout shortened season in 2013, this was Giroux's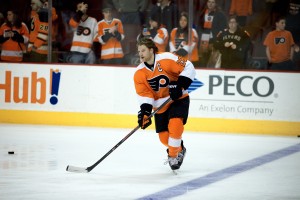 lowest point total since 2009-2010. That being said, no one in the NHL lit up the scoresheet this season, in fact this was the first full season in modern NHL history where the Art-Ross winner didn't crack 90 points. Giroux finished 10th in assists this season, was top 20 in points, and also was among the league leaders in faceoff percentage. Giroux was also a crucial piece of the Flyers lethal 1st powerplay unit. The captain put up a league best 37 points with the man-advantage this season. Giroux's point production may have declined,
but he is still very much the captain the Flyers need
.
Jakub Voracek (22 G, 59 A, 81 Points)
The numbers speak for themselves. Without a doubt, this was Jakub Voracek's breakout season. He led the league in points multiple times throughout the regular season, and was a staple alongside Claude Giroux. Voracek looked more confident this season, I'd even compare his playing style to that of a younger Jaromir Jagr. He protects the puck very well, has a great shot, and will even stick up for teammates when need be. Number 93 will be a Flyer for a long time.
Wayne Simmonds (28 G, 22 A, 50 Points)
Here is where the dropoff comes in. Simmonds was 3rd among Flyer forwards in points, yet 23 behind Claude Giroux. Simmonds had his season shortened due to injury, but it's hard not to think he would have hit 30 goals for the first time in his career if he stayed healthy. Simmonds was also a staple infront of the net on the powerplay. His 14 powerplay goals was good enough for 3rd in the league. Simmonds also finished tied for the lead on the Flyers with 6 game winning tallies. Simmonds shouldn't be going anywhere, he is a goal scorer the Flyers need.
Brayden Schenn (18 G, 29 A, 47 Points)
Brayden Schenn has been the focal point for a lot of criticism among Flyers fans this season. Before we keep doing that, lets remember
Schenn is just 23 years old, and came into the NHL as an 18 year old. Schenn has increased his point production each year he has been in the league, and towards the end of this season really turned it on. In six games during the month of April, Schenn posted 8 points (4G, 4A), including 3 game winners. If there's anything the Flyers haven't done the past few years, it is being patient with their young guys. Just as a reference point, Claude Giroux broke out around the age of 23-24. Patience, Flyers fans, it will pay off.
Sean Couturier (15 G, 22 A, 37 Points)
As is the case with Brayden Schenn, Couturier has also been the subject of a lot of criticism. The difference? Couturier is a year younger than Schenn, just 22 years old. Couturier was also only one of four forwards to go plus in the plus-minus category (+4). Let's also not forget who Couturier played aside this year. RJ Umberger and Matt Read really weren't too hot this season. Couturier is expendable, but giving him up is a calculated risk. He is still very young, is very defensively responsible, and has shown flashes of very good hands.
Matt Read (8 G, 22 A, 30 Points)
Talk about a drop-off. Read had 40 points last year, and scored 20 goals for the second time in his career. This year he just looked absolutely lost. All one has to do is watch a game and you can see it. Read doesn't shoot anymore, he tries to force passes, and the turnovers are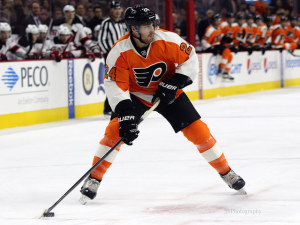 through the roof. You rarely heard his name during a broadcast. Take Sean Couturier off Matt Read's line and Read's Corsi % drops nearly 5%. Couturier's goes up 4 %. If that doesn't tell you something, I don't know what will. If the Flyers can get rid of Matt Read they should do so. He's very replaceable and eight goals is just not enough.
Michael Raffl (21 G, 7 A, 28 Points)
Raffl is another guy that the Flyers should be happy to have around. Raffl also had an injury shortened season this year, but played well no matter which line he was on. Although I still don't believe he is a first line winger, he proved he could be defensively responsible and make plays. Raffl led the Flyer forwards in plus-minus rating this season (+6). He has a manageable cap-hit and in just his second NHL season, he proved he could be a useful asset to the Flyers.
Vincent Lecavalier (8 G, 12 A, 20 points)
It's hard not to feel bad for the guy. Two seasons in, and it hasn't gotten any better. Paul Holmgren threw a monstrous, outrageous contract Vinny's way, who wouldn't take it? At the time the Flyers had more than enough centers, and nowhere to put Lecavalier. He was aging, he's been injured, and the Flyers didn't need another huge contract. Still, to this day, this contract is killing the Flyers.  The former all star ended up being a healthy scratch for long stretches this season, and it has led to tension between him and head coach Craig Berube. In all fairness, you can't put all the blame on Lecavalier, the Flyer coach has severely misused him, and putting Zac Rinaldo in over Lecavalier isn't going to sit well, especially when the Flyers weren't scoring. If the Flyers can move him they should. He is a huge cap hit that is not producing.
RJ Umberger (9 G, 6 A, 15 Points)
Disaster. That's about the only word that can be used to describe the trade. Everyone knew that Ron Hextall was trying to take on a shorter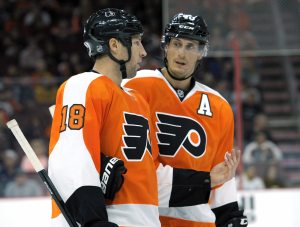 contract when Hartnell was traded away, but trading away a guy who had great chemistry with Claude Giroux is very risky. Hartnell played 7 seasons with the Flyers and put up 326 points here. Hartnell continued to produce in Columbus, putting up 28 goals. Umberger not only failed to produce, he was just ineffective. He looked sluggish, made bad plays, and just looked flat. It was hard not to expect that from a guy who was a healthy scratch in the playoffs last season. At this point, taking anything for Umberger would be a better option than keeping him. It is cap weight the Flyers could easily replace.
Chris VandeVelde (9 G, 6 A, 15 Points)
VandeVelde was a solid fourth liner this season. There isn't much to say here, the Flyers could keep him, but if they let him go I'm sure they wouldn't miss him.
Pierre-Edouard Bellemare (6 G, 6 A, 12 Points)
Bellemare had a good first season in the NHL as a fourth liner. There was points in the season where he was effective, but there were also long stretches throughout the season where he was silent. The Flyers resigned him at a good price and he'll be an effective penalty killer.
Ryan White (6 G, 6 A, 12 Points)
Those 12 points came in just 34 games. Talk about an energy guy. Ryan White was gritty, fierce, and just brought kick to the lineup. White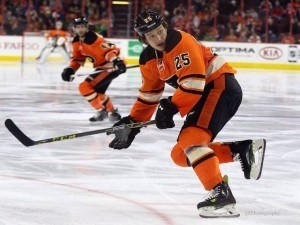 also finished the season as a plus-4. He should definitely be a Flyer next season, he's a more effective version of someone we're about to talk about.
Zac Rinaldo (1 G, 5 A, 6 Points)
It's time Zac Rinaldo's days as a Flyer are done. I get it, the guy brings energy to the club, but that doesn't outweigh the bad decisions he makes on the ice. Countless times this season he took bad penalties at awful times, and it killed the Flyers. Part of that, once again, can be blamed on the coach for not sitting him, and when you have one of the league's worst penalty killing units, that can't happen. Think of it this way, would the Flyers miss Rinaldo? I for one do not think so. In fact, the only time I notice him is when he is taking bad penalties. This team can do without him, I think it would be for the best.
Matt is a contributor for the Philadelphia Flyers at The Hockey Writers. He has previously covered the Flyers for GrandstandU. He enjoys playing hockey and making music in his spare time.