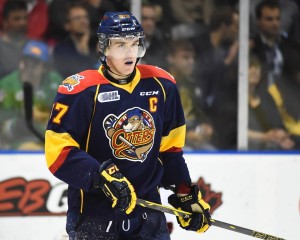 Nobody who calls themselves a Sharks fan wanted Team Teal to miss the playoffs. However, as yours truly mentioned a few weeks ago, missing the playoffs is arguably better for the future than making it only to be eliminated early. The good news for the Sharks is that after being officially eliminated, they lost two of their final three games and let both Dallas and Colorado pass them up in the standings. San Jose finished 12th out of 14 Western Conference teams. They currently are slated to pick 9th overall, the spot in which they drafted Logan Couture back in 2007. By virtue of finishing so low in the standings, the Sharks have a significant 5% chance at winning the lottery and drafting first overall. As you see in my tweet below, the Sharks winning the lottery and drafting Connor McDavid isn't far fetched at all.
Proof I ran lottery simulator one time and got the #SJSharks pic.twitter.com/RWWwuWVPsj

— Andrew Bensch (@BenchWarmerView) April 12, 2015
Imagining McDavid on the Sharks
The proof is in the tweet, I ran the lottery simulator for the first time and the Sharks won. It is a small chance, but five out of 100 is certainly better than one out of a million. Sharks fans, I'm telling you there's a chance. San Jose has tremendous depth at center, but McDavid is a one-of-a-kind top prospect, arguably more hype than when Sidney Crosby went No. 1 overall back in 2005. Couture, San Jose's current No. 2 center would look mighty darn good on McDavid's wing.
Nikolay Goldobin—Joe Thornton—Joe Pavelski
Logan Couture—Connor McDavid—Tomas Hertl
Patrick Marleau—Chris Tierney—Matt Nieto
Tommy Wingels—Ben Smith—Melker Karlsson
The Sharks would instantly become Stanley Cup contenders, if not Stanley Cup favorites by adding McDavid to a star studded core that remains intact. They would then be able to roll out a No. 2 power-play unit featuring four forwards if they want. Conceivably they could put McDavid at the point, and roll with Goldobin, Tierney, and Hertl up front for what would easily be the most dynamic second unit in the league behind the already dominant top unit of Thornton, Marleau, Couture, Pavelski, and Burns.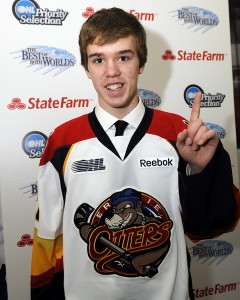 Certainly the Sharks would still benefit from upgrading their defense and goaltending. Even with McDavid they have other holes to fill and wouldn't be a clear cut favorite without addressing those needs. However, McDavid alone would catapult them into the category of legitimate contender. The Sharks would feature three terrific scoring lines with a hard working and talented fourth line. All of a sudden with McDavid in the fold the Sharks would go from having a top heavy forward group up to one of the deepest in the league. McDavid is that kind of talent and adding him (as well as fellow rookie Goldobin) to the lineup bumps other players down to appropriate slots.
Andrew has been credentialed to cover the Sharks since 2010 and the 49ers since 2012. He graduated with his BA in Broadcast Electronic Communication Arts in 2013 from San Francisco State University.