Bitter Sweet Streak
Given their up and down season, the San Jose Sharks might actually be better served to miss the playoffs altogether. It would mean the end to a bitter sweet decade long playoff streak but it is a streak that's more bitter than sweet. During the past 10 seasons San Jose has failed to even once reach the Stanley Cup final, let alone win it. Therefore, the streak isn't overly celebrated by the organization and the fans. They would lose some revenue in the short term but the long term it may pay out down the road. The last time the Sharks missed the postseason they came back the following year to have their most successful season to date. The very start of the playoff streak saw the 2004 Sharks lose in six games in the Western Conference final. Perhaps this current version of the team needs a bit of a reset. Missing the playoffs can allow for rest and recovery, as well as a higher draft position.
Currently the Sharks hold onto a playoff spot by the slimmest of margins. They are only four points up on fifth place Los Angeles who owns a game in hand. If San Jose were to make the postseason, there is a good chance their first round pick will end up 20th overall or later. They could very well knock of the Anaheim Ducks in the first round. Outside a first round series with Chicago (not likely), the Sharks actually have a good chance of winning a series or even two before their season would almost certainly end by round three. Missing the playoffs and having a top-14 selection instead of say 21st or 22nd overall would set San Jose up for a much stronger draft. In what is considered a deep draft the Sharks could select a nice prospect later in the first round but a top-14 selection would possibly be NHL ready immediately. Picks in the final third of the first round generally take significantly more time to develop than the top half of the first round.
2016 Could be Good
If the Sharks hold onto their top prospects and add to the pool this offseason after missing the playoffs, they could be set up quite nice. Next season winger Nikolay Goldobin ought to make the team up front, and defenseman Mirco Mueller should improve into a bigger role on the blue-line. Plus perhaps a 13 or 14th overall 2015 draft choice could make an impact at some point next season. A right-handed puck moving defenseman would be the biggest position of need heading into the draft.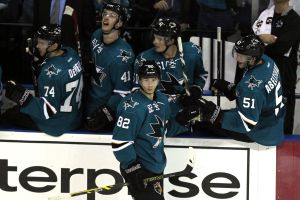 Defensemen generally take longer to develop but a third defense pair featuring two first round draft picks would be a welcome sight in San Jose. The Sharks have not drafted well when it comes to early round defenseman as neither first round pick from 2007 Nick Petrecki nor second round pick from 2009 Taylor Doherty have made an impact. Overall though things are looking up when it comes to recent Sharks drafts. The past three first round selections, Tomas Hertl (2012), Mueller (2013) and Goldobin (2014) all project to be terrific players. The future is actually bright in San Jose but the current present does not bode for a deep playoff run.
With the Sharks' current blue-line struggles and lack of even strength scoring, the Sharks don't have the horses to go deep in the postseason this year. Last month I was in the camp recommending Wilson pull the trigger on a win-now move but the past few weeks haven't been friendly. Defenseman Justin Braun, known of a strong defensive game, has been slumping in his own zone before suffering an injury. Forward Tommy Wingels also suffered an upper body injury in the same game that Braun went down and both are expected to bout out awhile. Newcomer Brenden Dillon is once again struggling after having developed some good chemistry with Burns. With Mueller and Braun hurt, and Dillon fighting the puck, the Sharks have only had one reliable defense pair in recent games.
One could make a case that lineup tweaks and a big deadline acquisition could give the Sharks a legit shot to beat Chicago and win the whole thing. Too many things would need to go right for that to happen though. One of those things being Burns moved back up front to support the even strength scoring woes and that simply isn't happening. The big acquisition would have to be a defenseman of the Cody Franson ilk. Plus Braun would need to get healthy and turn his season around 180 degrees. That is simply asking for too much. As a fan of win now moves for the most part, if all these things happened, yours truly would be ecstatic. However, since they aren't in the forecast, the future should be the focus. Since Burns isn't moving back up, Braun is hurt and slumping and Franson isn't riding in on a white horse, trading away pending free agents and missing the playoffs is the wiser route.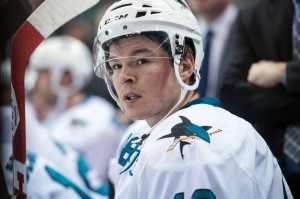 The Sharks ought to look into trading Antti Niemi, James Sheppard, and Tyler Kennedy for as many picks as they can get. Even if that is just a couple of second rounders that is better than keeping them for a prayer playoff run. Let me be clear I'm a big fan of Sheppard and Kennedy but they would be of better use for teams needing depth forwards for a real playoff run. While Niemi has been a solid regular season goalie, he simply hasn't delivered in the postseason. It would be an odd risk to keep these guys for a playoff run that is sure to come up short when they might sign elsewhere in the offseason.
Missing the playoffs entirely won't receive a standing ovation from the fan base but it is a move that will pay off. Nobody looks back fondly at being knocked out in round two or three. It doesn't matter if you lose by an inch or a mile, losing is losing. This current Sharks team is not winning the Stanley Cup in 2015. Therefore, they are better off missing the playoffs completely in order to better improve their chances in 2016 and beyond. Higher draft slots and some extra time for Tomas Hertl's knee to rest would be much more beneficial than a few playoff games and out.