With the Minnesota Wild struggling immensely right now, it wouldn't be a huge surprise to see them as sellers come March 2nd, the NHL Trade Deadline. Currently seven points behind the Calgary Flames for the second wildcard position, it looks unlikely that the Wild will be able climb back into the race, especially with their recent stretch of play.
Due to that likelihood, they may want to make a few trades at the deadline for players which will not only help them currently, but more so that can make a significant impact looking forward to the 2015-16 season. In order to get a helpful return, they must be willing to give parts of their current roster away. Let's look at the five best trade assets the Wild have to realistically trade away. Yes, that means Parise, Suter, Pominville, Granlund and so on do not count as trade assets.
5: Matt Cooke
Although some teams may be reluctant with Cooke due to his unfortunate past, it's true that he has evolved into a different player since joining the Minnesota Wild. He got off to a hot start this year with six points in the first eight games before going down with an injury. He's also surprisingly a fantastic penalty killer, often slotting into his team's first unit. It's certain that he wouldn't grant a huge return, but many playoff teams would likely take a chance on this veteran for the sake of his penalty killing. He still has one more year left on his contract at $3 million before becoming a UFA.
 4: Erik Haula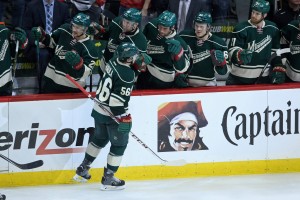 Erik Haula is a promising young forward who unfortunately is having a down year. The 23-year old has tremendous speed and a decent shot when he uses it. His performance in the AHL last season, 14 goals and 27 points in 31 games, earned him a promotion and he has stuck with Minnesota since. He reached another level in the playoffs as well, putting up four goals and seven points in 13 games. This year he has been unable to find consistent line chemistry which has hindered his production. That also means that if Minnesota does decide to trade him, it will be at a low cost due to his play this year. Because of that, the Wild should likely choose to hang onto Haula for a little longer.
3: Matt Dumba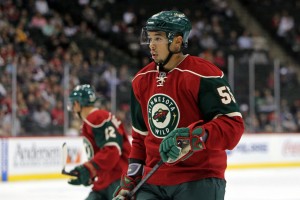 Matt Dumba was the 7th overall pick in the 2012 NHL Draft. Although he's only 20 years old, some Wild fans have already begun to label him as a bust. But, only 36 players have had NHL experience from that draft class, the best of them being Alex Galchenyuk, Frederik Andersen, Hampus Lindholm and Zemgus Girgensons. No one has emerged as any sort of superstar yet, so Dumba isn't behind at all. He has progressed well this year and matured a ton, learning that the path to the NHL is a long one. Most teams would be ecstatic about the availability of Dumba and the Wild could get a fairly promising return, including some NHL ready players.
2: Jared Spurgeon
Spurgeon, like Cooke and the rest of the Wild, began the year well registering 8 points in the first 12 games. After falling ill to the mumps and other injuries, his season has slowed down. He is still just 25 years old and has already proven to be a solid Top-4 defender, usually playing around 25 minutes a night. A team in need of an upgrade or even stronger depth for the playoffs would definitely be interested in Spurgeon. He will have one more year on his contract at $2.66 million after this season, not a very hefty price for a defenceman of his calibre. The Wild have plenty of prospect depth on the blue line and it shouldn't significantly impact their performance if they do decide to trade him.
1: Jason Zucker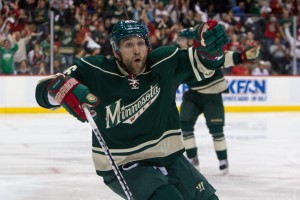 Jason Zucker is finally beginning to break out this year. The California native was a 2nd round pick (59th overall) in the 2010 NHL Draft. At 23 years of age he solidified his spot on the Minnesota Wild roster this season with his terrific goal scoring. He is currently 2nd on the team in goals with 16, on pace for a 30 goal season. That's a pretty significant total when you consider that only 21 players had 30 goals or more in the 2013-14 season. If, when March 2nd comes, Zucker is still on this pace, teams would jump head over heels for a 30 goal scoring 23 year old. Best case scenario, the Wild could try to induce a bidding war for Zucker and take the best offer come 3pm EST. This is the time to trade him though, while his value is very high.
Who do you think the Minnesota Wild should trade before the deadline?
Please discuss in the comments!