ECAC Hockey has wrapped up its first semester, and it's been a good start to the season. I wrote a prediction column at the start of the year, where I picked the players to watch and where each team would finish. Needless to say, there have been a few surprises so far.
RELATED: 2015-16 ECAC Men's Hockey Preview
I figured teams like Quinnipiac, Harvard, Yale and St. Lawrence would be near the top of the standings, but who would have thought that Cornell would be as good as they are or that Clarkson would be winless in conference play.
Here's a look at some of the best and the worst from the opening part of the ECAC conference.
Biggest Story
Quinnipiac's run: The Bobcats went without a loss for the first 17 games (15-0-2) before Boston University snapped Q-Pac's streak thanks to Robbie Baillargeon's goal to give the Terriers a 2-1 win on Dec. 12.
Nine different Bobcats, including four defensemen, have double-digit points to give a balanced attack. Quinnipiac is led by junior forward Sam Anas, who has 10 goals and nine assists in 18 games played as of Dec. 28.
The Bobcats' defense is also solid thanks to goalie Michael Garteig has a 1.24 goals against average and .948 save percentage as Dec. 28. Quinnipiac should be in a great shape to win the Cleary Cup, which is the league's regular season title.
Biggest Surprise
Cornell: I had picked the Big Red to finish 10th and rebuild this year, but they have proven doubters wrong at this point. Mike Schafer's has always had good defensively teams, and goalie Mitch Gillam has helped make that a fact with a 1.69 GAA and .937 save percentage as of Dec. 28.
I thought Cornell would have trouble scoring, but Jeff Kubiak (4 G, 8 A) has led a balanced effort. The team's only conference loss was to Quinnipiac, and they have beaten Boston University, Yale and St. Lawrence. The Big Red also claimed a victory over top-ranked Providence in the Florida College Hockey Classic before losing to Ohio State on Tuesday night in the championship game.
The Big Red have all the tools to challenge the Bobcats and Crimson for the league title.
Biggest Disappointment
Clarkson: The pollsters thought this would be the year that the Golden Knights would finally be a threat, but everything has gone wrong. Clarkson is solid outside of ECAC play with at 7-4, but are winless in the conference play with a 0-5-2 mark. The Golden Knights can't score in league games, as it only averages just over a goal per contest. Their possession stats are great at 57.4 Corsi for, but that hasn't translated into wins. Coach Casey Jones could be on the hot seat if this team doesn't turn it around in the second half.
Forward of the First Half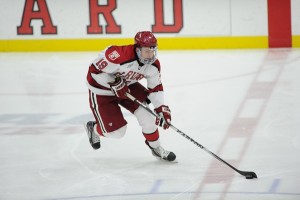 Jimmy Vesey, Harvard: Vesey may have fewer points than Anas, but he's had fewer games due to the Ivy League schools starting later than the other ECAC teams. The Nashville Predators prospect has eight goals in 10 games, and is on the shortlist for the Hobey Baker Award as college hockey's top player for the second straight year. Honorable mention: Nick Lappin, Brown.
Goalie of the First Half
Michael Garteig, Quinnipiac: There are so many talented goalies in ECAC Hockey, but Garteig takes the honors with his six shutouts so far. Gillam, sophmores Merrick Madsen (Harvard) and Kyle Hayton (St. Lawrence) are also having stellar seasons.
Defenseman of the First Half
Gavin Bayreuther, St. Lawrence: He averages a point a game in conference play, and is one of the reasons that the Skating Saints are near the top of the standings. Teammate Eric Sweetman and Quinnipiac's Devon Toews also deserves some recognition.
Rookie of the First Half
Tommy Marchin, F, Brown: The freshman forward stands out in a deep rookie class, as he broke out in the first half with 13 points (6 G, 7 A) in his first 12 collegiate games. Marchin also netted four goals games against UMass-Lowell and Colgate in a tournament played in Northern Ireland. Honorable mention: Anthony Angello, Cornell; Chase Priskie, Quinnipiac.
What to Look For in ECAC Hockey
There's still time for teams like Union and Colgate to turn it around. The race between Quinnipiac, Cornell and Harvard for the Cleary Cup will be a good one. I think we'll have at least one candidate for the Hobey Baker Award from the conference in either Vesey or Garteig. The standings are tight enough that you could see two or three teams make the 16-team NCAA Division I tournament in March.
Dan Mount is a Nashville Predators staff writer for The Hockey Writers. You can follow him on Twitter, @DanMountSports.
Covered hockey since attending SUNY Oswego in Upstate New York in the early 2000s. Has written about college, major junior and professional hockey for the last five years.
Resides in Watertown, NY.