Rare Top-10 Selection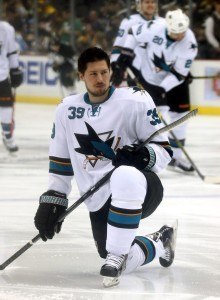 Missing the playoffs for the first time in over a decade was a tough pill to swallow for the San Jose Sharks and their fans. However, Team Teal now has the luxury of a top-10 draft choice for the first time in years. The last time they picked in the top-10 came after some wheeling and dealing landed them the ninth overall selection back in 2007. San Jose used that draft choice to select Ontario native Logan Couture. All Couture has gone on to do is become an annual 30 goal scorer in his first five seasons in the NHL. While he has only actually reached the 30 goal plateau twice, he did so in each of his first two seasons. Only the lockout in year three, an injury in year four, and struggling linemates in year five prevented him from getting there the last 3 years. This past season the Sharks struggled mightily at even strength and yet Couture still managed 27 goals. In other words, with the ninth overall selection again this year, San Jose is prime to select a very good player. But who should they take?
BPA vs Team Needs
One particular mock draft on draftsite.com has the Sharks taking left winger Lawson Crouse of the Kingston Frontenacs. A tall left-handed winger at 6'2" would make some sense given the Sharks are thin on the wings. However, therein lies the draft question, do teams take the best player available or draft a particular type of player that they need? When you consider most NHL draft picks don't play in the NHL right away nor even in the second year after being drafted, taking the "BPA" makes sense. Rosters change frequently and in two years the team needs could be completely different.
While the Sharks selecting a natural winger would be far from a shocking, they already have a number of young talented left-handed shooters. Tomas Hertl, Matt Nieto, Nikolay Goldobin are the headliners whom all shoot left-handed. If the Sharks are going to go with a forward in the first round, the preference ought to be a right-handed shooting center who can also play the wing. Most natural centers can shift to the wing easier than wingers can move to the middle. Currently outside of Joe Pavelski, the Sharks have limited right-handed faceoff men on the roster. Ben Smith is the only other legitimate right-side faceoff guy. That said, predicted in the above mock draft to go fifth overall is the London Knight's Mitch Marner. He is a smaller forward at 5'11" but shoots right-handed and is listed primarily as a center who can also play right wing. If he were to fall to ninth, he would be an ideal pick for the Sharks. San Jose certainly has no reason to try and move up to get him though, if anything they should actually look to trade back in the first round if possible.
BPA Possibly Fits Team Needs?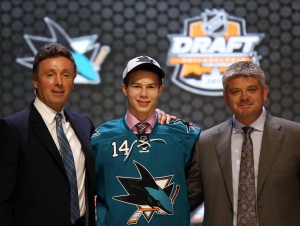 Moving back makes a lot of sense in a deep draft this year. Many experts have mentioned this draft being the closest thing to the star studded 2003 draft. There are lots of players in the middle rounds who are thought to be really good future NHL players. Considering the Sharks' recent run of success picking in the later half of the first round, (Charlie Coyle 28th in 2010, Tomas Hertl 17th in 2012, Mirco Mueller 18th in 2013, and Nikolay Goldobin 27th in 2014), and the fact they gave away their third round pick in this year's draft last offseason for Tye McGinn, moving back to gain an extra pick would be smart. If another team wants to move up to 9th and is willing to give up a 2015 third rounder to do it, that might be a very wise decision for the Sharks to oblige.
That said, the Sharks might be very well positioned at ninth overall to get one of those "BPAs" who also fills a need. Slotted in that same mock draft to go 11th overall to Florida is (correction left-handed)  right-handed puck moving defenseman Zack Werenski. Not only does Werenski possess highly rated offensive skills but by already being listed at 6'2" 210, he has the necessary size to develop into a terrific defensemen at both ends. If available at ninth overall, the American born defender would be hard to pass up for the Sharks who currently lack defensive depth. Many of us media types believe Brent Burns belongs at forward, and if he is correctly used as a forward, than they will need guys to fill in those minutes down the line.
Final Thoughts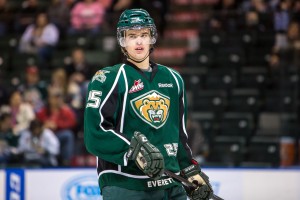 It will be interesting to see just how the Sharks decide to attack this draft. San Jose is no stranger to moving picks and players around on draft day. As mentioned above they executed some wheeling and dealing to draft Couture in 2007 but they also moved up two spots from 20 to 18 to nab Mueller in 2013, and acquired Burns and Minnesota's second round pick for Coyle, Devin Setoguchi, and a first round pick on draft day 2011. It is very possible the Sharks move out of the ninth overall pick. If they stay at ninth, the ideal type of player taken in that spot is a right-handed center or right-handed puck moving defenseman. The one other main area of need is goaltending but the majority of NHL goaltenders are taken in the later rounds and not a single goaltender is a projected first round pick this year. It is worth keeping an eye out though on how early the Sharks try to pickup a netminder since they are extremely barren between the pipes.
Andrew has been credentialed to cover the Sharks since 2010 and the 49ers since 2012. He graduated with his BA in Broadcast Electronic Communication Arts in 2013 from San Francisco State University.