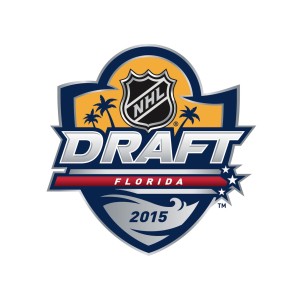 The Toronto Maple Leafs have entered a stage of great organizational change. Gone are the coaches, general manager and a bevy of scouts. Brendan Shanahan has a plan that if successful, will see the Maple Leafs rise out of mediocrity and became one of the better teams in the league.
The changes will start almost immediately. The Leafs have two first round picks in the upcoming  2015 NHL Entry Draft. If real change is to occur, they need to hit a home run on both of them. The early pick is already most likely spoken for. Dylan Strome, Mitch Marner and Noah Hanifin are the most common names being associated with the Leafs number four selection.
Their second first round pick happens to fall at position number 21. There are many interesting players the Buds could draft with that pick. Let's take a look at three promising prospects that could become future Leafs.
Oliver Kylington
The Swede has been extremely impressive this past year. Not only does he possess above average hockey sense and passing, he is regarded as a smart, two-way defenseman who is comfortable in any situation. Combine all that with a rocket of a shot and excellent skating and you have a dynamic and versatile prospect.
Jordan Greenway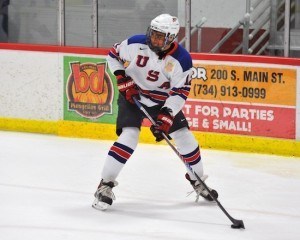 Simply put, Greenway is a monster on the ice. He's listed as six-foot-five and 222 pounds and still has room to grow. The American is a smooth skater with good hands and solid on-ice vision. Add in that he plays a physical and punishing brand of hockey and you have the early makings of the coveted power forward. If there's a knock on Greenway, it's that he needs to show more consistency. That will develop with age and experience.
Nick Merkley
Playing for the Kelowna Rockets of the WHL, Merkley has had an outstanding year. He plays smart, fast and always has an eye on where his teammates are on the ice. He is competent in his own zone and uses his speed to lead breakouts down the ice. The Calgary, Alberta native is also a tenacious forechecker as well as a hardworking player overall.
If the Maple Leafs really want to usher in change, selecting a good player 21st overall is all but imperative. There have been some notable success stories from former 21st picks including Riley Sheahan, Tuukka Rask and John Moore.
It's a long road ahead for the Maple Leafs. Two really solid prospects will definitely help the progress along. Draft smartly, because this is where your franchise is built.
My name is Anthony Fusco. Through school, I completed a joint degree involving an Honours B.A. in Journalism from Wilfrid Laurier University and a Videography and Broadcasting degree through Conestoga College.
I currently work for the University of Toronto as a Varsity Sports Announcer and for the Toronto Maple Leafs as part of their game presentation squad.
I'm also the play by play voice of the Kelowna Falcons, a baseball team located in British Columbia.
My goal is to one day be a hockey broadcaster.