The NHL Draft is just over a month a way and 26 teams are already preparing to improve their future.
The first two picks are already set in stone but there are numerous questions surrounding the draft.  Who will Arizona take at No. 3? What will the teams that have two first-round picks do with them? Will there be any big trades on draft day? The biggest question though: Will Gary Bettman get booed everytime he steps to the podium? I think we all know the answer to that one.
Let's start the mock draft.
1. Edmonton – Connor McDavid, Center
The Oilers surprise everybody by taking the little known player, Connor McDavid. All kidding aside, everyone knows who Edmonton's taking McDavid. They might as well start negotiating a contract.
2. Buffalo – Jack Eichel, Center
See Connor McDavid. The rich get richer as the Sabres add Eichel to a center depth chart that will also include Sam Reinhart and Mikhail Grigorenko. Did I mention they also have Evander Kane on the wing? The Sabres will get really good really soon.
3. Arizona – Noah Hanifin, Defense
If NHL teams have learned anything about the draft, I hope it's this. If there is a defenseman available in the top five, take him. With the amount of time, Jonathan Drouin is spending in the press box, maybe it would have been prudent to select Seth Jones. The Coyotes should not make that mistake. They will end up regretting it if they don't take Hanifin.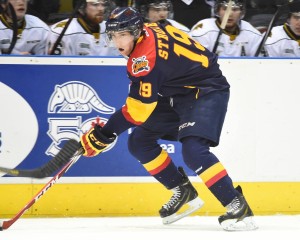 4. Toronto –  Dylan Strome, Center
I have talked about recently how the Leafs need to select Strome if he's available. Big centers are a staple on the NHL's best teams. If Strome is available, I can't reiterate it enough. They have to take Strome.
5. Carolina – Mitch Marner, Right Wing
The Hurricanes have had trouble scoring in recent years. In The Hockey News Draft Preview magazine, one scout says Marner reminds him of Claude Giroux and another says he reminds him of Patrick Kane. So he would probably help solve those scoring problems, possibly as soon as next season.
6. New Jersey – Lawson Crouse, Left Wing
I don't know what it is, but the way I've heard Crouse described, it screams that he should end up in New Jersey. He would fit perfectly in their top-six. He can score and hit. He could probably make some room for the Devils' other scoring forwards as well.
7. Philadelphia – Ivan Provorov, Defense
Do the Flyers need defenseman? It seems like the answer to that question will always be yes. With some saying that Provorov might be just as good as Hanifin, the Flyers need to take a shot.
8. Columbus – Zach Werenski, Defense
Believe me, the Blue Jackets are hoping that Provorov falls to them as they also need defense. However, Werenski is not a bad consolation prize. In The Hockey News Draft Preview, one scout was quoted was saying this,
"Out of him, Hanifin and Provorov, he is the best with the puck of the three,"
Definitely not a bad pick.
9. San Jose – Pavel Zacha, Center
The Sharks did pretty well by taking Tomas Hertl a couple of years ago. Why not go to the well again? The Czech Republic seems to be going through a rebirth in terms of churning out pretty good prospects. He could end up replacing Joe Thornton as the No. 1 center when Jumbo Joe retires.
10. Colorado – Jakub Zboril, Defense
It might be a bit of a reach, but the Avalanche need a physical defenseman and Zboril fits that mold. Colorado's weak point is their defense, so there is one guarantee: They will be taking a blueliner.
11. Florida – Mikko Rantanen, Right Wing
One of the best players on a disappointing Finnish team at the 2015 World Junior Championships, Rantanen had four goals in five games. If the Panthers were to pair Rantanen with his fellow Finn Aleksander Barkov, that would create two-thirds of a very scary line.
12. Dallas – Matthew Barzal, Center
Selecting Barzal would really shore up the center position in Dallas. Already having Tyler Seguin and Jason  Spezza, they could give Barzal time to develop. He could eventually replace Spezza as the No. 2 center.
13. Los Angeles – Thomas Chabot, Defense
Robyn Regehr has retired. The situation with Slava Voynov is still confusing. The defense has become an issue in LA beyond Drew Doughty. Taking a player like Chabot will help alleviate that problem down the road.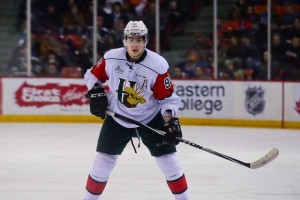 14. Boston – Timo Meier, Right Wing
It looks like the Bruins are going through a bit a youth infusion. No one ever expected David Pastrnak to make the NHL this season. The Bruins should continue to go for skill in the draft. Meier comes from the Halifax Mooseheads, a franchise that just seems to keep developing NHL talent. The Bruins could use a little bit of that magic.
15. Calgary – Oliver Kylington, Defense
The Flames made the playoffs when no one expected them to this season. It looks like their rebuilding is going well. Calgary hasn't taken a defenseman in the first round since Tim Erixon in 2009. Kylington is rated No. 1 in European skaters. The Flames can give him a few years.
16. Edmonton (from Pittsburgh) – Brandon Carlo, Defense
With the Oilers getting McDavid with the first overall pick, they should target a defenseman with their second pick. Carlo is a 6'5″ defenseman that would prove to be an effective defensive blueliner for them.
17. Winnipeg – Colin White, Center
The Jets have some of the NHL's top prospects. Therefore they can afford to take a player like White. White is one of those players that are labeled as safe. He won't be a game-breaker, but he'll make the NHL for sure. This is a luxury the Jets have.
18. Ottawa – Kyle Connor, Center
Connor will be going to the University of Michigan next season, so whoever drafts him will have to be patient. The Senators are a team that has a strong development system, so they have the time to wait for Connor to finish college.
19. Detroit – Nick Merkley, Right Wing
The Red Wings were burned by 5'8″ Tyler Johnson in the first round of the playoffs. So what should Detroit do? Draft a player that could end up being the next Tyler Johnson or Johnny Gaudreau. Merkley and the Kelowna Rockets just won the WHL Championship and are on their way to the Memorial Cup. His stock could rise even more.
20. Minnesota – Paul Bittner, Left Wing
There always seems to be a team that takes a player that was born in their US state or Canadian city. I think Minnesota will do that this year with Minnesotan Bittner. If Bittner were to make the Wild's lineup next season, he would already be the tallest player in the lineup.
21. Buffalo (from New York Islanders) – Brock Boeser, Right Wing
With all the centers that the Sabres are gathering, there going to need wingers to play with them. The second straight Minnesotan to be selected, Boeser will have a longer road to the NHL than Bittner as he will be attending the University of North Dakota. I think the Sabres have the time.
22. Washington – Jacob Larsson, Defense
The future of Mike Green in Washington is a question mark. While they have Brooks Orpik and Matt Niskanen, the Capitals need to start shoring up the defense after focusing on the offense the past couple of seasons. Larsson would give them a two-way defender that just needs to get stronger at this point.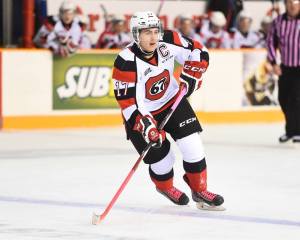 23. Vancouver – Travis Konecny, Center
The Canucks need defensemen, but with Konecny still available, the Canucks have to take him. The captain of the Ottawa 67's, he already has leadership skills and he could be one those players that could be the next Johnson or Gaudreau.
24. Toronto (from Nashville) – Evgeny Svechnikov, Right Wing
"The Russian Factor" is not much of an issue anymore so if Svechnikov is still available when the Leafs pick, the couldn't do much better. Primarily a right wingerr, he can also play center so the versatility helps his cause. His 6'3″ height also does.
25. Winnipeg (from St. Louis via Buffalo) – Nicholas Roy, Center
Making a safe pick with their first selection, they take a risk with their second pick with Nicholas Roy. The biggest knock against him is his skating, but if he can improve that, the Jets will have a big, 6'4″ center to go up against the beasts of the Western Conference.
26. Montreal – Jansen Harkins, Center
The last time the Habs took a player from Vancouver, it turned out pretty well. Actually from North Vancouver, Harkins has can score. What did the Canadiens have a problem doing in the playoffs? Yeah, Harkins would help.
27. Arizona (from Chicago)* – Jake Debrusk, Left Wing
Connor Murphy. Henrik Samuelsson. Max Domi. Brendan Perlini. Ryan MacInnis. What do all those players have in common? All their fathers played in the NHL and they have all been drafted by the Coyotes in the past four drafts. Why break the streak?
28. Philadelphia (from Tampa Bay)* – Gabriel Carlsson, Defense
This is how much the Flyers need defense. Taking two d-men in the first round might seem a little far-fetched, but they need the help. Carlsson would give them another big defenseman to build around along with Travis Sanheim and Samuel Morin.
29. Anaheim* – Joel Eriksson Ek, Center
Can the Ducks sign Ryan Kesler to an extension before his contract runs out after next season? Drafting Eriksson Ek would be good insurance just in case they can't.
30. Tampa Bay (from New York Rangers)* – Jeremy Roy, Defense
The Lightning took a risk last year by selecting Anthony DeAngelo. Now, that pick might work out, but who knows? Taking a player like Roy would be another good insurance pick.
* – Still To Be Determined
Toronto Maple Leafs Writer At The Hockey Writers.