After the Montreal Canadiens' season had ended in game six versus Tampa Bay and the players gathered in front of the media, a quote from PK Subban stood out. In an article by Arpon Basu of NHL.com, Subban said "I can't focus on saying we need to wait a couple of years before we can contend. We need to contend now." With management calling this past season a transition year, Subban clearly feels otherwise and he isn't wrong in saying that Montreal needs to contend.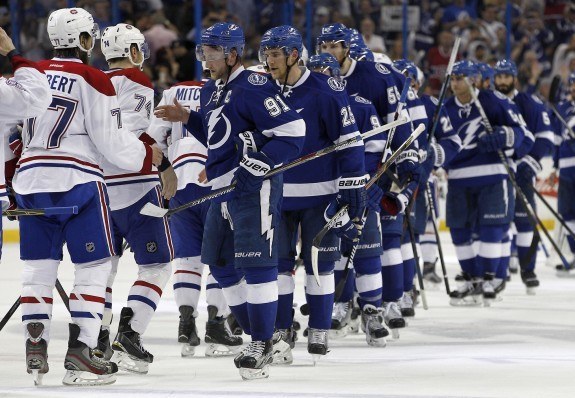 PK Subban is right
Subban, Carey Price and Max Pacioretty are all in their primes as players and they are the best three on the Habs. All three had excellent years and were a major factor in the Habs winning the Atlantic division. Montreal struggled to score all year which became even more glaringly apparent in the playoffs. The power play was putrid while puck possession was an issue. Players want to contend and don't want to wait to win.
Saying it was a transition year doesn't reflect well on management. Good teams are confident that they can contend for a Cup so saying it was a transition year more or less sounds they are trying to excuse any shortcomings in the playoffs. The term "transition year" is something rebuilding teams say, not ones winning the division and putting up one of the best records in the league.
It was a transition in a sense that some other players took on bigger leadership roles which became obvious after the season ended with Price blaming himself for the loss and Subban citing the need to contend right now.
#Habs inept 5.6% PP, porous 70% PK (both ranked NHL playoffs' 15th of 16), weak 2.08 goals/game – & Carey Price blames HIMSELF? #hahahaha

— Dave Stubbs (@Dave_Stubbs) May 13, 2015
Contending vs Loyalty
GM Marc Bergevin did well in getting a top four defenceman in Jeff Petry while Torrey Mitchell acquitted himself well in the playoffs. But giving the coaching staff four year extensions was a tad early considering the team's struggles when removing Price from the equation. Bergevin failed to a get a top six scorer which was sorely needed and adding so-called grit in Devante Smith-Pelly wasn't the answer. The team could use more depth in the bottom six but there is no doubt more offence is needed as it is too much pressure for Price to be superhuman every night.
Bergevin has to put his loyalty to Michel Therrien aside and take a hard look at what kind of job he is doing. Therrien's record as the coach is deceiving despite the success of the past few years. There are underlying problems that need to be solved in order for Montreal to contend. Special teams are crucial especially in the playoffs and neither the power play or penalty kill shined.
Therrien's system stifles any creativity as he emphasizes on dump and chase and sitting back on a lead. It is a very conservative style as it relies on otherworldly goaltending to succeed. Montreal has players who can score but something has to give when everyone goes cold at the same time. A new coach who preaches puck possession and more scoring could do wonders for this team and make Price's job easier.
https://www.youtube.com/watch?v=r7FGB7euxoc
Changing of the guard
The development of Alex Galchenyuk has to be talked about as he will be entering his fourth season with no indication so far as to him being the franchise centre the team claims he will be. Playing him on the wing with little power play time isn't going to transform him into a top centre. He needs to play in that role and learn. There are going to be hiccups but he's young so you have to take the good with the bad.
Next season, the younger players need to have bigger roles. Andrei Markov looked worn out by the playoffs which proved he played too much during the regular season. He is still a solid defencemen but his age and past injuries limit his effectiveness at times. It is time for someone like Nathan Beaulieu to take on more minutes and attempting to resign Petry more important.
Even Lars Eller, who is one of the best puck possession players on the Habs, could stand to have a bigger role with better players as he is always in a shutdown role with a revolving door of less talented players.
Asked if he wanted a bigger offensive role and if he was ready for a bigger offensive role, Lars Eller replied with a firm 'yes' to both.

— Dan Robertson (@DanRTSN) May 14, 2015
No excuses
In the fall, other NHL teams will raise their division and conference championship title banners to the rafters except in Montreal. In Montreal, only retired numbers and Stanley Cup championships banners are raised which speaks to the storied history and heightened expectations in La Belle Province. Habs fans are impatient for a Stanley Cup as the drought continues. There is fear that the primes of Price, Subban and Pacioretty will be wasted and that Therrien will hang around for too long. The mantra in Montreal is no excuses and the organization needs to realize that anything less than contending isn't going to cut it.