This is going to be a young, exciting team to watch — and a team capable of exceeding expectations, perhaps even pushing for a playoff berth.
The prospect junkies will be picking Coyotes left and right in fantasy leagues this season, but it remains to be seen how Arizona's youngsters will fare in the big league. Some will thrive and others may not survive.
There will be some hit-and-miss options when it comes to the Coyotes, but many fantasy GMs will be willing to take those risks.
The only sure bet is on the blue line, but the upside is promising for several Arizona players — including a handful of rookies — this season.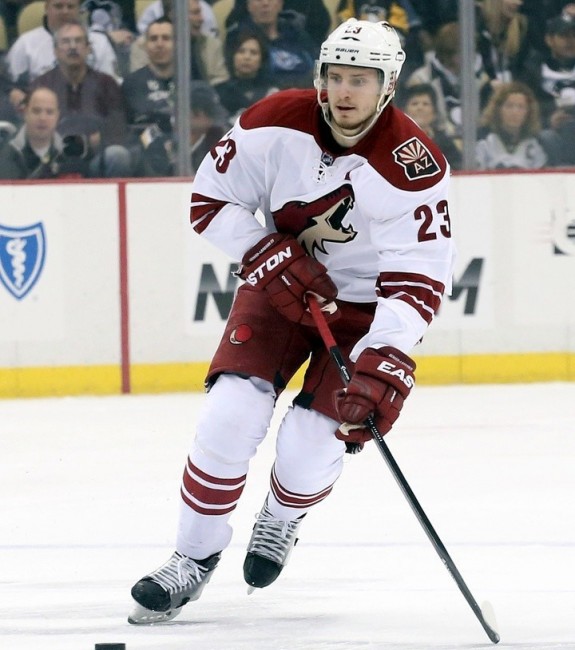 Top Performer: Oliver Ekman-Larsson, D
OEL, as he's affectionately known, is a fantasy stud and should be among the defence leaders in goals and shots again this season.
With the influx of offensive-minded newcomers, Ekman-Larsson could actually improve on last season's totals of 21 goals (tied for second), 55 points (seventh) and 228 shots (fifth) in 75 games. Had he played all 82, Ekman-Larsson's stats would have prorated to 23 goals (second), 60 points (fifth) and 249 shots (second). He's absolutely a top-five fantasy defenceman and could be ranked as high as third behind only Erik Karlsson and Brent Burns. Yes, Ekman-Larsson is that good and he's still just 25 years old.
Ekman-Larsson also logs a ton of ice-time and is Arizona's top power-play guy, so there is no reason to expect a drop-off in any of those categories. If anything, anticipate a slight uptick on the assumption that the Coyotes will generate more offence as a whole.
If Arizona's goals-for number goes up — from 209 last season, ranked 24th out of 30 teams — Ekman-Larsson's numbers will likely reflect that too.
Underrated Performers: Michael Stone, D, Connor Murphy, D and Kevin Connauton, D
It's difficult to pick just one — and none of them are great fantasy options — but this defence trio is capable of chipping in from further down the depth chart or off the bench.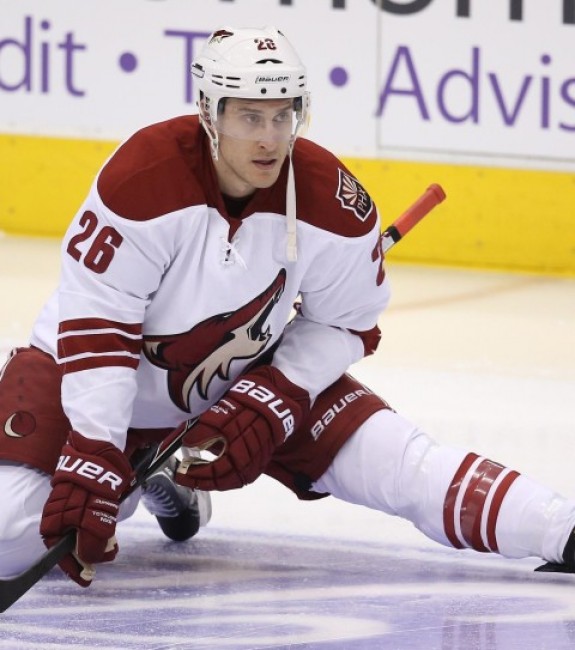 Definitely consider each of them for deeper leagues, but note that Stone could be slowed by off-season knee surgery. He hopes to be ready for the regular-season opener, but it was a six-month recovery process after repairing both his ACL and MCL in April.
That's a pretty serious operation and Stone might not be the same player to start the season. He ranked second among Arizona defencemen — behind the aforementioned Ekman-Larsson — with 36 points last season, but Stone will likely see less power-play time this season with the free-agent signing of Alex Goligoski.
As doom and gloom as that may sound, Stone is still rather underrated in the fantasy realm.
Murphy was limited to 17 points and Connauton netted nine in 38 games after coming over from Columbus — prorated to 19 over 82 — but both could come close to doubling their production this season. That makes them stronger candidates for another category later in this outlook.
Shane Doan probably deserves a shout-out here too. He'll turn 40 years old just before the season starts but is still going to be good for 40-plus points and possibly 50. He's no Jaromir Jagr, but Doan deserves more credit for his continued fantasy contributions and shouldn't be overlooked because of his age. Don't reach for Doan based on years past when he was putting up 60-plus points, but don't avoid him in the later rounds.
Overrated Performer: Martin Hanzal, C
Hanzal got off to a blazing start last season and became a hot commodity in fantasy leagues before fizzling out in the second half. Granted, he was also injured, but Hanzal finished fifth in team scoring with 41 points, including 13 goals, in 64 games — prorated to 53 points and 17 goals. That's good, but not great — 41 was still a career-high and he's never scored more than 16 times.
Picked up Martin Hanzal in hockey fantasy just so I could say "Hanzal is so hot right now."

— Tyler Morrison (@tylermorrison1) November 12, 2015
Hanzal could also find himself further down Arizona's depth chart in more of a checking role this season depending how and where rookies Dylan Strome and Christian Dvorak fit in. Even if his even-strength role remains the same, Hanzal's power-play time will likely decrease to some degree.
Hanzal is in a contract year as a pending unrestricted free agent next summer, so that could fuel his fire for a 20-goal, 50-point campaign, but it's best to temper expectations when considering him for your fantasy team. There is also the possibility that Hanzal becomes trade bait if Arizona is out of the playoff race at the deadline and those rumours could be a negative distraction as well.
Anthony Duclair isn't necessarily overrated, but he could fall victim to the sophomore slump. Duclair was fourth in team scoring with 44 points, including 20 goals, last season and might be hard-pressed to match that stat-line in his second campaign. Max Domi seems more likely to build on his rookie totals of 52 points (second) and 18 goals (fourth). Domi could even overtake Ekman-Larsson as the Coyotes' leading scorer in 2016-17.
Fantasy Sleeper: Alex Goligoski, D
He's not an unheard of sleeper — he's been a household name before — but Goligoski seems to be flying under the radar in most draft rankings.
Goligoski was overshadowed by John Klingberg's emergence in Dallas, but Goligoski is still good for 35-plus points and could flirt with 50 if he's pairing with Ekman-Larsson on the top power-play unit. That seems to be the plan heading into training camp, so put a little star beside Goligoski as a veteran defenceman who could enjoy a resurgence this season.
Really like the Goligoski signing for the #Coyotes, puck-moving defenseman that can help on power play #12Sports pic.twitter.com/jidvsLvkTb

— Robby Baker (@RobbyBakerTV) June 22, 2016
Goligoski is still probably a No. 3 or No. 4 on your fantasy depth chart, but don't let him go undrafted into the later rounds. If he's available in that No. 4 range — in a league of 12 or more teams — Goligoski is worth strong consideration this season.
Bounce-back Candidates: Radim Vrbata, RW and Luke Schenn, D
These aren't ideal candidates or strong bets to bounce back, but they do fit the bill from Arizona's roster.
Vrbata fell out of favour in Vancouver last season and seemed to lose interest as well. His stat-line provided the evidence on both fronts, posting just 13 goals and 27 points in 63 games — prorated to 17 and 35 over 82.
That was a drastic drop-off from the previous season — his first with the Canucks, when Vrbata clicked with the Sedin twins to record a career-high 63 points, including a second-best 31 goals.
https://twitter.com/christinecartr/status/766563499996614656
Now Vrbata is back in Arizona, where he played from 2007 to 2014, scoring 35 goals in 2011-12. He'll be familiar with Dave Tippett's coaching systems and could be rejuvenated if he's motivated again. Was that the problem last season or did Vrbata actually lose a step skill-wise? Time will tell.
Schenn hasn't lived up to his draft status as the fifth overall pick from 2008. He'll be suiting up for his fourth different team this season, but seemed to make strides after getting traded to Los Angeles last season.
Schenn will never be a point producer — he'll be lucky to exceed 20 ever again — but for fantasy leagues that reward hits and blocked shots, he's been reinventing himself as a physical, shutdown type. Even still, Schenn is likely a waiver-wire guy in the vast majority of leagues.
The advanced stats don't paint Schenn in a positive light, but if he picks up with the Coyotes where he left off with the Kings, he'll be a bounce-back candidate in real life and might even play his way into fantasy relevance again.
Breakout Candidates: Connor Murphy, D and Kevin Connauton, D
Not a lot of strong options here either, but these guys deserve a second mention.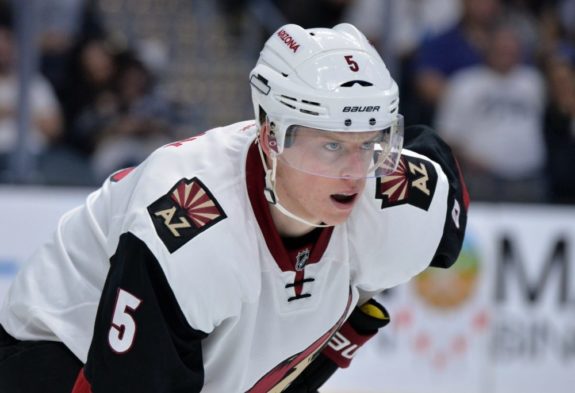 Murphy was among Team USA's best players at the world championship tournament this spring and could be poised for a big breakout. He should be a bona fide top-four defenceman by season's end and might be moving the fantasy needle more than expected too.
You can probably take a wait-and-see approach with Murphy because rival fantasy managers won't be paying too much attention to him, but if and when you notice him taking off, don't hesitate to make that claim. For deeper leagues, Murphy may be worth rostering from the get-go.
Ditto for Connauton, who counted four goals among his nine points with Arizona and has always had a cannon of a shot. His all-around game remains a work in progress, but the Coyotes liked enough of what they saw to sign him for another two years.
Connauton might never be a go-to fantasy guy, but he'd make a decent pick-up in a pinch — especially if he's seeing some time on Arizona's second power-play unit.
Impact Rookies: Dylan Strome, C, Christian Dvorak, C/LW, Lawson Crouse, LW, Anthony DeAngelo, D and Jakob Chychrun, D
These rookies probably won't all make the opening-night roster, but they will be getting long looks in training camp as the Coyotes look to go young.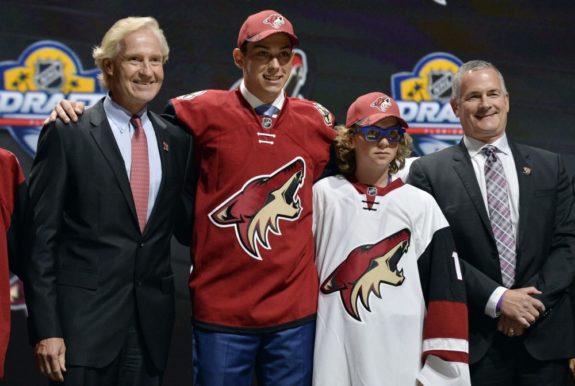 Arizona bought out veteran centre Antoine Vermette to open up a spot — presumably for Strome, the third overall pick from 2015, though Dvorak centered Mitch Marner's line for the Memorial Cup champion London Knights and dominated in the face-off dot as well. There could be room for both of them in the lineup, with Strome possessing the higher offensive ceiling. Some see Strome as a potential Calder contender this season.
Crouse, the 11th overall pick in 2015, recently came over in a trade from Florida. He's a budding power forward and will be battling for a roster spot with Brendan Perlini, a similar player who Arizona selected 12th in 2014.
DeAngelo and Chychrun will both be in tough to crack the defence, considering we've already covered the perceived top-six in Ekman-Larsson, Goligoski, Stone, Murphy, Connauton and Schenn. That's not counting Zbynek Michalek, Jamie McBain and Klas Dahlbeck — all listed on the NHL roster — nor Kyle Wood, another prospect acquisition who could surprise in camp.
Is Anthony DeAngelo Ready to Make the Jump to the NHL? https://t.co/yhzQ1hZ0dG #THW

— The Hockey Writers (@TheHockeyWriter) August 23, 2016
The Coyotes are suddenly in good shape on the back end, but DeAngelo has an elite skill-set and was named CHL defenceman of the year in 2015 before racking up 43 points in 69 games as a rookie pro with Tampa Bay's farm team last season. DeAngelo's character has been called into question at times, but Arizona seemed to steal him for a second-round pick that turned into fellow defence prospect Libor Hajek during the draft in June.
Chychrun was once touted as a candidate to go first overall in 2016 and was still widely considered a top-10 prospect on draft day, but he was falling hard when the Coyotes traded up to take him 16th overall. Chychrun doesn't have near the offensive upside of DeAngelo — not many do — but Chychrun should still be a fantasy contributor if and when he sticks.
Chychrun needs to go back to junior if he doesn't crack Arizona's roster, but DeAngelo would likely be the first call-up should injuries occur. Expect DeAngelo to make his NHL debut at some point this season and be ready to claim him. If something were to happen to Ekman-Larsson or Goligoski, DeAngelo could take the league by storm like Shayne Gostisbehere did last season when Mark Streit went down in Philadelphia.
Goaltending
This is, by far, the biggest question mark for the Coyotes.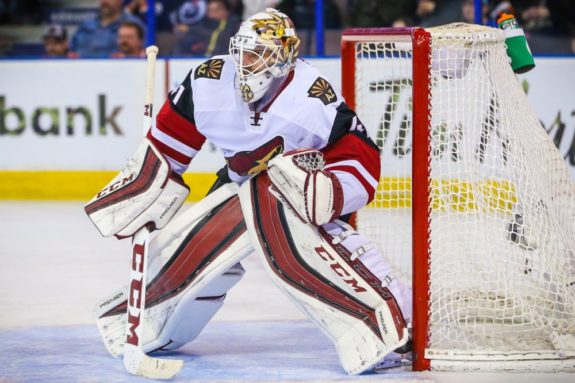 Mike Smith used to be a strong fantasy option, especially as a guy who saw a ton of shots and posted a respectable save percentage. However, he's struggled with injuries and inconsistencies since the lockout year and is no longer starter-worthy in most fantasy leagues at 34 years old.
Smith now ranks in the bottom third of the league — in the 20 to 30 range, with the likes of fellow veterans Cam Ward and Ryan Miller. You should no longer be pinning your fantasy hopes on these guys in the year 2017.
The Coyotes might not even be pinning their season on Smith. He'll probably be on a short leash from the outset, with Louis Domingue coming out of nowhere to match Smith's win total (15) last season, while posting very comparable statistics across the board.
Domingue made 39 appearances to Smith's 32 last season and had a .912 save percentage and 2.75 goals-against average to Smith's .916 and 2.64.
The 24-year-old Domingue could be Arizona's goalie of the future and that torch passing could take place this season even if Smith stays healthy.
In theory, Smith. But if there's a 60/40 split in net next year, don't be too surprised; team really liked Domingue.

— Catherine Silverman (@catmsilverman) August 10, 2016
In saying that, Smith could rebound to backstop the Coyotes into playoff contention. One way or the other, Arizona is going to need solid goaltending to be in the wild-card mix, but your fantasy team would be wise to shy away from both Smith and Domingue. As third-stringers, they might be worth a late-round flyer, but don't take them any earlier.