The final installment  reflecting on Bob Murray's tenure as general manager of the Anaheim Ducks is now here. In case you missed it, part one looked at Murray's ability to make a meaningful trade, while part two shed light on how he has fared at the NHL Entry Draft. Part three will look at Murray's signings, both in free agency and in keeping his own players.
Listed will be most of the signings Murray made throughout the season, with the most prominent ones being addressed. What follows is a breakdown by seasons of what took place, starting with the 2009-10 NHL season.
2009-10 Season
Murray's biggest move of the off-season was trading Chris Pronger away at the draft. His second biggest move was bringing in former Montreal Canadiens captain Saku Koivu on a 1-year deal worth $3.25 million. Koivu had a fantastic NHL career and played five seasons for the Ducks. He instantly became a fan favorite and was easily one of Murray's best signings. Koivu finished fourth on the Ducks in scoring this season.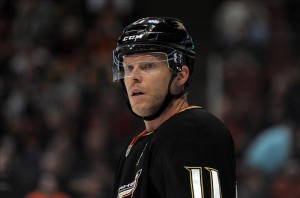 Hoping for greener pastures, Francois Beauchemin signed a three-year, $11.4 million dollar deal with the Toronto Maple Leafs. Letting Beauchemin go for that amount of money was a good decision by Murray. However, he would trade for the aging blueliner again in 2011.
Scott Niedermayer was re-signed for one last time, signing a one-year deal for $6 million. This season ended up being Niedermayer's last. Also re-upped was workhorse Todd Marchant, oft-injured James Wisniewski, and southpaw goaltender Jonas Hiller on a four-year, $18 million dollar contract.
Although missing the playoffs for the first time in six seasons, Koivu's signing stands out to be the most prominent of the group here. Providing speed, leadership, and toughness, Koivu brought a much needed second-line center to the Ducks behind Getzlaf. Hiller's signing seemed like a no-brainer at the time. However, after his bout with vertigo-like symptoms he was never the same goaltender.
2010-11 Season
The biggest question marks entering the 2010 offseason was whether Teemu Selanne or Scott Niedermayer would stick around for another season. In late June, Niedermayer announced he would retire while Selanne chose to stick around for one more year (we know how this plays out).
Replacing a Hall-of-Fame defenseman is nearly impossible as Murray found out. Signings included Toni Lydman, Dani Syvret, Andy Sutton, Paul Mara, and Andreas Lilja. Only Lydman made any significant contribution to the Ducks in the long run as they signed him to a three-year deal worth $9 million.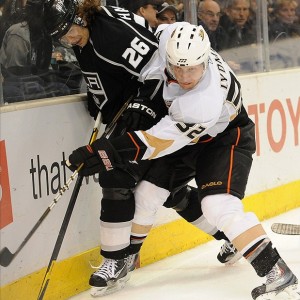 Saku Koivu was re-signed on a two-year, $5 million dollar deal while Selanne came back at $3.25 million for one-year. Bobby Ryan also signed his big deal worth $25.5 million over five years.
However, the most interesting signing actually came on February 7, 2011. Remember Ray Emery? The goalie who guided the Ottawa Senators to the 2007 Stanley Cup Finals had been battling injuries over the past several seasons. He came in on a two-way contract and ended up being the starting goaltender for the Ducks in the 2011 playoffs.
Sutton being signed for two years at $4.25 million was certainly a head-scratching move by Murray. What exactly had Sutton done to earn this deal? Well, see for yourself. In short, nothing. Deals like these are what internal cap teams must avoid.
2011-12 Season
Entering a rather quiet offseason awaited Murray as the 2010-11 NHL campaign came to a close. With only Selanne's retirement the major question mark, Murray's only major move came via trade, acquiring Andrew Cogliano from the Edmonton Oilers. He ended up signing a three-year, $7.17 million extension.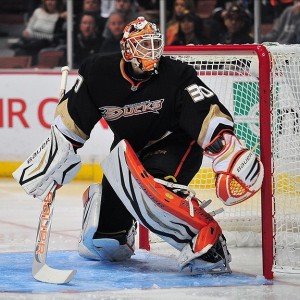 Players like Sami Vatanen, Emerson Etem, John Gibson, Nick Bonino, and Patrick Maroon were all signed to entry-level deals. All of them would provide significant contributions in the near future. Selanne decided enough was not enough as well, coming back for one-year at $4 million.
The biggest bargain was Viktor Fasth being signed at one-year, $1 million towards the end of this season. Starting his career at 8-0-0 during the 2012-13 lockout-shortened season, he ended up providing stability in the crease with Hiller battling vertigo.
2012-13 Season
Say the word lockout and every NHL fan will cringe. Diehards know all too well how well the NHL and NHLPA can negotiate a collective bargaining agreement. Luckily for hockey fans everywhere, this season was not completely wiped out as teams played 48 games.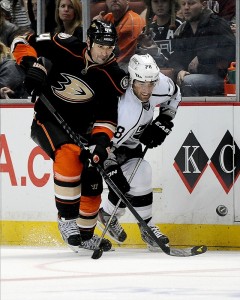 Unfortunately for Ducks fans, there was enough time for Murray to make some highly questionable free-agent signings. Locking up Sheldon Souray for three years, $11 million and Bryan Allen for three years at $10.5 million is simply not good player management. Although playing most of the shortened season with the Ducks, Souray quickly got hurt in his second year and Allen did little to justify his paycheck.
On the plus side, Murray did lock up Hampus Lindholm, Rickard Rakell, Freddie Anderson, and Teemu Selanne. Massive contracts were dealt out to the twins: Corey Perry and Ryan Getzlaf. Signing similar eight-year deals at $69 and $66 million, respectively, Perry and Getzlaf certainly deserved the deals but now need to justify the cap hit they will be carrying. Cam Fowler was also signed to a reasonable five-year, $20 million dollar contract.
2013-14 Season
For those who do not remember, this was the year Murray was given the NHL General Manager of the Year Award.
In the off-season, Murray brought back what many was considered a bargain in Dustin Penner at $2 million for one-year. Ducks fans were hoping a reunion of the PPG line would bring back Cup glory, but Penner was traded to the Capitals later in the year. He also made noticeable moves in trading away Bobby Ryan and acquiring Matthieu Perrault and Stephane Robidas.
Personally, I loved the Mark Fistric signing during the off-season. Although never putting up flashy numbers, I always appreciated Fistric's game and mentality. It's unfortunate he did not play more than the aforementioned Allen, especially when he was doing this:
Kyle Palmieri, Nick Bonino, Matt Beleskey, and Saku Koivu were all re-signed for reasonable deals.
Although the playoffs did not end how any Ducks fan would have liked (losing to their beloved cross-town rivals), Murray set the team up for what seemed to be years of prosperity. Trading away Bobby Ryan freed up money while resigning key depth players in Palmieri, Bonino, and Beleskey while saving money seemed to put the Ducks in the perfect position to contend for years.
2014-15 Season
After acquiring Ryan Kesler in the off-season, many experts picked the Ducks to advance to the 2015 Stanley Cup Finals. Happy with what was shaping up to be a solid roster, little was done in terms of re-signing key players as Teemu Selanne and Saku Koivu both retired.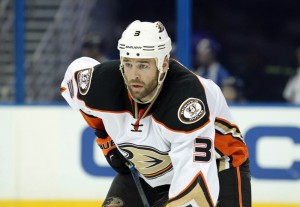 However, the worst move was, by far, signing Clayton Stoner to a four-year, $13 million dollar deal. Coming off an impressive season with the Minnesota Wild (insert sarcasm), signing Stoner to a deal of this amount of money was simply a bad business decision and one Murray still regrets to this day. With guys like Allen and Fistric playing similar styles already on the roster, the money used on Stoner could have gone to a certain pair of Swedes still left unsigned.
Most of Murray's work done this season was done via the trade route. Nate Thompson was acquired via trade three days after Kesler and Simon Despres was brought in for Ben Lovejoy. Kesler's acquisition immediately paid dividends with big time goals like this:
Although the Ducks fell to the eventual Stanley Cup champion Blackhawks, hope was still brimming that next season would be the year.
2015-16 Season
Unfortunately for the Ducks, we all know how the season ended up turning out. However, Murray did his part in trying to find the right veteran pieces in the off-season. Tinkering with the roster, he added great value with players like Chris Stewart, Shawn Horcoff, and Mike Santorelli while letting Matt Beleskey and Francois Beauchemin go for money that was deemed unnecessary at the time.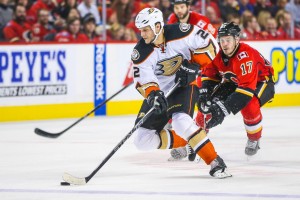 Regrettably, Murray also made signings he will come to regret in the near future. Signing Kesler to a six-year, $41.25 million dollar extension after he just turned 31 was a bit of a head scratcher. Kevin Bieksa is clearly past his prime but was signed for two more years at $4 million per. With defensive depth most teams drool over, signing Bieksa to this amount of money does not make much sense in my eyes.
Overall
Murray is certainly an enigma when it comes to signing players. He has shown a tendency to dole out massive contracts to stars like Perry, Getzlaf, and Kesler. Perry and Getzlaf were justifiable, but Kesler at age 31 is too old to be getting the kind of extension he received.
What good is having defensive depth if you won't let the kids play and sign players like Stoner and Bieksa to deals they cannot live up to? Living in a salary cap world, these kinds of deals have to stop or the Ducks are going to be in real trouble in the future. Well, you could say they already are since Rakell and Lindholm will bump them above their allotted cap room.
Imagine not having Bieksa's $4 million and Stoner's $3.25 million cap hit on the books for this year. That's $7.25 million that could go to our young kids and add another key piece. Being a team that already cannot spend to the limit, Murray cannot afford any more of these awful deals if the Ducks have any hope to contend for years to come.
As good as Murray is at the draft, he certainly is just as bad at evaluating value in terms of players already in the league. He seems good enough at finding value in aging players for cheap like Horcoff, Stewart, Heatley, and now Raymond. However, Murray must realize that he has guys waiting in the wings and will have to take risks with the kids in order to stay below the cap.
For all things salary cap related, check out General Fanager, an excellent site devoted to all things finances for the NHL and other professional leagues as well.
Born and raised in Orange County. Obsessed with hockey since 5. Becoming a doctor of physical therapy. Offering unique insight on injuries, rehabilitation, analysis, and fun on the greatest game on earth.