The NHL Entry Draft is where general managers can make or break their careers. In part one of my three-part series on Anaheim Ducks GM Bob Murray, I dissected some of the more prominent trades he has executed. Part two will analyze and sift through the various draft selections he has made since 2009, the first year he was the man in charge at the draft.
To clarify, discussion on the first four or five selections of each draft will occur, that being where most general managers do their damage. Two articles by Michael Schuckers of St. Lawrence University and Statistical Sports Consulting dive deeper into this phenomenon. You can read them here and here. The 2015 and 2016 drafts have been excluded because it's hard to judge the impact of those prospects now.
To satisfy your appetite to get to know your team's prospects better, check out Hockey's Future.
2009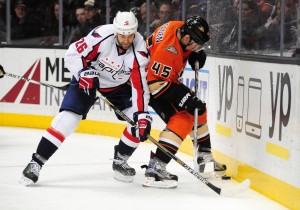 First Round: Peter Holland (15), Kyle Palmieri (26)
Second Round: Mat Clark (37)
Third Round: Igor Bobkov (76)
Fourth Round: Sami Vatanen (106)
Of all those listed above, only Sami Vatanen is still with the club. Entering next season off of a fresh extension, he is hoping to keep progressing and improving on his strong season last year.
Peter Holland was traded to the Toronto Maple Leafs along with Brad Staubitz for Jesse Blacker and 2014 second and seventh round picks. He has not been overly impressive with the Leafs but did enjoy his best production last season.
Kyle Palmieri was traded to the New Jersey Devils for a 2015 second rounder and 2016 third round pick after five seasons with the organization. As noted in my previous article, this has turned out to be a poor trade for Murray, at least for now. Palmieri went on to pop 30 goals and almost double his best season in production as a Duck.
Mat Clark was traded for Michael Sgarbossa in 2015, playing in only nine games for the Ducks and is now currently with the Colorado Avalanche. Sgarbossa went on to have a productive season with the San Diego Gulls (AHL) last season.
Remember Igor Bobkov? That impressive prospect in the goal crease. Well, he is now in the Kontinental Hockey League (KHL).
Grade: C. Overall, not the finest hour for Murray considering the minimal impact these players have had for the Ducks. Yes, he got Sami Vatanen, but he also traded away his two first rounders, his second round pick, and his third rounder is no longer in the league. The value he got in return has not paid off.
2010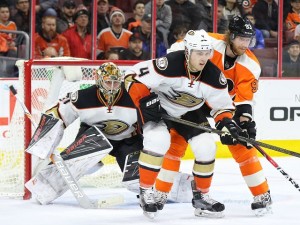 First Round: Cam Fowler (12), Emerson Etem (29)
Second Round: Devante Smith-Pelly (42)
Fifth Round: Chris Wagner (122)
For the curious, the Ducks third round pick was given up with Drew Miller in exchange for Evgeny Artyukhin (yikes) and the fourth was sent away when they acquired Joakim Lindstrom — well he did have 21 points in 21 games for the Iowa Chops!
Cam Fowler was by far the best pick here as he was not even supposed to be available. Although I recommended Murray trade Fowler, he still has been a steadfast presence and solid top four D-man for the Ducks.
Emerson Etem was traded for Carl Hagelin last summer, and Devante Smith-Pelly was shipped to Montreal for Jiri Sekac — both are no longer with their respective clubs.
Chris Wagner left the club via waivers and joined the Avalanche for a brief time before being re-claimed by the Ducks again. Although providing nothing flashy, Wagner always brings energy and should see more playing time with Carlyle and lack of winger depth.
Grade: C+. Fowler has been a stalwart on the back-end for years and at least Wagner has been productive as a fifth round pick. However, losing your other first rounder and a second rounder for pieces you no longer have does not bode well for you.
2011
First Round: Rickard Rakell (30)
Second Round: John Gibson (39), William Karlsson (53)
Third Round: Joseph Cramarossa (65), Andrew Welinski (83)
Sixth Round: Josh Manson (160)
By far the best draft so far, Murray hit home runs with Rakell and Gibson, arguably two of the most important Ducks moving forward. With saves like this, you can see why:
Karlsson was traded away with Rene Bourque and a second round pick for James Wisniewski and a 2015 third round pick. Playing 81 games last year, Karlsson got his first full dress rehearsal with the Blue Jackets, netting 20 points.
Cramarossa is still in the organization, playing 61 games for the Gulls last year. Welinski just finished up at the University of Minnesota-Duluth but did see his first professional action at the tail end of last season, playing 13 games total (including eight playoff games).
Josh Manson has turned out to be a diamond in the rough in the sixth round. Paired with Hampus Lindholm last season, he played in 71 games and was a much prettier sight to see than Clayton Stoner on the ice. He brings plenty of grit, toughness, and even a little feistiness:
Grade: B+. Excellent draft producing potentially two cornerstone players in Rakell and Gibson, a top six defenseman in sixth rounder Manson, plus a good defensive prospect in Welinski. By far Murray's best thus far.
2012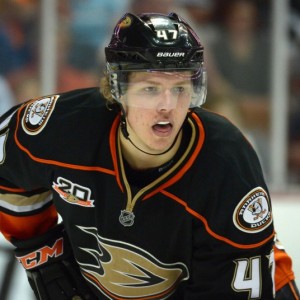 First Round: Hampus Lindholm (6)
Second Round: Nicolas Kerdiles (36)
Third Round: Frederik Andersen (87)
Fourth Round: Kevin Roy (97), Andrew O'Brien (108)
The surprise pick in the top ten early on was Hampus Lindholm going to the Ducks, making him the third defenseman off the board ahead of Matthew Dumba and Jacob Trouba. More than justifying his selection, Lindholm has become the Ducks' best all-around defenseman and, if re-signed, should be in the Ducks plans for the distant future.
Nicolas Kerdiles is seen as the Ducks best center prospect, having played the last three years in the AHL. We should see him in extended action with the big club this coming season.
Oh, Freddie. The man who was often the best player on the ice last season for us was sent to the Toronto Maple Leafs where his skill-set will be much appreciated. Not that Gibson is a poor backup. Someone had to go. Let's hope Murray made the right call.
Kevin Roy finished at Northeastern University last season and played in a handful of games for the Gulls. He is another highly touted prospect on the wings. O'Brien is buried on an impressive defensive prospect depth chart. Splitting time between the Gulls and the ECHL's Utah Grizzlies, O'Brien is hoping to make a bigger impression next season.
Grade: B. Potentially, this could be an excellent draft and even better than 2011. Tempted to grade higher simply for Lindholm, who should become a superstar in the next couple years. Kerdiles and Roy could be full-time players for the parent club soon. Although Andersen was just traded, he had been a rock solid presence in the goal crease throughout his tenure.
2013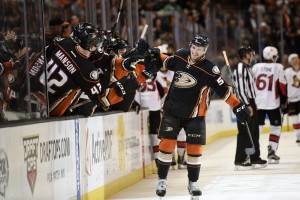 First Round: Shea Theodore (26)
Second Round: Nick Sorensen (45)
Third Round: Keaton Thompson (87)
Shea Theodore emerged as a candidate to be a permanent NHLer with his emergence last year. Playing in 19 games and notching eight points was not a bad dress rehearsal for the 21-year-old. His emergence has led many (including myself) to believe Fowler is now expendable and essentially replace him with Theodore.
Sorensen has played the last two seasons in the Swedish Elite League after competing in Quebec Major Juniors the previous three. He has emerged as one of the Ducks top prospects and listed as the number two right-wing prospect. He is expected to be with the Gulls this year.
Thompson signed a three-year entry-level deal earlier in April, meaning he will be playing his first professional season. Fresh off helping North Dakota win a national championship, he will be with the Gulls this season. Another solid prospect on the back-end has plenty of time to develop while others above him get promoted to the parent club.
Grade: B-. Theodore should graduate this year to the Ducks, while Sorensen and Thompson will start their careers with the Gulls. If these young men keep progressing the way they are, they all should crack the Ducks' lineup in the next three years or so.
2014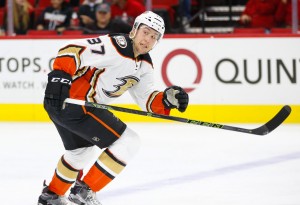 First Round: Nick Ritchie (10)
Second Round: Marcus Pettersson (38), Brandon Montour (55)
Fifth Round: Matthew Berkovitz (123)
This link will give you a better idea of how this class played two years ago from our good friends at Anaheim Calling. The Ducks third round pick went to the Canucks as a result of the Kesler deal and the fourth rounder went to Dallas when they acquired Stephane Robidas.
Ritchie is the best forward prospect in the system. At only 20 years of age, he certainly struggled last year in his 33 games. However, he is a big body and should be much better with those games under his belt and a full year of professional hockey out-of-the-way. Expect much better production this year.
Petterson played in the Swedish Elite League last season, but Montour could be the best player in this draft. Any defenseman who can net 57 points in 68 games obviously is talented offensively. Add to the fact last season was Montour's first full professional look and you can easily see why many are saying this kid is ready to go. Get to know Montour a little better here:
Berkovitz is still playing in the United States Hockey League, but anytime someone compares you to Ryan Suter, you must be pretty good at playing hockey.
Grade: B+. Call me optimistic here, but I think this class can be great. Ritchie did not score a lot of points, but he certainly has the body and skillset to put up numbers in the league. I expect big things from him. Montour, Petterson, and Berkovitz keep adding to the defensive depth in the system. Montour should see action next year if an injury occurs or just simply plays his way onto the opening night roster opening night.
Overall Grade: B. After a rough first couple drafts, Murray has come on strong of late. They say defense wins championships. Hopefully, that mantra holds true as the Ducks system is loaded from top to bottom with high-end prospects. Winger depth is weak, and with Nick Ritchie probably being promoted this season another blow will be dealt. John Gibson at age 23 should be in the Ducks crease for the next decade, so goaltending should not be an issue now or the future. High-end centers Kerdiles and Nattinen are about all there is down the middle.
Born and raised in Orange County. Obsessed with hockey since 5. Becoming a doctor of physical therapy. Offering unique insight on injuries, rehabilitation, analysis, and fun on the greatest game on earth.