It's that time of year again when fantasy hockey leagues are forming and player rankings are becoming more and more prominent. With the preseason and regular season quickly approaching, it's time to start analyzing players to see who's worth drafting, and who should be avoided. One of the best ways to analyze players is to take them within the context of their own NHL team. With this article, a closer look at the Chicago Blackhawks will help determine which players are worth a look in fantasy leagues, and which players are not.
The Blackhawks have been a modern-day dynasty since the 2010 season despite some of their major transactions stemming from salary cap issues. Whether it be Dustin Byfuglien and Andrew Ladd, or Brandon Saad, or even Teuvo Teravainen, the Blackhawks have traded away players with high ceilings and replaced them with good complementary pieces to maintain their cup-contender status. Players such as Patrick Kane, Jonathan Toews, Duncan Keith, and others are already household names. While some might be good picks in fantasy leagues, there are definitely some players worth avoiding, or being cautious with in terms of draft position.
Top Performer: Patrick Kane, RW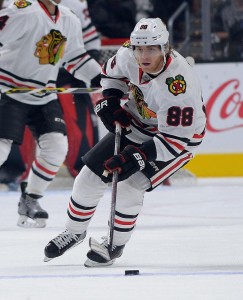 The 2015-16 Art Ross, Ted Lindsay, and Hart Memorial trophy winner is a must-own in all fantasy leagues. Few players possess the offensive instincts that Patrick Kane has, and it showed last year when he led the entire league in points with a whopping 106 points; the next highest point totals were 89 and 85 from Dallas Stars' captain Jamie Benn and Pittsburgh Penguins' Sidney Crosby respectively.
When Kane was taken with the 1st overall selection in the 2007 NHL Entry Draft, the Blackhawks knew they were getting an offensive stud. While Kane has proven to be just that with a career 663 points in 658 games, he found another gear last year when he scored 46 goals – crushing his previous season-high of 30, and surpassing the 100 point mark.
While Kane may not line up with Jonathan Toews with regularity, his most common linemates are both very good options to help bolster Kane's fantasy value in their own right. Kane's center from last season, Artem Anisimov, finished the season with 20 goals and 42 points in 77 games. Very respectable numbers that didn't stray too far from Anisimov's career averages. Artemi Panarin, on the other hand, posted 30 goals and 77 points in 80 games in his rookie season while flanking the wing opposite Kane last year. As long as Kane and Panarin remain on a line together, there's no reason to believe that either player will drop-off from their impressive totals from the previous season.
Kane also holds strong power play value, scoring 17 goals with the man-advantage, tied for second with Jamie Benn and trailing only Alex Ovechkin, while also putting up 20 assists, tied for 9th in the league in the 2015-16 season. Kane's power-play time bodes well for fantasy owners who will take the Buffalo-native with one of the first few picks of their respective drafts. The more time on the ice that Kane receives the better, as he's a constant threat to score with every shift.
Underrated Performer: Artem Anisimov, C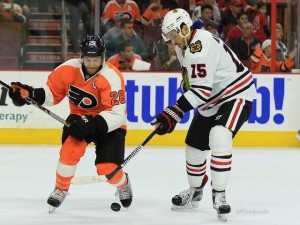 Any time a player gets significant time alongside players with offensive capabilities such as Kane's or Panarin's, it's clear that they hold at least some fantasy value. When that player scored 20 goals in the 2015-16 regular season and contributed both with the man advantage and on the penalty kill, it's clear that some value becomes even more worth mentioning.
In the case of Artem Anisimov, he is one of the most underrated performers's on the Blackhawks roster due to the fact that he posted considerably fewer points than both of his linemates last season. What's important to note about Anisimov, however, is his role on the team. The Blackhawks have spent much of the last half-decade-plus trying to find a legitimate, constant top-six center to join Toews in that sense. Anisimov was acquired in the trade that sent Brandon Saad to Columbus, and he became an instant fit within the Blackhawks top-six instantly.
As mentioned, there's no reason to believe that Kane or Panarin will fall off from their point totals from last season which means that Anisimov could be a very strong option in fantasy this season as a result. Anisimov is also a permanent structure on both the Blackhawks penalty kill and top power play unit alongside Kane and Panarin. With the man-advantage last season, Anisimov scored five goals and five assists. While short-handed, Anisimov scored three goals and notched one assist.
It's not a common practice for teams to use a normal line as a power play unit, but that's exactly what the Blackhawks do with both of their power play units. This is a testament to the skill and chemistry that the Blackhawks top-six possesses, and it's a good sign for Anisimov's fantasy owners as it means that the Russian forward gets a ton of ice time each game.
Overrated Performer: Richard Panik, LW/RW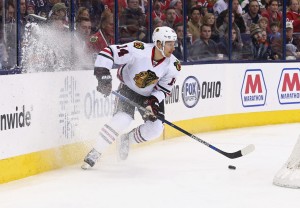 While Richard Panik is likely to start the season alongside Jonathan Toews and Marian Hossa, there's no denying the fact that he's the weak link on that line from a fantasy perspective. Hossa may have had an off-year due to injuries and age, but his resume speaks for itself. Toews, on the other hand, has scored 28 goals in three consecutive seasons and has failed to record less than 24 goals and 54 points in any season in his NHL career (with the exception of the lockout-shortened 2012-13 season, when he scored 23 goals and 48 points in 47 games).
Panik isn't a bad hockey player. In fact, he's a pretty good hockey player. The issue with Panik, however, is his offensive output. In 181 career games, Panik has scored 25 goals and 47 points (including six goals and eight points in 30 games last season). Those numbers don't reflect that of a top-six winger skating alongside two of the best players in the league. While he may get the job done from an actual hockey sense, he's likely worth passing on in drafts this year given his track record.
Fantasy Sleeper Performer: Michal Kempny
When Michael Kempny was signed by the Chicago Blackhawks, it seemed as though they once again pulled off the steal-of-the-century, just one season after signing Artemi Panarin. While Kempny remains to be an unproven commodity at the NHL level, the low-risk, high reward output potential from Kempny this season is too hard to ignore.
Currently playing at the World Cup of Hockey for the Czech Republic, Kemnpy has made a name for himself as one of the best Czech-born defensemen in the world. In 59 games in the KHL last season, his first in the league, Kempny scored five goals and 21 points. Given the fact that it was his first year in the KHL, those totals aren't the worst coming from a defender.
The Blackhawks are always looking for diamond-in-the-rough players, or players on inexpensive deals to play important complementary roles on the team. Kempny, unlike most players who fit that description, is a 26-year-old player with seven years of professional experience. Given the fact that he's not a young, inexperienced rookie, the Blackhawks could look to Kempny early on to take on a bigger role with the team out of training camp.
Fantasy Bounce-back Candidate: Marian Hossa, RW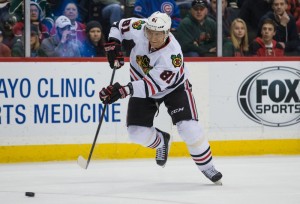 Marian Hossa is a good hockey player. With the exception of last season, Hossa has consistently been among the best players in the league from both a traditional, and fantasy perspective, throughout his career. Since being drafted with the 12th overall selection in the 1997 NHL Entry Draft, Hossa has posted an impressive 499 goals and 1,089 points in 1,236 games. Only 39 players in history have recorded 500 or more goals, and Hossa is primed to become the 40th man to do so this season. The only active players to have done so are Alex Ovechkin, who's scored 525 goals, Jarome Iginla, who's scored 611 goals, and Jaromir Jagr who's scored 749 goals.
Only 39 players in history have recorded 500 or more goals, and Hossa is primed to become the 40th man to do so this season. The only active players to have done so are Alex Ovechkin, who's scored 525 goals, Jarome Iginla, who's scored 611 goals, and Jaromir Jagr who's scored 749 goals.
It's easy to look at Hossa's age and feel hesitant when drafting this year. Hossa is 37-years-old and has played in his fair share of games; to go along with his 1,236 regular season games, Hossa has also played in 201 playoff games (including playoff runs in each of the last nine seasons totaling 146 games). Yes, Hossa had a bad year last year. It's also important to note, however, that he was dealing with injuries throughout the season which limited him to just 64 games.
When talking about last season while playing for Team Europe at the World Cup of Hockey, Hossa has this to say:
I'm not sure why I was not as effective as before, If I knew exactly, I'd be really working on that. But I don't have an answer for that. – Marian Hossa
One bad season while dealing with injuries should not be the rule; it should be the exception to the rule. Of course, there is speculation that Hossa will be playing in a different role due to his age, but good performances from the Slovakian-born winger will earn him more time with Jonathan Toews in his 18th NHL season.
Hossa has the ability to bounce back, but being hesitant is still a smart idea given the factors at hand.
Impact Fantasy Rookie: Nick Schmaltz
It's not every day that a team can trade away a player with the potential of Teuvo Teravainen and have his replacement sitting, ready in the wakes. For the Chicago Blackhawks, that's just par for the course, especially with college standout Nick Schmaltz set to join the team this year.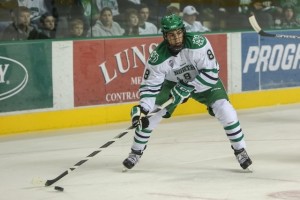 After an impressive two seasons at the University of North Dakota, where Schmaltz put up 16 goals and 72 points in 75 games (including 46 points in 37 games in his last year at the school), Schmaltz signed his entry-level contract with the Blackhawks. The former 20th overall selection from the 2014 NHL Entry Draft has the potential to breakout in a big way as a rumor for the Blackhawks this year.
While Schmaltz is capable of providing depth goal scoring, his real claim-to-fame is his elite playmaking ability. Schmaltz has demonstrated elite-level passing skills and vision throughout his career, and he has the potential to translate his success in college to the NHL level in his first year in the league.
Rookies are always a risky game when it comes to fantasy hockey, but Schmaltz could be a legitimate sleeper option this year as one of the potential breakout rookie candidates primed and ready to make an impact.
Goaltending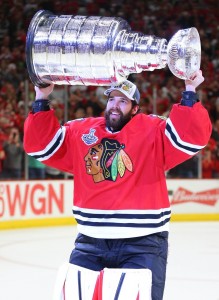 The only goalie that fantasy owners should consider when drafting from the Blackhawks for the 2015-16 season is Corey Crawford. This isn't a sleight at Scott Darling, but just a testament to how good Crawford has been throughout his career to this point.
Last season, Crawford played in 58 games (which is right on course with his career average) and compiled a 2.37 goals against average, as well as a 0.924 save percentage. The Chateauguay, Quebec native also recorded a career-high seven shutouts last year, showing his ability to come up big when the 'Hawks need him most.
Over the last five full seasons, Crawford has played in Crawford has averaged roughly 58 games per season (not including the lock-out shortened season in 2012-13, when he played in 30 games), averaging a 2.38 goals against average and a .917 save percentage. His best season, however, came during the aforementioned lockout-shortened season when he played in 30 games and recorded a 1.94 goals against average and a .926 save percentage with three shutouts.
With consistency like that, there's no denying that Crawford is primed to once again be an elite option for fantasy hockey this year.
The Blackhawks will be good again this season, as they have been in each of the last few seasons in recent history. There is definite value to be found throughout the lineup, but a competitive team is definitely a good one to scout for fantasy hockey drafts. The usual suspects such as Kane, Toews, Keith, and Seabrook are good options for points, but some additional pieces like Nick Schmaltz, Michal Kempny, and even Brian Campbell could be looked at to contribute in fantasy this year.
Check out all THW's fantasy hockey content in the coming weeks and throughout the season by checking out our fantasy homepage.