Coming into the tournament the hockey world was undecided on whether or not it was a good idea to have the under-24 North American group as part of an international competition. At least that's how it seemed for the most part.
However, three days into the tournament, the North American had provided one of the most exciting games against the Russians (at least up until the Canadians took on the Americans on Tuesday night). While they weren't able to come out with the victory, losing 4-3 after a near comeback from down 4-1, the kids know that they aren't out of this tournament just yet.
Looking Ahead to Sweden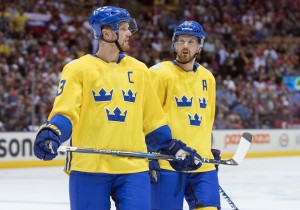 After a seemingly easy go in the first game, handing the Finns a 4-1 loss, the North Americans seemed to have some odds stacked against them. A meeting with the Russians that ended in a loss followed by their upcoming matchup with the Swedes and the young squad seems to be on the brink of elimination – something they aren't ready to even consider.
"I think when you play a team like Russia you never want to turn it into a track meet just because of all their speed and skill. But I think that we're confident in the way that we can play a track meet kind of game and get by," said North American and Maple Leafs' defenceman Morgan Rielly. "We have enough guys that we can play good systems and not really have to play that kind of game. But moving forward we have to worry about what the Swedes have to offer and just get ready for that."
Now, it's easy to count these young players out and some might already be writing them off. But as their head coach, Todd McLellan, said following their loss to Russia, it wasn't really that bad of a game for the kids.
"We just lost our way for 10 minutes," said McLellan referring to the second period outburst by the Russian offence. "I don't think we got pushed out of the game at all. I just thought they were better at managing the puck. Spread us out a little bit and made us hesitant."
While heading into the final game of the round robin with a 1-1 record isn't ideal for this group – especially against a strong Swedish club – it's hard to count out a team that looked so poised heading into the first game of the tournament.
Is Team North America Ready?
It seems like a stupid question and maybe it is. But let's not forget that for some of these kids this is the biggest tournament (from an audience perspective) that they've ever played in. So, are the young guns ready for what lies ahead in Team Sweden? McLellan seems to think so.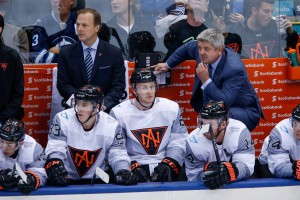 "We need a little rest, but we'll be ready for it," said the head coach confidently. "That's a great thing for our team. After being around this group I wouldn't say this, but thinking in the middle of July when you're sitting there and imagining your team, you're think about a 1-1 record with a chance to play against a real good team to get to the finals. We would've taken that. Now, we're disappointed we didn't win [against Russia] but we'll be ready. They're young guys. They're going to come out and play. And they're going to have fun doing it."
One of the most telling points of what kind of team this is, is the way they were able to sustain pressure on the Russians in the third period. While they couldn't complete the comeback, they did manage to get within one goal with numerous opportunities to tie it in the final few minutes.
"What could've happened to our belief system is that it could've completely crumbled. It didn't. It cracked a little bit. We lost a few little segments of bricks. But we were able to put it back together in the third period," said McLellan. "I'm not worried about our team. I think that belief system will be there again and I think we'll come out and play well."
The North Americans will take on Sweden in the early game on Wednesday with a chance to play in the semi-finals hanging on the line.
---
The Hockey Writers coverage of the World Cup of Hockey 2016 is being brought to you by PrimeSport, the official Fan Travel & Hospitality Package Partner of the World Cup of Hockey 2016.