We continue our Ontario Hockey League preview series once again, this time featuring the Midwest Division in the Western Conference.
Once again, the London Knights appear to be the class of this division, despite the possibility of losing junior hockey's best player to the NHL's Toronto Maple Leafs in Mitch Marner. The good news for London fans (or bad news for the rest of the league) is that the Knights will continue to roll this season despite possibly losing three players that topped 100 points last season.
London Knights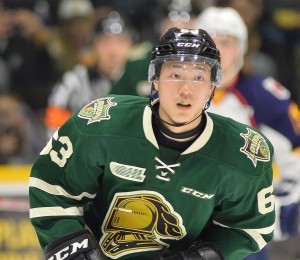 Why they make the playoffs: Despite the possibility of losing Mitch Marner, Christian Dvorak and possibly Matthew Tkachuk to pro hockey, the Knights are still stacked. It's amazing really. There just aren't teams that can lose that kind of talent and still be excellent. Cliff Pu and Max Jones will lead the way up front in the absence of the big three, with JJ Piccinich, Owen MacDonald and newcomer Janne Kuokkanen arriving via the Import Draft. Kuokkanen was picked 43rd overall by the Carolina Hurricanes in the 2016 NHL Entry Draft and could be the best player taken in the Import Draft.
Why they miss the playoffs: They won't miss the playoffs. Even if the group struggles, the Knights have a lot of draft picks in the cupboard that can be used to acquire players. You can reserve your playoff tickets now if you want, as the Knights will be a contender once again.
Team Concern: I guess the only concern is: how do you replace Mitch Marner should he stick with the Toronto Maple Leafs? With plenty of talent still up front, the team also returns starting goaltender Tyler Parsons as well. If you are thinking the defence is the weak link – think again.  Olli Juolevi, Victor Mete, Chris Martenet and Nicolas Mattinen lead one of the deepest groups in the league. If there is a concern in London, it's likely how to get your seats for their home games. This team is good and the city embraces the organization to the tune of 10,000 fans per night.
The @GoLondonKnights sending OHL-best 16 players to NHL camps. Second is Kitchener with 12.

— Ryan Pyette (@RyanatLFPress) September 15, 2016
Player to watch: Cliff Pu has speed to burn and after serving an apprenticeship last season to the likes of Marner and company, he's ready to show what he can do. The Buffalo Sabres' organization and their fans will be thrilled and confused at how Pu slid to the third round this past summer after the season he is about to have. Don't believe me? Just wait until you hear how many times the fans chant "Puuuuuuuu" this season when he touches the puck.
Erie Otters
Why they make the playoffs: It would be hard to blame the folks in Erie this season if they weren't excited about the season. After losing Captain Connor McDavid to the NHL last year, it appears that last year's Captain Dylan Strome is NHL bound this season. Normally losing that kind of talent would be devastating but Erie has plenty of talent remaining.
Alex DeBrincat has scored 50 goals in back-to-back seasons, but pundits are skeptical about what the diminutive forward can do without one of the league's best playmakers with him this season. Rest assured Otters' fans, the team still has Kyle Maksimovich and Taylor Raddysh (Tampa Bay 2016) around. Ivan Lodnia is also amongst one of the better prospects in the OHL for the 2017 NHL Entry Draft and is poised to take a big step offensively with an increase in ice time.
Why they miss the playoffs: This is another team that is not going to miss the playoffs. In addition to the talented group remaining at forward, the team also boasts Detroit Red Wings prospect Jordan Sambrook, Darren Raddysh, TJ Fergus and Mitchell Byrne round out a solid top four defensive group this season for Head Coach Kris Knoblauch. The Otters will take a step back in the standings, but this is still a playoff team. There just isn't a reason to miss the playoffs for a team with this much talent.
Team Concern: Troy Timpano arrives from Sudbury via trade and looks to assume the number one goaltender role in Erie this season. While Timpano is an experienced goaltender, he has yet to play for a team expected to contend for a playoff spot; let alone one with the potential to play deep into the playoffs. We believe Timpano is more than ready for the challenge, but there is still a bit of doubt until the 19-year-old goaltender shows he can play under pressure.
Player to watch: Ivan Lodnia is going to be an exciting player to watch this season in Erie. While standing only 5 foot 9, the young center should thrive playing in a top-six role this season. If he is given an opportunity to play with DeBrincat, he could become a household name in short order and ascend up the draft ranking as a result.
Kitchener Rangers
Why they make the playoffs: The Rangers have a strong core once again this season, headlined by Adam Mascherin and Connor Bunnaman. Toronto Maple Leafs' prospect Jeremy Bracco may return to Kitchener as well, which would add yet another significant piece to a solid forward group. On defence, veteran Frank Hora returns for his overage season, along with Dylan Di Perna. 2015 second-round pick Elijah Roberts has also impressed and should play a significant role in his second OHL season.
Why they miss the playoffs: It appears that Dawson Carty has won the starting goaltender job for the first time in his OHL career. The Mississauga native was 15-2 last season playing behind St. Louis Blues' prospect Luke Opilka and has yet to prove he can carry the load for a team, despite being in the league for three seasons. While his play last year supports that he is ready for the starting role, it remains to be seen how he will perform playing against the talented teams in the Western Conference over a full season. We don't see Kitchener missing the playoffs since Guelph and Flint are in the Western Conference, but goaltending depth could become an issue if Carty is forced to miss time due to injury.
Kitchener Rangers G Dawson Carty gets vote of confidence, named No. 1 guy in net. https://t.co/bziU6r9LXs #ohl pic.twitter.com/0vtfcPayLK

— Josh Brown (@BrownRecord) September 8, 2016
Team Concern: With last year's leading scorer Ryan MacInnis graduating, losing Jeremy Bracco's offense could really hurt the team. The team will still score their fair share of goals, but Mascherin will be relied upon heavily this season in their absence. How will Mascherin adjust to being the focal point of the Rangers' forward group this season? He's certainly talented enough but being the focal point could result in a slight offensive regression this season for the Florida Panthers' prospect.
Player to watch: If preseason is any indication, the Rangers may have found something special in Cedric Schiemenz this summer. The 17-year-old native of Berlin, Germany was selected 50th overall in the Import Draft and has torched the OHL for seven points in just four preseason games. Schiemenz could emerge as a dark horse for Kitchener this year and his production could help offset the loss of MacInnis. It does remain to be seen how the young forward adjusts to the longer OHL season, as he only played in 36 games last season; including playoffs.
Owen Sound Attack
Why they make the playoffs: The Owen Sound Attack are not built like any of the other teams in the Western Conference. They lack a true offensive star and rely heavily on a solid team game to pile up wins in the standings.  Montreal Canadiens' prospect Michael McNiven is one of the more underappreciated goaltenders in the league, and should be even better this year – his second season in the starting role. Petrus Palmu, perhaps the player with the best name in the league, returns for his third season in the OHL. Nick Suzuki and Ethan Szypula are also nice pieces up front, and both should see their offensive production increase this season as they gain experience.
On defence, what's not to love about Santino Centorame? Centorame returns for his overage season looking to improve upon a 41 point campaign last year to earn a shot at a professional contract. He could become a point per game player this year under the right circumstance.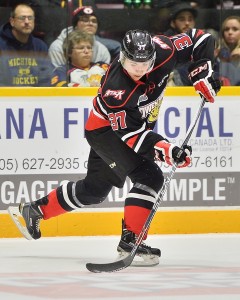 Why they miss the playoffs: This is one of the hardest working team's in the league but they were just 14th in goal scoring last season. In a Western Conference loaded with offensive talent, can they score enough goals to make the playoffs? We believe it shouldn't be a problem, but scoring woes could ultimately cost the Attack some valuable points in the standings along the way.
Team Concern: This team won't sneak up on anyone this year. Under Head Coach Ryan McGill, the Attack were one of the league's biggest surprises last year due to their relentless work ethic. It can be hard to play that way on a consistent basis; however, the Attack have proven it can be sustained as they were responsible for giving London their biggest scare in the OHL playoffs last spring. With the rest of the league having been served notice, Owen Sound could see the rest of the league more prepared to face them this season.
Player to watch: Nick Suzuki is back for his second year in the league, and perhaps the most important season of his young career. Suzuki is draft eligible in the 2017 NHL Entry Draft and looks to build on a great rookie season that saw him score 20 goals. The 5-foot-11 center should see more ice time this season and could emerge as one of the top forwards on this Owen Sound squad.
Guelph Storm
Why they make the playoffs: While Guelph will be a much-improved team this season, this is a team that will be hard-pressed to make the playoffs. It would take some great puck luck and the emergence of first overall Priority Selection pick Ryan Merkley to develop faster than expected. Detroit Red Wings 2016 second-round pick Givani Smith would also have to score 40 goals and goaltender Liam Herbst would have to recapture his form from two seasons ago where he led Ottawa into the playoffs. There is just too much that would have to go right for Guelph to make the playoffs this season. We suspect next season may be a different story, though.
Why they miss the playoffs: The Storm are a very inexperienced group and are looking to rebound from an awful 2015-16 season. While pieces like Ryan Merkley, Luke Moncada, and Dmitri Samorukov are fine pieces, this is a team that is young and lacks depth. Liam Herbst was brought in to solidify the goaltending in his overage season but remains a bit of an enigma. Will the Storm get the goaltender that led Ottawa to a playoff berth in 2014-15, or will they get the goaltender that lost his starting role last season? There are just too many question marks on this Guelph roster to believe they will return to the playoffs this season.
Team Concern: Who will score the goals in Guelph this season? Givani Smith will likely see his production increase to the point where he approaches 30 to 35 goals, but beyond that, it is a mystery. James McEwan should also average a point per game, but scoring depth could decrease after these two players. Isaac Radcliffe has had a good preseason but only had 13 points last season. One thing is for certain about this Storm team; if you can score you'll be given plenty of opportunities to play.
Easy prediction to make a possible big season for @givanismith24 @Storm_City he had 2 goals in the Storm 4-0 shut out over @PetesOHLhockey

— Larry Mellott (@stormradioguy) September 9, 2016
Player to watch: Whether it's fair or not, Ryan Merkley will be the player to watch this season in Guelph. The first overall pick in the Priority Selection draft is a highly touted defenseman that the Storm are hoping becomes a strong presence on both sides of the puck in the coming years. Merkley will have plenty of opportunities to play this season in Guelph despite the mistakes he is likely to make. The development of Merkley will be one of the most important tasks Head Coach Jarrod Skalde is assigned this season.
That's all for part three of our OHL preview.  We will conclude our preview with part four featuring the West Division where the Windsor Spitfires appear to be the dominant team on paper.