Welcome to our 2018 Boston Bruins draft guide.
Our guide will get you ready for everything that could happen at the NHL Draft in Dallas. From history to a brief season recap and from full previews to draft pick predictions, you will be thoroughly prepared for what the Bruins could do.
Related: Bruins Offseason Outlook
When the Bruins drafted with the 18th selection in 2017, it was the lowest their first selection had come since 2014 when the Bruins selected David Pastrnak with the 25th overall pick. The Bruins opted to select Urho Vaakanainen with the 18th pick and he immediately climbed their internal rankings and is arguably the best prospect the team has in their system to date.
In 2018, the Bruins won't have the luxury of picking such a highly touted player early in the draft as they shipped their first-round selection to the New York Rangers as part of the Rick Nash deal.
Because of this, the Bruins first selection will only come in the tail-end of the second round when the team is set to pick 57th overall, that is, of course, unless the Bruins opt to make a deal to trade back into the first round – something they've made clear they're interested in doing for the right price.
This season, the Bruins have five selections coming in the second, third, fourth, sixth and seventh rounds of the draft. They are without their first-round pick as mentioned and are without their own third and fifth-round picks as well, though they were able to recoup a third-round selection from the Florida Panthers.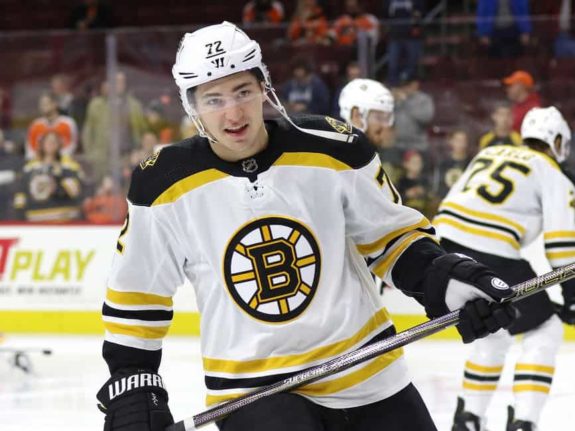 As a result, the Bruins are scheduled to pick 57th, 77th, 119th, 181st and 212th in the draft barring any other trades.
With the Bruins having made so many picks in recent years including six first-round and five second-round selections in the last three years alone, there is certainly room for the team to have a smaller draft-haul this season. Still, with Bruins' general manager prioritizing the draft as a building tool, it wouldn't be surprising to see him work his way back into the first round.
Offseason to Date Recap
So far, the offseason for the Bruins has been relatively quiet.
To be fair, there was little to expect from the team following their impressive season as there were very limited players in need of a new contract to begin with and the majority of those players are bottom-six or bottom-pairing contributors who served as depth and were told they would not be returning to the Bruins in 2018-19.
With that said, the Bruins did recently re-sign defender Matt Grzelcyk and are expected to be signing backup goaltender Anton Khudobin and forward Sean Kuraly to new deals sooner than later. Both deals should be relatively easy to complete and should allow the Bruins to really focus on their future plans in regards to trades, the draft and free agency.
Related: Bruins Re-Sign Matt Grzelcyk
The Bruins have been rumored to be in the trade market with their own internal pieces being the subject of discussion as well as the team would like to move David Backes and have received calls on David Krejci. While the former would be an ideal player to trade given his contract, the latter is a key piece of the team and any trade involving him would almost certainly have to be followed with a subsequent signing or trade that could serve as a contingency plan.
History of Pick 57
With the Bruins set to make their first selection with the 57th pick this season, let's take a look back at the history of the 57th pick and some of the recent examples of NHL players who were taken in that spot since the year 2000.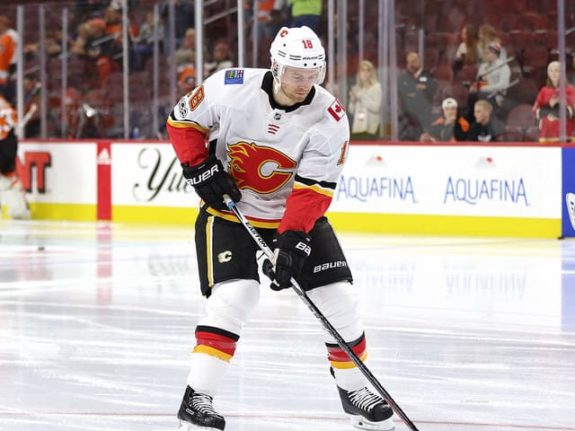 The two most recent examples, William Carrier in 2013 and Oscar Lindberg in 2010, have both seen themselves end up in Vegas with the Golden Knights. Other examples include Mike Weber in 2005, Matt Stajan in 2002 and Jay McClement in 2001.
Evidently, the 57th pick isn't exactly a hot-spot for star players and very NHL-level talents, in general, have come from that spot. While that may not be very encouraging, the Bruins have done a good job with their scouting and drafting in recent years and could make a solid pick in that spot despite recent history dictating that it won't be easy.
This could also be a non-starter if the Bruins do indeed decide to trade up in the draft anyway.
Making the Case for Trading Up
Given how valuable first-round selections are and how near and dear they are to Sweeney's heart, it seems like a trade up could be coming for the Bruins. Naturally, trading into the first-round won't come cheap and because of this, the Bruins will have to weigh the value of a future player versus the value of a current player who is evidently worth a first-round selection if they're being traded for one.
It's hard to tinker with what the Bruins currently have in terms of impact roster players and imagine a trade making a lot of sense for the team. At the same time, if the Bruins are indeed looking to improve their left-side defense, a trade involving a player in that capacity such as Torey Krug could be made to recoup a first-round pick with a subsequent move made to acquire a defender – a move likely involving high-end prospects rather than current players or picks.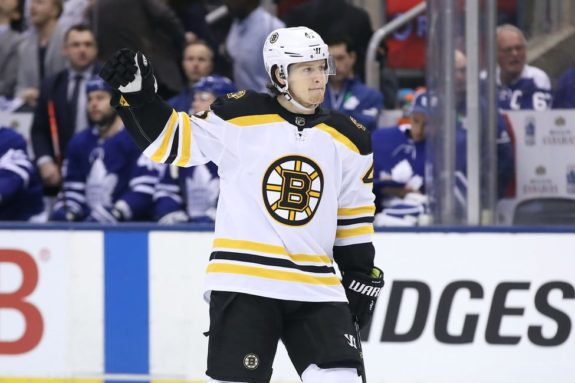 It's a risky move but it wouldn't be the first time the Bruins saw themselves very active at the trade under Sweeney as the general manager made some major splashes in his first draft with the team in 2015 including the trading of Dougie Hamilton and Milan Lucic.
Who Will Boston Pick 57th?
When the Bruins are up to select at 57th overall, it would be hard to imagine them passing on a player like Jake Wise if he's still available at that time.  As a Massachusetts-native and a Boston University Terrier-commit, Wise should give the Bruins every opportunity to monitor his development closely.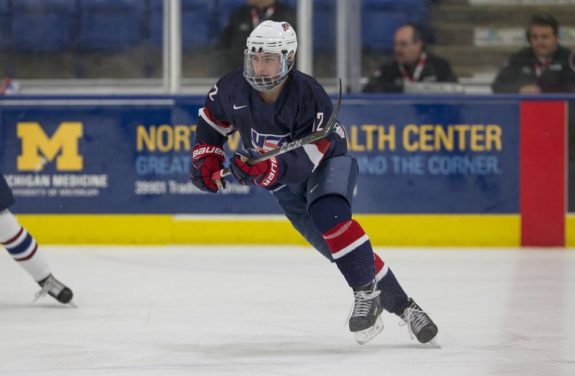 With his combination of size, speed and a very keen hockey mind, Wise just makes sense for the Bruins as a potential fit.
Another pick that makes a lot of sense for the Bruins would be selecting Olivier Rodgrigue with their first selection in 2018. A star goaltender in the QMJHL with the Drummondville Voltigeurs, Rodgrigue is one of the top-rated goalies in this draft class and could be a good contingency plan for the Bruins if they don't deem Daniel Vladar of Jeremy Swayman to be potential goalie-of-the-future caliber players.
Getting another young goalie in the system wouldn't hurt regardless of whether or not they like what they've seen from Vladar of Swayman but Rodgrigue could quickly become the best goaltending prospect in the system if selected with this pick.
Who Will Boston Pick 77th?
Not only is Blade Jenkins one of the best players left at this point in the draft, but he also has one of the best names in the entire class. That has to count for something (it probably doesn't, but we'd like to think it does).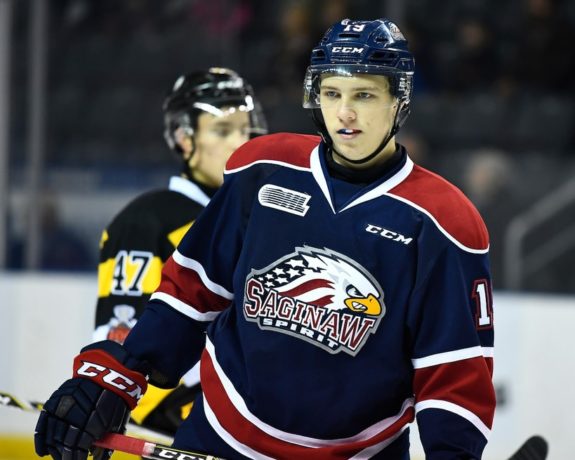 While playing with Saginaw in the OHL in 2017-18, Jenkins scored 20 goals and 44 points and has some very high upside that could make him somewhat of a steal at this portion of the draft if he pans out. Even when he isn't producing points, the effort level of Jenkins, who continually does his part to make plays and create chances, is unavoidable and impossible to ignore.
At the NHL level, Jenkins might project more as a winger but his versatility is valuable. He could be a top-six winger by the time all is said and done.
Who Will Boston Pick 119th?
This pick could be used on a project for the Bruins despite it being their third pick in this class. If the Bruins are looking to add size to their organization with Zdeno Chara's time with the team coming to a close in the next few years, they could replace his size (not his position or impact) with center Curtis Douglas out of Windsor in the OHL. Just how big is Douglas? Well, he's currently measured at 6 foot 8 and 248 pounds and he could still be growing.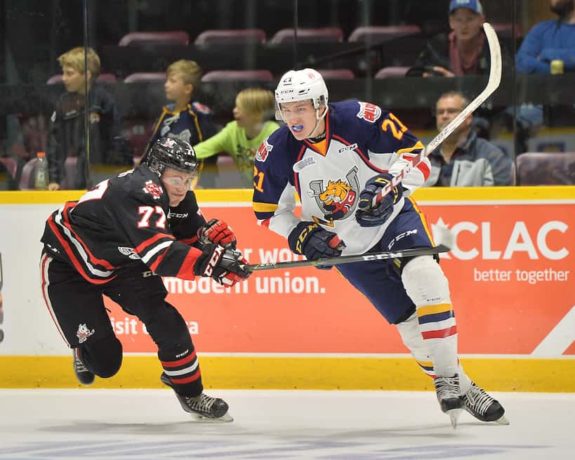 Centers at that size simply don't come available every day and while he may not have the high-upside that some of the other players left in the draft have, his potential floor is intriguing for the Bruins. If the team can draft Douglas to become a third-line center in the long-term, they'd be getting a monstrous prospect who did show an ability to produce in the OHL with 22 goals and 46 points in 66 games in 2017-18.
Who Will Boston Pick 181st and 212th?
An option for the Bruins with either of their picks here (pick 181 or pick 212) could be English prospect Liam Kirk. While Kirk could be a project, his high-motor and natural ability make him an intriguing project pick with the 119th selection.
The Bruins could probably take a safer pick with this selection but there's no reason to believe they won't at least consider Kirk if he's still available for them at this point in the draft. At the same time, Kirk could also find taken significantly later as ranking him is such a hard thing to do given the league he played in and the limited exposure many scouts have to him.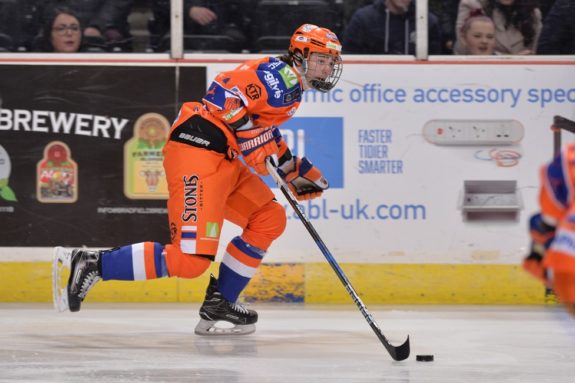 Another option for the Bruins here at 212 could be Riley Hughes – a home-town prospect who has proven he can score. While Hughes has the potential to be an NHL player one day, he won't be playing in the league any time soon as he'll take a lot of time to develop and actually reach his potential. Don't expect a top-six player with this spot or even a guaranteed NHL talent this late in the draft, just look for a long-term project who could make it to the league one day.
Finally, for good measure, the Bruins could also take a look at over-ager Marcus Bjork, a right-handed defender out of Oskarshamn in Sweden who has proven he can score from the backend.
Scoring 13 goals and 34 points in 52 games last season in Sweden, Bjork is set to play with Orebro in the SHL in 2018-19 and at 6 foot 3, 203 pounds, Bjork could be just what the Bruins need to replenish their right-handed defense prospect pool with a low-risk pick this late in the draft.