For the ninth time in 12 years, the Edmonton Oilers have a Top 10 pick in the NHL Draft. The two times they picked outside of the top ten in those years was when they had the 22nd overall pick in 2008 and 2017 with which they took Jordan Eberle and Kailer Yamamoto respectively.
In those 12 years, the Oilers have had five top-five selections while the remaining four picks were still within the top ten. They've only traded a first-round pick once (16th, 2015), but that was a pick they had acquired elsewhere and happened to be the one that could've netted them Mathew Barzal (let's not talk about that). This year's draft finds general manager Peter Chiarelli and his scouting team, led by Keith Gretzky (assistant GM) and Bob Green, with the 10th overall selection.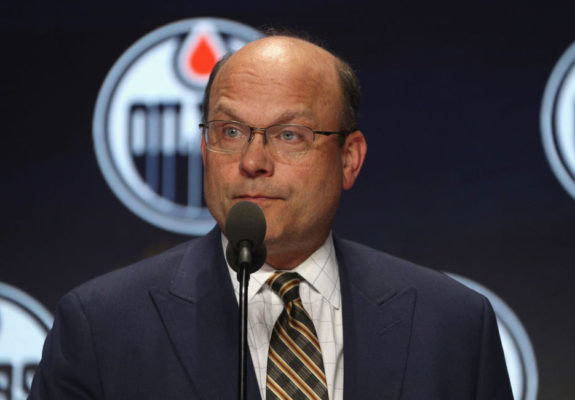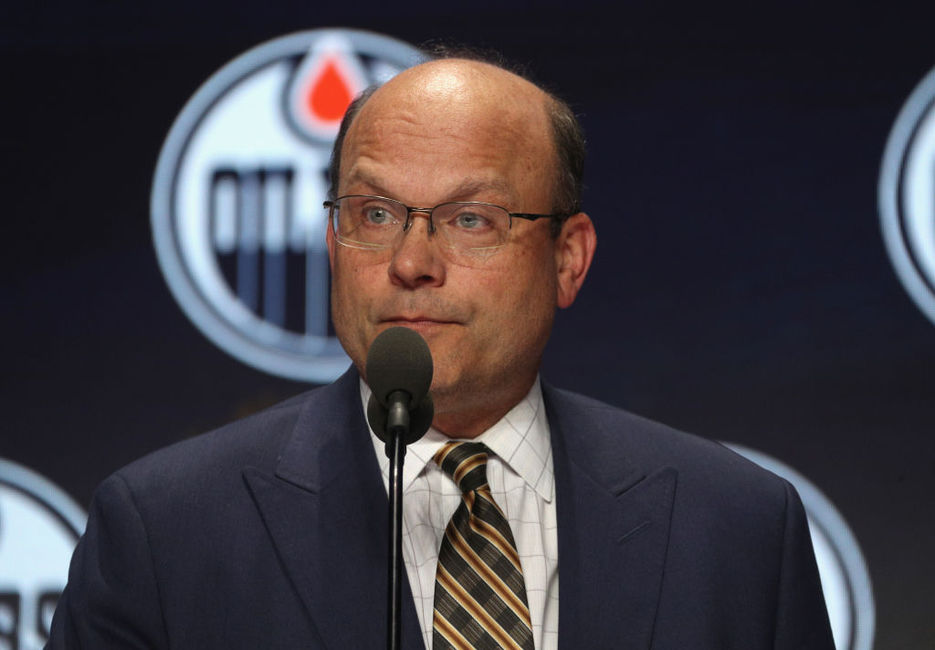 They'll land a player that'll fill an organizational need and the Oilers have two glaring ones: a top-four puck-moving blueliner and a top-six scoring winger. If we're talking preference, it would be for a right-shot power play quarterback. Edmonton's pick falls within a portion of the draft that's defense-heavy so expect that to be the choice.
Related: Oilers 2017 Draft Picks Revisited
The Oilers' 2018 NHL Draft picks barring a trade on draft weekend:
Round 1 – 10th overall
Round 2 – 40th overall
Round 3 – 71st overall
Round 4 – Traded to Montreal Canadiens for goaltender Al Montoya
Round 5 – 133rd overall
Round 6 – 164th overall
Round 7 – 195th overall
Final Mock Draft – 2018 NHL Draft
Edmonton holds six picks within the seven rounds. After the Buffalo Sabres announce Rasmus Dahlin as the first overall choice, there are four defenders (five if you include Ty Smith) in the next group. One of Quinn Hughes, Adam Boqvist, Noah Dobson, or Evan Bouchard could end up being drafted by the team in Northern Alberta.
In my latest and last mock draft, this is how things could unfold before Chiarelli makes his selection. Dahlin, Andrei Svechnikov, and Jesperi Kotkaniemi will be the top three choices. The Ottawa Senators will replace the loss of Mike Hoffman with Filip Zadina. Brady Tkachuk then falls to fifth with the Arizona Coyotes.
2018 THW MOCK DRAFT RESULTS

PICK
TEAM
PLAYER
CLUB

1

Buffalo Sabres

D Rasmus Dahlin

Frolunda HC (SHL)

2

Carolina Hurricanes

R Andrei Svechnikov

Barrie Colts (OHL)

3

Montreal Canadiens

C Jesperi Kotkaniemi

Assat (Liiga)

4

Ottawa Senators

L Filip Zadina

Halifax Mooseheads (QMJHL)

5

Arizona Coyotes

L Brady Tkachuk

Boston University (NCAA)

6

Detroit Red Wings

D Quinn Hughes

University of Michigan (NCAA)

7

Vancouver Canucks

D Noah Dobson

Acadie-Bathurst (QMJHL)

8

Chicago Blackhawks

D Adam Boqvist

Brynas (SHL)

9

New York Rangers

RW Oliver Wahlstrom

USNTDP (USHL)

10

Edmonton Oilers

D Evan Bouchard

London Knights (OHL)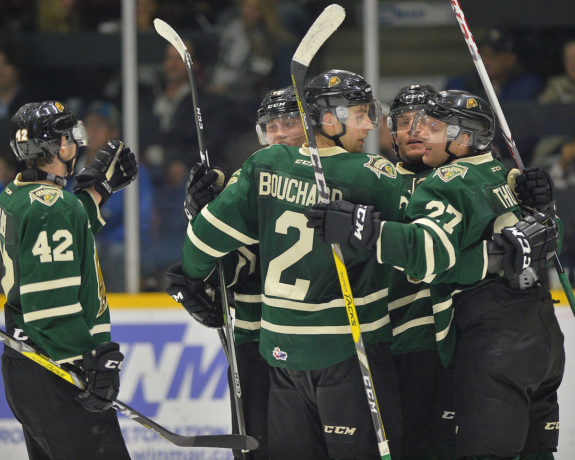 After Tkachuk, the top-ranked defensemen after Dahlin will be drafted. It makes sense for the Detroit Red Wings to select the University of Michigan star, Quinn Hughes. If the Vancouver Canucks pass on Noah Dobson at No. 7, their fanbase will revolt. Vancouver would be getting a steady defender who has top-pairing potential.
The Chicago Blackhawks will find backend support for aging veterans Duncan Keith and Brent Seabrook by adding Adam Boqvist. The New York Rangers will add a promising goal scorer to usher in the next phase of the rebuild. That the Oilers with an easy choice, as they end up filling a need with Bouchard.
Will the Oilers Draft Evan Bouchard in First Round?
Oilers Selection: 10th Overall
Adding a guy like Bouchard will do wonders for Edmonton's backend. Oscar Klefbom, Darnell Nurse, and Andrej Sekera give the team three puck movers on the left side, but the squad is limited on the right. Adam Larsson and Matt Benning don't possess the offensive upside that Bouchard has.
Can the 18-year-old step into Edmonton's lineup in October and pay immediate dividends to help the power play? That's better answered in training camp, but the London Knights defender and top scoring defenseman from the OHL believes he's NHL-ready.
Scouts have knocked Bouchard's skating, but it doesn't hold him back from being a useful player. He scored 25 goals and 87 points in 67 games for the Knights, and that might just be the tip of the iceberg for the 6-foot-2, 196-pound blueliner.
Related: Best Defensemen Available For Oilers at 10th
He's also a late 1999-birth-year player, so it's as though he's had another year of development already. Mike Green, Wade Redden, Tory Krug might be fair comparables for the offensive defenseman. His NHL Equilevent (NHLe) adjusted point totals in his draft year is equal to 34 points in the big leagues. Take it with a grain of salt, but that would have made him the Oilers' top scoring defenseman in 2017-18.
Darnell Nurse (26 points), Oscar Klefbom (21), Matt Benning (21), and Kris Russell (21) were the team's top scoring defenders last year. Bouchard has the skills to eventually become a consistent 40 to 50 point defenseman in the NHL.
Players Available with Oilers Second Round Pick
Oilers Selection: 40th Overall
Edmonton is going to have a plethora of players available with varying skill sets when they call the 40th overall pick. Continuing the theme from the first round, there are four talented defenders that are projected to go around that spot.
If you were to rank them according to their projected draft spot, the order would be Ryan Merkley, Calen Addison, Alexander Alexeyev, and then Jacob Bernard-Docker. Addison had a stellar campaign in the WHL and is the highest scoring WHL defender available after Ty Smith.
Edmonton's 2nd Round Draft Options – Short List

POS
PLAYER
CLUB
STATS

RHD

Calen Addison

Lethbridge (WHL)

68 GP – 11 G – 65 PTS

LHD

Alexander Alexeyev

Red Deer (WHL)

45 GP – 7 G – 37 PTS

RHD

Jacob Bernard-Docker

Okotoks (AJHL)

49 GP – 20 G – 41  PTS

C

Ty Dellandrea

Flint (OHL)

67 GP – 27 G – 59 PTS

LW

Philipp Kurashev

Quebec (QMJHL)

59 GP – 19 G – 60 PTS

RHD

Ryan Merkley

Guelph (OHL)

63 GP – 13 G – 67 PTS

RW

Jesse Ylonen

Espoo (Mestis)

48 GP – 14 G – 27 PTS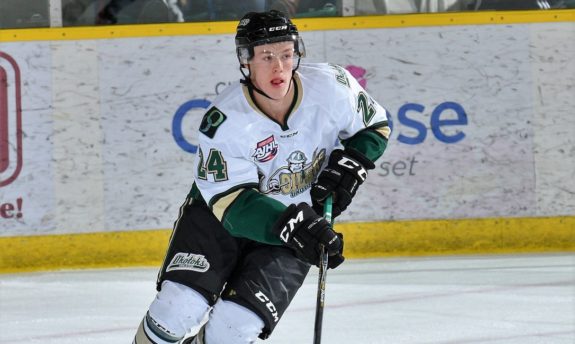 Merkley is the biggest wild card, and if he does go inside the first round, it'll likely be to a team that has multiple first-round selections. Bernard-Docker has great offensive instincts and is committed to the University of North Dakota for next season.
Related: 2018 NHL Draft – Oilers Best 2nd Round Options
Forwards like Ty Dellandrea, a two-way center who plays a fairly complete game, would be quite valuable to the Oilers. Philipp Kurashev and Jesse Ylonen are two skilled scoring wingers, and the Oilers need wingers in their system badly.
Players Available with Oilers Third Round Pick
Oilers Selection: 71st Overall
Chiarelli and his staff are in a good position to snag defensemen in the first two rounds. The third round is where they might look to address more needs at forward. One player that comes to mind is the undersized Justin Almeida who will likely be the highest scoring draft-eligible prospect available from the WHL.
Another is Pavel Gogolev who managed to score 30 goals on a very weak Peterborough Petes team in the OHL. Adam Mascherin is re-entering the draft and could fall within this range as well when Edmonton calls out the 71st selection. Mascherin has registered at least 35 goals and 85 points in three consecutive seasons in the OHL.
Edmonton's 3rd Round Draft Options – Short List

POS
PLAYER
CLUB
STATS

C

Justin Almeida

Moose Jaw (WHL)

72 GP –  43 G – 98 PTS

RW

Pavel Gogolev

Peterborough (OHL)

66 GP – 30 G – 47 PTS

RW

Adam Mascherin

Kitchener (OHL)

67 GP – 40 G – 86 PTS

G

Olivier Rodrigue

Drummondville (QMJHL)

53 GP – 2.54 GAA – .903 SV%

C

Milos Roman

Vancouver (WHL)

39 GP – 10 G – 32 PTS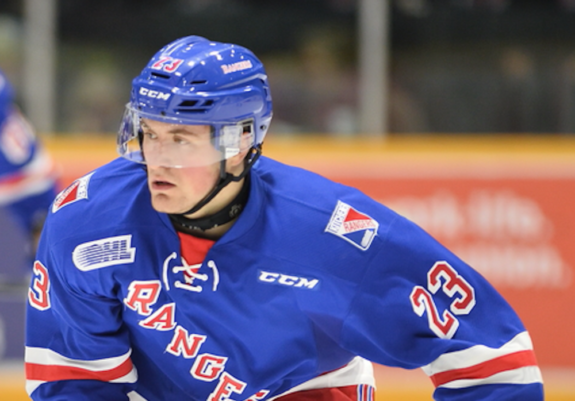 Milos Roman of the Vancouver Giants saw his stock slip this year due to injuries and he might be a better player than anticipated given his limited viewing this season. Roman will have a bigger role with the Giants in 2018-19 with the departures of Tyler Benson and Ty Ronning.
Related: 2018 NHL Draft – Oilers Best 3rd Round Options
Edmonton already has Stuart Skinner, Dylan Wells, and Shane Starrett in the goaltending system so drafting a keeper isn't a necessity. Olivier Rodrigue is the top-ranked netminder available, and he's projected to go around this pick. He was a workhorse in the QMJHL last season.
Players Available with Oilers Late Round Picks
Oilers Selection: 133rd overall (5th Round)
Oilers Selection: 164th overall (6th Round)
Oilers Selection: 195th overall (7th Round)
Chiarelli has done well for himself since his first draft with the Oilers in 2015. He's managed to find talent in the later rounds which is something the organization has failed to do over the past two decades. Ethan Bear (124th, 2015), Dylan Wells (123rd, 2016), and Kirill Maksimov (146th, 2017) were all fifth-round picks that are trending well.
Related: Oilers Best Late Round Draft Options
Aapeli Rasanen (153rd, 2016), and Philip Kemp (208th, 2017) look like players for down the road. So can Chiarelli, Gretzky, and Green continue to find players deep in the draft to help the club down the road? There are some intriguing names and here are a few to watch for on Day Two of the draft weekend.
Edmonton's Late Round Draft Options – Short List

POS
PLAYER
CLUB
STATS

RHD

Sean Comrie

Spruce Grove (AJHL)

54 GP –  7 G – 34 PTS

G

Alexis Gravel

Halifax (QMJHL)

39 GP – 3.38 GAA – .890 SV%

RHD

Nicholas Guay

Drummondville (QMJHL)

68 GP – 29 G – 55 PTS

G

Max Paddock

Regina (WHL)

33 GP – 2.90 GAA – .904 SV%

LW

James Malm

Vancouver (WHL)

72 GP – 19 G – 66 PTS

C

Kristian Reichel

Red Deer (WHL)

63 GP – 34 G – 57 PTS
Sean Comrie (no relation to Eric or Mike) and Nicholas Guay are two more defenders that fit the bill as being mobile puck-movers that can skate. The game is getting faster and these two fit the style that the NHL is gravitating towards.
Guay can also play forward and put up 29 goals for Drummondville this year. He was passed over in the draft last year but has a shot to find an NHL home the second time around. Comrie could develop into a Matt Benning-type player.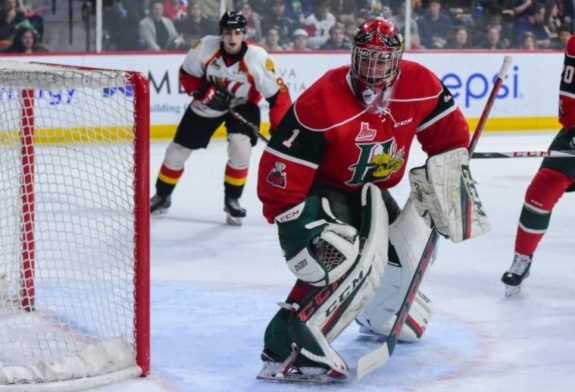 James Malm is an intriguing player who was also passed over in the 2017 NHL Draft. He could be a late-round option. He'll also have a bigger role with the Giants with the departures of Ronning and Benson. If undrafted, Malm could get a rookie camp invitation from the Oilers.
Related: Larry Fisher's 2018 NHL Mock Draft – Team By Team Results
There are two goaltenders of note: Alexis Gravel and Max Paddock. Both will be mid to late round picks and both are deemed project goaltenders with big frames with a very raw skill set. Gravel stands 6-foot-3 and 220 pounds. A lot of eyes will be on him next year as the Halifax Mooseheads will be gearing up for a Memorial Cup run.
Meanwhile, Paddock just had a Memorial Cup run and lost out to the Acadie-Bathurst Titan in the final. He backstopped the Regina Pats and had better numbers than Gravel. Regardless, the Oilers will be able to find great value in this draft. It's not the deepest draft, but they'll get some supporting pieces that'll help their core.