The Edmonton Oilers are without their fourth-round pick in the 2018 NHL Draft. They do have picks in each of the final three rounds. This is the point where teams start to throw darts on the board hoping something sticks. Unless you were the Buffalo Sabres back in 1974.
Whenever you think of the later rounds, you have to laugh at what happened in 1974 when the Sabres general manager Punch Imlach grew tired of the draft dragging on. Imlach infamously made up a random name, and thus the legend of Taro Tsujimoto from the Japan Ice Hockey League was born.
Going back to the last three drafts, Peter Chiarelli and his scouting team have done exceptionally well with their fifth-round picks. Ethan Bear (124th, 2015) is already playing top-pairing minutes in Bakersfield. Dylan Wells (123rd, 2016) is turning pro next season, and Kirill Maksimov (146th, 2017) enters his final year in the OHL. Edmonton picks 133rd.
In the sixth round, they've got a mixed bag between John Marino (154th, 2015), Aapeli Rasanen (153rd, 2016), and Skyler Brind-Amour (177th, 2017). Rasanen looks to be the only one with real intrigue there. In the seventh round, only Philip Kemp (208th, 2017) looks like a player down the road.
Related: Best Defenseman Available for Oilers at 10th Overall
So what do the Oilers do in 2018? Can they make it four years in a row that they find a decent player or two in the bowels of the draft? Here are a few options for Edmonton to consider with the 133rd, 164th, and 195th overall selections in the 2018 NHL Draft.
Sean Comrie – Spruce Grove Saints (AJHL)
Position: RHD | 2017-18 Stats: 54 GP – 7 G – 27 A – 34 PTS
At 5-foot-11 and 173 pounds, Comrie is the 108th-ranked North American skater, and Larry Fisher has him going around 142nd in his mock draft. As Fisher points out, Chicago might be a fit due to them drafting his former defense partner Ian Mitchell. Comrie will follow Mitchell to the NCAA as he joins Denver University next season.
Related: 2018 NHL Draft – Oilers Best 2nd Round Options
Comrie doesn't generate the same buzz that Bernard-Docker does coming out of the AJHL, but being the No. 1 defenseman on a league champion helps. Most mock drafts have Comrie going in the sixth round, so if he's available, it's not like the Oilers are taking a giant leap.
Alexis Gravel – Halifax (QMJHL)
Position: G | 2017-18 Stats: 39 GP – 3.38 GAA –  .890 SV%
The German-born Canadian is one of the bigger goaltenders available, but he's also one of the more raw and long-term prospects of the bunch. He's got an ideal frame for an NHL goaltender standing 6-foot-3 and 220 pounds. He's also got that unorthodox right-hand glove that throws shooters off.
Related: 2018 NHL Draft – Oilers Best 3rd Round Options 
His regular-season numbers weren't spectacular, but he's done well in back-to-back years in the playoffs with Halifax. He's projected to be a fifth or sixth round pick. THW's Larry Fisher had him going 152nd in his mock draft, so he falls between Edmonton's two picks at 133rd and 164th. Blade Mann-Dixon, the goalie he split starts with in Halifax, is done with his junior career, so Gravel should play more games next year.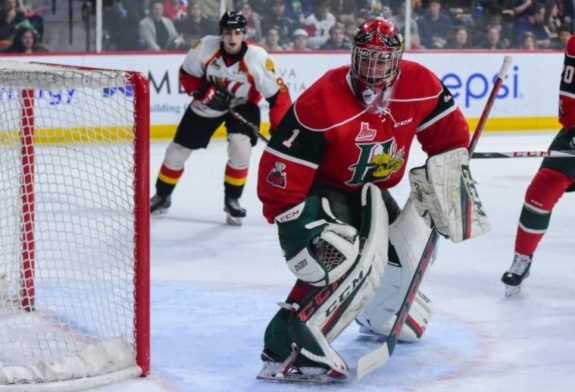 Nicholas Guay – Drummondville (QMJHL)
Position: RHD/RW | 2017-18 Stats: 68 GP – 29 G – 26 A – 55 PTS
That's not a typo. The Drummondville Voltigeurs captain can play both forward and defense. It's similar to what the Oilers had with Joey LaLeggia who started as a defender but eventually transitioned to left wing. Maybe the Oilers could do the same with Guay. He's had good offensive numbers in the QMJHL for two seasons (on a point-per-game basis).
He's ranked anywhere from 157-195 according to Hockey Prospects and NHL Central Scouting. He's another over-ager and will turn 19 just before the NHL Draft, so once again, another prospect for the Oilers that is closer to developing amongst the pro ranks.
Max Paddock – Regina Pats (WHL)
Position: G | 2017-18 Stats: 33 GP – 2.90 GAA –  .904 SV%
The nephew of former NHLer John Paddock, Max backstopped Regina on their journey to the final of the 2018 Mastercard Memorial Cup. The Pats were eliminated in the first-round in seven games against the eventual WHL Champions, the Swift Current Broncos. They'd come back in the Memorial Cup as hosts and upset Swift Current and the Hamilton Bulldogs along the way.
Related: Larry Fisher's 2018 NHL Mock Draft – Team By Team Results
Paddock was a key piece of that highlighted by a 44-save performance in the semi-final against Hamilton. Paddock is the 22nd NA goalie ranked by Central Scouting, so he fits as a sixth or seventh round choice if the Oilers elect to grab a netminder. At 6-foot-2 and 152 pounds, Paddock is a rangy and raw prospect. He's a very athletic goaltender who's working on his positioning and closing those six- and seven-holes.  The upside for him would take several years, but at this point in the draft, that's what you're looking at.
James Malm – Vancouver Giants (WHL)
Position: LW | 2017-18 Stats: 72 GP – 19 G-47 A – 66 PTS
Malm was passed over in the 2017 NHL Draft but will get another chance to be drafted as an over-ager. He could end up going later in rounds six and seven to a team looking to get a player who's a year closer to AHL eligibility. On a lot of nights where Ty Ronning and Tyler Benson weren't going, Malm was responsible for the Giants picking up two points.
At 5-foot-9 and a generous listing of 179 pounds, Malm is another diminutive forward that finds time and space in the offensive zone. He needs to get stronger, but there's an offensive jab to his game that could make him a depth player on an NHL roster. With Ronning and Benson moving to the AHL next year, Malm will be a more significant piece for Vancouver.
Kristian Reichel – Red Deer Rebels (WHL)
Position: C | 2017-18 Stats: 63 GP – 34 G – 23 A – 57 PTS
The son of former NHLer Robert Reichel, Kristian acclimated himself well to the WHL after coming over from HC Litvinov in the Czech Republic. Reichel was the 27th overall pick in the CHL Import Draft last year and asserted himself as Red Deer's No. 1 center in a short amount of time. He's currently ranked 53rd among NA players according to Central Scouting.
Related: Kristian Reichel – 2018 NHL Draft Prospect Profile
Reichel could be available as early as the fourth or fifth rounds with Edmonton picking 133rd in the fifth. Reichel had a terrific showing at the 2018 World Juniors playing for the Czech Republic. He registered four points in seven games. The youngster also put up 34 goals which put him on par with Kirill Maksimov's numbers in the OHL.