After acquiring Patrick Eaves from the Dallas Stars in the 2016-17 season and eventually advancing to the Western Conference Final, the Anaheim Ducks were left without a first-round draft pick in 2017.
This season, general manager Bob Murray exercised a conservative approach at the trade deadline, specifically mentioning his reluctance to part with another first-rounder as the deadline approached. As such, the Ducks have the 23rd overall selection in the opening round of this year's draft, which commences Friday, June 22 in Dallas.
Outside of consensus No. 1 pick Rasmus Dahlin, and perhaps Andrei Svechnikov and Filip Zadina right behind him, this year's first round appears to be fairly open in terms of how it will fall out. There are numerous plausible scenarios whereby certain players may or may not be available for the Ducks at No. 23, but for now, we'll focus on five names who could reasonably be available at that spot and represent intriguing options for Anaheim.
1. Dominik Bokk, RW, Växjö Lakers HC (SHL)
Dominik Bokk, who has enough skill and talent to be selected in the middle of the first round, could also conceivably fall to the Ducks at No. 23. If so, he would represent a fantastic option. The native of Germany appears to be the best German prospect since Leon Draisaitl.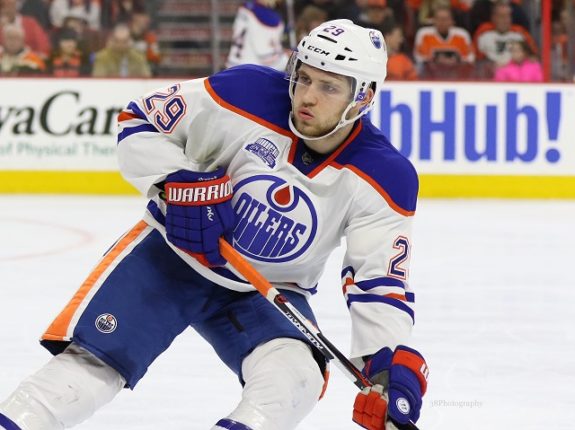 The 170-pound Bokk will need to fill out his 6-foot-1 frame, but that can be said for the vast majority of 18-year-old prospects. What makes him an intriguing prospect are his lethal shot, one-on-one skills, and playmaking abilities. He notched 14 goals and 27 assists in 35 SuperElit league games in Sweden in 2017-18 before moving up to the SHL.
The right-shooting Bokk would give the Ducks another weapon similar to Rickard Rakell, adding more depth and offensive ability to create better balance in their lineup. While Bokk needs to bulk up a bit and continue to hone his skills away from the puck, those are common areas of focus for young players, and his offensive upside more than justifies using a late first-round pick on him.
The Athletic's Corey Pronman has written glowingly about Bokk's elite skill level.
"He is one of the most skilled players in the draft. His puck handling is elite for a player his size and, when I've talked to management from his German national teams, they specifically point to his skill as his best attribute." (from "Why Dominik Bokk, the next Deutschland Dangler, is Worth a High Pick in 2018 NHL Draft", Jan. 31, 2018)
2. Jonatan Berggren, C/RW, Skellefteå AIK (SHL)
Another notable prospect from the SHL is forward Jonatan Berggren. The 17-year-old Swede will not celebrate his 18th birthday until July, meaning he will have already been drafted by then.
Berggren is another forward with high offensive upside. He is shifty and creative, using those abilities to thrive primarily as a playmaker, but one who can chip in some goals as well. At the SuperElit level in Sweden, his 18-39-57 stat line in just 38 games spoke to these traits. In the SHL, he went scoreless in 10 regular-season games. Like Bokk, he still needs to develop, and he might need a longer timeline than the former. However, down the road, he could end up being an effective top-six forward in the NHL.
At 5-foot-11 and 183 pounds, Berggren might not end up adding much more to his frame and could ultimately end up being more effective on the wing. His development will be more about skating and keeping up with the speed of the pro game, and knowing when to pick his spots to leverage his creativity.
Most outlets have Berggren's draft ranking in the late 20s or lower, so there is a decent chance he will be available for Anaheim at No. 23. Depending on who else is on the board, Berggren could make a lot of sense and ultimately reward the Ducks—or whichever team selects him—as long as they are patient with him.
3. Akil Thomas, C, Niagara IceDogs (OHL)
Akil Thomas, 18, has grown up in a hockey environment and has moved around quite a bit as a result of his father's career. He has dual citizenship in the U.S. and Canada but has represented the latter in international competition.
The 6-foot, 180-pound right-shooting pivot is an excellent playmaker. He put up 59 assists (along with 22 goals) in 68 OHL games for the Niagara IceDogs. Aiding in Thomas's point totals is his skating ability that features speed and a powerful initial push. His quick acceleration allows him to break away from defenders and create scoring opportunities, especially off the rush. Combine that with high-level vision and decision-making, and you have a top-notch playmaker.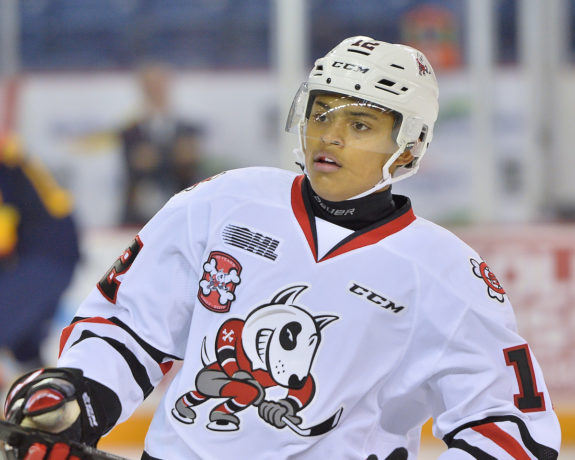 Beyond his speed, Thomas possesses strong agility, which serves him well in offensive zone cycles to complement his skills in transition. It sounds like a broken record when discussing draft-eligible prospects, but with a little more muscle building, Thomas should become difficult to contain in almost all situations.
Should Thomas be available at No. 23 and then selected by the Ducks, Anaheim fans would love to see him turn into the club's next great playmaking pivot. Fifteen years ago, the Ducks had a similar first-round draft position (19th overall) and selected a playmaking center. His name? Ryan Getzlaf.
4. K'Andre Miller, LHD, U.S. National U18 Team
Now for a defenseman. While teams should draft based on talent/best player available rather than need, given the multi-year development phase most prospects undergo before cracking the NHL, the Ducks nevertheless could use some more blueliners in their system after leaning on the since-retired Francois Beauchemin and the nearly-certain-to-depart Kevin Bieksa for much of the past season. They could then suddenly find themselves with a strong pipeline that already includes Marcus Pettersson, Josh Mahura, and Jacob Larsson.
Anyway, one defender who could be available for the Ducks late in the first round is Minnesota native K'Andre Miller. Unlike many 18-year-olds, he is already very well developed physically, standing at a hulking 6-foot-4 and 205 pounds. But don't let his size fool you. Miller brings with it an equal level of skill, as well as versatility (he was a forward before switching over to the blue line).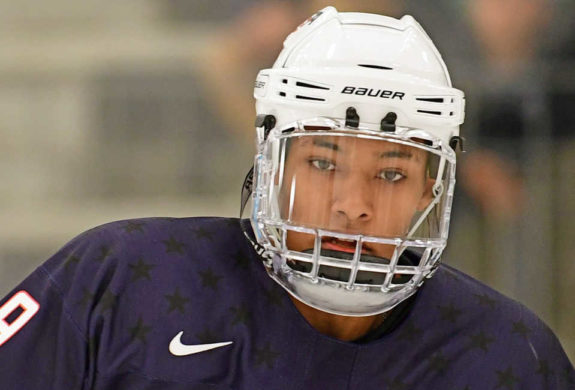 This past season, Miller played in 22 games with the U.S. National Team Development Program's Junior team, posting an impressive 16 points (four goals and 12 assists) from the back end. In another 58 games with the U18 team, Miller put up totals of 9-20-29.
Miller is set to attend the University of Wisconsin, where he will work on further refining his game, particularly his somewhat new role on the blue line. His physical gifts are what jump out first, and he uses those to play an effective and punishing defensive game. However, with continued development, the offense should come along, as Miller has already shown flashes of that with the USDP.
5. Ryan Merkley, RHD, Guelph Storm (OHL)
Last but not least comes perhaps the most polarizing player in the entire draft class. Uber-talented defenseman Ryan Merkley from the OHL's Guelph Storm might very well be the best offensive blueliner in the class, even considering Rasmus Dahlin. Just take a look at some of the things he can do with the puck on his stick.
Merkley's vision and creativity are elite, along with his smooth and agile skating. These skills were evident from a young age, which earned him the honor of being selected first overall in the 2016 OHL Priority Selection. He is an incredible offensive weapon on the back end—something all the more beneficial in today's NHL.
So why isn't Merkley's draft stock higher? The other side of the coin, as the above video also points out, is his often-lackluster play away from the puck and in his own zone. While these are areas that typically need work for most offensively-gifted draft prospects, there are some glaring red flags with Merkley. Beyond some substandard play and poor positioning, his attitude has been called into question, as he sometimes appears disinterested in the defensive zone.
Steve Clark, the play-by-play announcer for the OHL's Niagara IceDogs, acknowledges Merkley's immense offensive talent but then pulls no punches in describing his shortcomings.
"The defensive disasters and mercurial temperament are also obvious," says Clark. "He's caught up ice at times, and makes some baffling decisions. Plus, there's the fact he played Paul Bunyon and took a whack at someone and got a three-game suspension. The comparable? There's a little Tony DeAngelo in him, a first-round draftee but on his third team already."
Despite these issues, at some point, a team will take a chance on the high-reward side of the Merkley equation, hoping he can mature and address his flaws. That point seems like it could be late in the first round. If Merkley is available at No. 23, the Ducks might just want to take their chances and go for the home run.