Mikko Koivu was selected by the Minnesota Wild sixth overall in the 2001 NHL Entry Draft. He was the tenth player the Wild had drafted in their existence, being their second year in the draft process. The recently turned 35-year-old has just concluded his 13th season in the NHL and with the Wild.
The Wild hit a home run with their selection of Koivu. He became the team's first permanent captain (the organization had a monthly rotation prior). He earned the honor at 26-years-old in his fifth season in the NHL. He has now concluded his ninth consecutive season as captain for the Wild.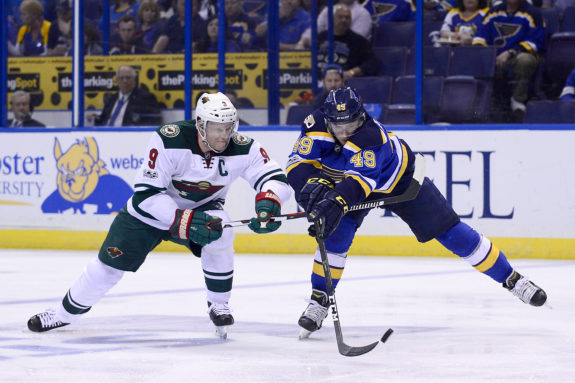 Koivu also holds numerous franchise records including games played (925), assists (466), points (659), plus/minus (plus-70), and shots (2,107). He is second all-time in goals with 193 only trailing Marian Gaborik who has 219 goals.
Health
There was something positive about Koivu's season and that was his ability to play in all 82 games (as well as all five postseason contests). It was only the third time in his career that he didn't miss a single game (2006-07 and 2015-16 are the others). It's a huge plus for the Wild to have their captain in every single game and a significant accomplishment after all the injuries Minnesota had to overcome just to make it to the playoffs.
Related: 2017-18 Wild Plagued with Injuries
Staal's Presence Benefits Koivu
For most of Koivu's career, he has been forced to be the number one center, a position usually occupied by a goal-scorer. He has put the puck in the net throughout the years but never put up big numbers (only three 20-goal seasons in his career). After the Wild brought in Eric Staal on a three-year, $10.5 million deal it relieved Koivu of the responsibility of being the number one center. Staal has been a major force for the Wild and actually tied Gaborik's single-season franchise record of 42 goals.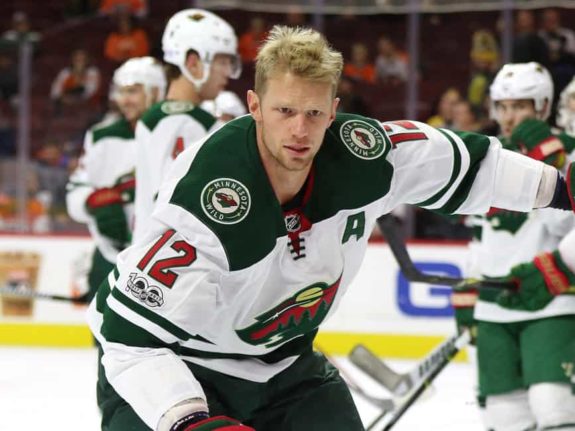 The signing has given the Wild some consistency and talent across multiple lines down the middle which is something that the franchise has desperately needed for years. Koivu is not young anymore and having Staal will help reduce his TOI.
It did cut into his minutes — he averaged only 18:29 ice time per game. That is the third lowest in his career and both of those other seasons were his first two years in the NHL. The hope is that he will have more energy for each shift with less ice time and responsibility.
Related: 2017-18 Wild Rewrite Franchise History
Severe Statistical Decline for Koivu
Obviously, his scoring will decline with less ice time. He actually had the sixth-most total minutes played of his career due to playing the entire season. Ice time isn't as significant a factor as one might think when looking at Koivu's numbers.
Comparing all 13 seasons that Koivu has played in including 2017-18, this past season was nothing special. He ranked among his own seasons eighth in goals (14), tenth in assists (31), ninth in points (45), and ninth in shooting percentage (8.2%) for the 207-18 campaign. He didn't take any face-offs during his first two seasons which puts his face-off win percentage at the lowest total of his career with 51.4% on the draw. Considering that is one of Koivu's premier strengths, it really shows how his all-around game has sharply declined. He is no longer facing top opponents night in and night out making this feel drastic.
Koivu Running Out of Steam?
There is a solid chance that Koivu is on the decline and this season wasn't a fluke. He has made a name for himself with his play in the circle, stout defense, and elite playmaking. The foreseeable future will still include Koivu for the Wild. Fletcher signed Koivu to an extension for two-years, $11 million that will kick in starting with the 2018-19 campaign.
The deal means that Koivu takes a pay cut to remain with Minnesota. The Wild retain a player who has never worn another team's sweater in his NHL career. He's an all-time Wild great and will be remembered after he retires. The end result will hopefully mean Koivu finishing out his career in Minnesota. As of this moment, fans may either take solace in that fact, or blame Fletcher for his last bad contract.