It's that time of year when everyone is buzzing about the upcoming draft. The 2018 NHL Draft will leave the Edmonton Oilers with some tantalizing options for their tenth overall pick. This year's class is very top heavy; thus the Oilers would be adding an impact defenseman or forward.
But the draft isn't just one round event. There are seven rounds. Edmonton has all their picks this year except their fourth-round selection which they traded to the Montreal Canadiens for backup goalie Al Montoya.
Oilers general manager Peter Chiarelli and the draft team led by Keith Gretzky and Bob Green will also have the 40th selection. Having two picks in the top 40 of a reasonably good draft class isn't a bad thing. The question now is what are their options with the second-round pick?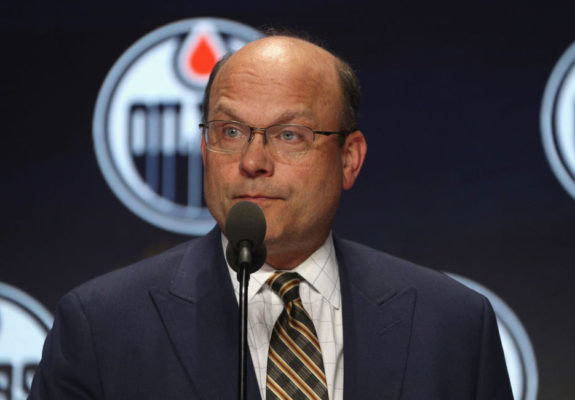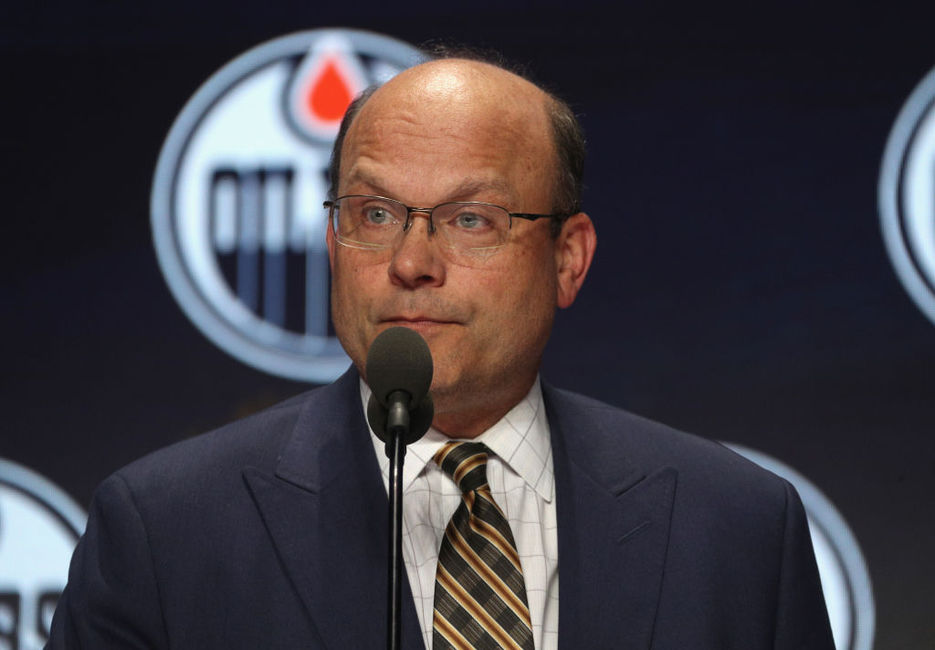 We can use a ton of mock drafts, like those done by The Oil Knight (Sean Patrick  Ryan), and Edmonton Prospect Watch. We'll also pull from Larry Fisher who's recently completed a Top 100, and mock draft of all seven rounds for this year's draft. The three are excellent resources, and great to follow on social media.
Related: Larry Fisher's Final Top 100 Rankings – 2018 NHL Draft
I'll highlight a few of the players that fall within the range of that 40th pick. At this point, it's all about taking the best player available over filling positional needs. Remember when the Oilers took Martin Marincin when Tyler Toffoli was the next pick taken back in 2010? Regardless, here are some sound options for the Oilers with their 2018 second-round pick.
Calen Addison – Lethbridge Hurricanes (WHL)
Position: RHD | 2017-18 Stats: 68 GP- 11 G – 54 A – 65 PTS
The Oilers love their WHL players and have used three of their last four top picks on Western Leaguers. Kailer Yamamoto (22nd, 2017), Stuart Skinner (78th, 2017), and Tyler Benson (32nd, 2016) all look like they could be good players. Another could be Addison who was a former teammate of Skinner's in Lethbridge.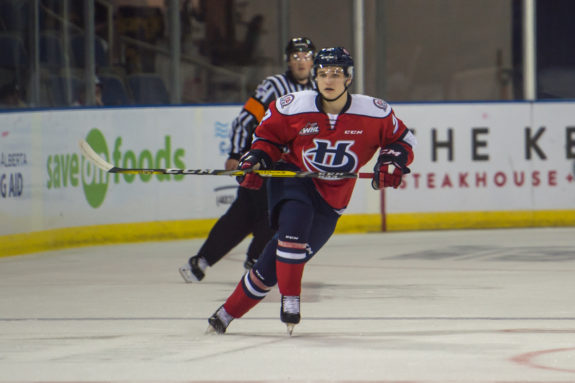 Addison posted an impressive 65 points in 68 games and is the second-highest scoring, draft-eligible WHL defenseman. He followed up his regular season with 19 points in 16 playoff games. He's currently ranked 44th on Fisher's list, and 30th on NHL Central Scoutings North American (NA) list. It's worth noting, Fisher also had Addison as his Oilers pick for the second-round in his seven-round mock draft.
Related: Calen Addison – 2018 NHL Draft Prospect Profile
If Addison does slip into the middle of the second-round, this could be a dependable addition for the Oilers. Compared to Ty Smith (the highest scoring, draft-eligible WHL defenseman), Addison plays a safer defensive game, doesn't take the same risks, but could still have second-pairing potential in the NHL. Matt Dumba has been a comparable on the high-end.
Alexander Alexeyev – Red Deer Rebels (WHL)
Position: LHD | 2017-18 Stats: 45 GP- 7 G – 30 A – 37 PTS
Alexeyev is an intriguing Russian defenseman currently playing for Red Deer in the WHL. He stands at 6-foot-3, 190 pounds, and is a left-shot defender. His late birthday didn't make him eligible for the 2017 NHL Draft, so he's essentially had another full year of development. Alexeyev's numbers in his draft year are better than what Dmitri Samourkov posted in his (2017).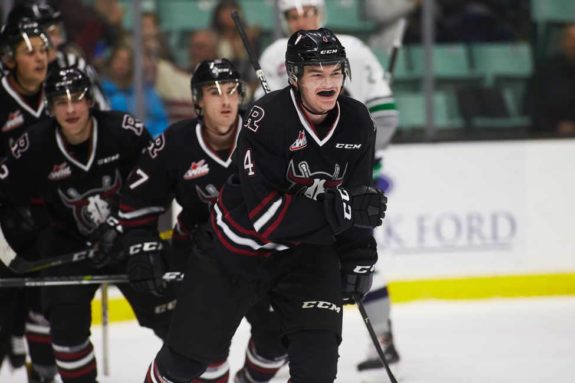 He's pretty much on par with where Samourkov is this year. Alexeyev isn't a soft defender, he's got some toughness, plays a good two-way game, and if he earned Brent Sutter's trust in Red Deer, that should be good enough for most others. THW's Ryan Pike has him ranked 22nd on his final draft ranking, while Fisher has him 33rd.
Related: Alexander Alexeyev – 2018 NHL Draft Prospect Profile
When you include Pike and Fisher's projections with TSN's Bob McKenzie's and Craig Button's rankings, Alexeyev could go anywhere from 22 to 51. He doesn't play a high-risk style; he's mobile and adept at both sides of the rink. The offensive upside, like it is with Samorukov, is still questionable. He could be a No. 4-5 defenseman in the NHL like Michael Stone.
Jacob Bernard-Docker – Okotoks Oilers (AJHL)
Position: RHD | 2017-18 Stats: 49 GP- 20 G – 21 A – 41  PTS
There are a lot of good defense prospects in this year's class. One of the more underrated ones might be Bernard-Docker who plays in the AJHL. He put up 41 points in 49 games and is on the long list of right shot, right side blueliners available this year. Some believe his style is similar to Colorado Avalanche prospect Cale Makar.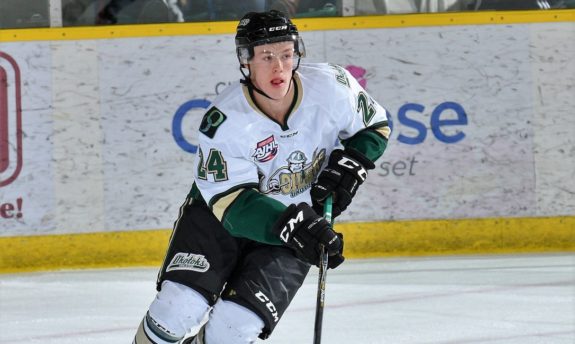 We're not saying he's going to be the next Makar, but Bernard-Docker is a bit of an unknown since he's playing Junior A. He's already committed to a strong program with the University of North Dakota next season, so this is a prospect the Oilers can take the long road with and hope he develops well. After all, he could become a second-pairing guy in the NHL.
Related: Jacob Bernard-Docker – 2018 NHL Draft Prospect Profile
At 6-foot-1 and 172 pounds, Bernard-Docker sits 46th on Fisher's list. Along with Jonny Tychonick, he could be the best Junior A prospect available in this year's draft. He's a gifted offensive defenseman, and his most notable quality might be his booming point shot. Regardless he's a very competitive guy, has excellent hockey sense, and is rarely caught out of position defensively.
Ty Dellandrea – Flint Freebirds (OHL)
Position: C | 2017-18 Stats: 67 GP- 27 G – 32 A – 59 PTS
Dellandrea is ranked 25th by NHL Central Scouting (NA) and had a great year on a bad team. He finished second in team scoring on a Flint team that ended the second to last in the OHL this season. A surprising fact is that he posted similar numbers as Barrett Hayton who's projected to go within the top 15 picks.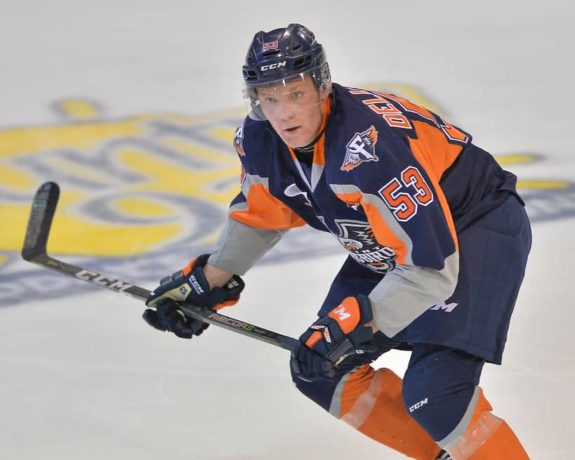 Hayton 21 goals and 60 points on a deep Sault Ste Marie Greyhounds team, while Hayton posted 27 goals and 59 points on one of the worst teams in the league. He was the Firebirds No. 1 center, played in all situations, including both special teams, and projects to be a solid two-way center for the Oilers.
Related: Ty Dellandrea – 2018 NHL Draft Prospect Profile
He's a sound skater and operated at 50.6% in the faceoff circle. Dellandrea could be a good middle-six center down the road. He might even become a decent penalty kill asset, and some believe he has better than anticipated offensive instincts that'll translate to the NHL.
Philipp Kurashev- Quebec Remparts (QMJHL)
Position: LW/C | 2017-18 Stats: 59 GP  – 19 G – 41 A – 60 PTS
Kurashev started to turn heads after an impressive showing with Switzerland at the 2018 World Juniors. He scored at a point-per-game pace in both the QMJHL regular season and playoffs. Ryan is very high on Kurashev who he thinks has tremendous vision and hands.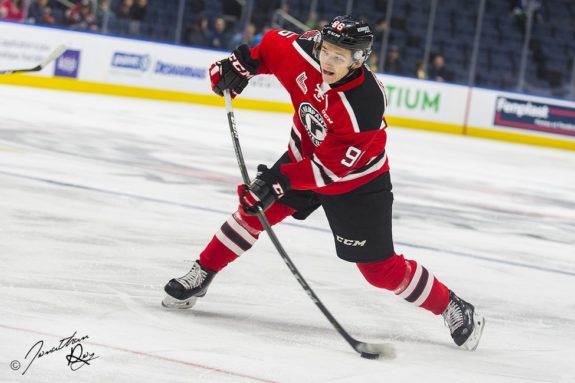 For comparison's sake, the 60 points he scored were on par with what Ostap Safin (59 points) produced this season. Those numbers are also better than what Kirill Maksimov (38 points) provided in his draft year. So could Kurashev end up being on the same level as those two prospects? Possibly.
He's an offensive player who, like Maksimov, has a great shot, and good playmaking abilities. He sits 61st in NHL Central Scoutings North American rankings, and 60th in Fisher's final rankings. Kurashev could be a middle-six forward, ideally what the Oilers wish Anton Slepyshev could've been.
Ryan Merkley – Guelph Storm (OHL)
Position: RHD | 2017-18 Stats: 63 GP  – 13 G – 54 A – 67 PTS
Merkley started the year as a bonafide can't miss first-round selection. However, it's looking like he could be the biggest slider of the 2018 draft class. Most mock drafts have Merkley going anywhere from as early as 15th to as late as the middle of the second-round.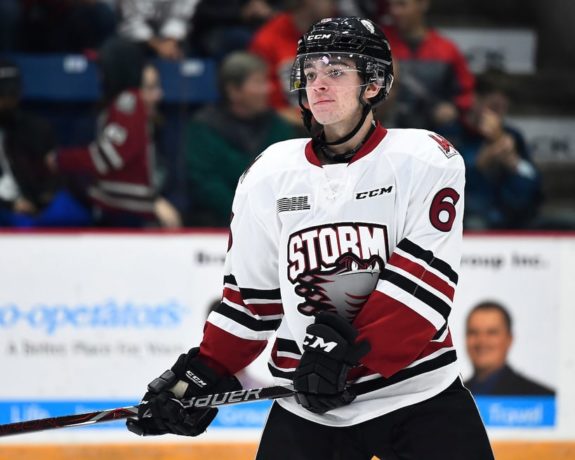 He's an incredibly gifted offensive defenseman, can play the right side, shoots right, and is a strong skater. So why are people so turned off? He's seen as a defensive liability or a one-dimensional defenseman. He can help your power play (PP), but the rest of his game hasn't quite caught up.
Related: Ryan Merkley – 2018 NHL Draft Prospect Profile
Maybe it's his attitude or that he could be a long-term project. He could be a PP specialist down the road similar to Marc-Andre Bergeron, or maybe he needs more time like Justin Schultz did? Either way, this is a high-risk, high-reward type selection if Merkley slides that far, and it could work out in Edmonton's favor.
Jesse Ylonen – Espoo United (Mestis)
Position: RW | 2017-18 Stats: 48 GP  – 14 G – 13 A – 27 PTS
Lastly, our friends at Edmonton Prospect Watch had Jesse Ylonen as the Oilers pick in their recent mock draft. He picked up 27 points in 48 games and looks like a decent scoring option on the wing. In the game footage available, a couple of things stand out about Ylonen's game.
In the offensive zone, he's quite shifty; he uses his edges well to zig in and out of traffic and gets open for shots. Ylonen's got a decent shot release too. If you find the right center for him (whether that's Connor McDavid or Leon Draisaitl), Ylonen could become a bonafide scoring threat.
The Oilers want to be faster, and Ylonen fits that need. At 6-foot-1 and 168 pounds there's room to grow, and in two to three years he could be a good addition to Edmonton's top-nine. Do you agree or disagree?
Are there any other names you hope Chiarelli, Gretzky, and Green will consider for the Oilers with that 40th pick? Let us know in the comment section below with your thoughts.