I suppose it's not surprising this week to hear anyone's name come up in a trade rumor mill. This is the week of the NHL Entry Draft only a few days from the opening of free agency. Players who we might not envision becoming available, tend to become available. So, when a report surfaced that Wayne Simmonds might be shopped by the Philadelphia Flyers, a few ears should have perked up in Edmonton.
The Oilers are in need of help on the wings, especially at right wing where they lack experience and finish. The future for the team might be bright with players like Kailer Yamamoto, Jesse Puljujarvi, and Ty Rattie but it's also completely unproven and someone like Simmonds would fill the void this year incredibly well.
Why Is Simmonds Available?
Why is Simmonds available? That's a good question. It seems the Flyers are concerned with a mixed bag of his injuries from last season and his having only one year remaining on his current contract which is wildly undervalued. Perhaps the combination of Simmonds likely asking for a major bump next year plus whatever deal he signs taking him to the age of 35 or so is giving GM Ron Hextall reason for pause.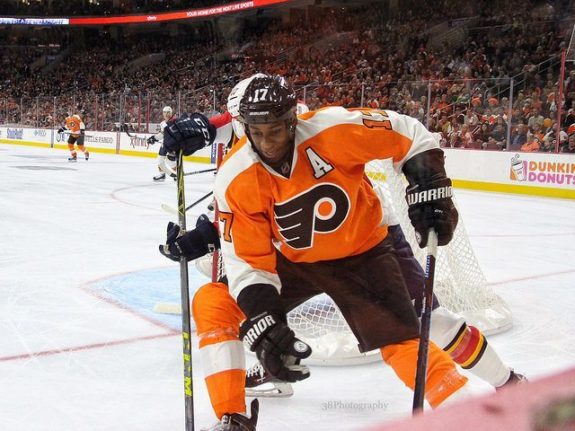 Michael Russo of The Athletic said:
Multiple sources tell me the Flyers are gearing to potentially trade Wayne Simmonds. He's a year from free agency and coming off a 24-goal, injury-hindered season. He scored 120 goals the four seasons before that, is big, is tough (the guy caved in Wild winger Eric Nystrom's face once during a fight as a King), is a leader. He's a right-shot wing and makes a reasonable $5 million with an even more reasonable $3.975 million cap hit. He has a 12-team no-trade clause, per capfriendly.com.

quote from the article "Russo: Possible Wild trade partners and the players they might deal" The Athletic -6/19/18
Related: Should the Oilers Go for Artemi Panarin?
How Would Simmonds Help the Oilers?
Perhaps more than any other player we've looked at in this series, Simmonds would be a great fit filling an immediate need. He's big, he's fast (fast enough), is physical, and can score — scoring 32 and 31 goals in the 2015-16 and 2016-17 campaigns. Better yet, the Flyers might be selling a little lower than they should because the 29-year-old's numbers dipped a bit in 2017-18 with Simmonds only managing to score 24 times. But, to suggest 24 goals is a dip, is still a huge plus for the Oilers.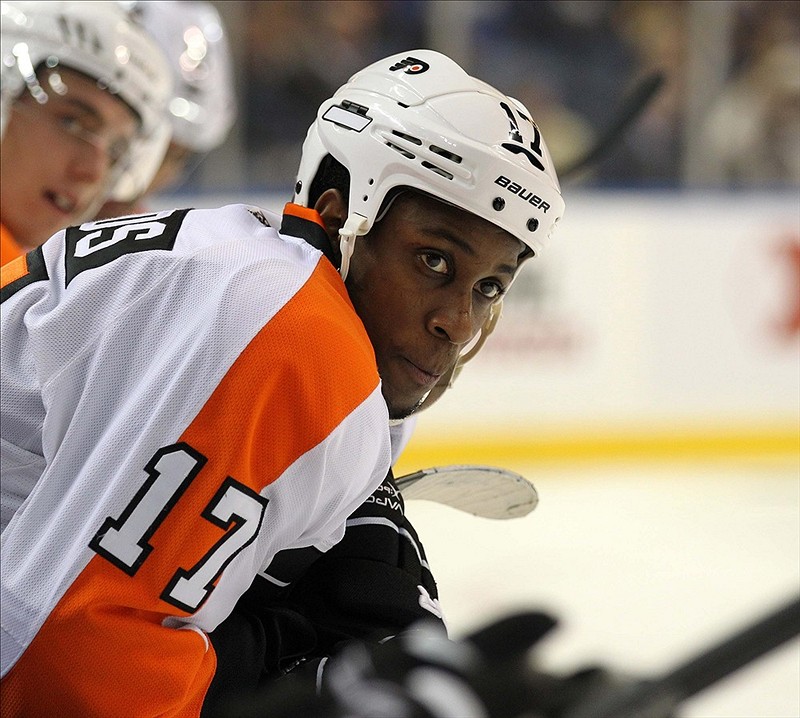 What also makes Simmonds so attractive, is that his cap hit of $3.975 is incredibly easy for the Oilers to fit into their current structure. A team looking to add value but do so without going broke would have the first-line spot for Simmonds ready to roll and for Simmonds, the idea of skating with Connor McDavid and Ryan Nugent-Hopkins would likely be appealing helping convince him to be part of his 12-team no-trade clause exception. Simmonds could be the Lucic-style player with more ability to score on the right side.
All that said, I could be way off in suggesting the Flyers will sell lower. Simmonds will likely be a rental, but if the Flyers are looking at moving him this week, the Oilers (or any team interested) would get a full season's worth of production out of him.
Related: NHL Rumors: Lindholm, Kessel, O'Reilly, More
What Would A Deal Look Like?
The Flyers can be unpredictable. While they made the postseason, they weren't very aggressive at last year's trade deadline and they seem to be a team that builds through the draft more than they grab big names in free agency. Would that mean the No. 10 selection in this year's draft is what they'd be after? That seems like Hextall's speed. Would the Oilers do that for a potential one-year rental? That feels like a stretch. But, there will be some stiff competiton for the player if he's truly available.
If the Oilers could offer up some help on the Flyers blue line or another right-winger, then perhaps there's a bigger deal to be worked out between the two teams that would include picks and Simmonds as the centerpieces. Edmonton just needs to be cautious about considering moving Yamamoto or Puljujarvi if Simmonds hasn't commited to staying in Edmonton. The right to speak to him about an extension could be criticial in the process.