There are risers and fallers for every NHL draft and 2018 is no exception.
My midseason rankings, published in early February following the World Juniors and the CHL Top Prospects Game, identified several risers, including the likes of Martin Kaut, Aidan Dudas and Jonny Tychonick. Evan Bouchard and Oliver Wahlstrom also continued their ascent into the top 10, while Joe Veleno, Ryan Merkley and Jared McIsaac were some of the fallers from my preseason rankings, along with intriguing types like Alexander Khovanov, Dmitry Zavgorodniy, Samuel Fagemo and Mathias-Emilio Pettersen.
My latest rankings, released this past week once the prospects had finished their regular seasons and following the Five Nations tournament, featured more risers and fallers thanks to impressive finishing kicks by some while others faded down the stretch.
2018 NHL Draft: Fisher's Top 100 Following Regular Season https://t.co/RbOBtUYbJ2 #THW #NHLDraft #NHLProspects #NHL pic.twitter.com/R7ofYLcPaA

— The Hockey Writers (@TheHockeyWriter) March 30, 2018
Expect that trend to continue, perhaps to a lesser degree, for my final rankings in May following the World Under-18 Championship in Russia and as the playoffs progress in the various leagues and countries.
By then, the NHL Draft Lottery will be held and I'll be hard at work on my seventh annual mock draft to be published in June — typically the morning after the Stanley Cup is awarded — where I'll attempt to predict all seven rounds, all 217 selections.
(RELATED: 10 Risers From Fisher's Top 100 Rankings)
As for the fallers from my latest rankings, here are 10 significant prospects that fit the bill as well as 10 honourable mentions:
1) Aidan Dudas (C, Canada, Owen Sound OHL)
FEBRUARY RANKING: 26
APRIL RANKING: 50
VARIATION: -24
ANALYSIS: Truth be told, I got too excited about his Top Prospects Game performance — put too much stock in that one viewing. I still really liked what I saw in Dudas during that showcase and believe he has some first-round talent, but he's not polished enough or consistent enough to stay that high in my rankings. Plus he's small and slight, which won't help Dudas at the draft even with the sport trending more towards skill — something he has in spades.
2) Jakub Lauko (C, Czech Republic, Chomutov)
FEBRUARY RANKING: 33
APRIL RANKING: 52
VARIATION: -19
ANALYSIS: Outshone by his compatriot Kaut at the World Juniors, Lauko has been a steady faller since debuting at No. 23 in my September rankings. He hasn't had a great draft year, obviously, but Lauko could be a steal in the long run if he's selected outside the top 50.
3) Jett Woo (RHD, Canada, Moose Jaw WHL)
FEBRUARY RANKING: 28
APRIL RANKING: 42
VARIATION: -14
ANALYSIS: Becoming more defensive than offensive as his development continues, Woo has lost a bit of his 'wow' factor this season. Injuries have held him back a bit too, but if Moose Jaw makes it all the way, the scouts will get to see plenty of Woo — for better or worse, but others have overtaken him in my rankings since the calendar flipped to 2018.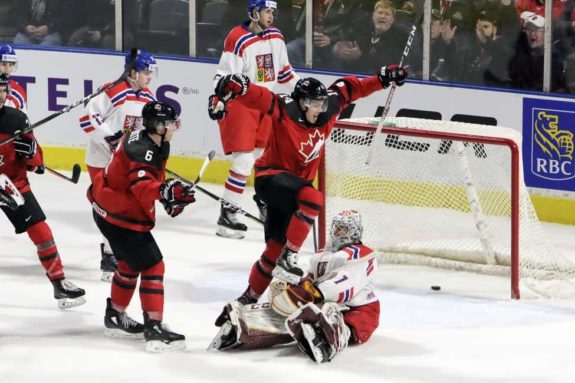 4) Jakub Skarek (G, Czech Republic, Dukla Jihlava)
FEBRUARY RANKING: 40
APRIL RANKING: 53
VARIATION: -13
ANALYSIS: Pegged as a first-round pick and the best goaltender in this year's draft class, Skarek hasn't lived up to that billing. The expectations were lofty, especially heading into the World Juniors where it was anticipated that Skarek could backstop the Czechs to a surprising medal, but his struggles there in losing the starting job sent Skarek spiralling in most rankings. This is a bad year for goalies, so Skarek may still be the first to go, but it won't be in the first round — and might not be in the top 50.
5) Luka Burzan (C, Canada, Brandon WHL)
FEBRUARY RANKING: 53
APRIL RANKING: 65
VARIATION: -12
ANALYSIS: Brayden Point proved to be a steal in the third round and Burzan could be too, if he falls that far. There are similarities between the two — and not just because both played for Moose Jaw — but look for Burzan to really break out next season in his draft plus-one year. Burzan has impressed amongst his peers at international tournaments, so some teams may still have him slotted in the second round — in the top 50 — but he's trending down after starting the season at No. 26 in my September rankings.
6) Serron Noel (RW, Canada, Oshawa OHL)
FEBRUARY RANKING: 23
APRIL RANKING: 34
VARIATION: -11
ANALYSIS: Through no real wrongdoing of his own, Noel took a bit of a tumble in my latest rankings, along with a handful of other OHL forwards. Maybe I had them a little high in February, but any and all of them — including Noel — could still go in the first round. Wayne Simmonds and AHL standout Mathieu Joseph are two comparisons I've heard for Noel and fellow OHLer Akil Thomas, but Noel is bigger and may have a bit of Anthony Mantha in him. That group, which also includes Ryan McLeod, Ty Dellandrea and even Dudas to a lesser extent, could go anywhere from 20 to 40.
7) Jared McIsaac (LHD, Canada, Halifax QMJHL)
FEBRUARY RANKING: 19
APRIL RANKING: 25
VARIATION: -6
ANALYSIS: Thought by many to be a top-10 pick from the outset — though I had him at No. 15 in September — McIsaac has been mediocre for the most part and that started at the Ivan Hlinka tournament. He's still a quality prospect and probably won't slide out of the first round, but McIsaac isn't likely to go in the top 20 now.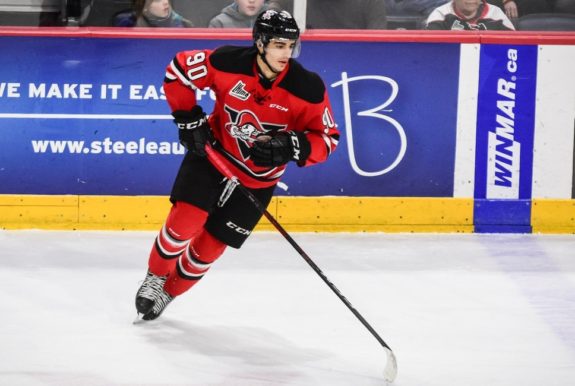 8) Joe Veleno (C, Canada, Drummondville QMJHL)
FEBRUARY RANKING: 9
APRIL RANKING: 14
VARIATION: -5
ANALYSIS: I'm convinced that Veleno is the latest victim of overexposure, much like Sean Couturier and Sean Day in their draft years. That exceptional status can work against the elite prospects because scouts see so much of them, so early, that they often seem to plateau. Veleno isn't going to be the next Sidney Crosby, but he's going to be a player and may be the next Couturier. Some see shades of Patrice Bergeron in Veleno, so he could still be a top-10 pick, but other top-10 candidates do appear to be overtaking him — rightly or wrongly.
9) Ryan McLeod (C/LW, Canada, Mississauga OHL)
FEBRUARY RANKING: 22
APRIL RANKING: 27
VARIATION: -5
ANALYSIS: The latest brother act, it's difficult to evaluate Ryan in comparison to older brother Michael, who went 12th in 2016. Some like Ryan more, but I'm not sold on him or his upside as a top-six NHL forward. To me, he's the Ryan Strome as opposed to Dylan Strome. The jury is still out on Alex Nylander, in comparison to William, but the younger McLeod brother isn't as appealing to me. I think Ryan McLeod's bloodlines and name value keep him in the first round, but just barely and maybe not justifiably.
10) Riley Sutter (C/RW, Canada, Everett WHL)
FEBRUARY RANKING: 76
APRIL RANKING: NR
VARIATION: -25
ANALYSIS: More bloodlines here, the son of Ron from the famed Sutter family tree, Riley had the fortune of playing on a stronger than anticipated Everett team this season and for a more offensive-minded coach in Dennis Williams than last year under Kevin Constantine. However, Sutter didn't exactly light it up and seems to have stagnated a bit in his development. Don't get me wrong, he's a good player in the WHL and will probably be a role player in the NHL someday, so Riley is certainly worth picking at some point — just not in the top 100 of a deep draft like 2018. Somewhere in the fourth or fifth round sounds about right.
---
Honourable Mentions
1) Egor Sokolov (LW, Russia, Cape Breton QMJHL)
FEBRUARY RANKING: 62
APRIL RANKING: 82
VARIATION: -20
2) Dmitry Zavgorodniy (RW, Russia, Rimouski QMJHL)
FEBRUARY RANKING: 41
APRIL RANKING: 58
VARIATION: -17
3) Nando Eggenberger (RW, Switzerland, Davos)
FEBRUARY RANKING: 48
APRIL RANKING: 62
VARIATION: -14
4) Blake McLaughlin (C, USA, Chicago USHL)
FEBRUARY RANKING: 37
APRIL RANKING: 55
VARIATION: -18
5) Sampo Ranta (RW, Finland, Sioux City USHL)
FEBRUARY RANKING: 45
APRIL RANKING: 60
VARIATION: -15
6) Nico Gross (LHD, Switzerland, Oshawa OHL)
FEBRUARY RANKING: 60
APRIL RANKING: 74
VARIATION: -14
7) Jacob Olofsson (C, Sweden, Timra)
FEBRUARY RANKING: 30
APRIL RANKING: 40
VARIATION: -10
8) Ty Dellandrea (C, Canada, Flint OHL)
FEBRUARY RANKING: 24
APRIL RANKING: 32
VARIATION: -8
9) Akil Thomas (C/RW, Canada, Niagara OHL)
FEBRUARY RANKING: 25
APRIL RANKING: 33
VARIATION: -8
10) Alexander Khovanov (C, Russia, Moncton QMJHL)
FEBRUARY RANKING: 43
APRIL RANKING: 51
VARIATION: -8