Evaluating National Hockey League prospects is not a simple task.
While it is relatively easy to view the likes of Rasmus Dahlin, Filip Zadina, and Andrei Svechnikov as elite young players, it is much more difficult to accurately assess players projected to be selected in later rounds of the annual NHL Entry Draft. In fact, the process itself is somewhat of a roll of the dice, as the bounty of young players available find themselves in different stages of their respective developments and own varying potential at the NHL-level.
So, we should certainly excuse league scouts and general managers who undervalue particular prospects, as this process and its unfortunate outcomes have come to be expected rather than anticipated.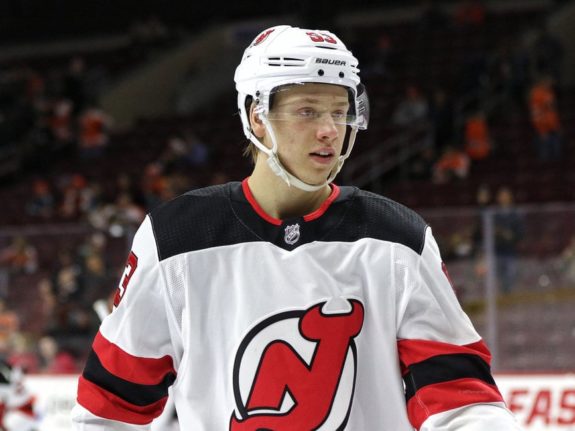 With this being said, the time has come to meet this year's crop of underrated NHL prospects. Hailing from numerous countries and of varying size, skill, and position, these undervalued youngsters own immense potential yet have been regularly overlooked due to perceived personal deficiencies.
Sure, these players may not be the most notable prospects, however, each and every player listed below has the potential to become a star at the NHL-level.
One day.
Underrated NHL Prospects: 2018 Edition
Well, here they are, this year's 10 most underrated prospects.
Listed below is each youngster's position, most recent team, height and weight, and personal ranking in both the NHL Central Scouting's Mid-Term Ranking and Craig Button's March draft ranking.
Following this information is a lengthy profile of each player, and why each individual has been drastically overlooked thus far this season.
Related NHL Draft Reading:
Jonatan Berggren
Position: Centre/ Right-Wing | Team: Skellefteå AIK (SHL)
Height/Weight: 5-foot-10/185-lbs
Draft Rankings: 
NHL Central Scouting: 24th (EU)
TSN's Craig Button (Mar): 32nd
Are you a fan of the Nashville Predators' Victor Arvidsson?
If you answered yes, then you must keep an eye trained upon Jonatan Berggren — a small and speedy 'Swede whose lethal offensive game has established him as a prospect of immense potential.
Agile and elusive, Berggren utilizes crisp edge work in order to meander through his opposition en route to the goal. Boasting an improving shot and ample vision, Berggren is a pass-first player who can also bulge the twine. What's more is that Berggren plays much bigger than his undersized frame would indicate, as he is not afraid to drive hard to the net in order to generate scoring opportunities for he and his team.
Jonatan Berggren – a favourite of mine – did here what he does in the SuperElit. He was the primary puck carrier and playmaker, often combining both for deadly effect. A few snippets of what he can do: pic.twitter.com/R1yzKj1a7Y

— Mitch Brown (@MitchLBrown) February 18, 2018
Although Berggren has skated primarily with Skellefteå AIK J20 this season — where he has netted 18 goals and 57 points in 38 contests — Berggren has also earned playing time with Skellefteå AIK of the Swedish Hockey League. While he has been held scoreless in his 10 games in the SHL, Berggren's ability to compete against more seasoned competition at the age of 17-years speaks to his maturity both on and off of the ice.
Stanislav Demin
Position: Defence  | Team: Wenatchee Wild (BCHL)
Height/Weight: 6-foot-1/185-lbs
Draft Rankings:
NHL Central Scouting: 32nd (NA)
TSN's Craig Button: 62nd
A native of Cypress, California, Stanislav Demin is a tremendous two-way defenceman who plays an incredibly strong all-around game.
Capable of exerting his presence in all three zones on the ice, Demin is a shutdown defender who amplifies his value through terrific play in the offensive zone. In fact, Demin notched nine goals and 45 points in 57 games with the Wenatchee Wild this season, where his booming shot and excellent puck-movement made him a fixture on the blue line.
He's got good size, a hard shot, and skates extremely well. – The Draft Analyst
Perhaps the most undervalued quality of Demin's game, however, is his ability to defend with consistency. Capable of reading the ice and developing plays with ease, Demin executes calculated pinches in order to dismantle rushes devised by his opposition. Further, in his own zone, Demin utilizes a quick stick in order to jostle the puck loose before firing a crisp breakout pass to a nearby teammate.
As a likely second-round pick in the coming draft, Demin will surely become a strong two-way defender within the professional ranks. Headed to the University of Denver to begin the 2018-19 season, Demin's impending jump to the NCAA-level will speak wonders with regards to his future potential.
Aidan Dudas
Position: Centre  | Team: Owen Sound Attack (OHL)
Height/Weight: 5-foot-7/165-lbs
Draft Rankings:
NHL Central Scouting: 131st (NA)
TSN's Craig Button: 58th
Aidan Dudas is the complete package.
Boasting speed, skill, and tenacity, Dudas is an incredibly hard-working player whose determination inspires his teammates. Although he isn't the biggest player on the ice, Dudas' drive and tireless engine allow him to stand as a lethal offensive threat on a nightly basis. Boasting silky mitts and ample creativity, Dudas is no stranger to highlight-reel goals and has the ability to generate offence from broken plays.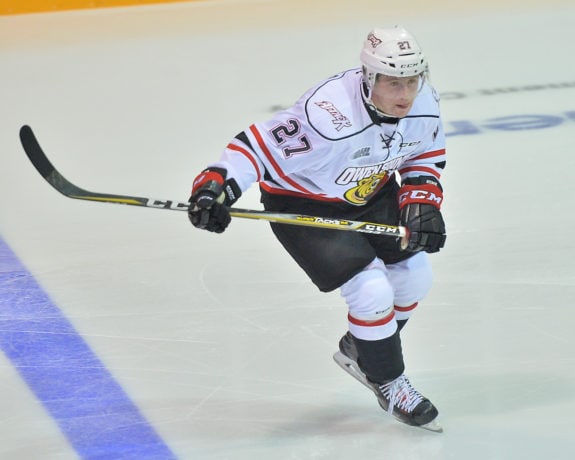 Although his lack of size has long stood as an apparent detractor, Dudas has continued to improve on a yearly basis and has become heavily relied upon by the Owen Sound Attack of the Ontario Hockey league. In fact, Dudas potted 31 goals and 65 points this season for the Attack — his team's third-highest total. As natural leader capable of playing in a variety of situations, Dudas could very well become similar to Tyler Johnson of the Tampa Bay Lightning.
While he is widely projected to fall in the third round of the draft, don't be surprised if an NHL franchise nabs the native of Parry Sound, Ontario in the 31-62nd overall range.
Liam Foudy
Position: Centre  | Team: London Knights (OHL)
Height/Weight: 6-foot/160-lbs
Draft Rankings:
NHL Central Scouting: 91st (NA)
TSN's Craig Button: 55th
Despite a slow start to his 2017-18 OHL campaign, Liam Foudy of the London Knights caught fire as the season progressed and rocketed up a variety of draft rankings as a result.
Founded upon exceptional athletic abilities, Foudy is a blistering skater capable of protecting and distributing the puck at top-speed. And, while he is an excellent passer, Foudy has established himself as a natural goal-scorer owing to his abundant hockey sense and accurate shot.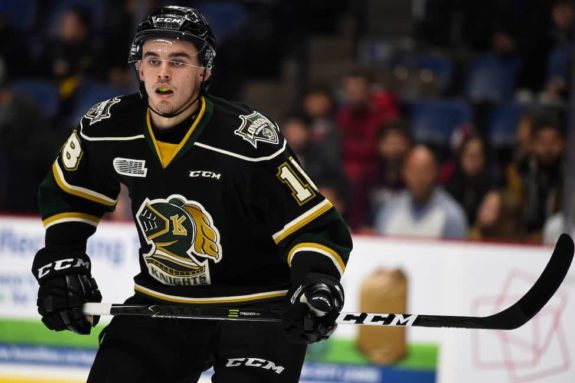 One particular aspect of Foudy's game which improved drastically this year owing to increased ice time was the youngster's puck strength and confidence. No longer pressured into making mistakes, Foudy has developed the ability to slow the play down while retaining possession — a unique ability which was instrumental to his torrent scoring pace late in the season.
In all, Foudy notched 40 points this season with the Knights in 65 regular season contests, 24 of which goals. As his career progresses, Foudy will need to work to become a more consistent player, as, to date, his flashes of brilliance have been marred by bouts of drought.
Martin Kaut
Position: Right-Wing | Team: HC Dynamo Pardubice (Czech)
Height/Weight: 6-foot-1/175-lbs
Draft Rankings:
NHL Central Scouting: 11th (EU)
TSN's Craig Button: 47th
Martin Kaut's excellent play at the 2018 WJC has dramatically altered his draft stock.
Rounding out Team Czech Republic's top line at the 2018 WJC, Kaut skated alongside top prospects Filip Zadina and Martin Necas and stood as a player capable of providing offence in a key role. Highly valued on the power play for his intelligence and creativity, Kaut recorded seven points across seven WJC games played and was crucial to Team Czech Republic's impressive fourth-place finish in the tournament.
The #BWK go back to the Czech Republic to select skilled forward Martin Kaut with their 1st round pick!

RELEASE: https://t.co/jbN2vr6MlR pic.twitter.com/xpLStyUJjK

— Brandon Wheat Kings (@bdnwheatkings) June 28, 2017
In fact, Kaut is now widely projected to be chosen in the first round of the coming draft despite being ranked as a second-to-third round prospect for a great deal of the 2017-18 season.
Currently skating for HC Dynamo Pardubice in the Czech Extraliga, Kaut has quickly become a potent offensive player at the age of 18-years. Having scored nine goals and 16 points through 38 regular season games played, Kaut has illustrated his ability to process the game at a rapid pace and withstand the physical rigours of professional hockey.
Blake McLaughlin
Position: Centre | Team: Chicago Steel (USHL)
Height/Weight: 6-foot/160-lbs
Draft Rankings:
NHL Central Scouting: 25th (NA)
TSN's Craig Button: 41st
Although dynamic offensive prospects have become more prevalent than ever before, not all are as lethal as Blake McLaughlin.
What makes McLaughlin and his game unique is the youngster's ability to play a comprehensive style at a young age. Responsible within his own zone and capable of nullifying opposing scoring chances, McLaughlin facilitates crisp transition play and creates offensive zone time with ease. Further, as a fleet-footed and a blazing skater, McLaughlin uses his speed to create separation and his edges extremely well to protect the puck from his defenders.
There's a lot of nice offence in McLaughlin's game. From passing to stick-handling, he makes things happen. – Ryan Kennedy
Perhaps the strongest skill which McLaughlin boasts, however, is his blistering shot. Capable of releasing the puck in the blink of an eye, McLaughlin blasts the puck on net with regularity and is amazingly accurate in the placement of his shots. What's more is that McLaughlin is incredibly calm while in possession, and frequently out-waits his opponents in order to fully utilize slim passing and shooting lanes.
As an undeniable talent, McLaughlin will surely be made a second-round choice in the coming draft, although he owns the skill set of a much more valuable prospect.
Allan McShane
Position: Centre/Left-Wing | Team: Oshawa Generals (OHL)
Height/Weight: 5-foot-11/190-lbs
Draft Rankings:
NHL Central Scouting: 33rd (NA)
TSN's Craig Button: 42nd
Despite his projection as a second-round selection in the coming draft, Allan McShane boasts the intelligence and skill-set of a sure-fire first-round choice.
A smooth and steady skater of ample agility, McShane can cut through his opposition with ease and has little trouble driving to the goal. Although more than capable of firing the puck on net, McShane is a pass-first player whose incredible vision and creativity allow him to generate lethal scoring chances. Further, despite his somewhat small stature, McShane is strong on his skates and difficult to knock off of the puck — an ability which allows him to drive puck possession for his team.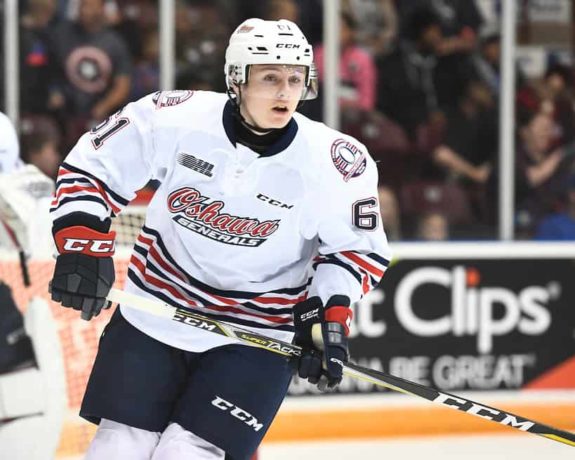 In his first full season with the Oshawa Generals in 2017-18 and second in the OHL, McShane's offensive totals rose dramatically. Following a terrific 43-point rookie campaign, McShane nabbed 20 goals and 65 points — a total good for the second-most on his team — in his sophomore season. In fact, McShane's 65 points stood as the tenth-greatest total of any draft-eligible player, a glaring indication of his talent and undervalued standing as a prospect.
Mattias Samuelsson
Position: Defence | Team: U.S. National U-18 Team (USDP)
Height/Weight: 6-foot-4/215-lbs
Draft Rankings:
NHL Central Scouting: 17th (NA)
TSN's Craig Button: 28th
Mattias Samuelsson is a punishing defenceman.
Standing well over six-feet tall and weighing greater than 200-pounds, Samuelsson is a beast who uses his size to his advantage and loves to finish his checks. However, with this being said, Samuelsson is by no means a reckless defender, as he is calculated when engaging physically and does not remove himself from the play. The same can be said with regards to his defensive play, as Samuelsson remains incredibly aggressive yet disciplined and is highly successful when challenging opposing forwards.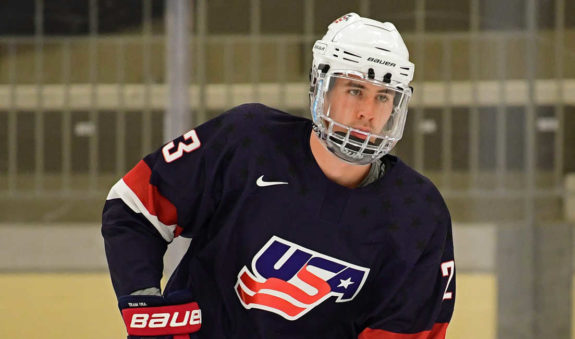 In addition to his physical play and defensive expertise, Samuelsson's offensive game has continued to develop — a facet which has strengthened his perception as an excellent two-way defender. In fact, Samuelsson notched nine goals and 28 points in 49 games with the U.S. National U-18 Team this season — an impressive output which stood as the second-greatest total by a defender.
Although he is projected to be chosen in the second-round, there is little doubt in my mind that Samuelsson should be selected late in the first-round. Boasting size, strength, skill, and intelligence, Samuelsson is a complete player whose game has continued to develop at a rapid pace.
Jonny Tychonick
Position: Defence | Team: Penticton Vees (BCHL)
Height/Weight: 5-foot-11/165-lbs
Draft Rankings:
NHL Central Scouting: 45th (NA)
TSN's Craig Button: 48th
Although he isn't the biggest defender on the ice, Jonny Tychonick boasts a skill-set which the vast majority of NHL franchises have come to covet.
As a new-age defenceman, Tychonick's success is a direct result of his quick-feet and smooth skating. An agile defender, Tychonick smothers opposing forwards within his own zone before jostling the puck loose and moving it to his forwards. Further, as an excellent transition player, Tychonick loves to join his teammates on offensive rushes and stands as a capable and lethal threat from the blue line.
He's always had a real competitive demeanour about him. Reminds me a lot of Troy Stetcher when I had him here. – Fred Harbinson, Penticton Vees Head Coach
Offensively, Tychonick boasts great vision and can fire pin-point passes with ease in addition to his ability to locate teammates in high-percentage scoring situations. What's more is that Tychonick owns a deceptive shot, as his ability to float the puck towards the goal can create a wealth of difficulties for opposing goaltenders and defenders.
Committed to the University of North Dakota for the 2018-19 season, Tychonick will need to improve his strength if he wishes to enjoy a successful transition to the NCAA-level and beyond.
Jake Wise
Position: Centre | Team: U.S. National U-18 Team
Height/Weight: 5-foot-10/190-lbs
Draft Rankings:
NHL Central Scouting: NR
TSN's Craig Button: 36th
Jake Wise is one of this year's most perplexing prospects.
Oozing elite skill and ability, Wise has all the makings of a top NHL prospect and future star. Boasting fast hands and tremendous one-on-one abilities, Wise is no stranger to highlight-reel goals and can bring fans to their feet in the blink of an eye. Moreover, Wise is a silky smooth skater who can wheel and deal while in possession of the puck before bulging the twine.
Wise looks incredible when he gets the puck. He's got quick, strong hands and tremendous body awareness. – Chris Dilks
However, Wise has yet to maximize the presence of his fellow teammates. Despite all of his exceptional individual talents, Wise has displayed the inability to utilize his teammates on a consistent basis — a failure which has led to prolonged scoring droughts and streaky offensive play.
Although he recorded nine goals and 36 points in his 29 games played with the U.S. National U-18 Team this season, Wise has proven himself as capable of so much more. Of solid size and immense potential, Wise could prove to be the steal of the 2018 NHL Draft if he can learn to play a more team-oriented game. Headed to Boston University next season, Wise's transition to the next level and his resulting success will serve as a major indication of his potential at the NHL-level.