The National Hockey League's annual entry draft goes through cycles, with different leagues seeing different levels of representation as their own development cycles ebb and flow. The 2019 NHL Draft – coincidentally hosted in Vancouver, BC – is considered by the scouting community to be a strong Western Hockey League draft.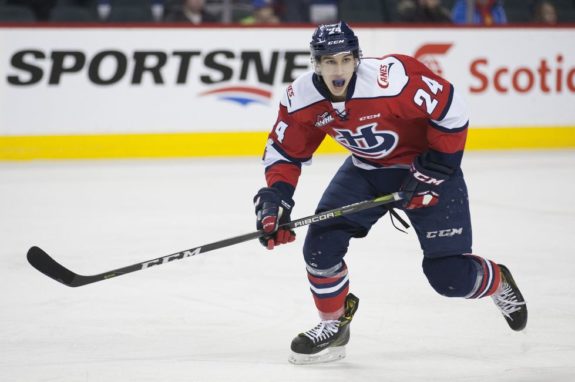 But there are a lot of draft aged players in the WHL this season. To cut through a bit of the early season noise, here's a rundown of the top 2019 NHL Draft prospects from "the Dub" as of mid-October.
Likely First Rounders
1: Dylan Cozens – Center – Lethbridge Hurricanes
2: Kirby Dach – Center – Saskatoon Blades

Cozens and Dach are grouped closely together. They're both big-bodied centers who think the game incredibly well and make their teammates better. Cozens has more offensive upside and dynamism in his game, but can be negated by strong defensive players and line-matching. Dach doesn't have the same offensive ceiling, but he's arguably a better all-around player and is tougher to keep from impacting the game. Cozens is ranked slightly higher because of his dynamic qualities.
Dach is everywhere on the ice tonight. I've counted 8 good defensive plays by him already and there are still 25 minutes of game time remaining. He reads the play far, far beyond his years

— Derek Neumeier (@Derek_N_NHL) October 6, 2018
3: Bowen Byram – Defenseman – Vancouver Giants
4: Matthew Robertson – Defenseman – Edmonton Oil Kings
The Byram/Robertson comparison is similar to Cozens and Dach. Byram is more of an impactful player who plays the game with some dynamism, while Robertson is a rock-solid 200-foot player that isn't overly flashy but doesn't have any holes in his game.
5: Peyton Krebs – Left Wing – Kootenay ICE

Krebs is a whip-smart player who moves well and contributes in all three zones. He's more of a set-up man than a sniper, and his stats may have been depressed a bit by playing with a leaner group in Kootenay. His production at big international events suggests that he plays well with skilled teammates.
6: Nolan Foote – Left Wing – Kelowna Rockets
Foote's a late birthday (November 2000) and one of the older first time eligible players in the class, but his name has pedigree and he plays a responsible, 200-foot game. He'll need to speed up his decision-making in the offensive zone for his offense to translate at the next level, but he thinks the game extremely well away from the puck. He's a forward, while older brother Cal is a blueliner.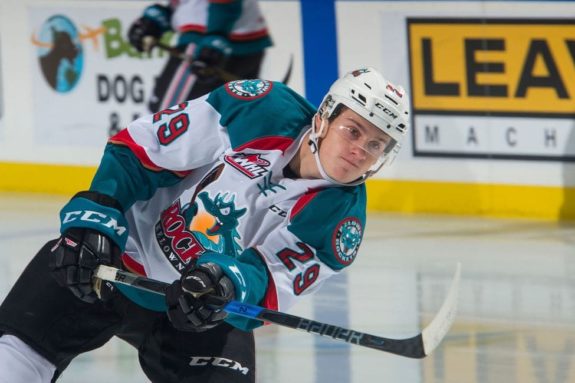 Potential First Rounders
7: Sasha Mutala – Right Wing – Tri-City Americans
8: Josh Williams – Right Wing- Medicine Hat Tigers
9: Luke Toporowski – Left Wing – Spokane Chiefs
This trio is the "second tier" of offensive wingers. Mutala arguably has the highest offensive upside of the trio, but all three are capable players in all three zones.
Potential Mid-Round Picks
10: Kaedan Korczak – Defenseman – Kelowna Rockets
Korczak is a smart all-around player with good offensive upside. He's a notch below Foote in both ceiling and consistency, but he's arguably a more mobile puck-moving defender.
11: Dustin Wolf – Goaltender – Everett Silvertips
12: Nolan Maier – Goaltender – Saskatoon Blades
Both of these netminders had strong Hlinka Gretzky Cup tournaments – Wolf with the United States and Maier with Canada. They're both off to strong starts to their WHL seasons, though Wolf has been a tad more consistent.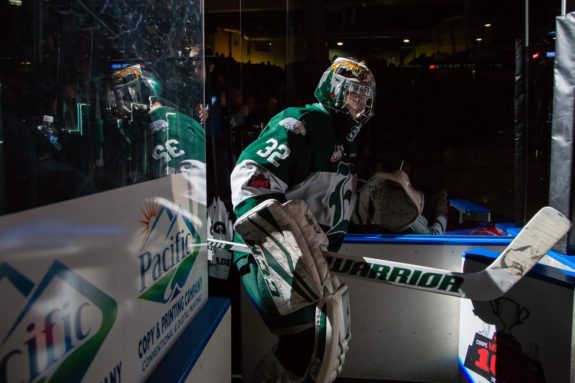 13: Oleg Zaitsev – Center – Red Deer Rebels
An import selection, Zaitsev has adjusted very quickly to the smaller ice and become a key cog in the Rebels' attack. His relatively small sample size in the WHL somewhat clouds his potential, though.
14: Dillon Hamaliuk – Left Wing – Seattle Thunderbirds
15: David Kope – Right Wing – Edmonton Oil Kings
Hamaliuk's hot start has helped improve his stock, as he's proven to be an effective finisher around the net. Kope hasn't been as opportunistic with his scoring chances, but he's been a very useful player for the Oil Kings. Neither likely has high-end upside at the pro level, but both project as useful middle-six players – at least based on their performances thus far and their respective sizes.
Potential Late Round Picks
16: Lassi Thomson – Defenseman – Kelowna Rockets
17: Emil Malysjev – Defenseman – Saskatoon Blades
Thomson and Malysjev are both first-year North American players via the import draft. They're both in the process of adjusting to the smaller ice and haven't had the success that Zaitsev has thus far, but both have proven capable WHL defenders so far.
18: Luka Burzan – Center – Brandon Wheat Kings [second year eligible]
19: Logan Barlage – Center – Lethbridge Hurricanes
20: Kyle Topping – Center – Kelowna Rockets [second year eligible]
Burzan and Topping are good offensive players that have had issues with consistency, but have shown flashes of brilliance. Barlage is considerably younger but is quite similar in his style of play.
Ten More Notables
These players haven't accumulated the body of work that the previous 20 prospects have, but are worth keeping in mind as we creep closer to the draft:
Ethan Anders – Goaltender – Red Deer Rebels
Roman Basran – Goaltender – Kelowna Rockets
Ethan Browne – Center – Prince George Cougars
Taylor Gauthier – Goaltender – Prince George Cougars
Jake Lee – Defenseman – Seattle Thunderbirds
Reece Newkirk – Center – Portland Winterhawks
Aliaksei Prokas – Center – Prince Albert Raiders
Jackson van de Leest – Defenseman – Calgary Hitmen
Chase Wouters – Center – Saskatoon Blades [second year eligible]
Cael Zimmerman – Center – Calgary Hitmen
Ryan Pike has covered the Calgary Flames and the NHL Draft extensively since 2010 as a Senior Writer for The Hockey Writers and Senior Contributing Editor of FlamesNation.ca. A member of the Professional Hockey Writers Association, he lives in Calgary.