Bigger, faster, stronger — the claim of seemingly every hockey player, every athlete, ahead of a new season.
Nolan Foote isn't bluffing and can't wait to prove it, coming off his first full summer of training since making the jump to major junior — before his 16th birthday in 2016 — and set to embark on his NHL draft year as a go-to guy for the Kelowna Rockets in his third WHL season.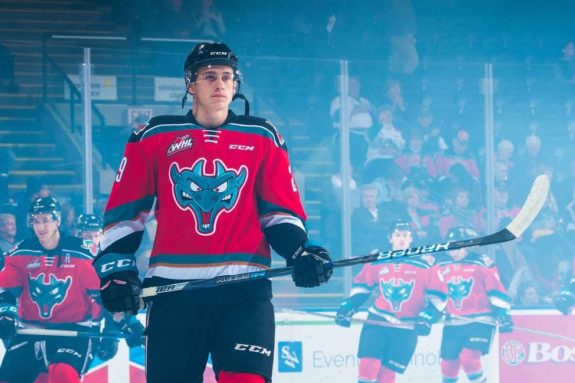 "Ever since we got knocked out of playoffs (at the end of March), I started training. It was basically my first summer without an injury, or going into the summer without an injury, so that was huge," said Foote, who split his offseason time between Kelowna and his former home in Denver, working extensively with the Rockets' skating coach Evan Marle and with Angelo Ricci, a skills coach for the Buffalo Sabres.
"I definitely feel better," continued Foote, who reported to training camp at 6-foot-3 and 188 pounds and showed well in the Rockets' fitness testing. "Physically, I feel a lot stronger. I was on nutrition plans, so that helps, and I did a ton of weight training, trying to get thicker and gain weight."
Putting the work in Nolan Foote @Kelowna_Rockets @COTbirds – He makes receiving the puck on the backhand look effortless and it's not. Filthy one "T" on his last rep. #discipline #skills pic.twitter.com/qevktTRpwS

— Angelo Ricci (@AngeloRicci16) July 19, 2018
Keyword Being Faster
There was also an emphasis on skating and getting a half-step quicker, which is something the scouts will want to see from Foote this season.
The game is getting faster at every level and bigger-bodied forwards like Foote need to be able to play at that pace.
"I worked with (Marble) a bunch, just 1-on-1, and I think it helped a ton. It was huge for me," said Foote.
The early results are evident, according to Rockets head coach Jason Smith.
"His strength and his quickness off the start has definitely improved," Smith said prior to watching Foote score in his preseason debut thanks to a burst of speed that likely wouldn't have been there last season, as he won a race to a loose puck in the offensive zone and deked around an over-aggressive goalie who got caught thinking he could beat Foote and then couldn't back off in time.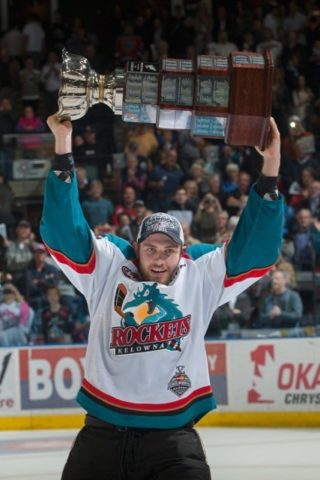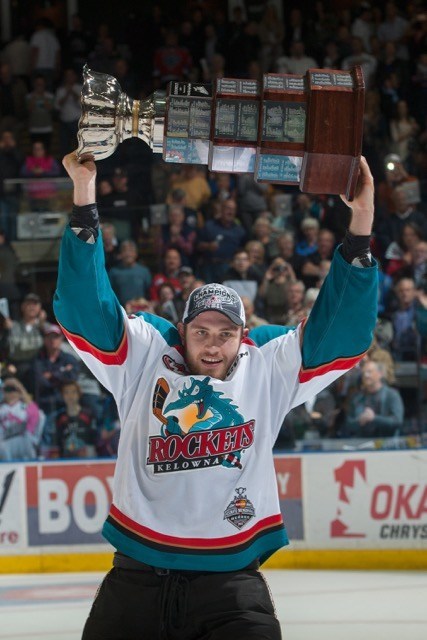 That newfound acceleration was certainly noticeable, but skating will continue to be a work in progress for Foote. As it was for Leon Draisaitl in his transition from junior to pro — which prompted a demotion to Kelowna, where he led the Rockets to a WHL championship and the Memorial Cup final in 2015 — before returning to the NHL and becoming a force for the Edmonton Oilers.
Skating has also been the knock on Foote's older brother, Cal, a defenceman who was drafted 14th overall in 2017 by the Tampa Bay Lightning. Cal is turning pro this fall after captaining the Rockets and exploding offensively with 19 goals and 70 points in 60 games last season, while also helping Canada capture gold at the World Juniors this past January.
"I think you could say that it's important for every young player out there now, with the way the game has become such a speed game," Smith said of Nolan Foote's focus on skating this summer.
"Skating is something, if you're not willing to work at, you're not going to be around long. Whether it's guys that have played in the National league for 10 years now or guys just trying to get into the league, they need to skate and be able to get up and down the rink in a hurry.
"That's a part of learning and developing and getting better. He's willing to put the work in to do that, which from our standpoint here, he will succeed as a skater."
Elite Shot
Nolan Foote says thank you sir as he deposits this one into the TC net to make it 4-4. #KELvsTC #WHLRockets #WHLPlayoffs 🚀🐉 pic.twitter.com/Struu1djmz

— Kelowna Rockets (@Kelowna_Rockets) March 25, 2018
If Foote's skating is a perceived weakness, his shooting ability is a well-known strength. That is the skill, along with his size and bloodlines, that got Nolan on the scouting radar for 2019.
[miptheme_quote author="" style="text-center"]"His shot is at an elite level. As a 16-year-old in this league, he could really shoot the puck," said Smith. "Now he's getting stronger and you can see that in his shot too. Now he can place it where he wants to shoot it. And being able to one-time it is a special skill and he's got that."[/miptheme_quote]
Indeed, Foote can tee it up like Alex Ovechkin and Steven Stamkos on the power play, which is an asset that Kelowna will look to maximize this season.
Quicker Release
There is no hesitation in his one-timer, but Foote struggled at times as a sophomore in getting his shot off when attacking on the rush. That may be due to overthinking or simply hanging onto the puck a bit too long as defenders close in, taking away his time and space.
This season, Foote will be encouraged to be trigger-happy in all situations.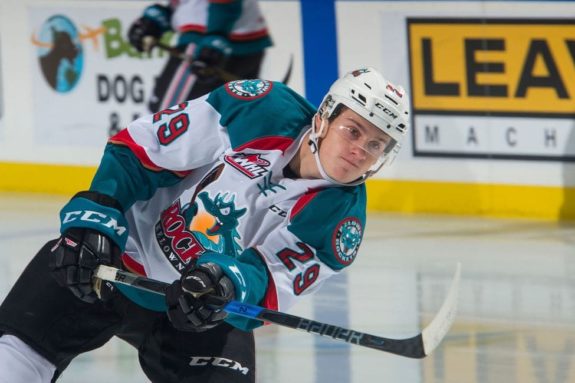 "He's working at becoming a quicker shooter," said Smith. "When you shoot the puck as good as he does, whether it's a wrist shot or a snap shot or a slap shot, if you can get it off and get it on net, it's going to create opportunity — whether it goes in the net because he shoots the puck so well, or there's a good chance there's going to be a rebound and that can only benefit our team."
Told that's what scouts will be looking for, a quicker release in addition to improved skating, Foote was well aware.
"I definitely know that I need to get it off quicker, so I'm going to try to do that," he said.
Studying Scheifele
One scout, in particular, said if he were on Kelowna's coaching staff, he would have given Foote the summer assignment of studying video from all Mark Scheifele's shifts during the Winnipeg Jets' playoff run to the Western Conference final this spring.
"Do this, be that," was the message being conveyed since the 'watch-and-learn' approach plays a significant role in development these days — both with teenagers and professionals.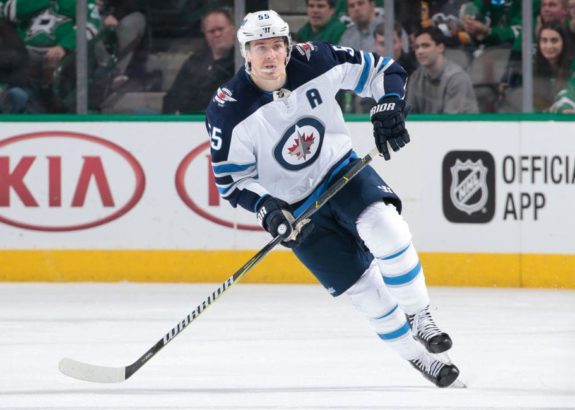 That scout was envisioning Foote as a centre in his draft year — that won't be the case, at least not to start — but Foote is embracing a shoot-first mentality regardless of the position he's playing.
"I watched a ton of Mark Scheifele goals this year and learning from him, he's got a great release, and I'm just going to be looking for it," said Foote, who scored 19 goals in 52 games as a rookie before dipping to 13 goals in 50 games last season.
Sean Monahan of the Calgary Flames could be another comparable for scouts projecting Foote as a centre in the future. He acknowledged those two, Scheifele and Monahan, but also had another name in mind.
Idolizing Malkin
"(Evgeni) Malkin's been my favourite player ever since I was young," said Foote, who turns 18 in November. "I was at a Pittsburgh game in Pittsburgh one time and I just fell in love with how he played, with his size and how he uses his strength and body, and how good his hands were and even his speed."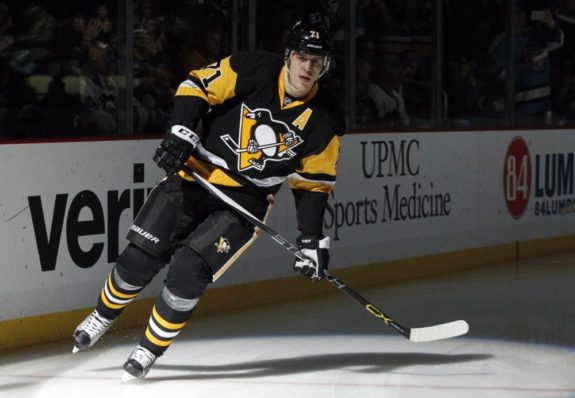 Malkin, of course, is another centre. When it comes to left-wingers — the position that Foote has primarily played in junior — there is an obvious and unavoidable comparison here in Kelowna.
Benn Comparisons
That being Jamie Benn, the Dallas Stars' captain who led Kelowna to another WHL championship in 2009 as a power forward with similar strengths to Foote in terms of their size and shooting ability.
"I get that a lot, he's obviously a really good player, and I just try to live up to it," Foote said of Benn, who is immortalized among the Rockets' wall-of-fame murals outside the dressing rooms at Prospera Place.
Benn was drafted out of the BCHL — a fifth-round pick that proved to be a steal — and came to the Rockets as an 18-year-old in the fall of 2007. He made an immediate impact, scoring 33 goals in 51 games as a WHL rookie, then upped it to 46 goals in 56 games with 82 points during that championship season.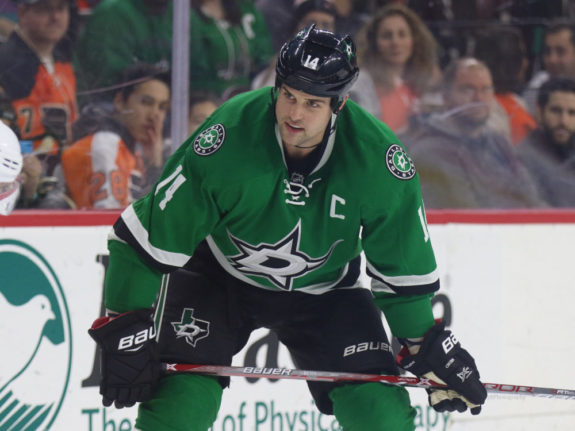 Foote has another level or two in his game, but Benn was more imposing physically. He was a big hitter and became a formidable fighter too. Foote hasn't shown a mean streak like that, nor a nasty side like his dad Adam had during his NHL playing career, but that could be coming this season.
"He's only going to get bigger. He's still a kid, but he really developed this summer and started to become a man," said Smith.
That is something else the scouts would love to see — more aggression and feistiness, which would also open up more ice for Foote to dominate the Dub.
Both with and without the puck, he should be capable of becoming more of a physical presence — be it driving to the net around defenders, working the cycle down low or providing screens in front. And if he buried his shoulder into somebody from time to time, that wouldn't hurt his draft stock either.
Truth be told, some scouts don't see the Benn comparison and don't think it would exist if Foote was playing anywhere but Kelowna. A couple of them have thrown out the name Rick Nash, providing Foote keeps making strides in his skating.
Figuring out exactly what type of player Foote is — as his own player — will be part of the challenge for the scouting community this season.
Starting on Wing
That all starts with the positional debate. Big centres are a coveted commodity, especially if they can skate, but Foote will be staying on the wing to start his draft year.
In his first exhibition game, he was flanking Kyle Topping, the Rockets' top returning scorer from last season with 65 points, so Kelowna may test the chemistry of that pairing for now. Their right-winger on the top line could be Leif Mattson, who had a team-high 25 goals among the returnees, or Liam Kindree, a creative offensive catalyst who could bring more speed.
"He's going to play on the wing, we'll start him there," Smith said of Foote. "As a young player, the more options you have in your game and if you can play more positions and kind of be a multi-purpose guy, it's going to give you the best opportunity to have success at the next level.
"It shows you have the hockey IQ to be able to adjust to a new position because it is different. Your positioning is different from the wing to playing centre, and your role is different in the game. But he's a very smart player and understands the game and knows what it's going to take to have success."
Moving to Middle
Foote made that adjustment, albeit briefly, last season while Dillon Dube was away captaining Canada to gold at the World Juniors.
The scouts took notice and some have been clamouring — or at least hoping — for more of Foote at centre.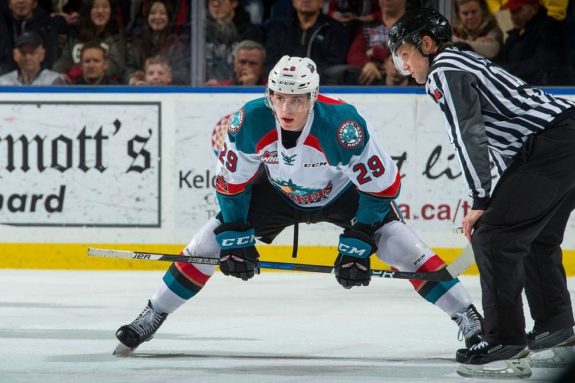 The Rockets will ultimately do what's best for their team, but Kelowna's depth down the middle is a talking point as the regular season approaches and Foote's name is coming up in those conversations.
"That's something you talk about daily . . . and that can change as you add injuries or you have ups and downs in your season," Smith said when asked if he's considered shifting Foote to a full-time centre. "That's something we look at and we know he's an adaptable guy that can do it. He has no problem doing whatever is asked of him, and that's the true benefit of him being a good kid and a player that wants to play at the highest level."
All things being equal, a centre will get drafted ahead of a winger. That positional preference for NHL teams is the main reason why Jesperi Kotkaniemi and Barrett Hayton were selected before Brady Tkachuk and Filip Zadina this June.
Foote wants to go as high as possible — whether that's ahead of brother Cal at 14th, ahead of father Adam at 22nd, later in the first round or anywhere in the top 50 — but not at the expense of team success.
[miptheme_quote author="" style="text-center"]"I'm fine with playing both (positions)," Foote insisted. "I'm used to the wing, but when Dube left for the World Juniors, I played centre. It took a few games to get used to, just way more skating, but I enjoy playing centre as well."[/miptheme_quote]
Mighty Motivated
As the Rockets found out the hard way in this year's draft, team success does translate to individual success. There is a direct, or indirect, correlation as evidenced by Topping, Mattson and Kindree being among the first-time eligibles who were passed over as Kelowna got blanked in 2018 after getting swept in the first round of the WHL playoffs by the Tri-City Americans.
In years past, when the Rockets have enjoyed deep playoff runs — which is more often than not as perennial contenders — an opposite effect has occurred. Take 2016, for example, when Calvin Thurkauf and Braydyn Chizen were both drafted in the seventh and final round — presumably because the scouts had more viewing opportunities and postseason performances were still fresh in their heads.
That early exit didn't sit well with Foote — "it was embarrassing," he said — and he's been dropping in the draft rankings as a result of how last season played out.
Not that Nolan was expected to carry the Rockets through the playoffs — that responsibility fell on the shoulders of Cal, Dube and leading scorer Kole Lind — but he only managed one goal and two points in those four playoff games and didn't take a significant step in his development as anticipated.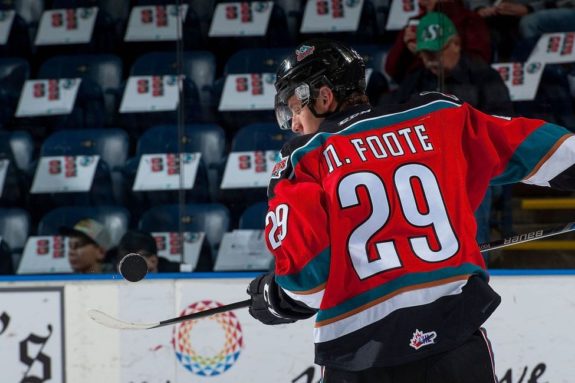 In his defence, Foote's development has been hampered by injuries and illness that include a broken collarbone requiring surgery, a broken hand from blocking a shot and a bout of mononucleosis.
Those aren't excuses, they are realities, but now that he's fully healthy, this is going to be the biggest year of Foote's career — at least to date.
"It's going to be a great year, a challenging year for a young player who's been developing and getting better," Smith said of Foote, who missed 22 games as a 17-year-old but still finished with 40 points in 50 games, increasing that total from 35 points in his rookie campaign.
"He's very motivated. . . . When you're healthy and you can really push yourself through the summer, you give yourself a chance to be ready for the start of the season, and I know he's itching to go out and be a real big piece of our team this year."
Bounce-Back Year
Smith took the words right out of Foote's mouth.
"I'm itching to get out there," echoed Foote, who was looking forward to testing himself in that preseason contest, which saw him have a hand in both of Kelowna's goals — scoring and assisting in a 4-2 home-ice loss to Prince George on Sept. 1.
[miptheme_quote author="Nolan Foote" style="text-center"]"I'm excited. It's been a hard summer of training for me, so I'm ready to have it pay off."[/miptheme_quote]
Foote didn't have a "bad" year last season, but it wasn't as good as he had hoped. The scouts expected more of him too, since Foote had set the bar awfully high by netting 19 goals as a 16-year-old.
Everybody just assumed 30 would be next — not 13. But Foote has all the tools to rebound and double his production, with 30 goals now a realistic target for his draft year — even with the WHL shortening their season by four games, from 72 to 68.
"He's an elite talent who's got an opportunity to make an impression with a lot of teams this season," said Smith.
Trending Down?
At this time last year, Foote was widely considered a top-10 talent for 2019.
Again, he was coming off 19 goals as a 16-year-old — no small feat and he accomplished it in just 52 games, which prorated to 26 goals over 72 games — and he was also returning to Kelowna with a gold medal from the 2017 Ivan Hlinka Memorial tournament as the lone underager on Canada's roster last summer.
Nolan Foote is a stud who's two years away from the NHL Draft. Big strong skater with great vision and perimeter play!

— Brayden Sullivan (@SullyDraftGeek) June 15, 2017
The hype was high, but this year Foote is returning under more scrutiny.
Suddenly, there are critics — labelling him a faller for 2019 and alluding to Foote as an "older prospect" because of his late-2000 birthdate in a class of 2001-born players.
It's my third season following Nolan Foote. Always feeling uneasy. I can't see more than a potential NHL grinder, if at all.

— Stock Guy 🍷⛵🚵🏻‍♂️ (@stock_guy1) September 2, 2018
Now he's "on the bubble" for the first round — ranked closer to 30 than 10 on most of the preseason lists.
"With the rankings, one thing Cal told me and Luke Schenn told me, is never really pay attention to that stuff," said Foote, "just keep working on yourself and keep trying to get better, and things will pay off."
Foote also wasn't invited to this summer's World Junior Showcase in nearby Kamloops, with Hockey Canada instead summoning fellow draft-eligible Raphaël Lavoie from out east as an injury replacement for that exhibition tournament.
Lavoie, subsequently, is seen as a riser — pushing towards the top 10 and surpassing Foote on Canada's depth chart. But that Summer Showcase snub should only fuel Foote's fire for the season to come.
"There's projections and there's ratings and everything, but the bottom line is you have to go out and play the game," said Smith, who was also a first-round pick, 18th overall by the New Jersey Devils back in 1992. He downplayed the fact there was more buzz surrounding Foote a year ago than there is today.
"That is what it is, and it depends who you talk to, but it doesn't really matter at this point. The season hasn't even started," said Smith.
Foote is a confident kid — a driven and determined young man — and if he's playing with something of a chip on his shoulder, that will bode well for the Rockets and not so well for their opponents.
[miptheme_quote author="" style="text-center"]"I do feel like I have a lot to prove and a lot to offer this season," said Foote. "You want to go out there and play your hardest and take nothing lightly because every game is important and there's always someone watching."[/miptheme_quote]
All Eyes on Kelowna
The Rockets will be heavily scouted and under the spotlight this season, with three prospects in the projected top 60 for 2019.
That includes sophomore defenceman Kaedan Korczak — Kelowna's rookie of the year last season and a member of Canada's gold medal-winning team at this summer's inaugural Gretzky Hlinka Cup — and new Finnish import Lassi Thomson, a mobile blueliner who will likely work the power play alongside Korczak even though they are both right-handed.
"It's great to have some teammates that are going to go through it. You can rely on each other and pick each other up," Smith said of the draft-year experience. "Throughout the season, you're not going to play perfect games or great games every night, but if you can consistently go out and compete on a nightly basis, that's what makes an impression.
"If they go out and compete and keep focused, they all have the skill level and the talent in their game to open eyes."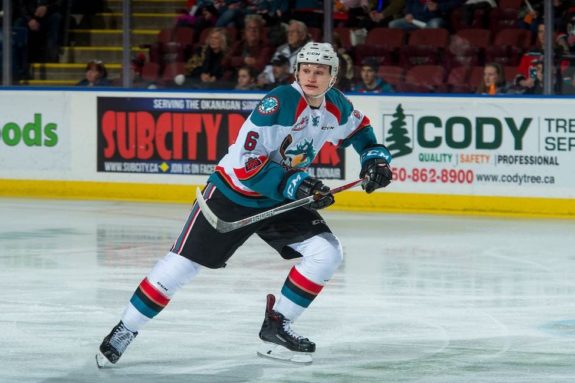 All three are candidates for the first round — for the top 31 — at next June's draft in Vancouver.
"This new guy, Lassi, looks great. For all three of us, just keep playing our game and learning and growing, and hopefully all goes well," said Foote.
Foote is still the frontrunner among that trio on most of those early lists, but the defenders appear to be trending up. Thomson should get a boost by coming to North America, especially since Kelowna has a reputation for developing NHL defencemen.
RELATED: Fisher's Top 124 Following Hlinka Gretzky Cup
With those three in the fold, the rest of Kelowna's roster — which doesn't feature a single player that is currently NHL property, drafted or signed — will also reap the benefits of added attention.
"It's great for the Rockets and it's great as individual players to be on a team where there's going to be other guys being watched," said Smith. "That means there's going to be people here in the rink every night, which is going to give you an opportunity to open eyes. If you do have a bad game, there's a good chance there will be a whole bunch of guys watching the next game. . . .
"It's not about losing confidence and getting frustrated, it's about moving forward and that's what the guys at the next level do best. When things don't go their way one game, they bounce back and play better the next game."
Beneficial Bloodlines
The son of a longtime NHLer, those habits come naturally to Foote. It's all he has known from his days in diapers when his dad was teammates with the likes of Joe Sakic and Peter Forsberg, Ray Bourque and Rob Blake, and Patrick Roy with the Colorado Avalanche. They won the Stanley Cup for a second time in 2001 during the season Nolan was born.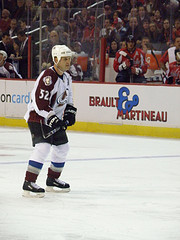 Spending some of his formative years around NHL rinks — Adam retired in 2011 when Nolan was 10, turning 11 — he gained an understanding and appreciation of how hard the pros work at their craft, day in and day out.
Adam now lives in Kelowna — he and his wife, Jennifer, relocated here from Denver to follow their boys' junior careers — and although he has taken a hands-off approach, avoiding interviews and such as a means of letting his sons make their own name, he's an invaluable resource at home.
"My dad has given me a lot of advice and Cal is there for support," said Foote. "(Smith) and my dad are a huge help, and all the coaches are. I just need to take everyone's advice and just keep going."
That insight, from Adam and Cal, has Nolan more prepared than most for what's to come in his draft year. It's an advantage over the majority of prospects, including his teammates Korczak and Thomson.
"I think so. I think I have a good idea, so I'm looking forward to it," said Foote, who arrived in Kelowna at the same time as Smith — for Cal's draft year, the 2016-17 season.
"I think the experience of having a brother who's gone through it and having a dad that's gone through it is second to none," said Smith. "The hands-on knowledge in knowing what to expect will allow him to wheel through the tides."
Nolan was eased into Kelowna's lineup that fall, as a 15-year-old, but he took it all in. He leaned on Cal, who was in his second season with the Rockets, and soaked up everything related to the draft process.
Nolan was a sponge around Cal, picking his brain about the CHL Top Prospects Game and the draft combine, then joining the rest of family in attendance at the 2017 NHL Entry Draft in Chicago. So, he's heard the name Foote called in the first round once before and watched that walk to the stage in person.
A proud moment and one Nolan wants to replicate.
"I was very excited, just watching him grow and being able to play with him here was just so fun and a good learning experience," said Nolan. "Being so close to him and seeing him go through the draft experience was awesome."
Learning From Cal
Nolan has looked up to Cal every step of the way and Smith says the elder Foote brother is the perfect role model.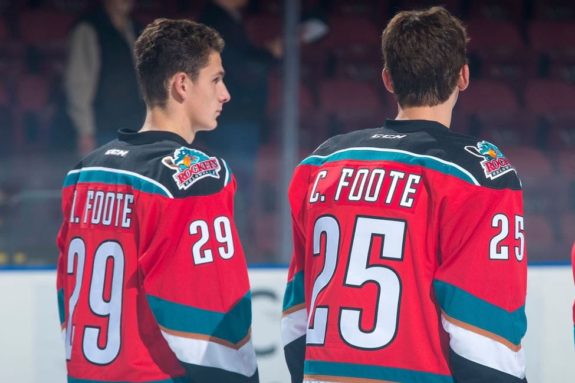 Looking back to his first season as a head coach — which was also his first season behind a junior bench — Smith was thoroughly impressed with how Cal handled himself during his draft year. So impressed that Smith saddled Cal with Kelowna's captaincy the following season — replacing the graduated Rodney Southam.
"If he took anything from his brother Cal, and the way he went about (his draft year), he didn't become consumed by it," said Smith. "You're going to put extra pressure on yourself — there's going to be pressure. You don't want to worry about it too much, you don't want to think about it, but it's there. As a young guy, you don't want to let it become your focal point every day.
"There's going to be questions and you're going to go through a lot of interviews throughout the year, but that's something you have to just not get too tied up in, and be focused on what you're doing on the ice," Smith continued in his advice for Nolan and Kelowna's other draft-eligibles. "Over the years, the guys that go out and just put their best foot forward on the ice are the guys who make the most impression with the scouts."
Captain in Waiting?
There is also the question of captaincy in Kelowna, now that Cal is going pro — either with Tampa Bay or its top affiliate, the AHL's Syracuse Crunch.
Nolan is mature beyond his years and it wouldn't be surprising if the Rockets passed their 'C' from one Foote to another — especially if Kelowna wins its bid to host the 2020 Memorial Cup. Kamloops and Lethbridge are also in that mix, with the decision to come at the WHL's board of governors meeting on Oct. 3.
[miptheme_quote author="Nolan Foote" style="text-center"]"I definitely want to follow his footsteps. He was a great leader, I want to be a great leader in Kelowna too. I'm going to be the best leader I can be."[/miptheme_quote]
That sounds like captain material, but Smith may hold off in naming Cal's successor until partway through the regular season.
Regardless, Nolan is eager to take on a leadership role — with or without a letter on his jersey.
"I want to be a leader on this team, and carry this team to the playoffs hopefully," said Foote. "It would be awesome for our team to win the B.C. Division again, and we're obviously looking to go farther this year in playoffs."
Leading Kelowna's Offence
For that to happen, Foote will need to lead the way offensively.
Kelowna has lost a lot of firepower up front, with forwards Lind, Dube and Carsen Twarynski moving on to the pro ranks. They were the Rockets' three leading scorers last season, combining for 122 goals — lighting the lamp 39, 38 and 45 times, respectively.
"We're not going to put overbearing pressure on one guy to pick up for the offence that has left us," said Smith. "Last year and two years ago, they talked about all the goals that disappeared from the team too, and we managed to score goals. . . .
"I think we have a group of guys who are going to push each other to become better players, and I think he's going to be a big contributor for our team."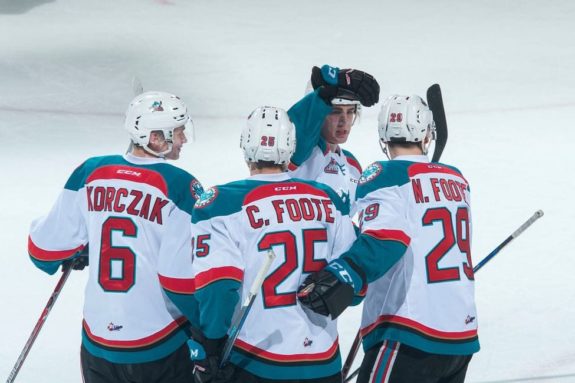 Foote has to be at the top of that group, along with Topping, Mattson, Kindree and other veterans such as Jack Cowell, Conner Bruggen-Cate, Erik Gardiner and new overager Ryan Bowen.
It's possible, but not probable, that sophomores Ted Brennan and Wil Kushniryk could break out or that potential rookies like Ethan Ernst, Mark Liwiski, Dallon Wilton and Kyle Crosbie could hit the ground running.
Those names aren't jumping off the screen and thus the name that stands out is still Foote.
"It's huge to step up, and not just me, all of our young guys are going to have to take a step because those are some elite players gone," said Foote. "It's a huge year for all of us to step up. It's our time now."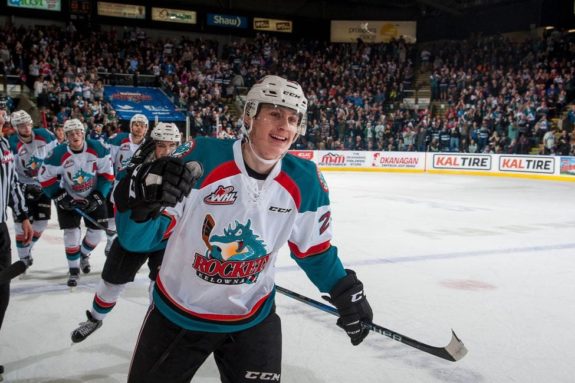 Sleeper Team
Kelowna no longer has any big-name NHL prospects — drafted or signed — and the Rockets' two overagers are below average by league standards. The goaltenders are young again too.
Therefore, some are calling it a rebuilding year for Kelowna — or rather a building year towards 2020 if successful in landing the Memorial Cup tournament.
The Vancouver Giants are favoured to win the B.C. Division this season — led by Bowen Byram, believed to be a top-10 lock for 2019 — and the Kamloops Blazers have an older group that should be more competitive if overagers Jermaine Loewen and Dylan Ferguson return with Luc Smith.
The Victoria Royals will be decent and the Prince George Cougars should be improved.
Many pundits have Kelowna pencilled into the middle of that pack, as the second or third seed behind Vancouver and perhaps Kamloops — suggesting the Rockets will struggle to score this season and citing an offensively challenged supporting cast for Foote.
Call Kelowna an underdog, for once, but Foote assures the Rockets will be up to the challenge.
[miptheme_quote author="Nolan Foote" style="text-center"]"The Rockets are always good. We have a lot of good young guys coming up who can learn and develop fast, and for us older guys, it's our job to teach them and show them the way. And we have a great coaching staff, so I definitely think we'll surprise some people."[/miptheme_quote]
A sleeper in Kelowna? Maybe, but time will tell, with Foote and the Rockets opening their regular season on Sept. 21-22 with a home-and-home set against the rival Blazers.
Larry Fisher is a senior writer and head scout for The Hockey Writers, having been an at-large contributor for THW since August 2014. Fisher covers both the NHL and the WHL, specializing in prospects and NHL draft content, including his annual mock drafts that date back to 2012. Fisher has also been a beat writer for the WHL's Kelowna Rockets since 2008, formerly working as a sports reporter/editor for The Daily Courier in Kelowna, British Columbia, Canada from 2008-2019. Follow him on Twitter: @LarryFisher_KDC.