Beginning June 1, NWHL teams can start signing players for the 2018-19 season. For players who have completed their college eligibility and want to continue their hockey careers, the free agency period provides them an opportunity to continue playing at the highest level of professional women's hockey. The fourth season of the NWHL will begin in October as the Metropolitan Riveters defend their Isobel Cup championship, and with the addition of a fifth team – the Minnesota Whitecaps – as well as the inclusion of players who participated in the 2018 Winter Olympics, this very well could be the most competitive season yet. 
My colleague Nathaniel Oliver will keep THW readers up-to-date on Boston and Buffalo's signings throughout the summer, while I post updates on Connecticut and the Riveters. Together we will collaborate to keep readers informed of all of Minnesota's signings.
Whale Re-Sign Baribeau & Anderson, Add Two Rookies
Pride Re-Sign Litchfield, Sign Burns
Whitecaps Add Three More Blueliners
Congratulations to former ASU assistant coach, Katie McGovern, who will suit up for @WhitecapsHockey @NWHL this season. Good luck!! 😈➡️🌊 https://t.co/DjlZ9pWnmi

— ASU Women's Hockey (@ASUWomensHockey) September 5, 2018
On September 5 the Whitecaps signed four more forwards and now have only two roster spots left to complete their inaugural NWHL season roster. Three of the players have experience with Minnesota when they were an independent team last season and the fourth was an assistant coach at the NCAA level last season.
Katie McGovern will turn 24-years-old in late November and put up 51 points (25g-26a) during her four seasons at the University of Minnesota-Duluth. Last season the native of Scottsdale, Arizona was an assistant coach for Arizona State University.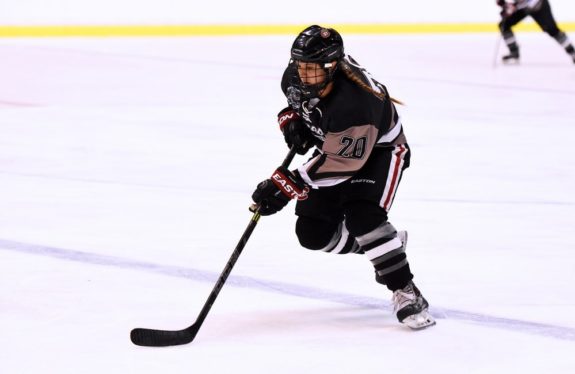 25-year-old Kalli Funk played last season for the Whitecaps which was preceded by a season in Sweden for Göteborg HC and a four-year college career split between Niagara University (2011-12) and St. Cloud State (2012-15). While in Sweden she tallied 14 points and in college she finished with 19 points.
Margo Lund played collegiately for St. Lawrence University and the University of New Hampshire and had 25 points (10g-15a) before joining the independent Whitecaps last season. 
So excited to be a part of @WhitecapsHockey again this season! #rollcaps pic.twitter.com/SuhPuSsOhF

— Margo Lund (@margoals6) September 6, 2018
27-year-old Haylea Schmid finished her career at St. Cloud State (2009-13) with 33 points. She then played one season (2013-14) in Germany with ERC Ingolstadt (19 points in 23 games), followed by a season with the Whitecaps in 2017.
Dan Rice is in his 9th year of reporting for THW & has covered NJ Devils home games for 15+ years at various websites. He began his journey working for legendary broadcaster/writer Stan Fischler from 2002-04 & completed an internship at the ECHL; he also has been writing features for the NWHL (nwhl.zone) website since 2016.