Sidney Crosby is among the greatest hockey players in the world. At the conclusion of his career, he will be among the top-10 or top-five players of all-time. However, it bears mentioning that Crosby has struggled out of the gate this season. Through four games, he has zero goals and four assists. At times, he seems reluctant to take shots on net.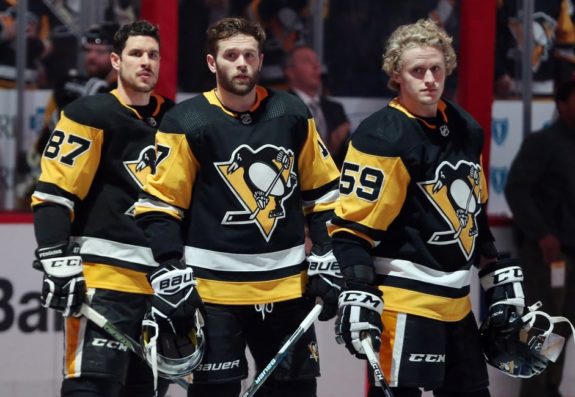 Even when Crosby seems slightly off, he still produces near a point-per-game rate. What is mildly worrying is his inability to create quality chances at even strength thus far. Head coach Mike Sullivan has shuffled his wingers in order to remedy this; while Jake Guentzel has stayed with Crosby, Patric Hornqvist, Bryan Rust, and Derick Brassard have all seen spot duty on the vacant wing. It may not be long before we see Dominik Simon and others slot in that position as well. What's going on?
This Is Nothing New
The truth is, Crosby has made a habit of slow starts. He had an 11-game goalless streak toward the beginning of last season and still finished with a respectable 29 goals on the year. In 2016-17, he sat out six games from a preseason concussion before scoring a league-leading 44 goals that season.
In 2015-16, his start was so uninspired he had critics wondering if he had passed his prime. His play was abnormally lethargic, and it might have contributed to head coach Mike Johnston being fired. Whether or not it was a lack of motivation or an inability to conform to Johnston's system is up for debate.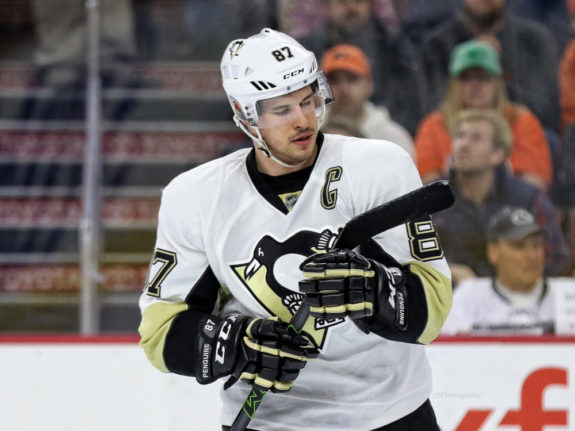 Crosby is a streaky goal-scorer and he's more erratic when it comes to shooting percentage. He's been close to 20 percent some seasons, and down near 11 percent in others. He was unlucky last season, with a conversion rate of just 11.7, but expect his luck to swing in the other direction. However, this isn't the primary reason for his current drought.
As the greatest playmaker in the game, Crosby is always looking to manufacture a tic-tac-toe play. This can be counterproductive when his wingers are not used to his style or aren't producing, and that may be part of what we're seeing now. As the season progresses and the wingers adjust to Crosby's playmaking style, Crosby will start scoring.
Crosby Defers To Others
Prior to his early retirement, Pascal Dupuis was one of Crosby's most consistent linemates. Many enjoyed his defensive effort and his agile skating ability. However, he regularly flubbed prime scoring opportunities when Crosby unnecessarily deferred to him in high-percentage areas. Due to this lack of finish, Dupuis' presence on the first line was a common criticism from the fanbase between 2012 and 2015.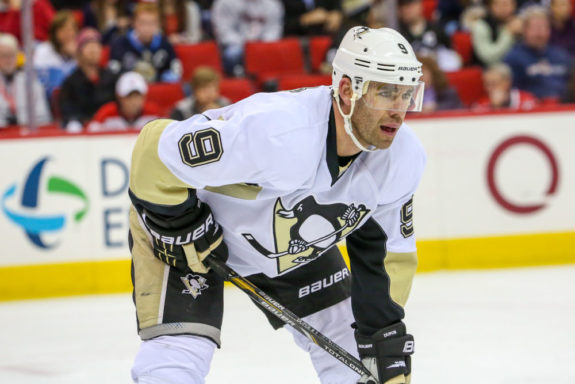 There are other examples. Bill Guerin was not top-line material in 2010, and could not capitalize even when extraordinary chances were regularly gifted to him by Crosby. He was sluggish getting to prime areas and was inaccurate even in tight on the goalie. His shooting percentage for the year was just 9.3 percent, though he scored 21 times. He succeeded through the sheer volume of opportunities.
At the end of his Pittsburgh tenure in 2016-17, Chris Kunitz seemed out of place. He was moved down to the bottom-six but often found his way back to Crosby's side where opportunities would fizzle. Kunitz had only nine goals on the season and struggled to keep pace throughout the year. The Crosby-Kunitz duo resurrected some magic in the Game 7 overtime winner that sent the team to the Cup Final, so all was largely forgotten.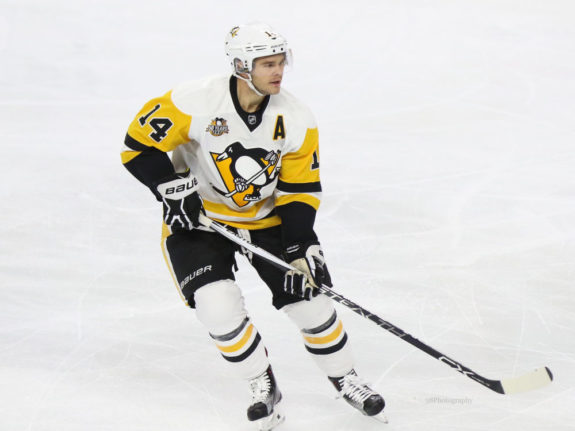 During last year's playoffs, Dominik Simon filled the role of the hapless winger. Crosby would feed Simon the puck at the expense of his own grade A opportunities and Simon struggled to convert. Thankfully for the team, Guentzel could do no wrong in the 2017-18 postseason, and many blown chances and forced plays still resulted in goals. However, there were many times when Crosby could have shot from a prime area, but the chance was nullified by trying to do too much.
Shoot the Puck
Crosby likes to cycle, move and create plays with flair. This imaginative style is why Crosby is such a phenomenal, generational talent. He likes including his linemates and having them contribute to the offense in unorthodox ways. However, threading the needle to a teammate in traffic isn't always the best decision. Over his career, making errant or unnecessary passes to struggling or subpar wingers has been a theme.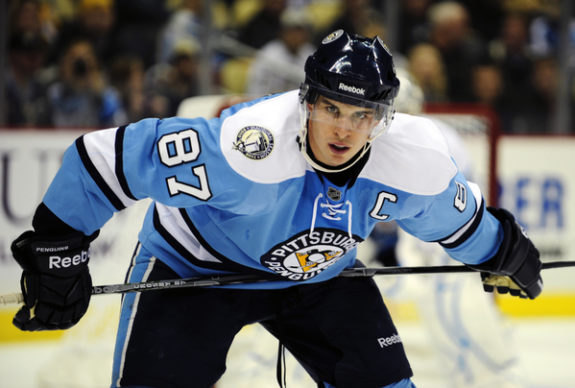 Crosby's most productive season to date was a partial 2010-11 campaign. With 32 goals and 34 assists in 41 games, he was a threat that hadn't been seen since Gretzky or Lemieux. Coming off his first Rocket Richard Trophy-winning season in 2009-10, Crosby was determined to remain the game's premier goal scorer.
Crosby entered every scoring situation that season with a shoot-first mentality and he was wildly successful. He was on pace for over 300 shots and 132 points. Peppering opposing goalies was a fruitful strategy for Sid then, and with league scoring on the rise, it could be again.
In the young 2018-19 season, he seems hesitant to shoot the puck as he adjusts to a carousel of linemates. He's passing off opportunities more than ever. As of now, Crosby is on pace for only 184 shots over a full season, the lowest projected total of his career by far. It's unlikely he stays on that lowly pace, and he seems destined to ramp up his shot totals.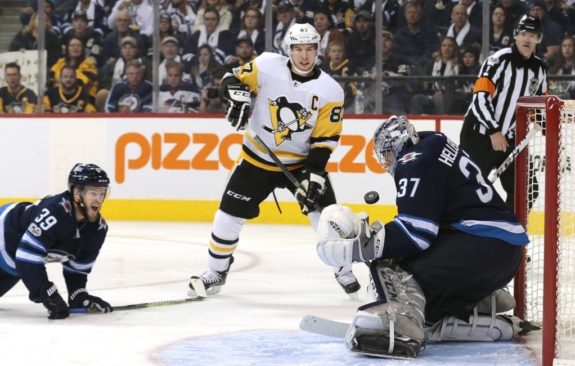 Crosby is older now and plays a safer, perimeter-heavy game in the regular season. This will prolong his career and help him conserve energy for extended playoff runs. He doesn't drive the net with the same reckless abandon as before, and that's a worthwhile tradeoff in exchange for his health. Still, Crosby can learn from his past campaigns when it comes to shooting the biscuit with routine.
Fire the puck frequently, limit the forced passes, and the goals will take care of themselves. Crosby does attempt an extra pass regularly, but he still makes fantastic decisions overall. He's gotten out of these slumps before, and the odds are quite strong that Sid simplifies and turns it around yet again.
Devout Penguins follower since birth. Highly interested in prospects, analytics, and systems. Former writer for ProHockeyRumors.