---
It's still early days in the draft year, but that was a really telling month — between my October and November rankings, from Oct. 9 to Nov. 16 — and it resulted in plenty of movement as I expanded my list from 124 to 186 prospects.
Here are 10 of my bigger fallers for November as well as 31 honourable mentions who trended down during my latest rankings shakeup.
RELATED: 10 Risers from Fisher's Top 186 for November
1) Philip Broberg (LD, Sweden, AIK J20)
OCTOBER RANKING: 6
NOVEMBER RANKING: 14
VARIATION: -8
ANALYSIS: I absolutely loved Broberg at the Hlinka Gretzky Cup — he was by far the best defenceman in that tournament, yes better than Bowen Byram (No. 6 for me in November) — and I still think Broberg could be a top-10 pick, perhaps even top five, but his body of work back in Sweden both last season and this season hasn't been indicative of an elite prospect. I don't think my eyes were lying to me at the Hlinka, but the current numbers aren't lying either. Not that six points — all assists — in 19 Allsvenskan games is an awful stat-line for a defenceman, but I expected a bigger breakout from Broberg after setting the bar so high at the Hlinka.
If he makes Sweden's team for the World Juniors, that showcase will give scouts another opportunity to view Broberg on a big international stage and if he's able to rise to the occasion again there, then he'll be a consensus top-10 prospect going forward. As of now, the scouting community is quite divided on Broberg and I'm stuck somewhere in the middle by ranking him in the teens for November.
Phillip Broberg is most definitely overrated right now. He was a late first round guy at best coming into the Hlinka, and now he's "the best defender in the draft" because of a few games? pic.twitter.com/TcRjSMWUZD

— Sam (@DraftLook) August 12, 2018
2) Anttoni Honka (RD, Finland, JYP Liiga)
OCTOBER RANKING: 7
NOVEMBER RANKING: 15
VARIATION: -8
ANALYSIS: Ditto for Honka in a lot of ways. He wasn't at the Hlinka — due to age eligibility as a late-2000 birthdate — but Honka did his dazzling at the under-18 worlds in April, with five assists in seven games for the gold medal-winning Finns. Honka, the younger brother of Dallas blueliner Julius Honka, has long been considered the top defence prospect from Finland for 2019, but he's got a couple serious challengers emerging in Mikko Kokkonen (No. 16 for me in November), who has been outshining and outproducing Honka in the Liiga, as well as Lassi Thomson (No. 23), who has made an immediate impact in North America with the WHL's Kelowna Rockets.
Some scouts are really down on Honka right now — dropping him into the late first or even the second round — but I still like him and have a feeling he'll have an answer for his critics at the World Juniors. Assuming he makes Finland's roster, that tournament is going to go a long way in determining Honka's draft status. He knows that too, so expect to see a very motivated player on that stage. As an older prospect for 2019, I do wonder whether Honka's current stock is suffering a bit from the overexposure factor since he's been a household name for some time. Regardless, scouts will be watching Honka closely in the months to come and trying to rank him accordingly. Like Broberg, I haven't ruled out Honka as a top-10 pick, but he needs to pick up the pace.
Anttoni Honka is being demoted to the Finnish 2nd league, Mestis. He had a great start to the season but has trailed off ever since. While Honka still has the tools of a top 3 pick he needed to produce. He will remain with #KeuPa in #Mestis until the World Juniors. #2019NHLDraft https://t.co/Mvo0FBYJQi

— TPEHockey (@TPEHockey) November 14, 2018
3) Raphaël Lavoie (C/RW, Canada, Halifax QMJHL)
OCTOBER RANKING: 11
NOVEMBER RANKING: 19
VARIATION: -8
ANALYSIS: Lavoie got off to such a hot start in the Q, building on a strong showing for Hockey Canada at the WJC Summer Showcase, but he's been slumping — especially in the goal-scoring department — over the last month or so. Lavoie only has one goal in his last eight games dating back to Oct. 26, with five points over that span for Memorial Cup host Halifax. He's been held off the scoresheet in four of those eight contests after registering points in 12 of his first 13 games to start his draft year. That included four multi-point performances — highlighted by a hat-trick — with 11 goals through those 13 games. Lavoie's stat-line still looks good, producing at above a point-per-game pace with 23 points in 21 games heading into this weekend, but the recent results have left a little to be desired and thus had Lavoie falling in my November rankings.
4) Nick Robertson (LC/LW, USA, Peterborough OHL)
OCTOBER RANKING: 27
NOVEMBER RANKING: 54
VARIATION: -27
ANALYSIS: Robertson clearly didn't like my November ranking from last week and took it out on the Kingston Frontenacs with a five-point outburst in last night's 8-2 rout. Seriously, that hat-trick and two-helper performance more than doubled his season totals. Robertson had only managed two goals and four points through 10 games prior to exploding for three goals and two assists, bringing his stat-line to a much more respectable and impressive five goals and nine points in 11 games. Or perhaps Robertson didn't like the fact Kingston traded his older brother Jason to Niagara just ahead of their sibling showdown. Jason, a Dallas second-rounder (39th overall in 2017), is one of the OHL's leading scorers as a 19-year-old this season. Regardless of Nick's motivation, he's back on the rise in my eyes!
Have a night @nickrob2001 🖐#NHLDraft prospect delivers 5️⃣ point performance including first career 🎩🎩🎩 in highlight reel fashion for @PetesOHLhockey win. pic.twitter.com/LhkIqhB0I4

— OntarioHockeyLeague (@OHLHockey) November 23, 2018
Truthfully, I was reluctant to drop Robertson as far as I did from October, having watched him outshine the likes of Arthur Kaliyev for Team USA at the Hlinka Gretzky Cup this summer. Robertson, one of the younger prospects in this 2019 draft class, just four days shy of being 2020 eligible with a Sept. 11 birthdate, was a force throughout that tournament and might now be hitting his stride in the OHL. I'm thinking that breakout against Kingston in his return from a wrist injury will be a sign of things to come for Robertson rather than an aberration, but time will tell.
5) Josh Williams (RW, Canada, Medicine Hat WHL)
OCTOBER RANKING: 28
NOVEMBER RANKING: 55
VARIATION: -27
ANALYSIS: This fall pains me even more to report because I'm a big fan of Williams and a believer in his sniping ability. I fully expected him to be among the WHL's goal-scoring leaders this season — pushing towards 20 goals at this point — but, reality is, Williams has only lit the lamp three times to date and his draft stock appears to be plummeting as a result.
Those offensive struggles are shocking to me after watching Williams rip it up at the Hlinka Gretzky Cup tournament to start his draft year back in August. That's the kid we saw dominate the bantam ranks in B.C. and I do think he'll eventually fill the net in the Dub too, but the pucks just aren't going in for Williams right now.
He's only managed 13 points through 24 games with Medicine Hat, but Williams does have 64 shots on goal — third most on his team despite being tied for sixth in team scoring — so it seems, to me, that Williams is snakebitten thus far and should break out sooner than later. If and when that happens, he'll be trending up in my rankings again and I wouldn't be the least bit surprised if Williams still wound up as a first-rounder in June.
6) Vladimir Alistrov (LW, Belarus, Edmonton WHL)
OCTOBER RANKING: 41
NOVEMBER RANKING: 62
VARIATION: -21
ANALYSIS: I still like Alistrov too and he's not falling through any of his own wrongdoing or shortfalls, but maybe I was a tad too high on his potential with that aggressive October ranking. Alistrov remained in my second round for November, but he probably belongs somewhere in the 55 to 75 range rather than knocking on the door of the top 40.
Alistrov has flown a bit under the radar on a strong Edmonton team — sitting eighth in team scoring with 13 points (four goals, nine assists) through 25 games — but he's been quite productive in a secondary role, especially for his first season in North America.
Worth noting, this is a surprisingly strong draft year for Belarusians, with OHL defenceman Vladislav Kolyachonok on the rise right now — debuting at No. 77 for me in November, but already an A-rated prospect and projected first-rounder for NHL Central Scouting — while Alistrov's fellow WHL import forwards Alexei Protas in Prince Albert (141) and Daniil Stepanov in Moose Jaw (honourable mention) are also gaining momentum. Plus, there's Daniil Misyul (149), a defender developing in Russia, so don't be shocked if a handful of Belarusians are selected in 2019.
7) Henri Nikkanen (LC, Finland, Jukurit Liiga)
OCTOBER RANKING: 46
NOVEMBER RANKING: 69
VARIATION: -23
ANALYSIS: I'm having a hard time gauging Nikkanen's offensive upside and I'm getting mixed reviews out of Finland. So, for now, he's with Alistrov in that 55 to 75 range, and I'll be keeping tabs on Nikkanen to the best of my ability from afar. What I do know, as of today, is he's got pretty good size, he's netted a couple Liiga goals as a 17-year-old, and he was one of Finland's better players at the Hlinka Gretzky Cup with six points (two goals, four assists) in seven games. That makes me think Nikkanen has the potential to be a riser again, but the evaluation process is very much a work in progress with this prospect. Feel free to weigh in and enlighten me with your impressions and insights on Nikkanen. I'm intrigued!
8) John Farinacci (RC, USA, NTDP U18)
OCTOBER RANKING: 48
NOVEMBER RANKING: 66
VARIATION: -18
ANALYSIS: There is a bit of a trend among this month's fallers, with Farinacci another Hlinka standout who has since seemingly lost some of that lustre for whatever reasons. Reflecting back on the Hlinka, Farinacci was a fearless leader for the Americans, captaining Team USA and truly leading by example throughout that tournament. Emotionally invested with medals at stake and national pride at the forefront, Farinacci didn't disappoint in representing the U.S. with the 'C' on his sweater.
As the stakes get higher in the second half of the season, it wouldn't surprise me to see Farinacci step up and take his game to another level again. He strikes me as a big-game player — now and in the future — but he's apparently been mediocre in limited action with the Program thus far. And thus Farinacci is a faller for the time being.
9) Tag Bertuzzi (LW, Canada, Guelph OHL)
OCTOBER RANKING: 49
NOVEMBER RANKING: 86
VARIATION: -37
ANALYSIS: The son of Todd and cousin of Tyler had stayed in my second round for October thanks to his name value, but Tagg Bertuzzi is off to an uninspiring start to his draft year with only nine points (four goals, five assists) through 22 games with Guelph. That said, Tyler — a second-rounder (58th overall) for Detroit in 2013 and now a quality contributor for the Red Wings — didn't exactly light up the OHL in his draft year either. Tyler also developed in Guelph and only produced 22 points (13 goals, nine assists) in 43 games during the 2012-13 campaign. Tyler was a bit of a late-bloomer — breaking out in his draft-plus-two season with 43 goals and 98 points for Guelph in 2014-15 — and it's possible Tagg will follow in his footsteps.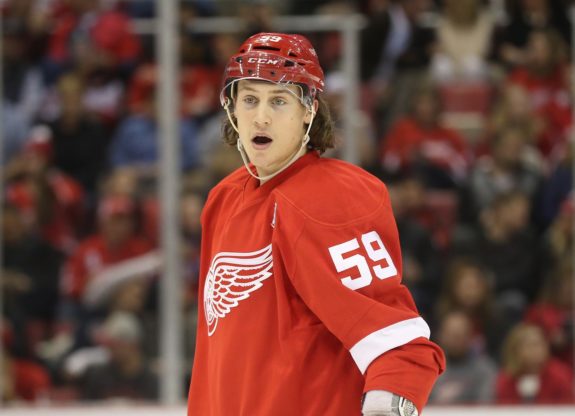 That comparison will be inevitable, being relatives and playing for the same junior team — as well as the same position, both left-wingers, and essentially being the same size to boot, with Tagg slightly bigger at 6-foot-1 and 199 pounds as a 17-year-old and Tyler, now 23, listed at an even 6-foot and 190 pounds. Todd, also known as Big Bert, played at 6-foot-3 and roughly 230 pounds, so Tagg may have another growth spurt in him and could certainly bulk up to resemble his father in the years to come.
The concern is the current lack of offence, as evidenced by Tagg's 14-game goal drought in the present. Tagg, the second overall pick in the 2017 OHL draft, hasn't scored since Oct. 13 — when he had netted goals in four straight games and seemed to be heating up, only to cool right off with just three assists over his last 14 contests, including 11 pointless games. It goes to show that development is by no means a straight line, but Tagg Bertuzzi's stock has to be trending down right now.
10) Lev Starikov (LD, Russia, Windsor OHL)
OCTOBER RANKING: 71
NOVEMBER RANKING: 163
VARIATION: -92
ANALYSIS: Speaking of prospects who aren't progressing offensively — at least on paper — Starikov also fits that bill. In his second season in North America, Starikov has only one goal and two points to show for his efforts through 19 games after impressing with five goals and 13 points in 66 games as a rookie with Windsor last season. That stat-line, for a then-17-year-old defenceman, put Starikov on the scouting radar for 2019, but his encore performance has been underwhelming to date by all accounts. In Starikov's defence, the Spitfires are a low-scoring team this season with their leading point-getter at 16 through 23 games — for reference, the league leaders have 43 points over the same number of games.
Starikov, who stands 6-foot-7 and weighs 200 pounds, was never supposed to be an offensive dynamo and isn't being cast as such, but he also ranks among Windsor's worst with a minus-7 rating (tied for third worst). Falling a whopping 92 spots is probably a bit harsh, but it's safe to say Starikov is no longer in my top 100 — especially as one of the older first-time eligibles for 2019, born on Sept. 17 just two days after the 2018 cutoff.
---
Honourable Mentions
EDITOR'S NOTE: Here are 31 other fallers from my top 100 for November — some more justifiable than others, with further tweaking to take place in my January rankings.
Yaroslav Likhachyov (RW, Russia, Gatineau QMJHL)
OCTOBER RANKING: 18
NOVEMBER RANKING: 32
VARIATION: -14
Nils Hoglander (LW, Sweden, Rogle SHL)
OCTOBER RANKING: 19
NOVEMBER RANKING: 27
VARIATION: -8
Matthew Robertson (LD, Canada, Edmonton WHL)
OCTOBER RANKING: 22
NOVEMBER RANKING: 30
VARIATION: -8
Kaedan Korczak (RD, Canada, Kelowna WHL)
OCTOBER RANKING: 23
NOVEMBER RANKING: 31
VARIATION: -8
Blake Murray (LC, Canada, Sudbury OHL)
OCTOBER RANKING: 24
NOVEMBER RANKING: 33
VARIATION: -9
Samuel Poulin (LW, Canada, Sherbrooke QMJHL)
OCTOBER RANKING: 39
NOVEMBER RANKING: 48
VARIATION: -9
Matvei Guskov (LC, Russia, London OHL)
OCTOBER RANKING: 40
NOVEMBER RANKING: 51
VARIATION: -11
Xavier Parent (LW, Canada, Halifax QMJHL)
OCTOBER RANKING: 54
NOVEMBER RANKING: 80
VARIATION: -26
Anthony Romano (RW, Canada, Sioux Falls USHL)
OCTOBER RANKING: 55
NOVEMBER RANKING: 82
VARIATION: -27
Talyor Gauthier (G, Canada, Prince George WHL)
OCTOBER RANKING: 65
NOVEMBER RANKING: 98
VARIATION: -33
Colten Ellis (G, Canada, Rimouski QMJHL)
OCTOBER RANKING: 66
NOVEMBER RANKING: 99
VARIATION: -33
Ilya Mironov (LD, Russia, Loko Yaroslavl MHL)
OCTOBER RANKING: 67
NOVEMBER RANKING: 97
VARIATION: -30
Kim Nousiainen (LD, Finland, KalPa Liiga)
OCTOBER RANKING: 68
NOVEMBER RANKING: 95
VARIATION: -27
Case McCarthy (RD, USA, NTDP U18)
OCTOBER RANKING: 69
NOVEMBER RANKING: 115
VARIATION: -46
Martin Lang (LW, Czech Republic, Kamloops WHL)
OCTOBER RANKING: 80
NOVEMBER RANKING: 111
VARIATION: -31
Karl Henriksson (LC/LW, Sweden, Frolunda J20)
OCTOBER RANKING: 82
NOVEMBER RANKING: 103
VARIATION: -21
Nikola Pasic (LC, Sweden, Linkoping J20)
OCTOBER RANKING: 83
NOVEMBER RANKING: 102
VARIATION: -19
Marshall Warren (LD, USA, NTDP U18)
OCTOBER RANKING: 84
NOVEMBER RANKING: 116
VARIATION: -32
Mike Koster (LD, USA, Team Northeast High School)
OCTOBER RANKING: 85
NOVEMBER RANKING: 160
VARIATION: -75
Nikita Okhotyuk (LD, Russia, Ottawa OHL)
OCTOBER RANKING: 86
NOVEMBER RANKING: 164
VARIATION: -78
Jamieson Rees (LC, Canada, Sarnia OHL)
OCTOBER RANKING: 87
NOVEMBER RANKING: 136
VARIATION: -49
Graeme Clarke (RW, Canada, Ottawa OHL)
OCTOBER RANKING: 88
NOVEMBER RANKING: 135
VARIATION: -47
David Kope (RW, Canada, Edmonton WHL)
OCTOBER RANKING: 89
NOVEMBER RANKING: 139
VARIATION: -50
Massimo Rizzo (LC/LW, Canada, Penticton BCHL)
OCTOBER RANKING: 90
NOVEMBER RANKING: 107
VARIATION: -17
Josh Nodler (RC, USA, Fargo USHL)
OCTOBER RANKING: 91
NOVEMBER RANKING: 145
VARIATION: -54
Ryder Donovan (RC, USA, Duluth U.S. High School)
OCTOBER RANKING: 93
NOVEMBER RANKING: 122
VARIATION: -29
Trevor Janicke (RW, USA, Central Illinois USHL)
OCTOBER RANKING: 94
NOVEMBER RANKING: 117
VARIATION: -23
Patrick Moynihan (RW, USA, NTDP U18)
OCTOBER RANKING: 95
NOVEMBER RANKING: 156
VARIATION: -61
Roope Taponen (G, Finland, HIFK U20)
OCTOBER RANKING: 97
NOVEMBER RANKING: 165
VARIATION: -68
Mads Sogaard (G, Denmark, Medicine Hat WHL)
OCTOBER RANKING: 98
NOVEMBER RANKING: 152
VARIATION: -54
Sergei Alkhimov (F, Russia, Regina WHL)
OCTOBER RANKING: 99
NOVEMBER RANKING: 169
VARIATION: -70
Larry Fisher is a senior writer and head scout for The Hockey Writers, having been an at-large contributor for THW since August 2014. Fisher covers both the NHL and the WHL, specializing in prospects and NHL draft content, including his annual mock drafts that date back to 2012. Fisher has also been a beat writer for the WHL's Kelowna Rockets since 2008, formerly working as a sports reporter/editor for The Daily Courier in Kelowna, British Columbia, Canada from 2008-2019. Follow him on Twitter: @LarryFisher_KDC.