---
It's still early days in the draft year, but that was a really telling month — between my October and November rankings, from Oct. 9 to Nov. 16 — and some risers certainly emerged.
Here are 10 risers from within the first round of my rankings, followed by 23 honourable mentions from the rest of my top 186 for November.
RELATED: 10 Fallers from Fisher's Top 186 for November
1) Trevor Zegras (LC, USA, NTDP U18)
OCTOBER RANKING: 14
NOVEMBER RANKING: 8
VARIATION: +6
ANALYSIS: Zegras is shooting up the rankings and rightfully so. He may have enough overall talent to be the second player picked from the Program — behind only Jack Hughes, the consensus No. 1 prospect for 2019 as of today. Zegras will have plenty of competition for No. 2 from the Program since he still ranks No. 3 for me, behind Matthew Boldy — they are neck-and-neck at Nos. 7-8 overall in my rankings, both projected top-10 picks as of November. Alex Turcotte (No. 13) and Cam York (No. 11) could also challenge for No. 2 from the Program, while Cole Caufield (No. 17), John Beecher (No. 27) and even goaltender Spencer Knight (No. 29) are looking like first-rounders and potential top-20 picks. It's another good year for the Program and Zegras is worthy of the recent hype he's been getting as a riser.
2) Ryan Suzuki (LC, Canada, Barrie OHL)
OCTOBER RANKING: 15
NOVEMBER RANKING: 9
VARIATION: +6
ANALYSIS: The younger Suzuki brother is ripping it up in the OHL — well over a point-per-game producer, with 29 points (eight goals, 21 assists) in 20 games for Barrie, albeit behind elder brother Nick's pace, with the Vegas first-rounder turned Montreal top prospect now up to 35 points (17 goals, 18 assists) in 21 games as Owen Sound's captain. Ryan is a lot like Nick, similar in their cerebral approach and ability to be offensive catalysts. They see the game well and are slick stickhandlers in traffic while also being dangerous off the rush and in 1-on-1 situations. I like Ryan and he's definitely making a name for himself, playing his way out of Nick's shadow in his draft year and into the top-10 conversation at No. 9 for me.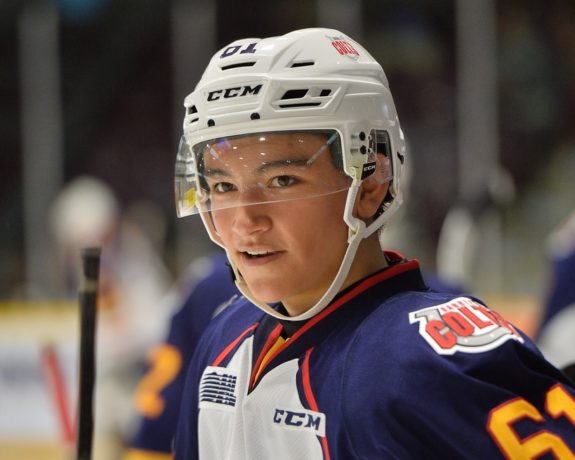 3) Cam York (LD, USA, NTDP U18)
OCTOBER RANKING: 16
NOVEMBER RANKING: 11
VARIATION: +5
ANALYSIS: York is the top defenceman from the Program for 2019, an offensive-minded blueliner who is capable of quarterbacking a power play. He's not as dynamic as Quinn Hughes from 2018 — and 2019 honestly isn't as good of a draft for defencemen in general — but York has a lot of upside and should develop into a top-four NHLer in a few years time. If teams picking in the top 10 decide to draft by position and go defence, it wouldn't be shocking to hear York's name called even higher than No. 11 in June.
4) Cole Caufield (RW, USA, NTDP U18)
OCTOBER RANKING: 26
NOVEMBER RANKING: 17
VARIATION: +9
ANALYSIS: Caufield is getting Johnny Gaudreau comparisons, much like Hughes is getting Patty Kane comparisons. That's high praise, even though Gaudreau was a late-bloomer as a fourth-round pick back in 2011. There are obvious similarities in their size and playing styles, while others have suggested Alex DeBrincat as a comparable for Caufield since he's on the small side but clearly a finisher and not too shabby of a shooter either. Caufield is one of those kids who puts up numbers — both goals and assists — but it'll be interesting to see where he goes in the draft. Anywhere from No. 10 to No. 30, depending who you talk to, so I split the difference for November.
5) Arthur Kaliyev (LW, USA, Hamilton OHL)
OCTOBER RANKING: 50
NOVEMBER RANKING: 18
VARIATION: +32
ANALYSIS: Kaliyev was admittedly too low in my October rankings and November better reflects the consensus opinion of this OHL top-10 scorer. With 18 goals through 22 games — on pace for 50-plus, 56 to be precise — Kaliyev is likely a first-round lock unless he hits the skids. Some like Kaliyev closer to No. 10 than No. 20, but I'm reluctant to take that leap since my closest viewings of Kaliyev — at the Memorial Cup and Hlinka Gretzky Cup tournaments — left me wanting more. I wasn't super impressed by Kaliyev at either showcase, which is why I had him lower than most to start the season, but his OHL production to date is winning me over.
6) Nolan Foote (LC/LW, Canada/USA, Kelowna WHL)
OCTOBER RANKING: 29
NOVEMBER RANKING: 20
VARIATION: +9
ANALYSIS: Foote is up to 15 goals — already surpassing the 13 he scored as a sophomore last season and nearing his rookie total of 19 — but his rise came from a stellar showing with Team WHL in the Canada Russia Series. Granted I was keeping a close eye on Foote there, being based in Kelowna, but I felt he was one of the biggest standouts for Team WHL over the two games. Playing with higher-skill linemates than he has in Kelowna, Foote made the most of that opportunity and might have put himself on Tim Hunter's radar for the World Junior selection camp as an underager. To my eye, Foote was every bit as noticeable and effective for Team WHL as fellow highly touted 2019 prospects Kirby Dach and Dylan Cozens. Foote is lacking an elite set-up man in Kelowna — the Rockets should really target Peyton Krebs from Kootenay ahead of the Jan. 10 trade deadline — but he's got an elite-level shot as evidenced by his nine power-play goals (tied for second among WHL leaders).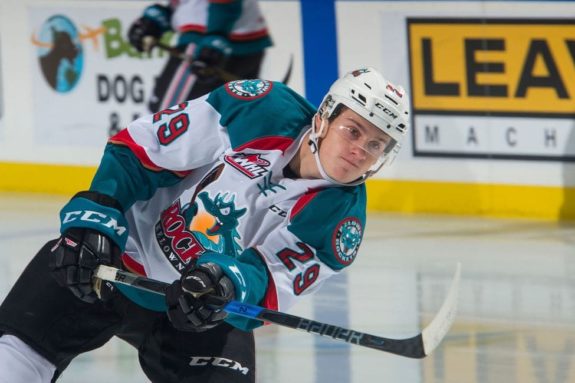 Worth noting, Foote played left wing for Team WHL and has since remained on the wing for Kelowna — currently playing with undrafted 19 year olds Kyle Topping and Leif Mattson — after previously playing approximately 10 games as a centre between the likes of Liam Kindree, Michael Farren and Lane Zablocki.
RELATED: Rockets' Nolan Foote Gearing Up for Draft Year
7) Lassi Thomson (RD, Finland, Kelowna WHL)
OCTOBER RANKING: 33
NOVEMBER RANKING: 23
VARIATION: +10
ANALYSIS: Sticking in Kelowna, Thomson has been turning heads and dropping jaws since the day he arrived in the Okanagan and the scouting community is taking notice. NHL Central Scouting has upgraded Thomson from a C to a B in their updated Players to Watch list — now projecting him as a second- or third-round pick — but some NHL team scouts have been whispering that they see Thomson as a first-round talent. In fact, one scout went as far as to say, off the record, that he thinks Thomson will be the first Kelowna player selected in 2019 — ahead of Foote and fellow defenceman Kaedan Korczak (No. 31 for me in November). If that team had the choice of the three as of today and he had his say, Thomson would be the pick. Of course a lot can and will change between now and June, but the first impressions of Thomson in North America are overwhelmingly positive and promising. He's got game-breaking ability whereas Korczak is more of a game manager, but when is the last time a WHL team — or a CHL team, for that matter — had three players drafted in the first round in the same year? It's rare, to be sure, but Kelowna could accomplish the feat in 2019.
.@lassithomson's got moves. 👀 pic.twitter.com/cURnuFZcBz

— Kelowna Rockets (@Kelowna_Rockets) October 28, 2018
Here's my hot take on Thomson, I was a big fan of fellow Finnish defenceman Henri Jokiharju from my first live viewing of him with Portland — Jokiharju, for those who aren't familiar, went on to become a first-rounder (29th overall) in 2017 and is already playing in the NHL for Chicago as a 19-year-old — but I'm even higher on Thomson at the same stage of their development. Thomson is legit and could be primed for a coming-out party at the World Juniors if he cracks Finland's roster, with the potential to solidify his first-round stock at that showcase.
RELATED: Finland's Thomson Shining for WHL's Rockets
8) John Beecher (LC, USA, NTDP U18)
OCTOBER RANKING: 47
NOVEMBER RANKING: 27
VARIATION: +20
ANALYSIS: Beecher burst onto my first-round radar over the last month, shining with the Program and reminding some of Ryan Kesler — perhaps because they both wear No. 17. Beecher is putting up points and thus gaining widespread attention, but his overall game — his 200-foot game and two-way ability — is impressing those watching him closely. Unlike Foote and Thomson before him on this list, I haven't personally seen a ton of Beecher and I'm still getting to know him as a prospect, but everything I've heard and the little that I've seen is making him out to be a first-round talent. Some say top 20, but we shall see.
9) Bobby Brink (RW, USA, Sioux City USHL)
OCTOBER RANKING: NR
NOVEMBER RANKING: 28
VARIATION: +97
ANALYSIS: Brink is even newer to me than Beecher, but my USHL contacts are gushing over this winger who has produced 30 points (14 goals, 16 assists) in just 17 games and is second in that league's scoring race — only one point back of Calgary prospect Martin Pospisil, his linemate, and five clear of third place. You'll notice an influx of USHL debutants in my November rankings since I didn't receive a preseason list from those contacts and Brink didn't play for the U.S. at the Hlinka Gretzky Cup. Better late than never, this league is producing more and more NHL talent and Brink is looking like another potential stud in the making.
10) Spencer Knight (G, USA, NTDP U18)
OCTOBER RANKING: 52
NOVEMBER RANKING: 29
VARIATION: +23
ANALYSIS: Knight is the best of the bunch in an impressive group of goaltenders for 2019. Similar to Jake Oettinger, who went 26th overall in 2017 to Dallas, Knight has the size and skill to be an impactful NHL starter in due time. Teams aren't taking goalies in the first round as much anymore and there hasn't been a netminder taken in the top 20 since Andrei Vasilevskiy in 2012 (19th overall), but some believe Knight can join that elite company. If Knight secures the starting role for Team USA at the World Juniors and backstops the Americans to gold, then his stock will skyrocket and cracking the top 20 could become more realistic. For me, he's on the fringes of being a first-rounder ahead of that tournament.
---
Honourable Mentions
EDITOR'S NOTE: Here are 23 other risers from my top 100 for November, including a dozen debutants to my 2019 rankings.
Moritz Seider (RD, Germany, Adler Mannheim DEL)
OCTOBER RANKING: 31
NOVEMBER RANKING: 21
VARIATION: +10
RELATED: 10 Risers From October (featuring Seider)
Artemi Knyazev (LD, Russia, Chicoutimi QMJHL)
OCTOBER RANKING: 56
NOVEMBER RANKING: 45
VARIATION: +11
Ben Brinkman (LD, USA, Minnesota NCAA)
OCTOBER RANKING: 58
NOVEMBER RANKING: 46
VARIATION: +12
Henry Thrun (LD, USA, NTDP U18)
OCTOBER RANKING: 70
NOVEMBER RANKING: 47
VARIATION: +23
Nathan Légaré (RW, Canada, Baie-Comeau QMJHL)
OCTOBER RANKING: 77
NOVEMBER RANKING: 49
VARIATION: +28
Connor McMichael (LC, Canada, London OHL)
OCTOBER RANKING: 74
NOVEMBER RANKING: 50
VARIATION: +24
Yegor Afanasyev (F, Russia, Muskegon USHL)
OCTOBER RANKING: NR
NOVEMBER RANKING: 52
VARIATION: +73
Marcus Kallionkieli (F, Finland, Sioux City USHL)
OCTOBER RANKING: NR
NOVEMBER RANKING: 53
VARIATION: +72
Cameron Rowe (G, USA, NTDP U18)
OCTOBER RANKING: NR
NOVEMBER RANKING: 65
VARIATION: +60
Dillon Hamaliuk (LW, Canada, Seattle WHL)
OCTOBER RANKING: 118
NOVEMBER RANKING: 67
VARIATION: +51
Vojtech Strondala (LC, Czech Republic, Kometa Brno)
OCTOBER RANKING: NR
NOVEMBER RANKING: 71
VARIATION: +54
EDITOR'S NOTE: Strondala somehow slipped off my October rankings but had been No. 72 on my preseason list, so he's returning in that same range for November.
Mikhail Abramov (RW, Russia, Victoriaville QMJHL)
OCTOBER RANKING: 100
NOVEMBER RANKING: 72
VARIATION: +28
Billy Constantinou (RD, Canada, Kingston OHL)
OCTOBER RANKING: 110
NOVEMBER RANKING: 75
VARIATION: +35
Thomas Harley (LD, Canada/USA, Mississauga OHL)
OCTOBER RANKING: NR
NOVEMBER RANKING: 76
VARIATION: +49
Vladislav Kolyachonok (LD, Belarus, Flint OHL)
OCTOBER RANKING: NR
NOVEMBER RANKING: 77
VARIATION: +48
Andrei Pribylskiy (RD, Russia, Dynamo Moskva KHL)
OCTOBER RANKING: NR
NOVEMBER RANKING: 78
VARIATION: +47
Xavier Simoneau (LW/LC, Canada, Drummondville QMJHL)
OCTOBER RANKING: NR
NOVEMBER RANKING: 81
VARIATION: +44
Ryan Johnson (LD, USA, Sioux Falls USHL)
OCTOBER RANKING: NR
NOVEMBER RANKING: 88
VARIATION: +37
Jordan Spence (RD, Canada, Moncton QMJHL)
OCTOBER RANKING: NR
NOVEMBER RANKING: 89
VARIATION: +36
Arvid Costmar (RC, Sweden, Linköping J20)
OCTOBER RANKING: NR
NOVEMBER RANKING: 92
VARIATION: +33
Albert Johansson (LD, Sweden, Farjestad SHL)
OCTOBER RANKING: NR
NOVEMBER RANKING: 93
VARIATION: +32
Antti Tuomisto (LD, Finland, Assat U20)
OCTOBER RANKING: NR
NOVEMBER RANKING: 94
VARIATION: +31
Hunter Jones (G, Canada, Peterborough OHL)
OCTOBER RANKING: NR
NOVEMBER RANKING: 100
VARIATION: +25
Larry Fisher is a senior writer and head scout for The Hockey Writers, having been an at-large contributor for THW since August 2014. Fisher covers both the NHL and the WHL, specializing in prospects and NHL draft content, including his annual mock drafts that date back to 2012. Fisher has also been a beat writer for the WHL's Kelowna Rockets since 2008, formerly working as a sports reporter/editor for The Daily Courier in Kelowna, British Columbia, Canada from 2008-2019. Follow him on Twitter: @LarryFisher_KDC.