Lassi Thomson is still grasping the English language and Canadian culture.
As for the smaller ice surface, he's already looking right at home and, really, hit the ground running in North America.
From Day 1, his elite talent was evident and, in a matter of a month, he's emerging as a game-breaker in the Western Hockey League.
The Finnish defenceman, projected as a top-50 pick and potentially a first-rounder for the 2019 NHL draft, has produced 12 points through 16 games and is tied for the league lead among blueliners with seven goals. That includes the goal of the year thus far for the Kelowna Rockets — finishing off an exhilarating end-to-end rush against the Prince George Cougars in last Saturday's 4-3 overtime win.
.@lassithomson's got moves. 👀 pic.twitter.com/cURnuFZcBz

— Kelowna Rockets (@Kelowna_Rockets) October 28, 2018
That video doesn't even do the goal justice since it's missing arguably the most impressive part. That being the 'wand waive' that Thomson pulled off prior to taking off, fooling a forechecker with a fake pass inside the defensive zone before turning on the jets and blowing by everyone for a highlight-reel tally that wound up being nominated — and, at last check, was the leading vote-getter — for the Canadian Hockey League's play of the week.
It was a jaw-dropper — a real head-turner from start to finish, drawing all kinds of 'oohs' and 'ahhs' from the home crowd.
It's still all the rage a week later, with some raving about Thomson's ability to kick the puck back up to his stick after briefly losing control upon entering the offensive zone and others praising his reach-around backhand deke of Taylor Gauthier, one of the WHL's top young goaltenders who also happens to be highly touted for the 2019 NHL draft.
Talking about 'The Goal'
A bit bashful amid the whirlwind of attention — the GIF of his goal has made its rounds on the Internet, making it around the world and back home to Tampere, Finland — the 18-year-old Thomson was all smiles in reliving his efforts following a midweek practice.
"I just did the fake and took the lane and took it all the way," he said, noting the wand waive was intentional but the kick-up from skate to stick was instinctual.
"It was a little bit lucky, I almost lost it there, but I got it back and got it into the net."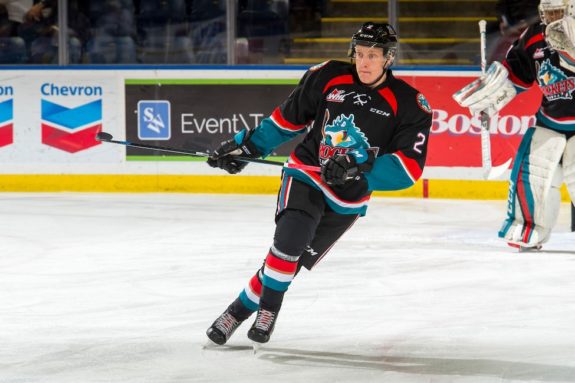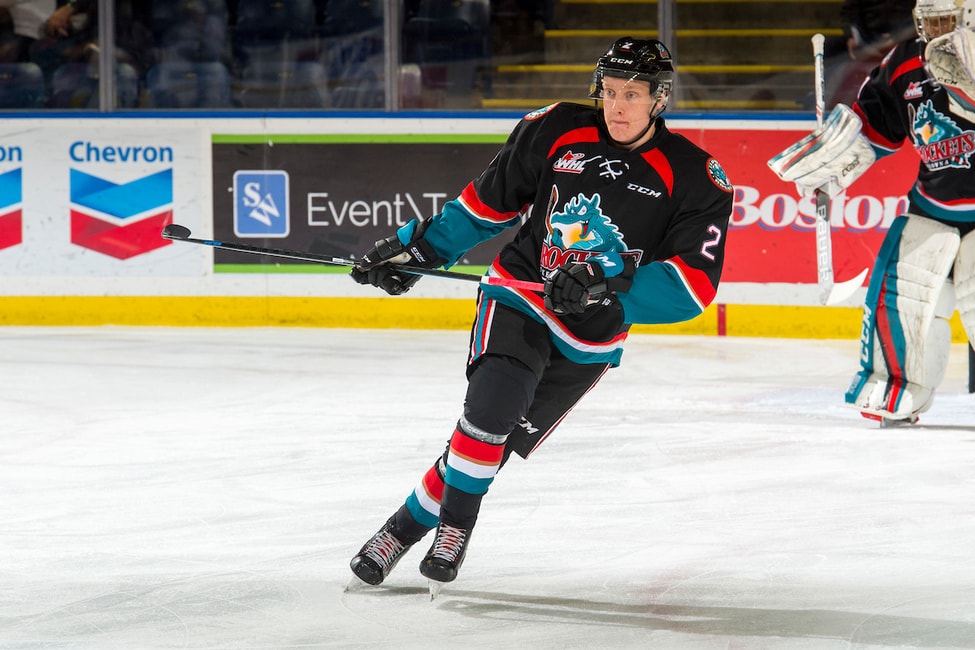 His new coach, longtime NHL defenceman and two-time Stanley Cup winner Adam Foote, was left in awe like everybody else in attendance.
"He took a hard push and then he had deception in his next move. He was just waiting for that defender to go on pause with his deception," recalled Foote. "I didn't know if the kick-up, if it fell in his skates and his skill took over, or he meant to put it in (his skates). It was hard to tell, but I think his athleticism took over.
"Obviously it's a high-skill goal, part of it is just great athleticism and the other part is his brain, and we can also get into what they are doing over there (in Finland) in developing. I think it all comes into one."
Foote also credited the reactionary part — the kick-up — to how Thomson "plays in flexion all the time, he plays like a cat and he's able to move sideways and cover more space, which causes the defender to bite on it. He knows how to draw them to him and go the other way.
"It was a good goal, a great goal, but I've seen him do even better plays out there," continued Foote. "The end-to-end thing is one thing, but if you watch him all over the ice, he's always, always using his body and using deception. It's almost like all the time, so that goal did not surprise me. The kick-up showed me just his natural ability."
Rising in Draft Rankings
All in all, it was a 'wow' moment from a player who clearly had the 'it' factor ever since arriving in the Okanagan.
Thomson has been a standout on a nightly basis for Kelowna, but the exposure garnered by this goal has certainly elevated his draft stock.
He's widely considered a riser, having debuted as a C-rated prospect — indicating a later-round pick, a fourth- to seventh-round candidate — on NHL Central Scouting's players to watch list that was released on Oct. 2.
"No disrespect, but we knew he was better than that at that moment," said Foote, who saw a special prospect in the making from his first viewings of training camp in early September.
That was before Foote took over as the Rockets' bench boss — replacing Jason Smith, another former NHL defenceman, on Oct. 23 — but he's been watching this team closely for the past few seasons with both of his sons, Cal and Nolan, starring for Kelowna.
This fall, Thomson caught his eye early and often as a new import, but now that Foote is getting to mentor him and share the same ice at practice, he's becoming an even bigger fan of this likable Finn.
[miptheme_quote author="Adam Foote" style="text-center"]"He's got a lot of tools. He's got some advantages, and watching him so much, he really plays engaged. It doesn't matter who his opponent is, he's going to go for it. His compete is awesome, it's off the charts. His motor is just running all the time at that high, high level, and it's starting to rub off on the rest of our team."[/miptheme_quote]
The Rockets (6-10-0-0) have been trending up and will be gunning for their third straight home win tonight — and sixth victory in their last eight games overall — when they host the Brandon Wheat Kings (8-3-3-2). That is where Thomson's focus had turned, insisting he isn't looking too far ahead or fixating on all the draft hype.
"I only want to play a good season and get drafted, of course, but I'm not thinking about that," said Thomson, who may also be playing his way onto the radar for Finland's world-junior team ahead of the Christmastime tournament being held in his new home of British Columbia, starting on Boxing Day in Vancouver and Victoria. "I hope so, I'd really like to play World Juniors. I want to show the Finnish coach how I can play, so if they like the way I play, I'll get to go there."
Foote's Take on the Draft, Development
That won't be the last time that Thomson is asked about the NHL draft. The majority of interviews and conversations will circle back there throughout his draft year — and he's not alone, with teammates Nolan Foote, an A-rated forward, and Kaedan Korczak, a B-rated defenceman, going through the same experience this season. It's possible that all three could be first-round selections come next June in Vancouver.
Adam Foote, who was a second-round pick (22nd overall) by the defunct Quebec Nordiques back in 1989, offered plenty of insight on the draft. He also went through the process more recently with his older son, Cal, a first-round pick (14th overall) by the Tampa Bay Lightning in 2017.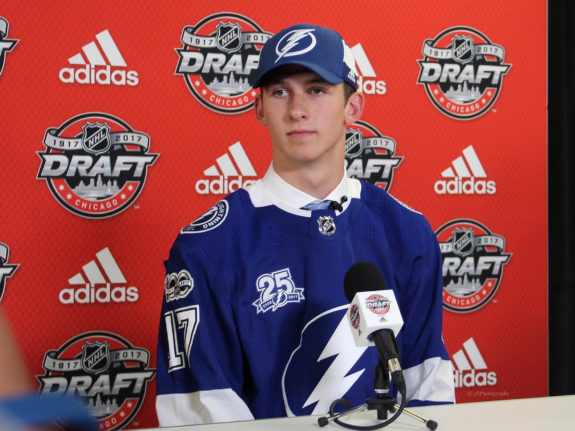 Asked about Thomson and Korczak, in particular, Foote said: "I look at it a lot different than you guys and probably a lot of scouts. I look at it like 'where are they going to be as a 25-year-old in four seven-game series going for the Stanley Cup?' In four seven-game series, that's where I rank players and that's how I always think.
"I don't look at it like one guy can go end-to-end. I love the upside of both those players, and everyone's development path is different. We've got a more compact player (in Thomson) where it's normal to be quicker. And we have a taller player (in Korczak), and I went through it with Cal, where his core isn't quite as produced and as strong and he's lugging weight, so you lose some zip. But you have to be very careful how you judge these guys because this is just the now. I think they're both going to have great futures and careers."
Korczak, a sophomore in the WHL and Kelowna's top rookie from last season, is also off to a strong start with 13 points — one more than Thomson — in 16 games to date. His stat-line shows two goals and 11 assists while playing in all situations as the Rockets' ice-time leader.
Korczak may not be as dynamic offensively and some scouts see him as more of a game-manager — as opposed to a game-breaker like Thomson is becoming — but Foote would have a hard time picking between them.
"If you ask me now, who I would want when they're both 25, I don't know, but I'll take them both," he said, taking the high road to his own question.
"Their both great players and I think they both have potential to be top-fours in the NHL. I don't think you can ever say, at this age, that someone is going to be a No. 1 (defenceman in the NHL), but if you can say someone's got the potential to be a top-four, that's pretty amazing. And time will tell if they can pop to a No. 1 or No. 2."
So, does that mean Foote foresees Thomson and Korczak getting drafted in the same round — the same range, perhaps within a few picks of each other?
"I honestly can't answer that because I'm not a scout and I don't know the other players out there like the scouts do. I don't know the talent," he said. "The scouts can see what they've done, and they've got their own reads and they're probably all very similar, but whoever gets them, they're going to be very happy because number one they're both great kids."
Scouting Beyond the Numbers
In comparing and contrasting the skill-sets of Thomson and Korczak, Foote stressed that statistics rarely tell the whole story.
Roles impact those results and Korczak has been cast in more of a shutdown capacity as of late, while Thomson is currently the lone defenceman on Kelowna's top power-play unit with Nolan Foote playing the other point position. Earlier in the season, Korczak was quarterbacking that unit, with Thomson and Foote teeing up one-timers from the right and left circles, respectively.
"In a perfect world, we'd want them both (on the top unit), but Kaedan is already playing more minutes than anyone," Foote said of Korczak, who is assuming much of Cal Foote's responsibility from last season while still quarterbacking the second unit. "Scouts will recognize that he might not be getting as much opportunity (on the power play), but he's playing, some nights, 25 to 30 minutes, and that can be hard on a kid. He's playing heavy, heavy minutes, so we have to monitor it and manage it, but he's doing awesome."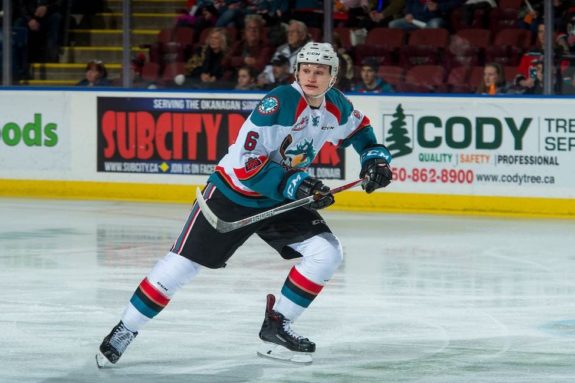 At even strength, Thomson and Korczak are presently paired with older stay-at-home types in overagers Dalton Gally and Braydyn Chizen, respectively, to comprise Kelowna's top-four. That has been the case since the Rockets acquired Gally from Medicine Hat on Oct. 10. Prior to that, for the first few games of the regular season, Thomson and Korczak were paired together, but the decision was made to separate them as a means of better balancing the back end.
"I think both pairings can play against top lines, but I like to see Korczak more against the opposition's top lines," said Foote. "And most top lines have an overager on them — he's a 2001 playing against 1998s — so he's playing big, big minutes against older players."
Knowing all that, it wouldn't be shocking if Thomson's point total surpassed or started to pull away from Korczak's as the season progresses and as his confidence continues to grow. But Foote, a shutdown defender during his playing days, warned against reading too much into that when it comes to determining their draft value.
"There are really good scouts out there that can figure all that out," said Foote. "I just worry about defencemen because too much of our world in North America ranks on points and on goals. Trust me, I went through it, I played against top lines, but in our world it pays the guys getting the goals.
"That's the hardest thing for these kids going through this draft process is worrying about all those numbers and rankings," added Foote. "I don't want them to overthink the numbers, just play in our structure and play the right way, and the scouts will see what their abilities are."
Smith Chimes In on Thomson
Smith was another hard-nosed rearguard who captained the Edmonton Oilers to within a win of hoisting the Stanley Cup in 2006. Prior to being relieved of his duties as Kelowna's head coach, Smith also spoke to the benefits of having both Thomson and Korczak on the Rockets' roster.
"By them pushing each other and working at getting better and improving their games, I think it's going to be great to watch them both grow and develop into really good players in this league, and hopefully move on to the next league," said Smith. "They're both very capable of moving the puck, both very capable of defending. Lassi can shoot the puck and join the rush, and I think Kaedan has taken a step forward in his ability to do those things too. That's something that has been in him, it's just a confidence thing, and as a young player, as a 16-year-old in this league, I think you're trying to get your feet wet and not make too many mistakes, but I think his game will grow in lots of aspects this season. And I think Lassi's game, from what we've seen to this point, is that he's an exceptional talent."
Smith, like Foote, was full of good things to say about Thomson.
"He's a real smooth skater and he's got puck skills. He competes the whole rink and he wants to learn and get better at defending," said Smith.
[miptheme_quote author="Jason Smith" style="text-center"]"He's excited about being here and he's got a skill-set that will allow him to have success. He's very competitive — he wants to prove to people that he can play in this league and be an impact player. I think he's a player that has huge upside."[/miptheme_quote]
It didn't take long for Smith to come to that conclusion.
"From what I've seen so far, he's definitely got offensive upside," Smith said of Thomson after just one exhibition game and a couple training-camp sessions. "It is a different game playing on a smaller rink and it may take him some time, but he's got really good footwork, he can shoot the puck really well and pass the puck. Those are the three things you want your defencemen to be able to do if they're going to be out in offensive situations."
Asked, at that time, if he was surprised by how good Thomson is, Smith said: "I honestly didn't know a whole lot about him . . . but the reports, and anybody we've talked to, all said he's a quality talent and he's got an opportunity to develop into a real good player."
"He's going to be a real good player, and we're going to need him to be good with our defence as young as it is," echoed Rockets general manager Bruce Hamilton from the outset of the season prior to trading for Gally. "(Thomson's) going to log some miles here early and he's going to learn how to play at a fast pace."
So Far, So Good for Thomson
Thomson has delivered, making a relatively smooth transition and gaining momentum with Gally as his partner.
"The first couple games, it was so hard for me, but now it's going the better way," said Thomson. "Smaller ice, I don't have time like in Finland — we have so much time there — but I like smaller ice. It's more physical, but I like it.
"Now it's me, offensive, and Gally is defensive, so it's easier for me. It's better for me."
Thomson has been taking it all in stride — on and off the ice — but he admits the online fame from his latest goal has been a tad overwhelming.
"It's funny, it's a good one, my first one like this," he said of going viral by doing what he does best. "When I take the ice and when everyone is not close to me, I want to skate . . . it's my thing."
Foote and the Rockets' coaching staff — which has Josh Gorges, another NHL defender who has yet to formally announce his retirement, contributing in a player development role at practices — won't be discouraging Thomson's 'thing' any time soon, but they will be teaching him some new tricks and tweaking elements of his game to better suit the North American style.
"When we go in to watch video, we're like 'we're not going to fix that yet because we don't want to mess him up.' When someone's rolling, you want to bring it in slowly," said Foote. "We don't want to structure him too much, but at the end of the day we're going to coach to be a playoff team. And we're going to have to address some things, but that's what he would want as a player because that's what he came over for — to learn our game and the little nuances."
Sure, there is always room for improvement, but the early returns on Thomson have more than met the expectations. And, for his part, Thomson has no regrets about leaving his homeland to chase the dream.
[miptheme_quote author="Lassi Thomson" style="text-center"]"I'm so happy I came here. Everybody says it's a good place to train and play hockey, and I have lots of good teammates who help me play good. So I think it's the best place."[/miptheme_quote]
As for adjusting to his new surroundings and fitting in from the language to the lifestyle, Thomson is making tremendous progress on those fronts too — thanks to his outgoing and infectious personality. His demeanour comes across a lot like fellow Finn Patrik Laine of the Winnipeg Jets or like Elias Pettersson, the Swedish wunderkind with the Vancouver Canucks.
"It seems like he really loves to play hockey and it's just fun to be around a guy that happy," said Foote. "Sometimes maybe (import players are) shy to speak English because they don't want to be laughed at, but the guys love him and they love his accent. I think he's sensing that, and I think he's really comfortable in the room. Maybe not 100 per cent yet, but I don't think that's a barrier at all right now."
Any initial communication issues were alleviated by the fact that Thomson speaks the universal language of hockey — and his skills have been speaking for themselves.
"We've been practising a lot and just talking about the calls and the reads and stuff. Every practice, he's been getting better at it, so I'm just going to keep teaching him the ways and telling him how it's done here," Korczak said earlier in the season.
"We're realizing that he understands more than we think, and so far, so good with him," added Foote.
Larry Fisher is a senior writer and head scout for The Hockey Writers, having been an at-large contributor for THW since August 2014. Fisher covers both the NHL and the WHL, specializing in prospects and NHL draft content, including his annual mock drafts that date back to 2012. Fisher has also been a beat writer for the WHL's Kelowna Rockets since 2008, formerly working as a sports reporter/editor for The Daily Courier in Kelowna, British Columbia, Canada from 2008-2019. Follow him on Twitter: @LarryFisher_KDC.