With the Third-Overall Pick in the 2020 NHL Entry Draft, the Ottawa Senators Have Selected Tim Stutzle From Adler Mannheim of the Deutsche Eishockey Liga (DEL).
About Tim Stutzle
There are few players in the 2020 NHL Draft who can match Tim Stutzle's success at all levels of play. He is a truly exceptional forward who played the entire 2019-20 season against men in the top professional league in Germany despite being only 18 years old. He is that perfect all-around player that can immediately jump into the Senator's line-up and leave a noticeable impact from day one.
THW Prospect Profile Excerpt
Stützle has been putting on a performance for years in Germany, absolutely dominating every league he plays in – which is always much higher than his own age. This season, the centreman turned 18 and was playing in a men's league, finishing with seven goals, 27 assists, and 34 points in 41 games. Last season, turning 17 halfway through, he played in the U20 league, racking up 23 goals, 32 assists, and 55 points in only 21 games. It's safe to say he's good.
Let's go back to this year's totals. While that might not jump off the page when Marco Rossi is over in the OHL putting up 120 points, you need to remember that Stützle is playing against men, in a professional league. Playing at that stage is a remarkable feat that should not be taken lightly. With the season over, he finishes first in DEL history in points-per-game as an under-18 player at 0.83. That's very impressive.
What Stützle brings to the ice truly is a complete package. This is what prompted some to put him as the second overall ranked player in the draft. He's an excellent skater, combining agility with a quick first step and a high top speed. His hands are among the best in this draft class, holding the puck on a string as he dipsy-doodles through defenders.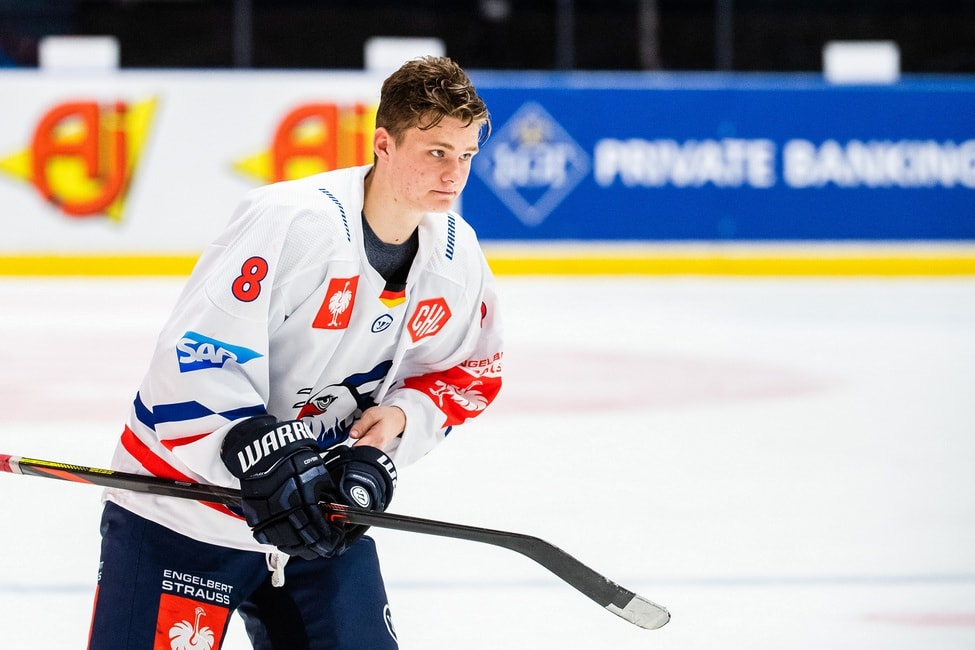 His best trait (arguably) is his playmaking. Stützle sees the ice so well, setting up his teammates with passes that the majority of players – NHLers included – couldn't make. I'd like to see him shoot more because he has a great wrist shot, but the passing seems to be working for him as well so it's hard to want to change a thing about his game.
Especially for his age, the German is a very smart, patient player. Even in the most high-stress situations (like the 2020 World Junior Championship where he put up five assists in five games), he remains calm and collected, waiting for the best opportunity to present himself. He doesn't force the play, making the smart move in most cases.
This intelligence is evident in his own end as well, where he never gives up. He has a nose for the puck and if it's not on his stick, he's doing everything he can to get it back there. Despite his young age and average size, he's not afraid to battle for the puck against the men in the league, often winning those puck battles already. Once he gets it back, he makes smart decisions to get the puck out of his end and up the ice.
Stützle is one of the most well-rounded prospects in the 2020 NHL Draft. There's no question that whichever team gets the opportunity to draft him will be happy with their choice for years to come.
Continue reading the full player profile here
How This Affects the Senators' Plans
Being such a special player who has experience playing against men, there's no reason to believe that Stutzle won't make an immediate impact on the Senators' lineup as soon as the 2020-21 season. He has the size and hockey IQ to play in the NHL now, so expect him to stick around in Ottawa after training camp.
Depending on how quickly Stutzle adjusts to North American ice, he could find a starting job playing sheltered minutes on Ottawa's third-line with a limited role on the powerplay. However, given where he is at right now, he could easily take on top-six playing time right out of the gate.
No matter what, selecting Stutzle is a big win for the Senators. He is a near-perfect prospect that will make them a better team now and if all goes right, he could be a top-line forward for the next decade-plus.