2022 had plenty of special moments for the Seattle Kraken. Matty Beniers made his NHL debut; Buoy was introduced as Seattle's first official mascot, and Jordan Eberle became the first player ever to represent the Kraken at an All-Star Game. The year also featured plenty of milestones, including Jared McCann's 100th NHL goal, Philipp Grubauer's 20th career shutout and Vince Dunn's 150th career point. Now that 2022 is over, here is a look at the stat leaders for the Kraken over the year.
Goals and Points: Jared McCann
In 2022, no one in Seattle was better at scoring goals and putting up points than Jared McCann. The former 2014 first-round pick scored 30 goals during the calendar year, which was 13 goals more than anyone else. He was also the only player to score more than 20 even-strength goals and finished with the most shots on goal, firing 196 shots on net.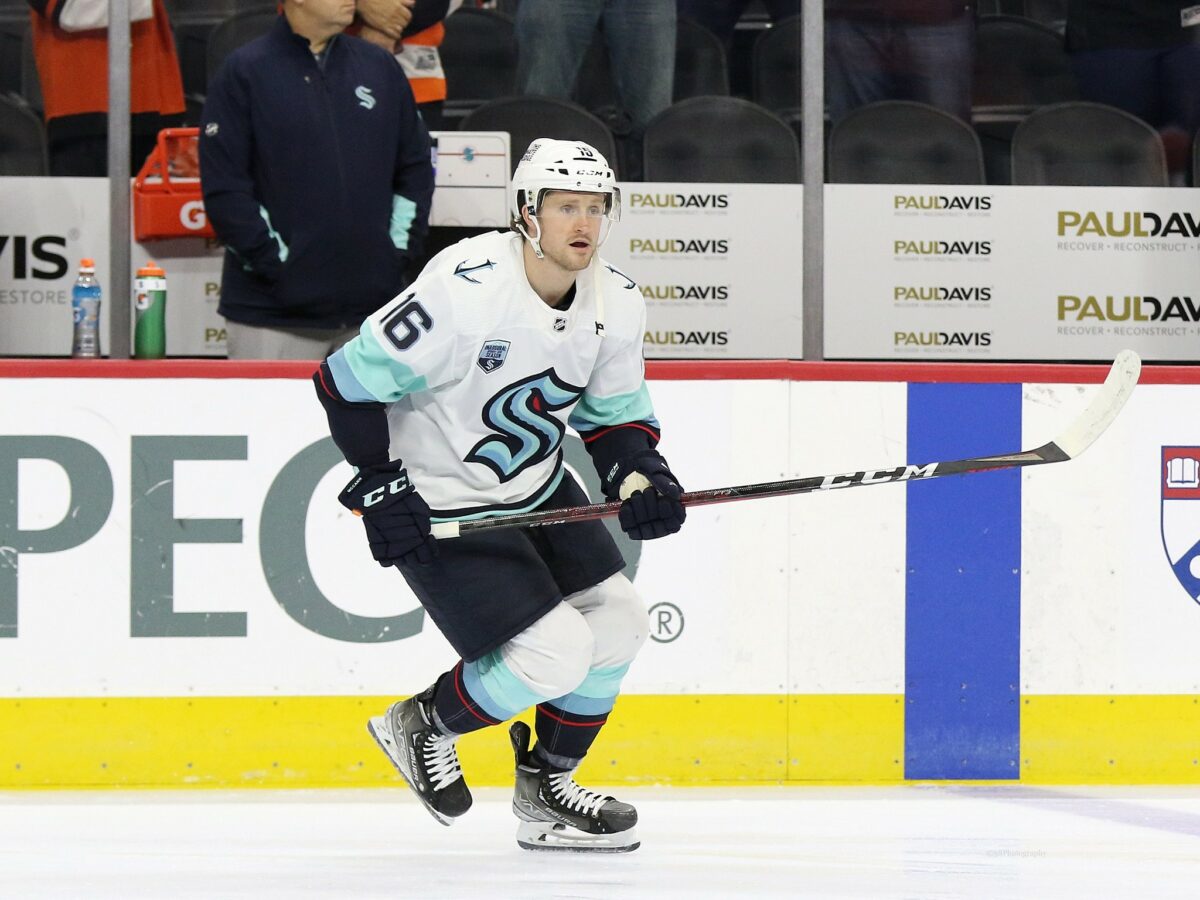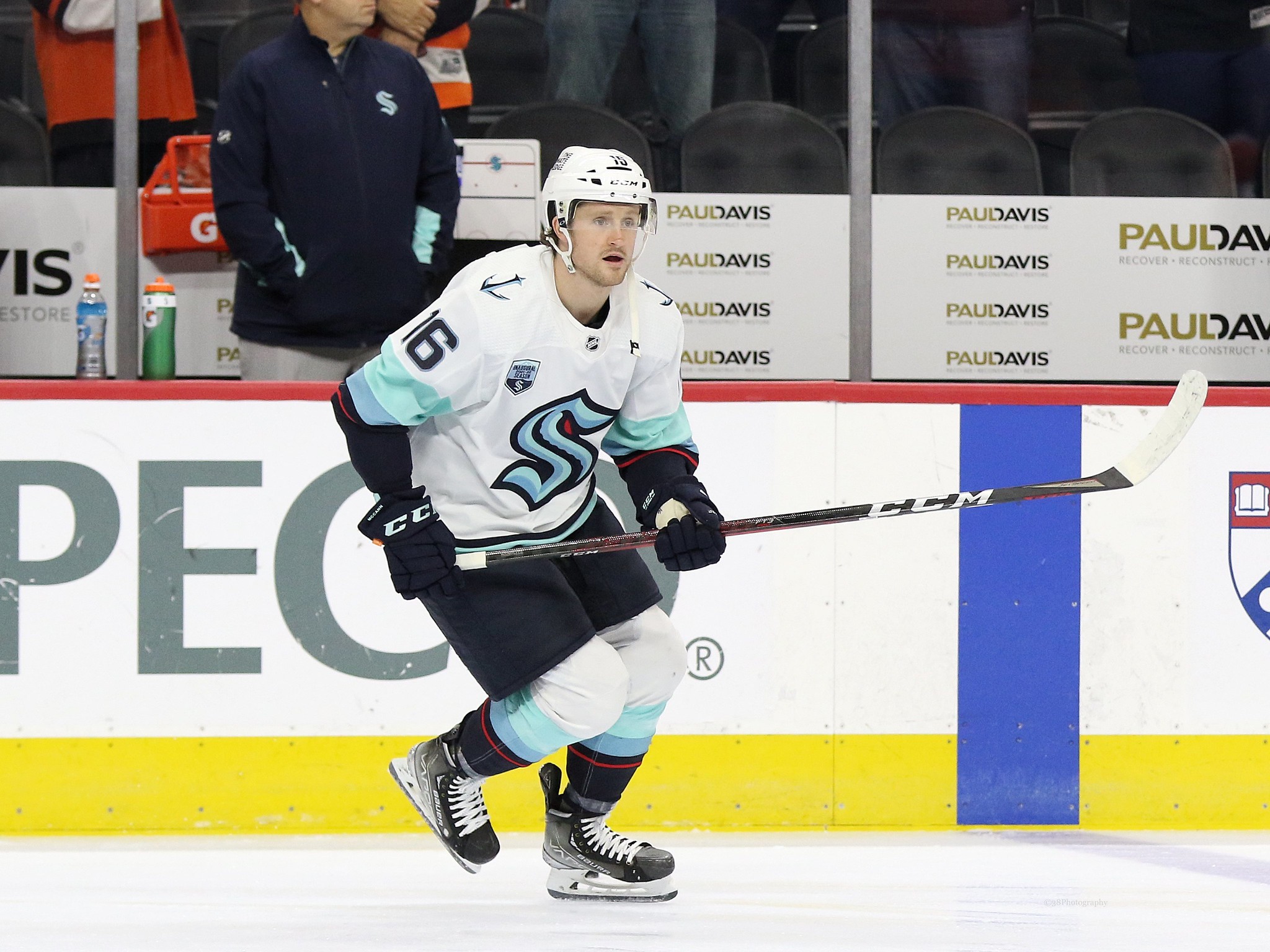 McCann was also the only Kraken player to top 50 points, as he finished with 53 in 78 total games. While he was the team leader in power play points, he finished third on the team in even strength points with 36 trailing Yanni Gourde and Eberle. It is safe to say Seattle made the smart choice of selecting him from the Toronto Maple Leafs during the expansion draft, as the change of scenery is paying off for not just him but the entire organization.
Assists: Vince Dunn
While the battle for most assists was close, Dunn takes the crown with 34 in 79 games. The king of the second assist, he finished with seven secondary assists at five on five and 14 assists which helped boost his totals. He is able to generate offence with a strong first pass out of the zone and developed into a decent power play quarterback during the 2022 calendar year.
Related: Kraken Are in a Win-Win Situation with Vince Dunn
---
Latest News & Highlights
---
Dunn has become a mainstay on the Kraken's first pairing and has rounded out his game since arriving in Seattle. While his game still has some rough edges, he continually improved throughout the year and is always out there late when the Kraken are pressing for a late goal. Whether it is making passes or directing 140 shots on goal, he is slowly developing into the player Seattle was hoping for when they selected him from the St. Louis Blues.
Hits and Blocked Shots: Adam Larsson
Adam Larsson's 2022 was arguably the best calendar year of his career. Not only did he finish with 30 points over an 84-game span, but he also led the Kraken in hits with 193 and blocked shots with 147. A leader on the team, he was the Kraken's top shutdown defenceman and helped Seattle record the fourth-lowest shots per game in the NHL in 2022.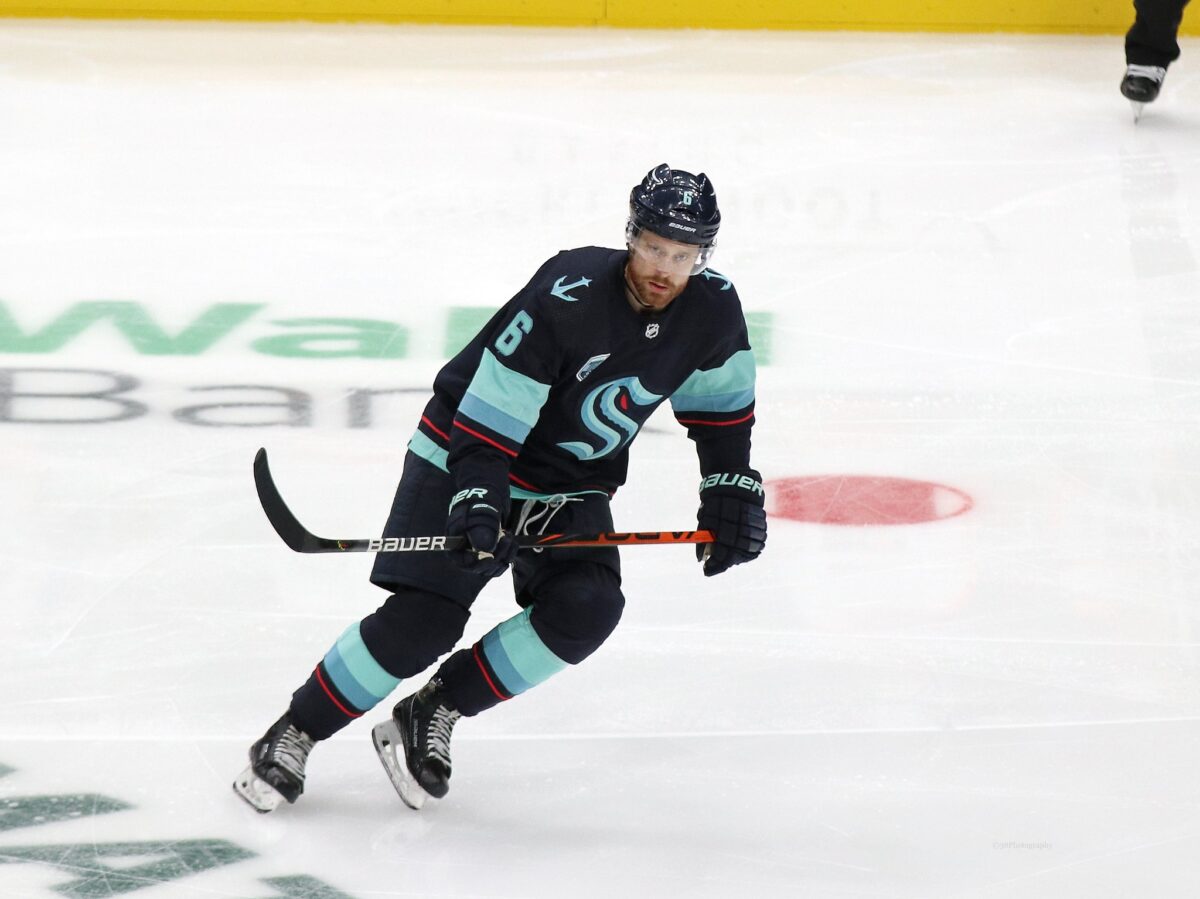 Like a fine wine, Larsson seems to be getting better with age. He finished 2022 on a five-game point streak and started off 2023 right, scoring his fourth goal of the season. A player who will do all the little things needed to win, he was Seattle's best defenceman in 2022.
Takeaways: Yanni Gourde
Gourde was one of the most impressive players for Seattle throughout 2022. Not only was he a threat offensively, finishing second on the team in points with 49, but he was also the Kraken's best defensive forward, leading the team with 64 takeaways. The only player in Seattle who had over 50 takeaways in 2022, he also finished 17th across the league among forwards, tied with Jason Robertson and Mark Scheifele.
Related: Kraken 3 Up, 3 Down: Gourde, Robertson, Goaltending & More
Gourde has become a fan favourite in Seattle because of the effort level he puts in every shift. He rarely, if ever, takes a shift off and has been relied upon to shut down the opposition's top lines on a nightly basis. A member of the team's leadership group, he could very well be named the Kraken's second-ever captain.
Penalty Minutes: Carson Soucy
No one on the Kraken racked up more penalty minutes than Carson Soucy. One of three players on Seattle to record 70 or more, he was the team leader at 74 with 31 minors and 2 majors. Overall, he averaged a minute per game in penalties and finished with a penalty minutes per time on ice percentage of 5.8%.
While fans have been frustrated with Soucy's penalties, his 74 minutes are considered low compared to the rest of the NHL. In fact, he isn't even in the top 50 across the league when it comes to penalty minutes collected in 2022. While some of them have come at less-than-ideal times, Kraken fans should be thankful, as things could be much worse judging by some penalty minute totals given out around the league.
Wins: Philipp Grubauer and Martin Jones (Tied)
This may be the most surprising stat of all as both Grubauer and Martin Jones had 14 wins as Kraken during the 2022 calendar year despite a difference of 20 games played. In total, the two combined for 28 of Seattle's 35 wins, with Chris Driedger (6) and Joey Daccord (1) picking up the other seven. The Kraken goaltenders also combined for four shoutouts, but only Driedger recorded a save percentage of over .900.
Related: Martin Jones is Proving Valuable for Kraken
Seattle's goaltending has been disappointing, but it is shocking to see Grubauer finish 2022 with 14 wins in 44 games. This is a goaltender who not only was nominated for the Vezina less than two years ago but is also the highest-paid player on the team and has a 10-team no-trade clause. With Driedger set to come back and Jones playing well enough to capture wins, the goaltending situation in Seattle is about to get even more complicated in 2023.
Plenty Of Opportunity In 2023
Now that the book is officially closed on 2022, the Kraken and its fans can look forward to a promising 2023. It has already started off better than 2022 as they won their New Year's Day matchup versus the New York Islanders. Whether it's Beniers' Calder watch, the prospect of the organization's first-ever playoff appearance, or the franchise's 50th win in the NHL, there should be plenty of excitement in Seattle during the new year.