Entering his first full NHL season, Matty Beniers was poised to put his name in the Calder Trophy race as the league's best rookie. Despite playing only 10 games in 2021-22, his first taste of NHL action seemed to inspire a lot of confidence from the coaching staff and front office.
Beniers then entered the 2022-23 season as a projected top-six center and has held that role through his 23 games this year. He has excelled in that spot, playing against the league's best while also trying to round out his own game. It's hard enough to step into a big role this early in your career, but he is doing it with poise and success as he grows into one of the game's best young stars and the potential face of the Kraken.
Beniers Is Pacing the Rookie Scoring Field
Beniers has done well to establish himself as the top player in the 2022-23 rookie class. His 21 points through 23 games place him six points ahead of the next-highest rookie scorer, Arizona Coyotes forward Matias Maccelli. His 10 goals also have him sitting first among rookies, as he continues to show his immense talent for putting the puck in the net.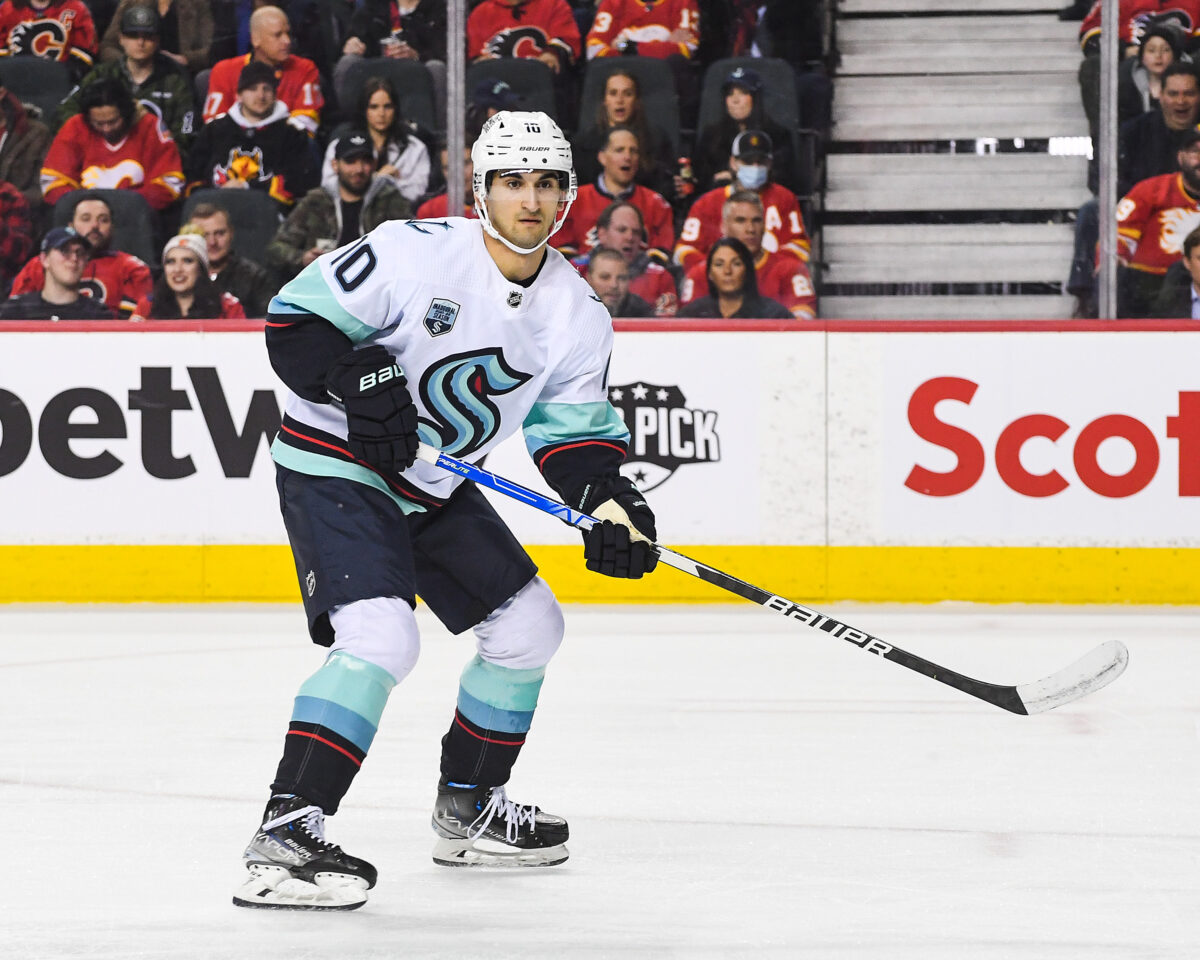 He's also doing his scoring at the right times as well, as he currently sits tied for first among rookies with two game-winning goals. Most notably, his overtime winning goal in the Dec. 1 game against the Washington Capitals came just seven seconds into the extra period. Beniers seems to thrive in those moments that require players to find another level, and his timely goals seem to show that.
His scoring prowess isn't a new revelation, as he consistently proved during his two seasons playing for the University of Michigan. In his 61 games for the Wolverines, Beniers potted 30 goals and tallied 67 total points. Some players struggle to make the jump directly from the NCAA game, given the difference in pace and talent level. That said, he joined an elite few who made the jump seamlessly and stepped into a notable NHL role.
Beniers' Linemates Benefiting from His Success
Whether it's Beniers' ability to drive a line or the Kraken simply playing him with the right players, it's clearly working. With the prerequisite of playing at least 50 minutes together, he and his linemates currently sit both first and second on the team in several statistics.
His most common placement this season has been between Jaden Schwartz and Jordan Eberle. In just over 125 minutes together, the trio has played to an impressive 56.6 percent expected goals percentage (xG%). That mark has them ranked 28th in the league among all forward lines, yet somehow, that line falls short of the new-look trio that has recently seen minutes together.
Before the Nov. 13 game against the Winnipeg Jets, the lines saw a shuffle that took Schwartz off of Beniers' wing and placed him on the top line beside Alexander Wennberg. With Schwartz moving, someone had to fill that spot and it was none other than 2021-22 Kraken leading scorer, Jared McCann. McCann, Beniers, and Eberle have quickly become one of the league's elite trios, and the numbers back it up.
Related: Kraken Must Get Jared McCann More Ice Time
---
Latest News & Highlights
---
Through 87 minutes and 15 games together, those three currently rank 22nd in the league in xG% at 58.7. Those are elite numbers, but it isn't the only number to look at. Expected goals look at the chances you're creating, but actual goals and goal differentials do a better job of showing what ends up in the back of the net. Goals percentage shows the goal differential in percentage form, weighing the goals scored and goals against for a line. If the percentage nears 100 percent, a team is doing a phenomenal job putting chances away. The dynamic trio sits 10th in the league in goals percentage with an eye-popping 75 percent, outscoring opponents 9-3.
If there needed to be any reassurance that the trio was electric, they provided that in the 9-8 barnburner against the Los Angeles Kings on Nov. 29. Turning their chances into goals, Beniers and McCann combined for four goals, while Eberle tallied four assists. Safe to say they did their part.
Eye Test & Underlying Numbers Agree: Beniers Is Elite
Individually, Beniers is doing a lot right. Several of his individual on-ice numbers seem to show that he's creating chances at an impressive rate. While his personal numbers take a slight dip from the remarkable numbers his line puts together cumulatively, they still reflect an elite player.
While still impressive, his 53 percent does sit lower than his line's cumulative 58.7 percent. His on-ice shot attempts (Corsi percentage) do leave something to be desired, as he currently sits 10th among Kraken forwards with 49 percent. That said, when the xG and Corsi disagree like this, it tends to imply that he's making the most of his chances, which is true. He's finishing his chances at a very high rate, which is a good thing given the shot attempt discrepancy.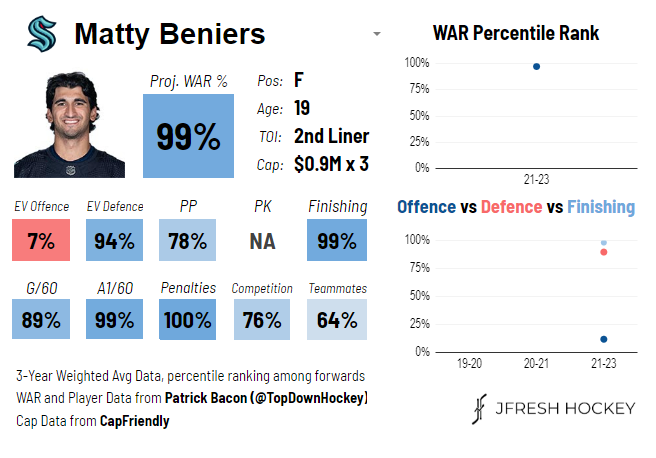 As the JFresh player card shows, his overall value isn't found in his even-strength offensive contributions. Instead, that high percentile is reached with his finishing talent, defensive game, and his primary assists. His defensive numbers are remarkable, given that it's his first season in the NHL. His ability to be responsible in his own end while scoring at such a high level is elite, and will undoubtedly provide Kraken fans with joy for years to come.
Beniers has a keen sense of where he needs to be in order to score, which is reflected in his 99th-percentile finishing talent. While his shooting percentage might regress slightly, it isn't a stretch to assume he'll adapt and find other ways to make an impact. It feels like only a matter of time until his even-strength offense will climb, and when it does, he may even reach new heights.
Beniers' hot start this season has given fans a glimpse at one of the best young talents in the league. He very well could get the nod for the Calder Trophy this season, but the exciting part is how this could just be the beginning. It feels as if his trophy cabinet may need an expansion at some point in his future, and what a future it could be.
Credit: Expected Goals, Goals Percentage, and Corsi courtesy of MoneyPuck
---
---
---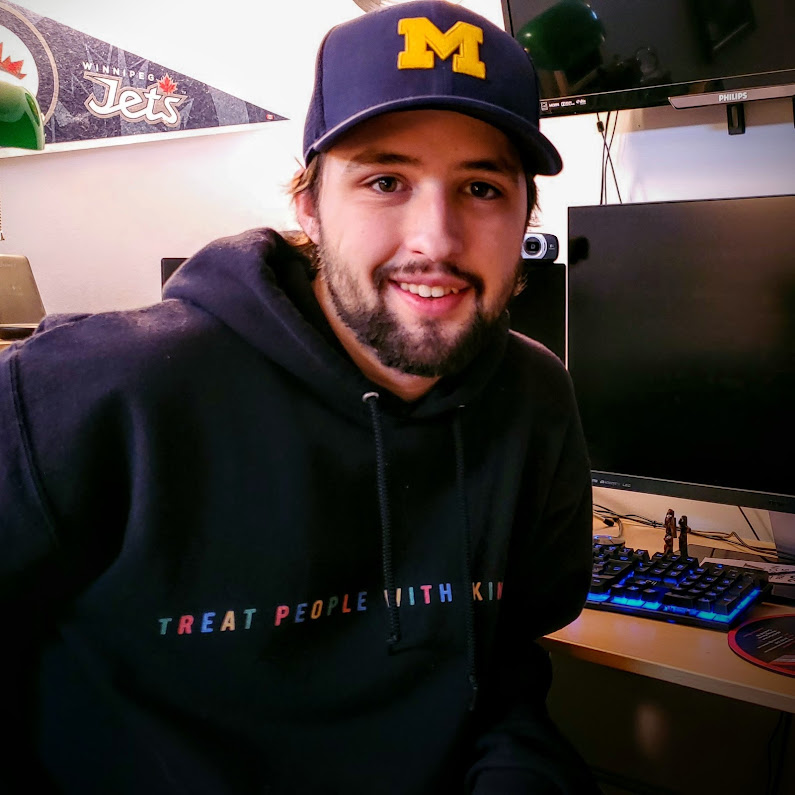 Brian Finlayson is a lifelong hockey fan, and has spent recent years writing for hockey-based websites and blogs. Now, Brian joins THW as a Seattle Kraken contributor and is very excited to help cover the NHL's newest team.
Brian spends most of his time as a student, working towards a communications & media degree at Canadian Mennonite University. He hopes to combine his loves of sports and storytelling to find a career in sports media.