The Calgary Flames have been enjoying a ton of success from their prospects this season, with more than five standouts. For the sake of this list, we will dive into the top five, how they've been doing, and the impact they will have on the future of the Flames.
---
---
5. Matthew Phillips
Despite his points-per-game average and a call-up to the NHL, I still have Matthew Phillips at number five on the Flames' top prospects of 2023. He finally got his shot with the Flames, but once again, it was hardly a shot. He got two games before he was returned to the American Hockey League (AHL), and in those games, his opportunities were limited. He played 18:04 and had 26 shifts in two games, but did earn time on the power play, as the Flames try to find more scoring with the man advantage.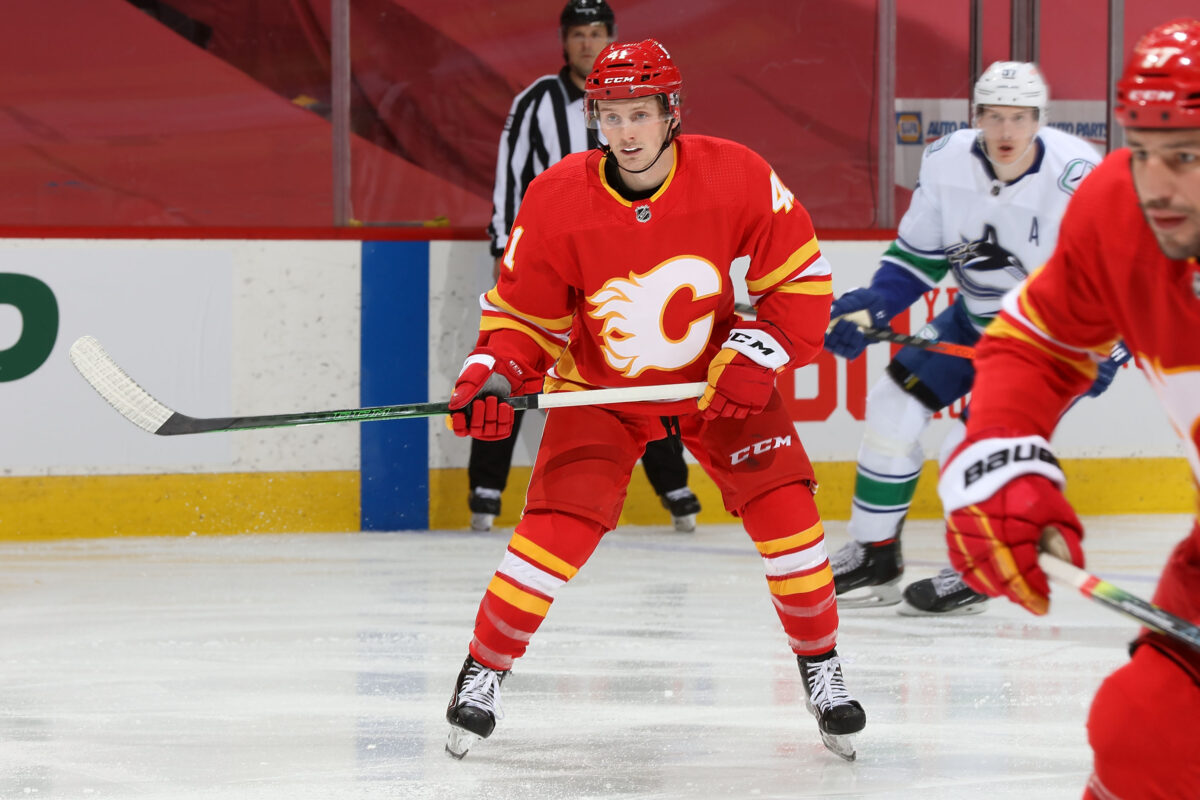 In the AHL, Phillips is still dominant, with 18 goals and 35 points in 23 games, good for a 1.52 points-per-game average. His consistency hasn't failed, and it should once again earn him a chance in the NHL. Next time, he should get more of an opportunity and maybe stick around. If not, the Flames will eventually lose him, as he's 24 years old and almost aged out of being a prospect.
4. Connor Zary
Connor Zary has done exactly what the Flames had hoped for after a down season in the AHL in 2021-22. He has become consistent and taken a big step forward. Darryl Sutter noticed as much in training camp, but given the Flames' roster, it was inevitable that Zary would start the season in the AHL.
Related: Flames' Darryl Sutter Negating Opportunities for the Prospects
---
Latest News & Highlights
---
Last season, Zary scored 13 goals and 25 points in 53 games for the Stockton Heat of the AHL. This season, he already has 10 goals and 32 points in 30 games for the Calgary Wranglers. In each season during his time in the Western Hockey League (WHL), the young centre took major strides forward, which is the reason he was drafted 24th overall in 2020. Now that he has settled into the pro level, he is shining. This bodes well for his future in the NHL, even if he doesn't break out immediately. A healthy and productive Zary will set the stage for his arrival in the NHL next season.
3. Matt Coronato
The Flames should be excited for Matt Coronato, their top draft pick from 2021, who has gained some great experience already. He was the Flames' only representative at the 2022 World Juniors last August, where he scored four goals and seven points in five games. He is also improving in his second year in Division 1 hockey with Harvard University.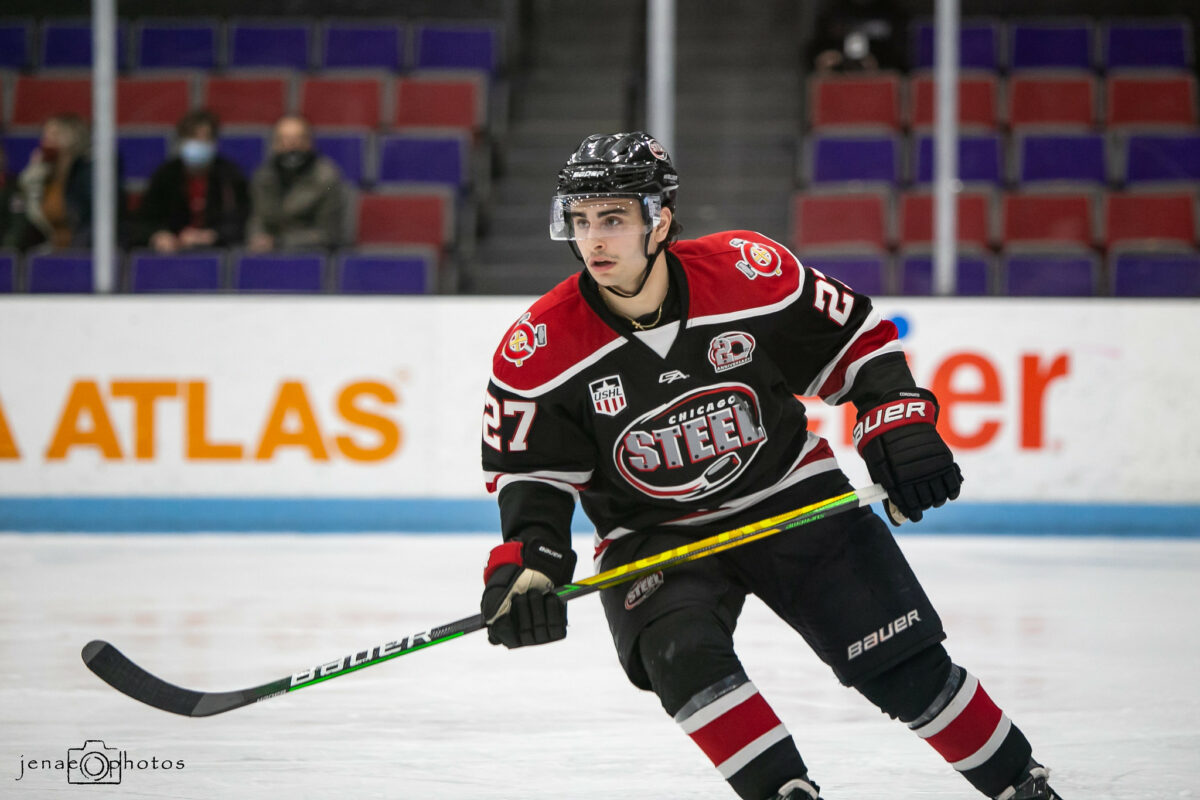 In Coronato's first season in Div. 1, he managed 18 goals and 36 points in 34 games, which is impressive in itself. This season, he is on pace to outperform those numbers, with seven goals and 17 points in 13 games already. He sits near the very top in offence and should enter the Flames' organization after this season. He is counted on in all zones and both special teams while being Harvard's top-line centre. He is primed to be a key young player to help push the Flames forward in a just few years.
2. Jakob Pelletier
Jakob Pelletier is doing what he did last season, only better. He stormed into the AHL and scored 27 goals and 62 points in 66 games as a rookie, and this season, he is on pace to top that. He has 15 goals and 33 points in 30 games and is near the top of the league in points.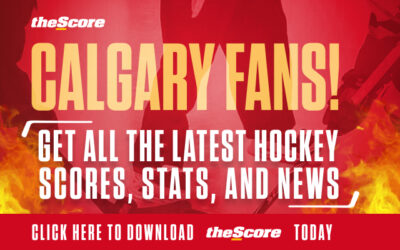 What's great about Pelletier is that he also has a strong two-way game, which is what puts him so high among Flames prospects. He is only 21 years old, and the former 2019 first-round pick is making it really tough for the Flames not to consider giving him a bit of a trial run in the NHL this season. He projects to be a top-six winger in the NHL, and he's shown the ability to make an immediate impact at the pro level.
1. Dustin Wolf
Dustin Wolf has already pushed the envelope and could force the hand of the Flames as early as this offseason. Dan Vladar has one season left on his deal, but the way Wolf performed in training camp and is playing this season in the AHL, he can't stew in the minors for much longer.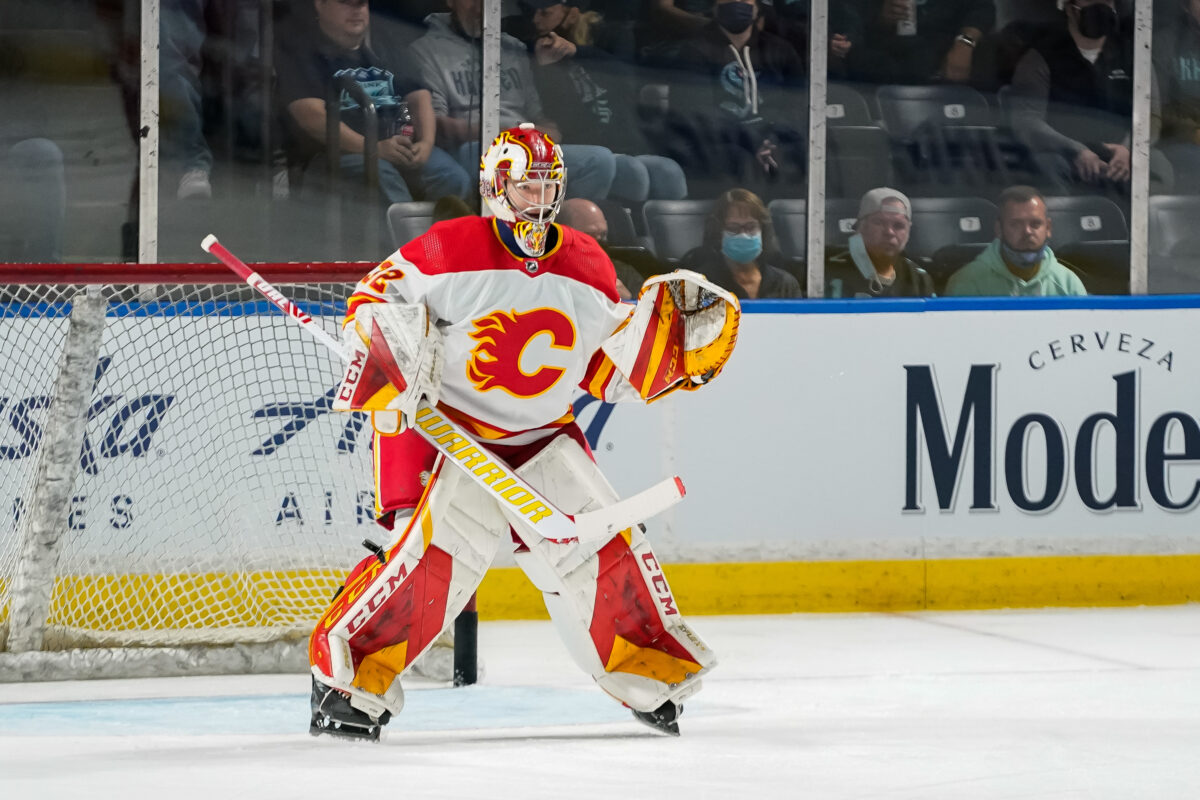 Vladar held down the fort for a bit while Jacob Markstrom struggled this season, but now he's back to serving as the backup. Due to his strong early-season performance, however, the Flames could deal him for a better return. Meanwhile, Wolf has an 18-4-0 record with a .929 save percentage and 2.18 goals-against average this season, which is an improvement on 2021-22. He has proven that he can consistently dominate, and despite the organization's strong forward prospects, Wolf is their best and the future in net.
The Flames should start to see contributions from many or all of these players in the near future. It should allow them to seamlessly alter the roster while staying competitive. These five prospects alone give the Flames one of the top prospect groups in the NHL.