The 103rd Memorial Cup is now set after all three league series have come to a close. Joining the host, Kamloops Blazers will be the Western Hockey League (WHL) champs, Seattle Thunderbirds, the Ontario Hockey League (OHL) winners, Peterborough Petes and the Quebec Major Junior Hockey League (QMJHL) conquerors, the Québec Remparts. This will be the second time Kamloops has hosted the tournament, with the first time coming in 1995 when the Blazers walked away as champions.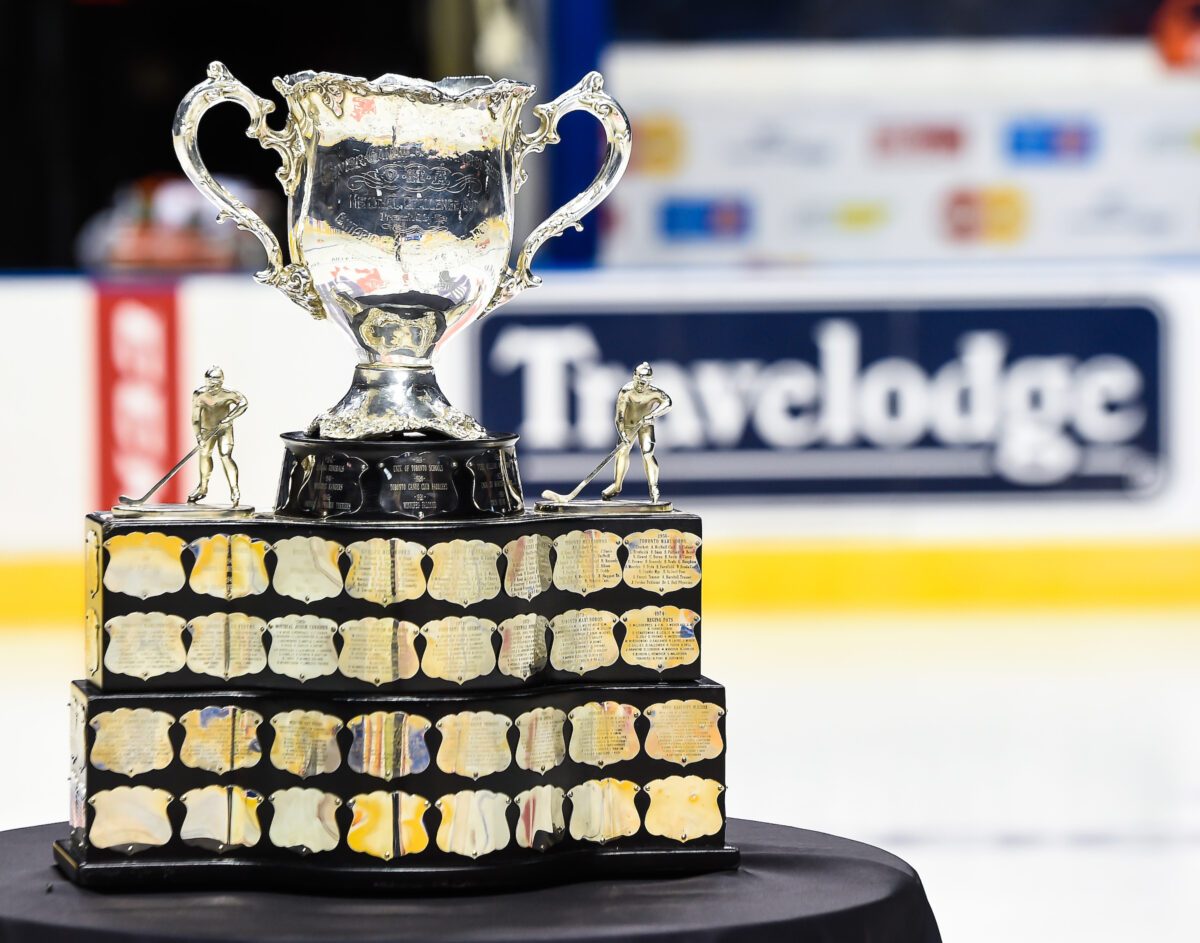 The Memorial Cup tournament is set to kick off on May 26, 2023, with the Blazers taking on the Remparts. The four teams will participate in a round-robin tournament before moving onto a single elimination tournament, with the championship being held on June 4, 2023. Here is a look at the four teams vying for the trophy.
Kamloops Blazers
Memorial Cup Appearance: 7th
Memorial Cup Championships: 3
Regular Season Record: 48-13-4-3, 4th in WHL
Playoff Record: 10-4, Lost to Thunderbirds in WHL Western Conference Final
NHL Drafted Players: 9
The Blazers return to the Memorial Cup for the first time since 1995, ready to once again win the historic trophy in front of the hometown fans. Led by Dallas Stars' Logan Stankoven and WHL Defenceman of the Year, Anaheim Ducks' Olen Zellweger, Kamloops is an explosive team that scored 66 goals over their 14 playoff games this year. Despite being knocked out by the Thunderbirds in the Western Conference Final, they were the only team to beat the WHL champions twice this postseason and will be motivated to enact some revenge during their round-robin game on May 31.
While Stankoven and Zellweger are projected to lead the team offensively, they are stacked with difference-makers throughout their lineup. Stars' Matthew Seminoff, Minnesota Wild's Caedan Bankier and Washington Capitals' Ryan Hofer all had 15 or more points during the playoff run and will be leaned upon to provide depth scoring throughout the tournament. Also, expect big tournaments from Toronto Maple Leafs' Fraser Minten, New York Islanders' Daylan Kuefler and Wild's Kyle Master, as they will be looked upon to be difference-makers at both ends of the ice. Lastly, Vegas Golden Knights' Jakub Demek will be making his second straight appearance in the Memorial Cup, so look for him to provide some guidance to the group on how to manage the pressure during the tournament.
This will be a big test and a great opportunity for 2023 NHL Draft goaltending prospect Dylan Ernst as he looks to shut down some of the best scorers from across the Canadian Hockey League (CHL). He played in all 14 games for the Blazers during the postseason posting a .913 save percentage (SV%) along with three shutouts showing that he has the capability to lead this team. If he can hold the opposition to three or fewer goals which he has done on eight separate occasions, including three times against Seattle, the Blazers should be in a position to hoist the trophy at the end of the tournament.
Seattle Thunderbirds
Memorial Cup Appearance: 3rd
Memorial Cup Championships: 0
Regular Season Record: 54-11-1-2, 3rd in WHL
Playoff Record: 16-3, Defeated Winnipeg ICE In WHL Final
NHL Drafted Players: 10
The Thunderbirds come into the Memorial Cup after defeating the Winnipeg ICE 4-1 in the WHL Final. After dropping the first game of the series, Seattle pulled off four straight victories, outscoring the ICE 17-7 during those games. Led by Winnipeg Jets Brad Lambert and Chicago Blackhawks Kevin Korchinski, the Thunderbirds are a force, with seven of their 10 NHL prospects being drafted in either the first or second rounds.
Related: Dylan Guenther's Arrival to T-Birds Spells Trouble for Opponents
---
Latest News & Highlights
---
Seattle is a deep team that gets scoring from their entire lineup, which makes them a nightmare to gameplan against. For example, teams can focus on trying to shut down Arizona Coyotes' Dylan Guenther and Nashville Predators' Reid Schaefer, but as soon as they jump off the ice, on comes Chicago's Colton Dach, Vegas' Jordan Gustafsson, Calgary Flames' Luca Ciona or Montreal Canadians' Jared Davidson. Not only do teams have to worry about the forwards, but they also need to ensure they are matching up well against the defence, as Chicago's Nolan Allen and Nashville's Luke Prokop know how to capitalize when given the opportunity. This is a group that plays as a unit and has shown time and time again throughout the regular season and playoffs just how difficult they are to beat.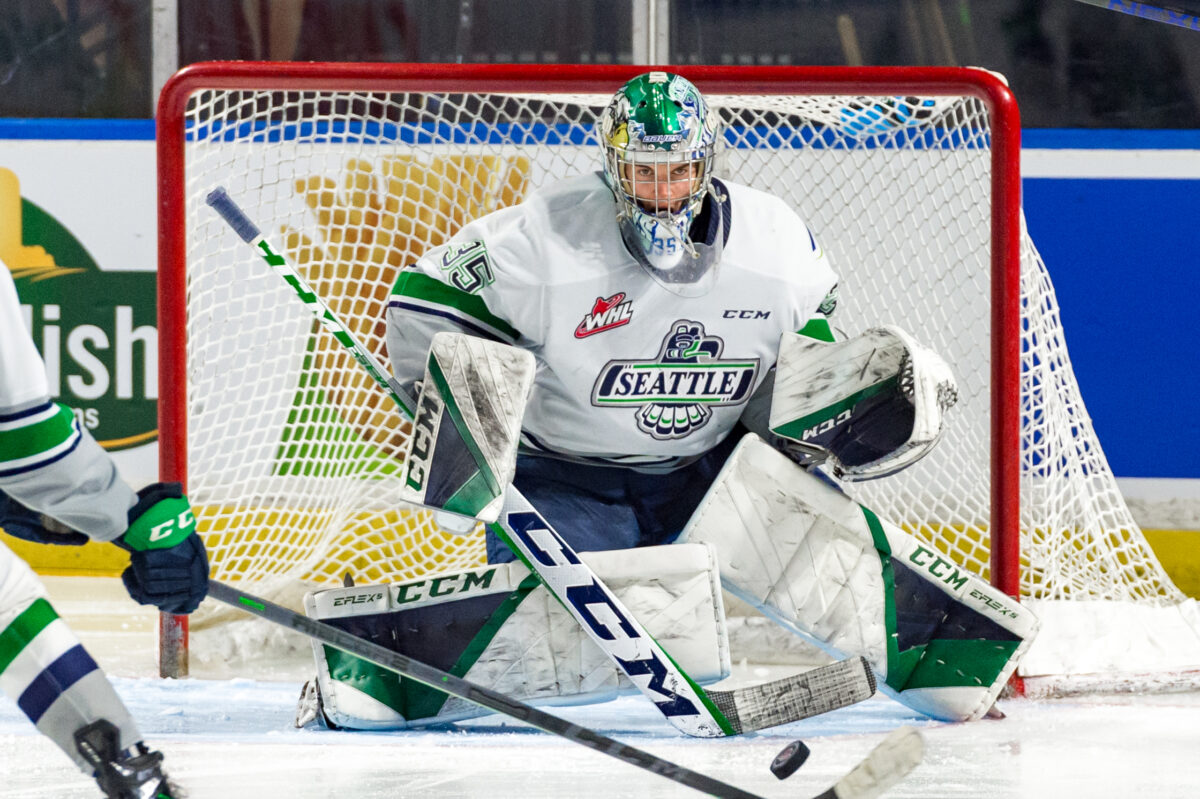 It isn't just the drafted prospects that will play a big role for Seattle, but those who should hear their name called at the 2023 NHL Draft as well. WHL Playoff MVP and goaltender Thomas Milic has been virtually unbeatable throughout the postseason, while Jeremy Hanzel, Nico Myatovic, Gracyn Sawchyn and Sawyer Mynio have been key pieces for the team all year. The Thunderbirds come into the tournament as the hottest team and will be looking to ride that momentum to their first-ever Memorial Cup championship.
Peterborough Petes
Memorial Cup Appearance: 10th
Memorial Cup Championships: 1
Regular Season Record: 35-29-2-2, 10th in OHL
Playoff Record: 16-7, Defeated London Knights in OHL Final
NHL Drafted Players: 8
Peterborough's run to the Memorial Cup has been impressive, especially considering that they have not had home-ice advantage since the first round. In order to make it to Kamloops, they had to beat the number one, two and fifth-ranked teams in the OHL and are now ready to take down some of the best the CHL has to offer. Led by Seattle Kraken's Tucker Robertson and Vancouver Canucks' Connor Lockhart, they won't be an easy out during the tournament and have a deep squad that will make life difficult for whoever lines up against them.
Related: Canadiens Prospect Beck a Cut Above Wright 
If the Petes are going to win the Memorial Cup, they will need big performances from their star players. New York Rangers' Brennan Othmann, as well as Canadiens' Owen Beck, have played key roles throughout the playoffs and will need to continue to rack up the points throughout the tournament. Also, expect a massive tournament from undrafted forward Avery Hayes who is making his second straight appearance after helping the Hamilton Bulldogs to the championship game last season. He is eligible to sign as a free agent and should have multiple teams lining up to add him to their organization, especially if he can lead Peterborough to the Final. Others that will need to step up include Philadelphia Flyers' Jon-Randall Avon and Brian Zanetti, as well as New Jersey Devils' Chase Stillman and Stars' Gavin White. The Petes showed they can get depth scoring throughout the playoffs; now they need their players to replicate that success throughout the Memorial Cup.
The key for the Petes, though, will be goaltender Michael Simpson. In 23 playoff games this year, he posted a .918 SV% and was named the OHL's Playoff MVP as he stopped 29 or more shots in each of the six games during the OHL Final. There were even two occasions where he made 50 or more saves as he did everything he could to push past the London Knights and into the Memorial Cup. A hot goaltender can win a team a championship, so if he can perform as he did against the Knights, it could be enough to land Peterborough in the Final.
Québec Remparts
Memorial Cup Appearance: 8th
Memorial Cup Championships: 2
Regular Season Record: 53-12-1-2, 1st in QMJHL
Playoff Record: 16-2, Defeated Halifax Mooseheads in QMJHL Final
NHL Drafted Players: 7
The Remparts were not only the best team in the QMJHL Playoffs but arguably the entire CHL Playoffs. They only suffered two losses, which both came in the Final and outscored their opponents 78 to 42 through their 18 games. Led by Carolina Hurricanes' Justin Robidas and St. Louis Blues' Zachary Bolduc, they are a well-oiled machine thanks in large part to head coach and one of the greatest goaltenders in NHL history, Patrick Roy.
Related: QMJHL Final Preview – Halifax vs. Quebec
When looking at the Remparts roster, it is easy to see why they have been one of the strongest teams in the CHL from start to finish. QMJHL Final MVP and Columbus Blue Jackets' James Malatesta has developed into a stud, while Ducks' Nathan Gaucher has become one of the most difficult and frustrating players to play against in the league. On the back end, Florida Panthers' Evan Nurse, Coyotes' Jérémy Langlois and Buffalo Sabres' Vsevolod Komarov have provided stability throughout the playoffs, while undrafted forward Théo Rochette continues to light up the scoreboard in the hopes he can nab an entry-level contract after the season comes to a close. They are a smart team that knows how to play off each other well, which is one of the many reasons why they were so dominant throughout the postseason.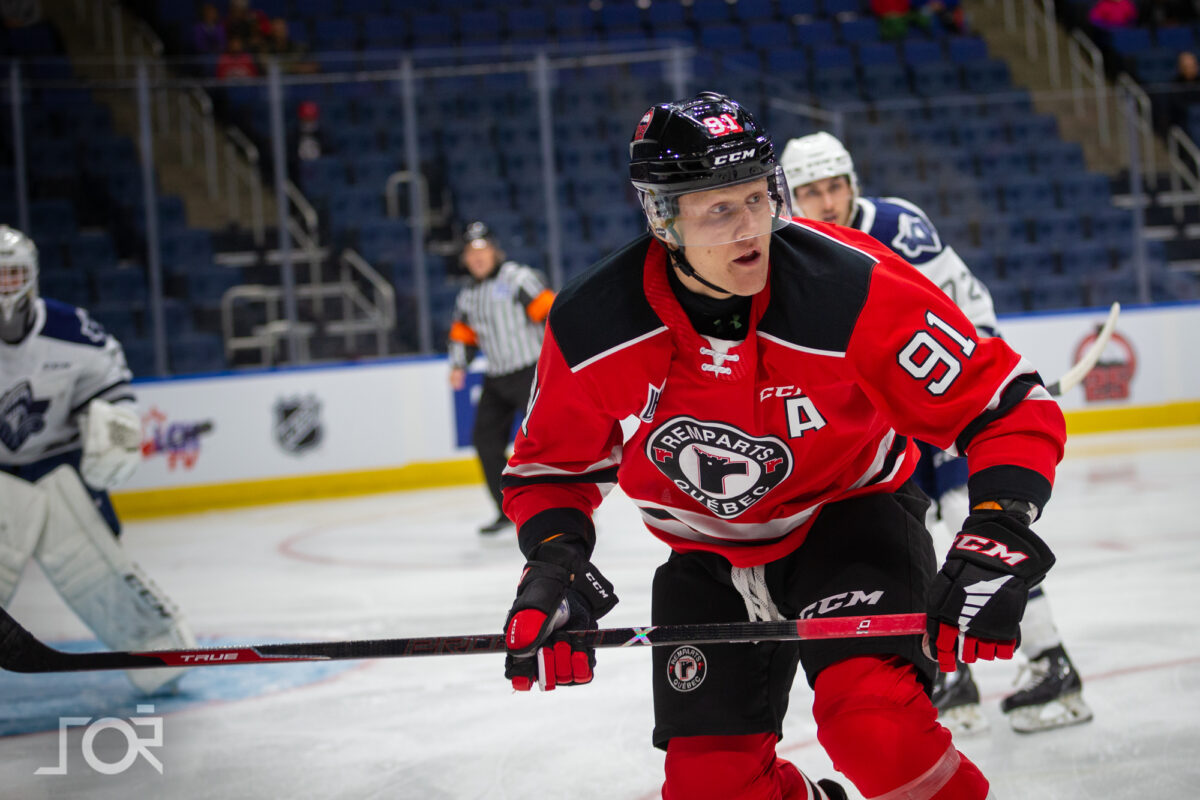 Looking at the goaltending situation, it will be interesting to see how William Rousseau plays throughout the tournament. He was strong during the playoffs posting a .915 SV% but only faced 30 or more shots four times over the 18 games. If he can continue to stand his ground and manage the increase in shots faced, then Québec has a very high chance of making it through to the Memorial Cup Final.
Four Teams Ready To Make History
Regardless of which team walks away with the championship, the tournament itself promises to be one of the most exciting in recent memory. Each team has strong scoring depth, which should lead to thrilling back-and-forth action throughout the event. Make sure to tune in across the ten days to find out who walks away as Memorial Cup champions.