The Seattle Kraken are starting to build a strong prospect pool. From draft picks to free-agent signings, the young players Seattle has added to their organization have impressed this season. Whether these prospects eventually play for the Kraken or are used in trades, most should make a meaningful impact on the organization in one way or another.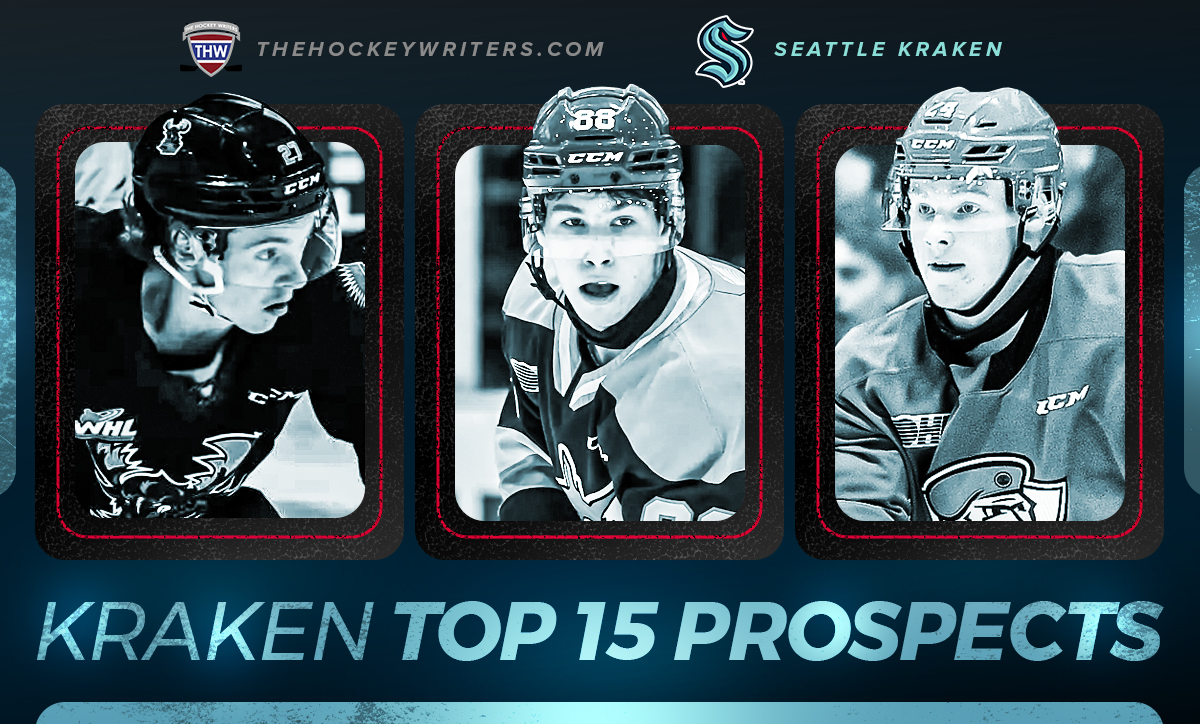 Note: To qualify for this list, a player must be 22 or under and played no more than 25 NHL games in their career. Statistics are from the end of the night on Feb. 14, 2022. The players are ranked based on the following criteria:
Overall potential (how good of a player can the prospect become?)
NHL projectability (what type/level of player will the prospect most likely become?)
NHL readiness (how close to the NHL is the prospect?)
Importance of position (centers and defensemen tend to be valued higher than wingers and goalies.)
Age (how much room/time does the prospect have to grow/develop?)
Without further ado, here is a look at the top-15 prospects in the Kraken's system before the NHL Trade Deadline.
15. (G) Semyon Vyazovoy- 2021, 163rd Overall
2022-23 Stats: Toros Neftekamsk (VHL), 22 Games Played (GP)- 13-7-1, 2.20 Goals Against Average (GAA), .923 Save Percentage (SV%), 1 Shutout (SO) Tolpar Ufa (MHL)- 20 GP, 9-8-3, 2.61 GAA, .930 SV%, 3 SO
The only goaltender to receive a ranking, Russia keeper Semyon Vyazovoy is a long-term project, but one Kraken fans should keep an eye on. Listed at 6-foot-3, 183 pounds, he has bounced between the MHL, Russia's junior league and VHL, Russia's second division just under the Kontinental Hockey League (KHL) all season. He has been with Toros Neftekamsk of the VHL since the beginning of January, making 10 starts and recording a 5-4-1 record during that time.
The issue with Vyazovoy is the same one many teams face when it comes to Russian players. Will he come over to North America? He is 19, so there is some time for the Kraken to try and convince him to make the move to North America, so this will be a situation to monitor over the next few seasons. As for right now, he has developed into one of Russia's top young goaltenders and should see some action in the KHL next season.
14. (LW) Justin Janicke- 2021, 195th Overall
2022-23 Stats: University of Notre Dame (NCAA)- 31 GP, 6 G, 7 A, 13 P
Justin Janicke finished his second season at the University of Norte Dame with 13 points in 31 games. The 19-year-old left winger was a top-six winger for the Fighting Irish and spent time on a line with Chayse Primeau and Chicago Blackhawks winger Landon Slaggert this season. He also had the opportunity to play with his older brother, Anaheim Ducks prospect Trevor Janicke who was tied for the team lead with eight goals this season.
The 19-year-old has impressed this season playing against older competition and set new career highs in goals and points. He is also just one point off tying his career high for assists with two games remaining in the campaign. A prospect Kraken fans most likely won't see for a few more years as he finishes out his National Collegiate Athletic Association (NCAA) career, his development since being drafted is something fans in Seattle should be excited about.
13. (D) Tyson Jugnauth- 2022, 100th Overall
2022-23 Stats: University of Wisconsin (NCAA)- 26 GP, 5 G, 7 A, 12 P
Tyson Jugnauth has started to find his groove at the University of Wisconsin as the season comes to a close. The 18-year-old is seeing time on the power play and recently recorded his first career multi-goal game against powerhouse the University of Michigan. A player who isn't afraid to get the puck on the net with 43 shots in 26 games, his first year in the NCAA should be considered a success as he proved he can play well despite being one of the youngest players across at the college level.
Related: Seattle Kraken 2022 NHL Draft Recap & Grade
---
Latest News & Highlights
---
Jugnauth getting opportunities this early in his NCAA career shows just how much potential he has. After a slow start, he will end the season as the third-best 2004-born defenceman in the league and could be the Wisconsin Badgers' best d-man next season. He is an intriguing prospect and one that if he continues to develop on this trajectory, could make the NHL as soon as his University career concludes.
12. (C) Tye Kartye- 2022 Free Agent Signing
2022-23 Stats: Coachella Valley Firebirds (AHL) 42 GP, 9 G, 15 A, 24 P
After signing with the Kraken near the end of the 2021-22 season, Tye Kartye has enjoyed some success during his season in the American Hockey League (AHL). The 21-year-old center sits eight on the team in points and has contributed on special teams with four power-play points and also a shorthanded assist. Overall, he has been a good depth signing for the Firebirds and has helped them compile one of the best records in the AHL this season.
Katrye's strong transition to the AHL this year is a testament to the Kraken's scouting staff being able to identify undrafted overagers from the Canadian Hockey League (CHL) who can make the jump and be successful in the AHL. He sits just outside the top 20 for rookie points this season and could be a candidate during the 2024-25 season for a call-up to the NHL. He has been impressive through his first 42 games this season and should play a valuable role for the Firebirds come playoff time.
11. (C) Ryan Winterton- 2021, 67th Overall
2022-23 Stats: London Knights (OHL)- 18 GP, 6 G, 12 A, 17 P
Ryan Winterton has a lot of potential but is the unluckiest prospect in the Kraken organization. He missed his entire draft season to the COVID-19 pandemic and has missed significant time the last two seasons due to injury. The good news, however, is when healthy and allowed to play, he continues to show why Seattle jumped at the opportunity to draft him back in 2021.
After spending his entire career with the Hamilton Bulldogs organization, Winterton was traded to the London Knights on Jan. 2, 2023. He had not played a game for the Bulldogs this year due to injury but has made up for lost time with a strong start to his Knights career. On top of his 17 points in 17 games, he has also won 60% of his faceoffs and is riding an eight-game point streak at the time of writing. A prospect who can play on the wing or at center, he has the potential to make the NHL one day if he can stay healthy.
10. (D) Ville Ottavainen- 2021, 91st Overall
2022-23 Stats: JYP (Liiga)- 44 GP, 4 G, 9 A, 13 P
Ville Ottavainen is a gigantic right-shot defenceman, who is currently playing in Finland's top division, Liiga. He is currently listed at 6-foot-5, 216 pounds, and is just 20 years old. Known as a shutdown defenceman, the one main difference between his play this season and last in Liiga is he has become more disciplined, seeing his penalty drop from 59 in 2021-22 to 28 this year.
Related: Kraken Prospect Report: 2021 Draft Class Season Recap
When breaking down Ottavainen's season, one thing sticks out. Despite being known as a defensive defenceman, he isn't afraid to rack up the shot totals. He has recorded a shot on goal in all but eight games this season and was credited with 10 against Ässät back in November. Even though JYP are struggling this season and are projected to miss the playoffs, it is an encouraging sign that he is not only getting a ton of opportunities but showing he can be an effective defender in Liiga this year.
9. (C) Kyle Jackson- 2022, 196th Overall
2022-23 Stats: North Bay Battalion- 51 GP, 28 G, 48 A, 68 P
Kyle Jackson is dominating the Ontario Hockey League (OHL) in his overager season, sitting tied for eight across the entire league in points. He is also the only player in the OHL who has 60 or more points and under 10 penalty minutes as he has only recorded eight on the year. A dynamic player who has improved his playmaking ability this season, Kraken fans can expect to see him with the Firebirds next season.
Jackson has impressed not just in the offensive zone but all over the ice. In the faceoff dot, he has a 50.4% win percentage of 854 faceoffs and has a plus-14 through his 51 games. With the playoffs upcoming, he has a chance to really shine and show what makes him such an intriguing prospect.
8. (RW) Jani Nyman- 2022, 49th Overall
2022-23 Stats: Ilves (Liiga)- 28 GP, 10 G, 4 A, 14 P
Jani Nyman has had an up-and-down season, highlighted by a promotion to Liiga early on and a decent World Juniors campaign. The 18-year-old winger also signed an extension early on the season with Ilves that will keep him in Finland through the 2023-24 season. A player with a great size and a fantastic shot, he fits the mould of a player the Kraken have built their team around and could be a difference maker if developed properly.
Nyman playing in Liiga at 18 and getting over 10 minutes per game is a great sign that his development is on the right track. He had a three-game goal streak in January and has shown an ability to generate offensive chances, even if they don't lead directly to goals. After his contract with Ilves is complete, fans should expect to see him in the AHL during the 2024-25 season.
7. (RW) Jacob Melanson- 2021, 131st Overall
2022-23 Stats: Acadie-Bathurst Titan (QMJHL)- 27 GP, 25 G, 19 A, 44 P Sherbrooke Phoenix (QMJHL)- 16 GP, 13 G, 14 A, 27 P
Jacob Melanson is having a strong 19-year-old season in the Quebec Major Junior Hockey League (QMJHL) and finds himself alone in eight for league scoring with 71 points in 43 games. He also sits tied for second in goals across the QMJHL with 38 and is just five off the league leader. Now in his fourth QMJHL season, he is above a point per game for his career and could finish this season as a 100-point player.
Since being traded from the Titan to the Phoenix, Melanson's offensive game has gotten slightly better going from 1.63 points per game to 1.69 in Sherbrooke. He also recorded a point in every single game he has played while wearing a Phoenix jersey this season. Sherbrooke is expected to make a long playoff run this season, and without a doubt, his play will be a major factor in whether or not they can make it to the QMJHL Final.
6. (C) Tucker Robertson- 2022, 123rd Overall
2022-23 Stats: Peterborough Petes (OHL)- 51 GP, 31 G, 41 A, 72 P
Tucker Robertson is running away with the scoring lead on the Petes' as his 72 points are 13 more than the next-best player on the team. He also sits 12 points back in the OHL points lead and 10 back of the league-leading goal scorer. He has become a leader for Peterborough this year, not just on the ice but off it, as well as evidenced by the "A" that has been on his jersey this season.
Related: Seattle Kraken Prospect Report: Wright, Firkus, Robertson & More
Robertson is not just a dynamic goal scorer, he also is fantastic in the faceoff dot. This season, he has won 609 of his 1056 faceoffs which is good enough for a 57.7% win percentage. He continues to improve at both ends of the ice and is making Seattle look very smart for selecting him in the fourth round of last year's draft.
5. (RW) Jagger Firkus- 2022, 35th Overall
2022-23 Stats: Moose Jaw Warriors (WHL)- 51 GP, 28 G, 35 A, 63 P
Jagger Firkus, or as he is known in the Western Hockey League (WHL) as " The Firkus Circus", is arguably the most skilled player in the Kraken's prospect pool. He often dazzles with his puck possession skills and seems to pull off moves some NHLers can't while skating at full speed. From an offensive point of view, he has what it takes to make the NHL.
Where the question lies is in his defensive game. This is one area that hasn't improved at the rate expected and has been a concern throughout the year. Firkus is unbelievably talented but needs to develop his two-way game, especially considering how much of an emphasis Seattle places on their players being strong defensively.
4. (D) Ty Nelson- 2022, 68th Overall
2022-23 Stats: North Bay Battalion (OHL)- 51 GP, 19 A, 42 A, 61 P
Ty Nelson has kicked his game into another gear this season and recently set the record for most points by a defenceman in North Bay Battalion's history. He currently sits one point back for most goals in the OHL by a defenceman and four points back of first in points by a defender. He has been a point-producing machine this season and is projected to pass the 80-point mark this season.
Nelson is as strong in the defensive zone as he is in the offensive zone which makes him such an intriguing prospect. He can be physical if needed and can transition the puck with either a strong first pass or by carrying it out of the zone with speed. There is little doubt he will be nominated as a finalist for OHL Defenceman of the Year and will be a prospect to keep an eye on down the stretch and into the playoffs.
3. (C) David Goyette- 2022, 61st Overall
2022-23 Season Stats: Sudbury Wolves (OHL)- 45 GP, 31 G, 35 A, 65 P
Watching David Goyette play shows why the Kraken were ecstatic he fell to them at 61st overall in the last draft. A player who seemingly can do it all, he is the type of center prospect teams are always keen to add to their organization. He has been effective at both ends of the ice and has raised his game to the point where he is the Wolves' best player this season.
One part of Goytette's game that isn't discussed enough is his hockey sense. He is able to slow down the play and create offensive chances, whether that is through his passing game or getting the puck on the net. Another Kraken prospect who is on pace for over 90 points this season, he could easily be a top-10 player in the OHL next season.
2. (D) Ryker Evans- 2021, 35th Overall
2022-23 Stats: Coachella Valley Firebirds (AHL): 41 GP, 4 G, 22 A, 26 P
Ryker Evans is enjoying quite a lot of success during his first season in the AHL. The rookie defenceman sits sixth on the team in points and was selected to the AHL All-Star Game this season. He has become a key part of the Firebirds' team, and his strong play could lead to a call-up if the Kraken suffer injuries on the blue line down the stretch.
Coming into the season, the questions around Evans were can he play at the AHL level, and can he continue to produce without having Connor Bedard on his team. The answer to both these questions has been yes as he has exceeded expectations in his rookie campaign. He is the Kraken's best defensive prospect at the moment, and as mentioned, should see some NHL action sooner rather than later.
1. (C) Shane Wright- 2022, 4th Overall
2022-23 Stats: Seattle Kraken (NHL): 8 GP, 1 G, 1 A, 2 P Coachella Valley Firebirds (AHL): 5 GP, 4 G, 4 P Windsor Spitfire (OHL): 7 GP, 6 G, 8 A, 14 P
The best way to describe Shane Wright's first year as a pro is chaotic. Over the past five months, he has played in the NHL, been healthy scratched for long stretches of time, been sent to the AHL, captained Canada to Gold at the World Juniors, has his rights traded in junior and currently finds himself playing for the Windsor Spitfire in the OHL. Despite all the movement, he has performed well this year and continues to be the Kraken organization's top prospect.
Related: Kraken Make the Wright Pick at Fourth Overall
Since returning to the OHL, Wright has been on fire posting two points per game. He has recorded at least a point in every game this season and has added another element to an already-stacked Spitfire's team. Expected to make the jump to the NHL full-time next season, he should have a playoff to remember as he looks for a Memorial Cup Championship to end his junior career.
Honourable Mentions
Luke Henman
Ben MacDonald
Niklas Kokko
Peetro Seppälä
---
---