Tonight the Toronto Maple Leafs take on the Chicago Blackhawks. The good news is that Auston Matthews will return to the lineup. 
As well, with the trade deadline speeding down the tracks, what news is emerging about the team's desire for finding helpful assets for the postseason? Finally, what's the status of the very tall Curtis Douglas, who was traded earlier this season for Conor Timmins?
Item One: Matthews Returning After Five Games Away
Auston Matthews, the center for the Toronto Maple Leafs, has been out for five games due to a knee sprain he suffered during a match against the New York Rangers on Jan. 25. In his absence, the Maple Leafs played five games – winning three and losing two.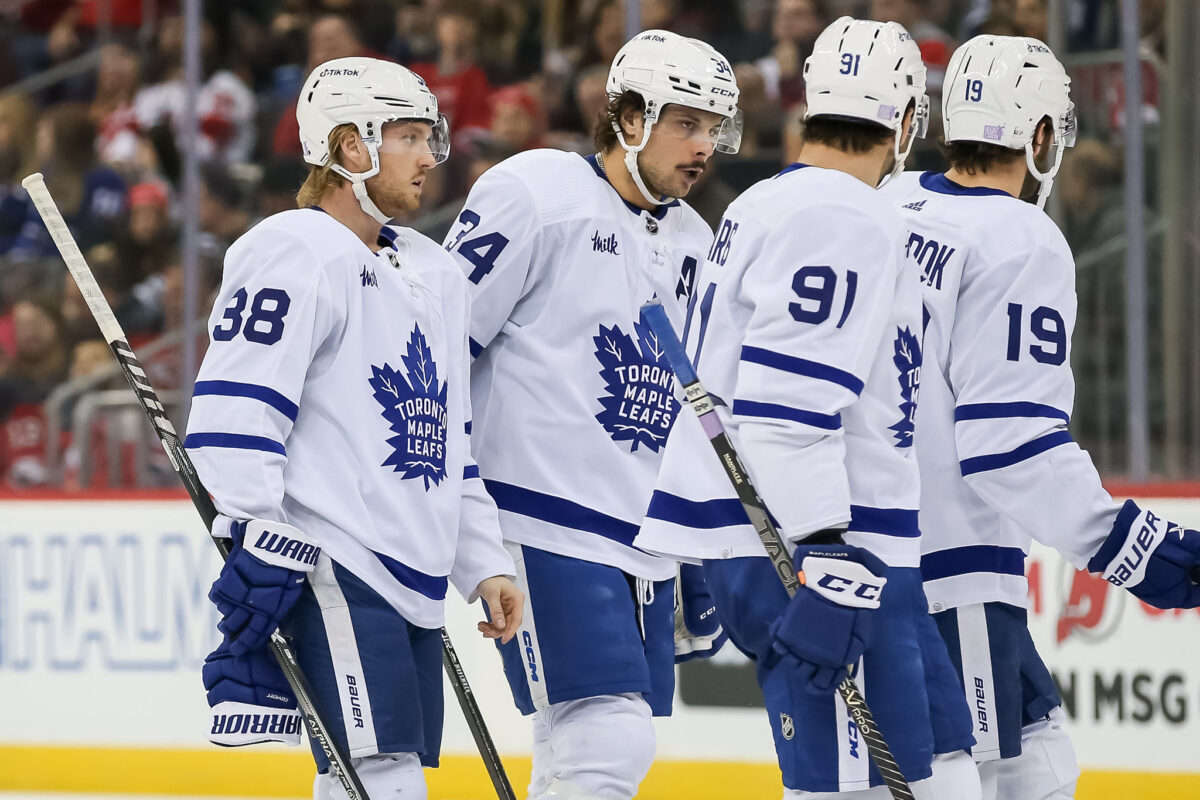 The most recent Maple Leafs' loss to the Columbus Blue Jackets suggested just how much Matthews was missed. He could have been – either offensively or defensively – a difference-maker in that game. They needed him.
Tonight, Matthews will return against the Chicago Blackhawks; and, interestingly enough he'll likely be on a line with mates Michael Bunting and William Nylander. On the season, Matthews has scored 25 goals and added 28 assists (for 53 points) in 47 games. 
Related: Maple Leafs' Auston Matthews Is Undergoing a Transformation
To make space for Matthews on the roster, the Maple Leafs loaned forward Alex Steeves to the AHL's Toronto Marlies.
Item Two: Insider Reports Maple Leafs Interest in Timo Meier
While I simply don't see this trade happening, according to TSN hockey insider Pierre LeBrun, the Maple Leafs are one of the many teams interested in acquiring San Jose Sharks forward Timo Meier at the NHL trade deadline on March 3. There is no question that Meier is a top trade target, but the question is whether the Maple Leafs would be willing to move out enough assets to acquire him. 
---
Latest News & Highlights
---
Meier is a restricted free agent who has scored 31 goals and added 21 assists (for 51 points) in 55 games this season. The sticking points for me are that (a) he'd likely be a rental, which means he'd play 50 games or so with the team in total; and (b) if the Maple Leafs were interested in keeping him past this season, they'd need to offer him a qualifying offer of $10 million. 
Related: What Maple Leafs Fans Should Know About a Timo Meier Trade
There would be some hope that the Maple Leafs could negotiate a lower-price extension, but that might be wishful thinking.
Item Three: Will the Maple Leafs Go for a Cheaper Veteran Defenseman?
I also don't believe the Maple Leafs are in on the Jakob Chychrun sweepstakes. Given the growth of the team's defense this season, which I think was a pleasant surprise, it would seem that there are likely a number of stabilizing veterans who would answer the team's need for a short-term fix. 
Luke Schenn is my favorite of those on the trade board. He's a 33-year-old right-shot defenseman now playing for the Vancouver Canucks. No surprise, he's currently on a large number of trade target boards leading to the NHL trade deadline.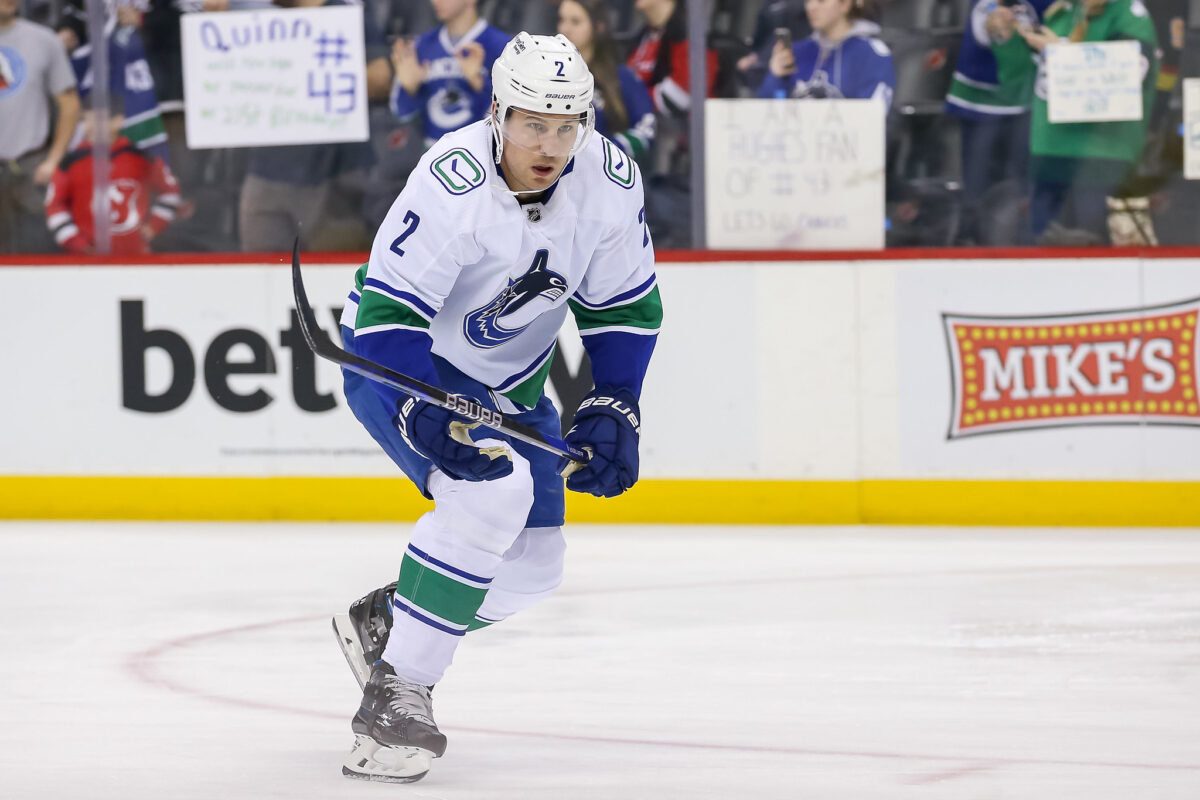 Four things make Schenn attractive. First, he plays solid hockey and can handle a second or third-pairing role for the team. Second, he's 6-foot-2 and 225 pounds with a physical streak. He can (and does) play tough in-your-face hockey. Third, he has a history with the Maple Leafs; he played his first four NHL seasons in Toronto. Fourth, he's on a very reasonable contract. He's a pending unrestricted free agent making $850,000.
The Canucks would be silly not to move him for assets at the trade deadline. Although there have been rumors of a possible contract extension in Vancouver, this is one of those having your cake and eating it too, moments. He could easily re-sign in Vancouver.
Related: Revisiting the Capitals' Disastrous Jagr Trade
Schenn would be a good fit as insurance or in a rotating role. There has to be a long lineup for his services, and it could be that the Maple Leafs would be unwilling to pony up enough for the Canucks' liking. But, as I say, he'd be my target. 
What's Next for the Maple Leafs?
Speaking of defensemen, the team's defense took a step forward when they traded for right-shot defenseman Conor Timmins. Recently the team signed him to a two-year contract extension. Despite his lack of experience, Timmins has shown promise in his 18 games with the team so far. He has also contributed a goal and 11 assists. His extension means that the Maple Leafs are committed to him as part of their future plans. 
So, what happened to the young forward the team traded to the Arizona Coyotes? That was 6-foot-9 Curtis Douglas.
When Douglas moved to Arizona, he was assigned to the Tucson Roadrunners. There he's been busy trying to prove his value to his new franchise. With the Roadrunners, in 28 games, he's scored three goals and added five assists (for eight points). 
In late January, Douglas was also involved in his fourth fight since he's been in Tucson. The 22-year-old forward is currently second on the team in total fights this season. It's a tough way to make a living, but Douglas is literally fighting for a spot in the NHL.
---
---