Welcome back to my final rankings for the 2023 NHL Draft!
It's been a very exciting season when it came to scouting for the 2023 NHL Draft as there is a lot of elite level skill. This is probably the deepest draft since the 2015 class with another phenom leading the way in Connor Bedard. While the sole focus has been on him this season, other players have stood out.
Adam Fantilli won the Hobey Baker Award as the top collegiate player. Will Smith decimated the competition at the World U18 Championship winning a gold medal and being named MVP. Leo Carlsson continued to shine no matter what level he played at, showing his strong two-way game and maturity. It was an absolute treat to watch these top names and every other prospect in action this season.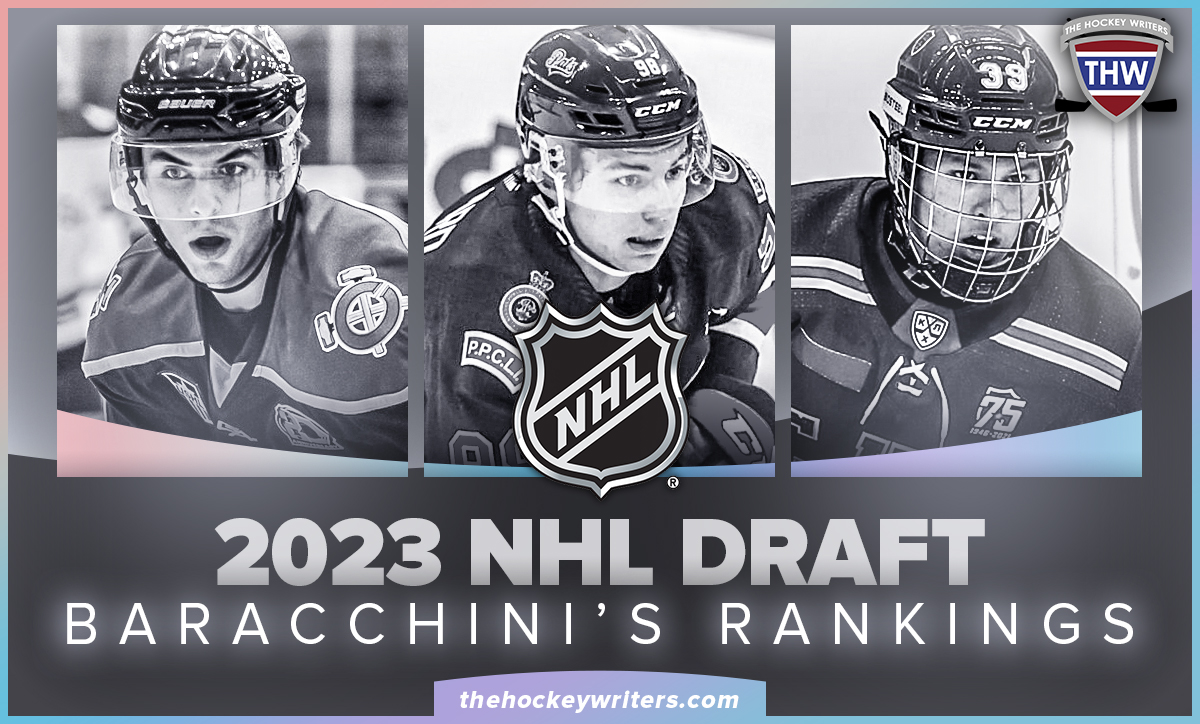 Before we get into my final rankings of my top 128 prospects, I want to highlight some names that deserve attention. I may not have had the time previously to talk about them, but now is the perfect time to do so. 
Gracyn Sawchyn has been one player that has constantly gained attention this season for his skillset and work ethic alone. He had a strong draft year with 58 points in 58 games. While he's a smaller player and can look to add more muscle and add some strength, his ability to constantly scan the ice and make plays stands out. His footspeed and agility allow him to create opportunities anywhere on the ice. He's effective defensively with his positioning and can close gaps quickly to pressure attackers. He's been an early second-round pick for me most of the season, but his play and upside has vaulted him into my first round. 
Denver Barkey caught my attention early on in the season with the London Knights. From beginning to end, he has been a consistent playmaking threat. He's extremely creative with his puck handling and can be very elusive with his movements. Much like Sawchyn, he's on the smaller side, but the moves that he can make with the puck is impressive. He played in the CHL Top Prospects game and after recording 59 points in 61games, he elevated his production to 24 points in 20 playoff games. His playmaking was once again on display, but his ability to sneak in undetected and score some greasy goals in front of the net, shows his willingness to attack the crease. That should give teams some assurance that he's a battler and that his size shouldn't be a concern.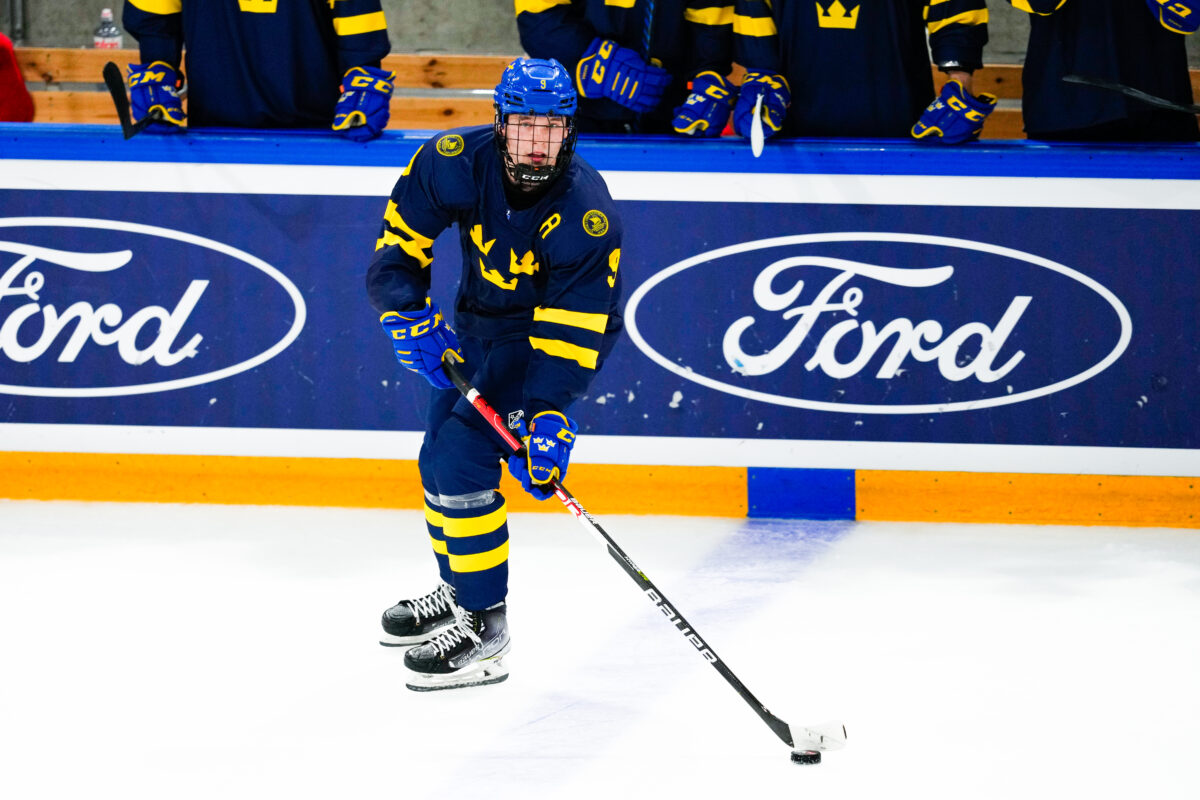 Coming into his draft year, Theo Lindstein was slated to be a top-15 or top-20 pick. However, many wondered what his upside would be and his offensive production wasn't quite there given his puck moving abilities. There's a lot to like with his strong blend of mobility and two-way play. He had his ups and downs during the season, but it was at the World U18 Championship where he started to improve his stock with his overall play. With five points in seven games, Lindstein showed great confidence with and without the puck. He has the foundation and if the offense can be consistent, he'll be a great addition for any team.
I feel that Erie Otters forward Carey Terrance might be flying under the radar. The team itself struggled this season but he was a bright spot, leading the team in goals with 30 and points with 47. He's a very swift skater with great agility, edges and footspeed and has a quick shot and accuracy to find the back of the net consistently as his goal tally suggests. He's deceptive with his movements in transition and is always attacking the middle of the ice. He has a gold medal to his name as he was on a deep Team USA squad that won gold at the World U18 Championship. 

Without further ado, here's my final top-128 for the 2023 NHL Draft.
First Round
1. Connor Bedard, C, Regina Pats (WHL)
2. Adam Fantilli, C, University of Michigan (NCAA)
3. Leo Carlsson, C, Örebro HK (SHL)
4. Will Smith, C, USA U18 (USDP)
5. Matvei Michkov, RW, HK Sochi (KHL)
6. Zach Benson, C/LW, Winnipeg Ice (WHL)
7. Ryan Leonard, RW, USA U18 (USDP) 
8. Dalibor Dvorsky, C, AIK (HockeyAllsvenskan)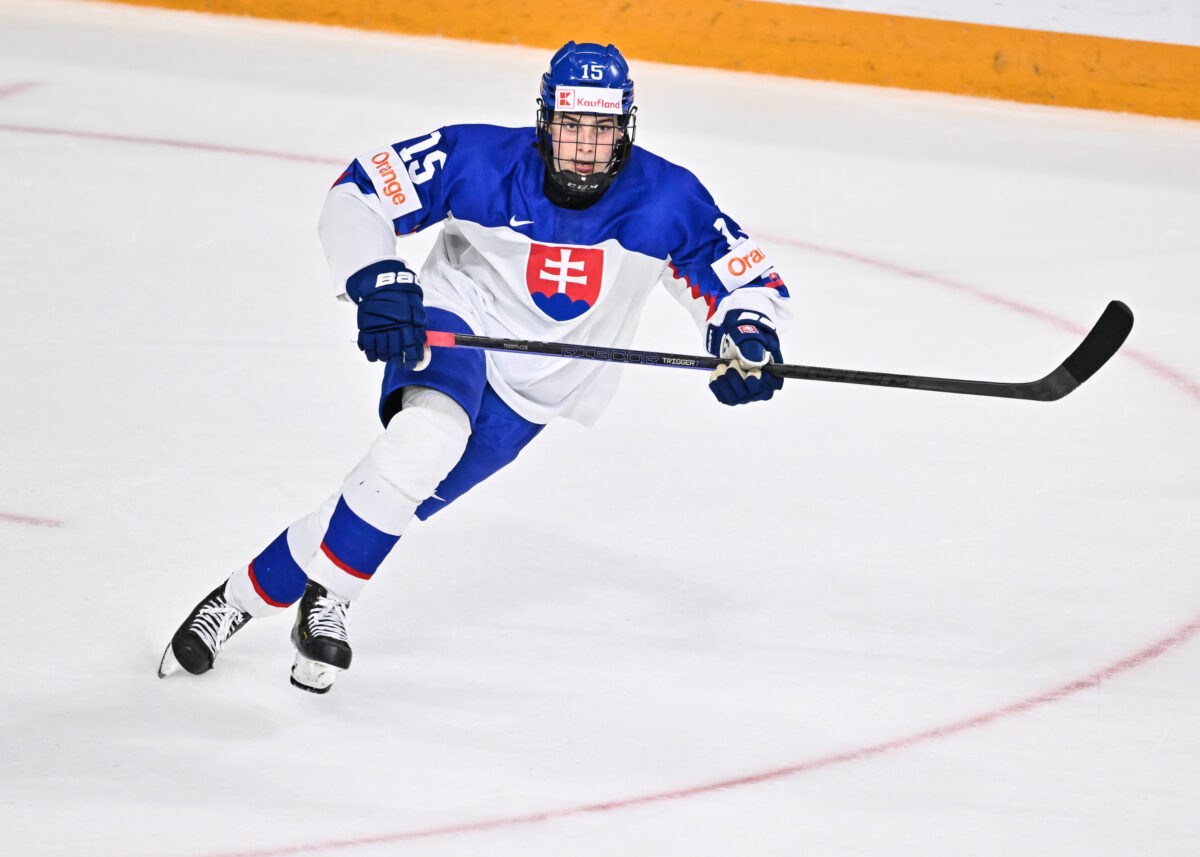 9. Colby Barlow, LW, Owen Sound Attack (OHL)
10. Oliver Moore, C, USA U18 (USDP)
11. David Reinbacher, D, EHC Kloten (SUI) 
12. Matthew Wood, RW, University of Connecticut (NCAA)
13. Nate Danielson, C, Brandon Wheat Kings (WHL)
14. Axel Sandin Pellikka, D, Skellefteå AIK J20 (Nationell)
15. Brayden Yager, C, Moose Jaw Warriors (WHL)
16. Otto Stenberg, C/W, Frölunda J20 (Nationell)
17. Eduard Šalé, RW, HC Kometa Brno (Czechia)
18. Calum Ritchie, C, Oshawa Generals (OHL)
19. Andrew Cristall, LW, Kelowna Rockets (WHL)
20. Riley Heidt, C, Prince George Cougars (WHL)
21. Samuel Honzek, LW, Vancouver Giants (WHL)
22. Gabe Perreault, RW, USA U18 (USDP)
23. Tom Willander, D, Rögle BK J20 (Nationell)
24. Gavin Brindley, RW, University of Michigan (NCAA)
25. Ethan Gauthier, RW, Sherbrooke Phoenix (QMJHL)
26. Koehn Ziemmer, RW, Prince George Cougars (WHL)
27. Mikhail Gulyayev, D, Omskie Yasterby (MHL)
28. Gracyn Sawchyn, C, Seattle Thunderbirds (WHL)
29. Oliver Bonk, D, London Knights (OHL)
30. Quentin Musty, LW, Sudbury Wolves (OHL)
31. Jayden Perron, RW, Chicago Steel (USHL)
32. Trey Augustine, G, USA U18 (USDP)
Second Round
33. Tanner Molendyk, D, Saskatoon Blades (WHL)
34. Luca Cagnoni, D, Portland Winterhawks (WHL)
35. Kasper Halttunnen, RW, HIFK (U20 SM-sarja)
Related: NHL Draft Rankings – Horn's Top 100 for May
36. Carson Rehkopf, C, Kitchener Rangers (OHL)
37. Luca Pinelli, C, Ottawa 67's (OHL)
38. Daniil But, LW, Loko Yaroslavl (MHL)
39. Theo Lindstein, D, Brynäs IF (SHL)
40. Dmitri Simashev, D, Loko Yaroslavl (MHL)
41. Bradley Nadeau, C, Penticton Vees (BCHL)
42. Etienne Morin, D, Moncton Wildcats (QMJHL)
43. Anton Wahlberg, C, Malmö Redhawks (SHL)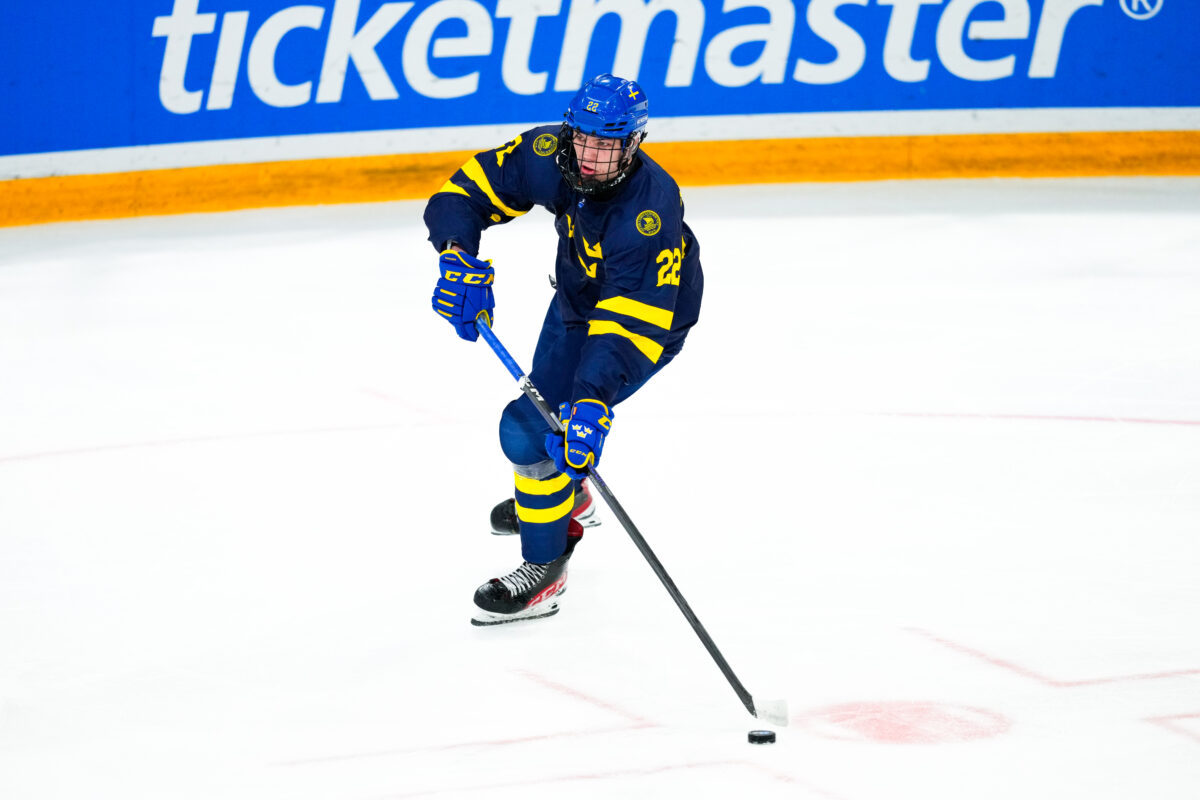 44. Oscar Fisker Molgaard, C, HV71 (SHL)
45. Lukas Dragicevic, D, Tri-City Americans (WHL)
46. Beau Akey, D, Barrie Colts (OHL)
47. Michael Hrabal, G, Omaha Lancers (USHL)
48. Charlie Stramel, F, University of Wisconsin (NCAA) 
49. Zeb Forsfjäll, C, Skellefteå AIK J20 (Nationell)
50. Scott Ratzlaff, G, Seattle Thunderbirds (WHL)
51. Denver Barkey, C, London Knights (OHL)
52. Nick Lardis, LW, Hamilton Bulldogs (OHL)
53. Kalan Lind, F, Red Deer Rebels (WHL)
54. Roman Kantserov, RW, Stalnye Lisy Magnitogorsk (MHL)
55. Alex Ciernik, LW/RW, Södertälje SK (HockeyAllsvenskan)
56. William Whitelaw, C, Youngstown Phantoms (USHL)
57. Hunter Brzustewicz, D, Kitchener Rangers (OHL)
58. Carson Bjarnason, G, Brandon Wheat Kings (WHL)
59. Lenni Hämeenaho, RW, Ässät (Liiga)
60. Maxim Strbak, D, Sioux Fall Stampede (USHL)
61. Tristan Bertucci, D, Flint Firebirds (OHL)
62. Noah Dower Nilsson, C, Frölunda HC J20 (Nationell)
Third Round
63. Felix Nilsson, C/W, Rögle BK J20 (Nationell)
64. Coulson Pitre, RW, Flint Firebirds (OHL)
65. Mathieu Cataford, RW, Halifax Mooseheads (QMJHL)
66. Caden Price, D, Kelowna Rockets (WHL)
67. Nico Myatovic, LW, Seattle Thunderbirds (WHL) 
Related: 2023 NHL Entry Draft – Top 10 OHL Prospects
68. Carey Terrance, C, Erie Otters (OHL)
69. Jayson Shaugabay, RW, Warroad High (HIGH- MN)
70. Timur Mukhanov, LW, Omskie Yastreby (MHL)
71. Aiden Fink, RW, Brooks Bandits (AJHL)
72. Easton Cowan, RW, London Knights (OHL)
73. Andrew Strathmann, D, Youngstown Phantoms (USHL)
74. Aram Minnetian, D, USA U18 (USDP) 
75. Noel Nordh, RW, Brynäs IF J20 (Nationell)
76. Aydar Suniev, LW, Penticton Vees (BCHL)
77. Thomas Milic, G, Seattle Thunderbirds (WHL)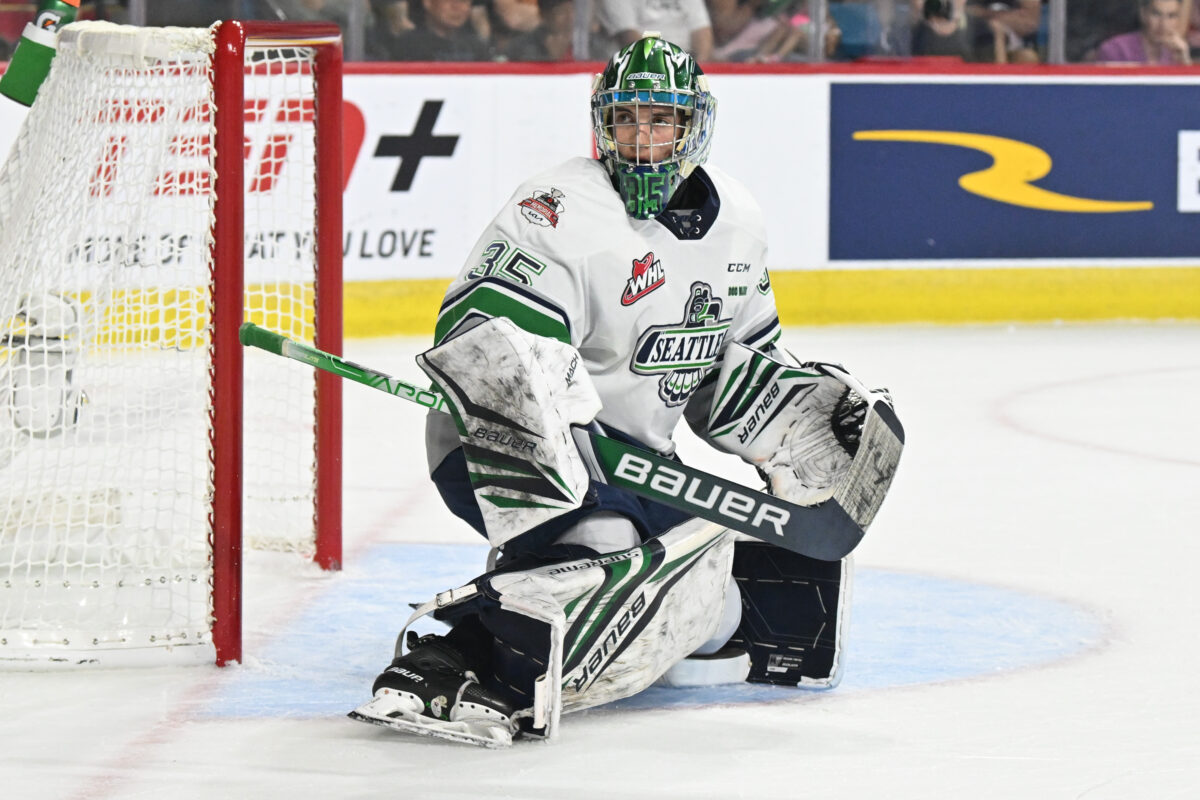 78. Andrew Gibson, D, Soo Greyhounds (OHL)
79. Felix Unger Sörum, RW, Leksands IF J20 (Nationell)
80. Matthew Soto, F, Kingston Frontenacs (OHL)
81. Alexander Rykov, RW, Belye Medvedi Chelyabinsk (MHL)
82. Dylan MacKinnon, D, Halifax Mooseheads (QMJHL)
83. David Edstrom, C, Frölunda HC J20 (Nationell)
84. Gavin McCarthy, D, Muskegon Lumberjacks (USHL)
85. Danny Nelson, C, USA U18 (USDP)
86. Ethan Miedema, LW, Kingston Frontenacs (OHL)
87. Matthew Mania, D, Sudbury Wolves (OHL)
88. Arvid Bergström, D, Djurgårdens IF J20 (Nationell) 
89. Martin Misisak, RW, Youngstown Phantoms (USHL)
90. Jesse Nurmi, F, KooKoo U20 (SM-sarja)
91. Cameron Allen, D, Guelph Storm (OHL)
92. Jesse Kiiskinen, RW, Pelicans (Liiga)
---
Latest News & Highlight
---
93. Connor Levis, C, Kamloops Blazers (WHL) 
94. Jakub Dvorak, D, Liberec, (Czechia)
95. Tuomas Uronen, RW, HIFK U20 (SM-sarja)
96. Rasmus Kumpulainen, C, Pelicans U20 (SM-sarja)
Fourth Round
97. Emil Järventie, LW, Ilves (Liiga)
98. Juraj Pekarcik LW/C, HK Nitra (Slovakia)
99. Cole Knuble, C, Fargo Force (USHL)
100. Jacob Fowler, G, Youngstown Phantoms (USHL)
101. Jaden Lipinski, C, Vancouver Giants (WHL)
102. Tanner Ludtke, LW, Lincoln Stars (USHL)
103. Alex Pharand, C, Sudbury Wolves (OHL)
104. Emil Pieniniemi, D, Kärpät U18 (SM-sarja)
105. Ty Halaburda, LW/RW, Vancouver Giants (WHL)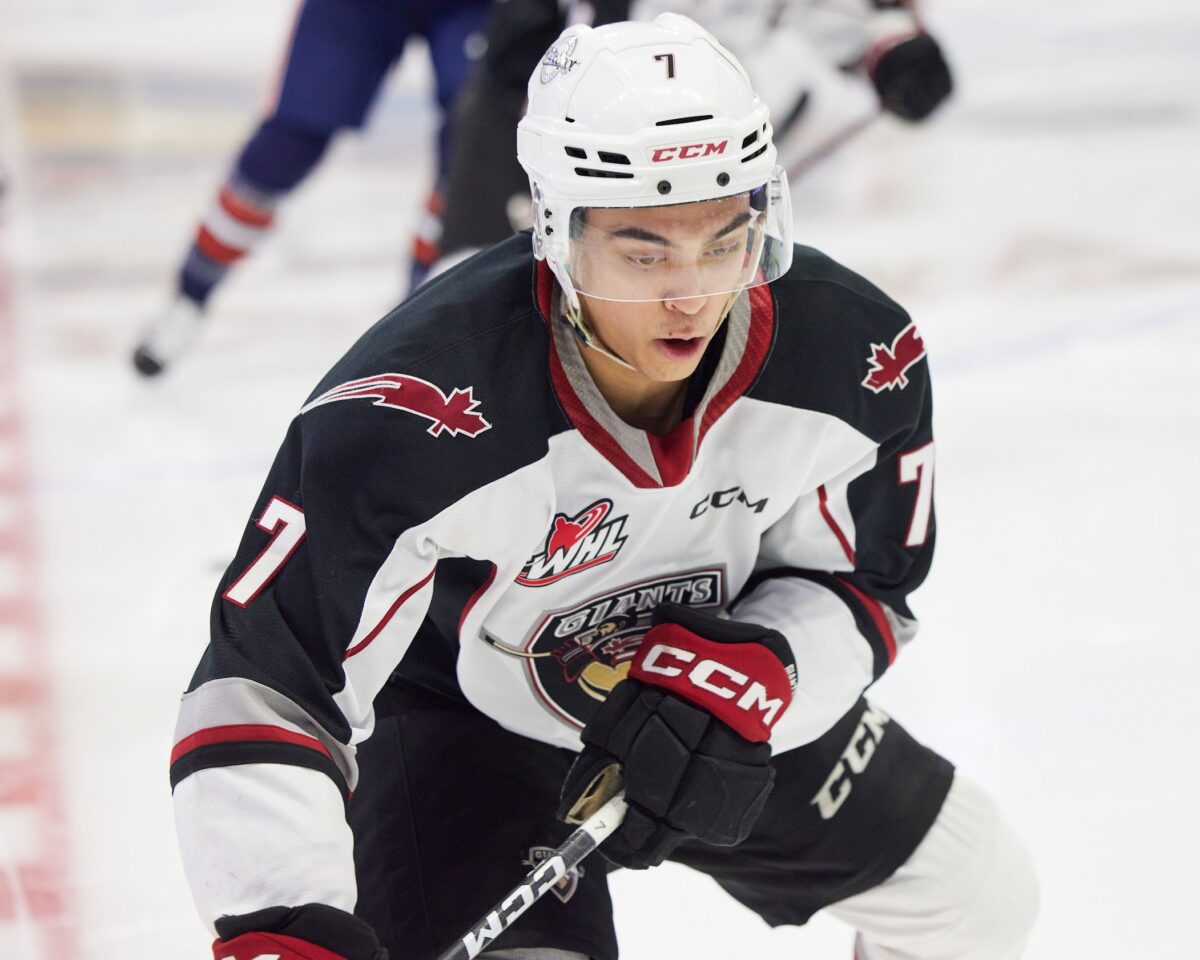 106. Nikita Susuyev, RW, MHK Spartak Moskva (MHL)
107. Tomas Suchanek, G, Tri-City Americans (WHL)
108. Yegor Rimashevskiy, RW, MHK Dynamo Moskva (MHL)
109. Hoyt Stanley, D, Victoria Grizzlies (BCHL)
110. Kalem Parker, D, Victoria Royals (WHL)
Related: 2023 NHL Entry Draft – Top 10 WHL Prospects
111. Yegor Smirnov, C, Almaz Cherepovets (MHL)
112. Cam Squires, RW, Cape Breton Eagles (QMJHL)
113. Quinton Burns, D, Kingston Frontenacs (OHL)
114. Adam Cedzo, LW, HC Oceláři Třinec U20 (Czechia)
115. Jordan Tourigny, D, Shawinigan Cataractes (QMHJL)
116. Matteo Mann, D, Chicoutimi Saguenéens (QMJHL)
117. Niks Fenenko, D, Baie-Comeau Drakkar (QMJHL) 
118. Isac Born, C/W, Frölunda HC (SHL)
119. Tyler Peddle, C/LW, Drummondville Voltigeurs (QMJHL)
120. Arttu Kärki, D, Tappara U20 (SM-sarja)
121. Brad Gardiner, C, Ottawa 67's (OHL)
122. Ryan Conmy, RW, Sioux City Musketeers (USHL)
123. Michael Hagens, D, Chicago Steel (USHL)
124. Kalle Carlsson, C, Örebro HK J20 (Nationell)
125. Yegor Sidorov, RW, Saskatoon Blades (WHL)
126. Jan Sprynar, RW, Rimouski Oceanic (QMJHL)
127. Kristian Kostadinski, D, Frölunda HC J20 (Naionell)
128. Kocha Delic, C, Sudbury Wolves (OHL)