The Montreal Canadiens are in a new era with a complete changeover in their management team. With the hiring of executive vice president Jeff Gorton and general manager (GM) Kent Hughes, team owner Geoff Molson signaled to the fan base that he is taking the franchise into the 21st century.  
The rebuild for the Canadiens will take some time, but Hughes was clear that he will keep it as short as possible, and that the core will be built around the current youth on the NHL roster. That being said, what will the Habs' lineup look like when team captain Nick Suzuki enters his prime at 25 years of age? This would mean that the 2024-25 season is most likely when management wants their Stanley Cup contender status window to open.
Related: Canadiens Need Multiple Plans at Trade Deadline
---
Latest News & Highlights
---
This look ahead at a Canadiens lineup in 2025 will be without adding whoever may be drafted in 2023, which could have a significant impact on team depth, future trades, and if the franchise finally becomes a contender.
Canadiens' Rebuild Approach
"Rebuild" is a word that Hughes has never used to identify his plans, but it's clear the organization is in one. Hughes has never given a timeframe for this process towards building a contending team for that elusive 25th Stanley Cup for the Canadiens. In an interview with Anthony Martineau of TVA Sports, he provides some insight into his desire to keep the time frame for it short.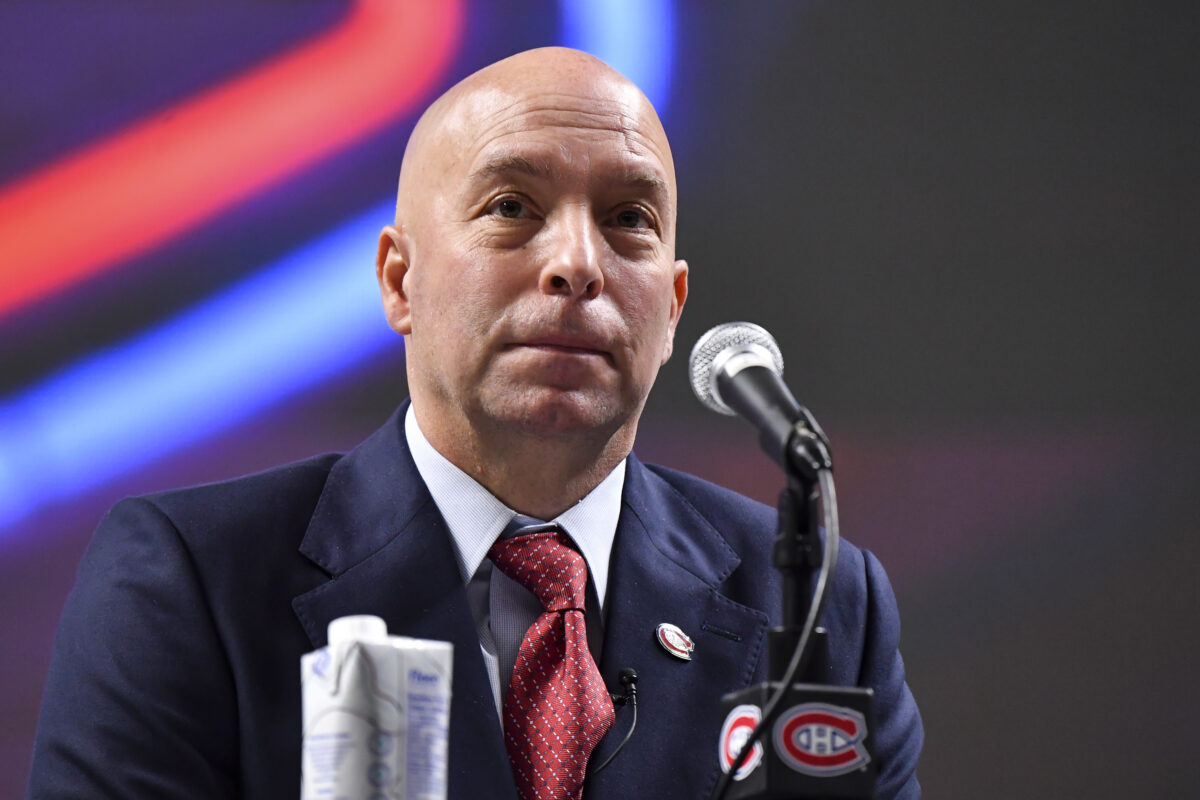 The important aspect of this rebuild is the modernization of the organization. Hughes discussed it in his introductory press conference. In one short sentence, he pointed out the biggest flaw in the organization's hockey operations department, which was focusing on the "what" rather than the "why" of any given problem.
"I don't want us to be an organization that evaluates a player and says, 'He's not performing.' I want to understand why he isn't performing."

-Kent Hughes
Hughes has been very clear that his plan will be heavily based on analytics, which will help repair the biggest competitive deficiency for the Canadiens who had fallen behind the rest of the NHL in the application of advanced statistics, especially in regard to player development. Keeping that point of view in mind, let's discus the lineup when Suzuki is 25 years old.
Canadiens' Future Forwards
The good news is that the Habs will most likely have a top-10 pick in the 2023 NHL Entry Draft, which is filled with high-end talent, mostly at center. More good news, they already have a pairing worthy of a top line in Suzuki and Cole Caufield, whose contract extension will play a significant role in the cap structure for the franchise moving forward. Add in a center in Kirby Dach who, at 22 years of age, has begun to break out, and the franchise has two centers capable of leading an explosive top-six forward group. Currently, the bottom-six center spots are filled by Christian Dvorak and Jake Evans. Yet with the arrival of Owen Beck, it is likely Dvorak will become trade fodder.
Along the wings, the Canadiens have some solid prospects in Juraj Slafkovsky, Filip Mesar, Jesse Ylonen, and Joshua Roy who should all be capable of filling in a top-nine role, providing a mix of skill and size that can all play the game at a high pace. There are some prospects who might be able to play in a bottom six, such as Oliver Kapanen, Luke Tuch, and Sean Farrell, joining a veteran like Brendan Gallagher who will remain as his contract handicaps any chance of his tradability without adding a sweetener. Because of that, his value as a leader will keep him worth retaining.
| | | |
| --- | --- | --- |
| Slafkovsky | Suzuki | Caufield |
| Roy | Dach | Mesar |
| Farrell | Beck | Ylonen |
| Evans | Kapanen | Gallagher |
| Tuch | | |
Anyone currently in the prospect system not listed has either been used as trade bait or is still in a lower league developing their game before they can earn an NHL job.
Canadiens' Future Defense
This is where it gets very difficult to look ahead with a crystal ball as there are several left-handed defensemen jumping out as NHL capable, and even one, Kaiden Guhle, showing he can play on a top pairing as a complementary player to a legitimate top-pair defender. Veteran Mike Matheson will be 30 years old, and capable of supporting a young puck mover like Justin Barron that will be able to be relied upon thanks to those two years of development time.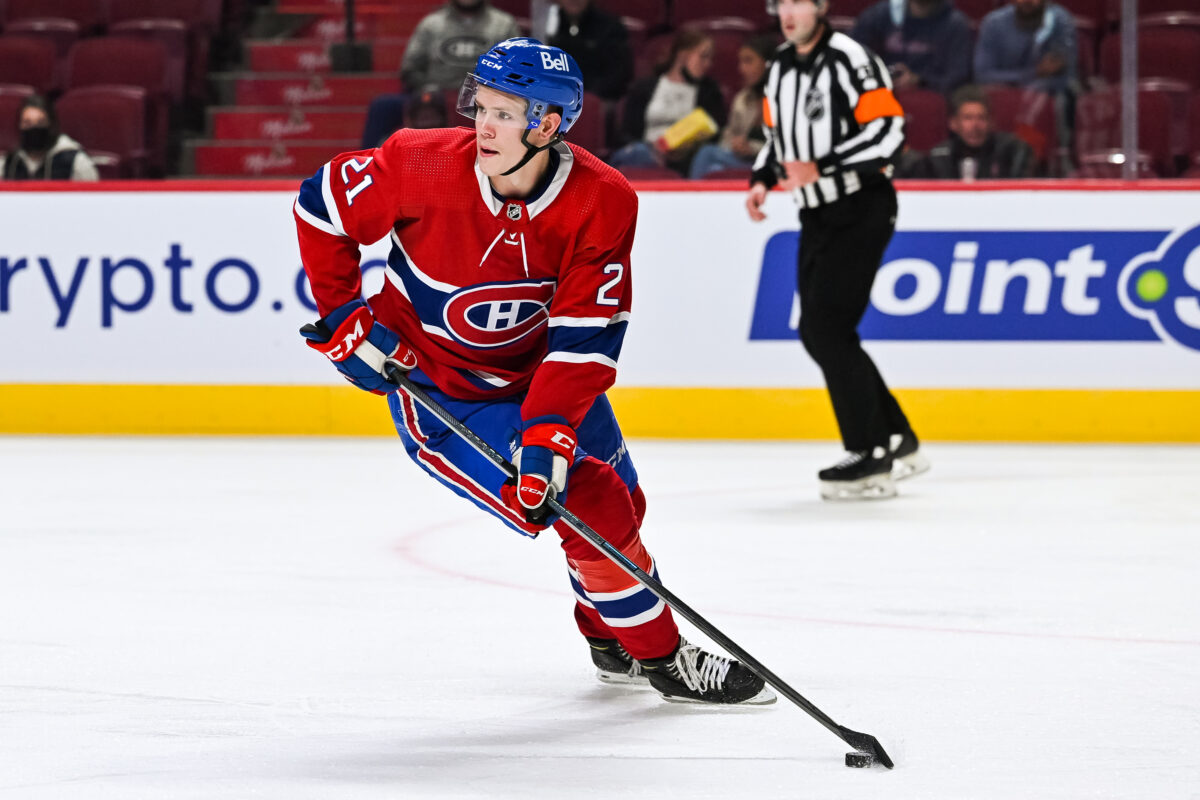 Arber Xhekaj and his ability to play a physical yet highly effective two-way game would be beneficial to supporting an undersized puck mover like Lane Hutson, especially if the NCAA standout is in a rookie season. Jordan Harris' ability to play a quiet yet reliable two-way game on either the left or right side can be an important piece to hold onto as that versatility becomes useful when injuries start to occur.
| | |
| --- | --- |
| Guhle | Barron |
| Matheson | Harris |
| Xhekaj | Hutson |
| Kovacevic | |
| Mailloux | |
Jonathan Kovacevic's arrival as a waiver wire selection was an under-the-radar move that helps to solidify the bottom pairing and depth for the team's blue line. The wildcard is Logan Mailloux, if can he develop into an NHL player in two more years that would help add some size and offense. Despite the depth of defense in the system, the Canadiens still lack a true top defender who can be a foundational defenseman.
Canadiens' Future Goalies
Speaking of wild cards, the Canadiens' goaltending situation is the biggest concern facing Hughes in his attempt to build a contender. The good news on this front is that he doesn't need to find a franchise-level goaltender to be the next Carey Price. He only needs to find a tandem that can provide the team a chance to win every game. With the exception of the Tampa Bay Lightning who has that franchise goaltender, every Cup winner in the last decade has had nothing more than a reliable tandem.
Currently, Jake Allen is the starting goaltender, but in two years is unlikely to still be on hand, and if he is, it would be as a veteran backup goaltender. Samuel Montembeault's game has been growing, and his improvements in technique and athleticism have led to him having a respectable .909 save percentage making him another option as a backup goaltender for a contender.
The system depth chart still has Jakub Dobes and Frederik Dichow. Both have upsides but need several more years to develop. That leaves Cayden Primeau as the more advanced goaltender in the development curve, yet, his inconsistent performances don't have him in the running to be the starter when the contention window should start to open.
By the opening puck drop of the 2024-25 season, the Canadiens should be ready to compete for more than just getting into the playoffs. How close they become to true Cup contenders will rely heavily on Hughes and his ability to trade from positions of strength. The new focus on development based on an analytical approach to complement the eye test should help the Habs go from having only eight players on their opening night roster in 2022-23 to having a roster with a majority of players drafted and developed by the organization, which is the hallmark of every Cup winning lineup in the 21st century.
---
---