The Montreal Canadiens have made a few changes this season, especially to the team's defensive core, with four defencemen traded since last season's trade deadline. They added a center to help in their lack of center depth as well as a couple of wingers to an already crowded position. As a result, there will have to be a move to free up cap space. Whether that comes with a trade or a player going on long-term injury reserve (LTIR) is yet to be determined, but either way, head coach Martin St-Louis will have many choices to make when preparing his lines for next season.
Canadiens' Crowded Wings Will Make Roster Spots Difficult
The Canadiens are in a position where they have too many wingers; not only are there too many, but most are not top-line options. They will start the season with 11, not including anyone who might challenge for a spot on the team from their American Hockey League (AHL) affiliate, the Laval Rocket. Going into camp, they could have as many as 15 players vying for nine spots on the roster, with only eight of those in an everyday role. This number could be broken down even further, with eight players already guaranteed a spot with the other seven battling for just one place on the team.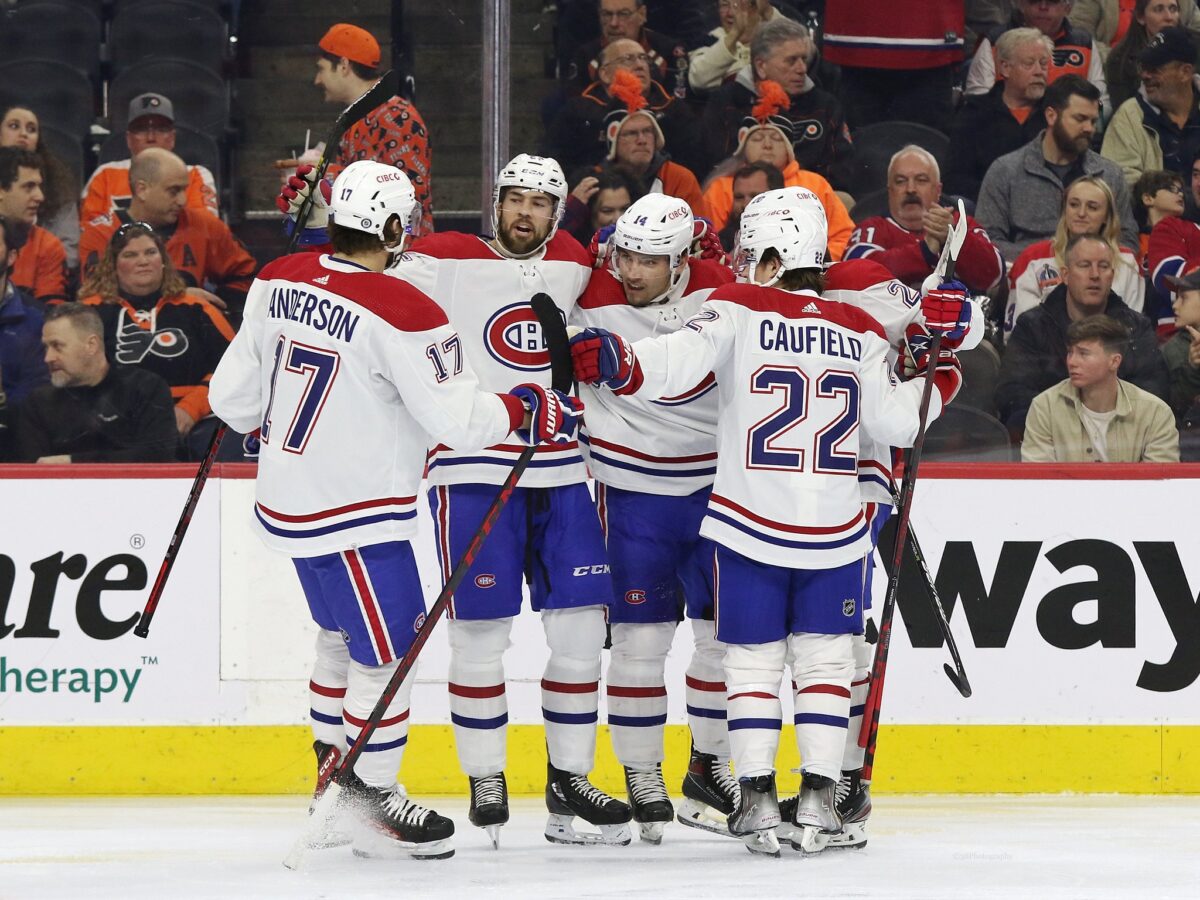 The Canadiens will have Cole Caufield, Brendan Gallagher, Josh Anderson, Joel Armia, Jonathan Drouin, Mike Hoffman, Rem Pitlick, and Evgenii Dadonov who will no doubt have a spot already waiting for them. Paul Byron will most likely go on long-term injury reserve (LTIR), leaving one place available for Jesse Ylonen, Rafaël Harvey-Pinard, Micheal Pezzetta, and first overall pick in the 2022 Draft Juraj Slafkovsky, Joel Teasdale, and Mitchell Stevens. Harvey-Pinard, Stevens and Teasdale are huge long shots to make the team, but Pezzetta, Ylonen and Slafkovsky have a solid chance of being on the roster when the season starts.
Canadiens' Center Depth Pretty Straightforward
The Canadiens have lacked center depth for a few years, and this season will be a little better with the acquisition of Kirby Dach, but not by much. With Dach in the lineup, the Habs will have Nick Suzuki, Christian Dvorak, Dach and Jake Evans as their top four centers, with very little center depth behind them. Ryan Poehling was traded to the Pittsburgh Penguins in the Jeff Petry trade, and that left the team with only four legitimate centers, with Dach still questionable whether or not he will be a long-term center. However, he should get the chance to be one in Montreal.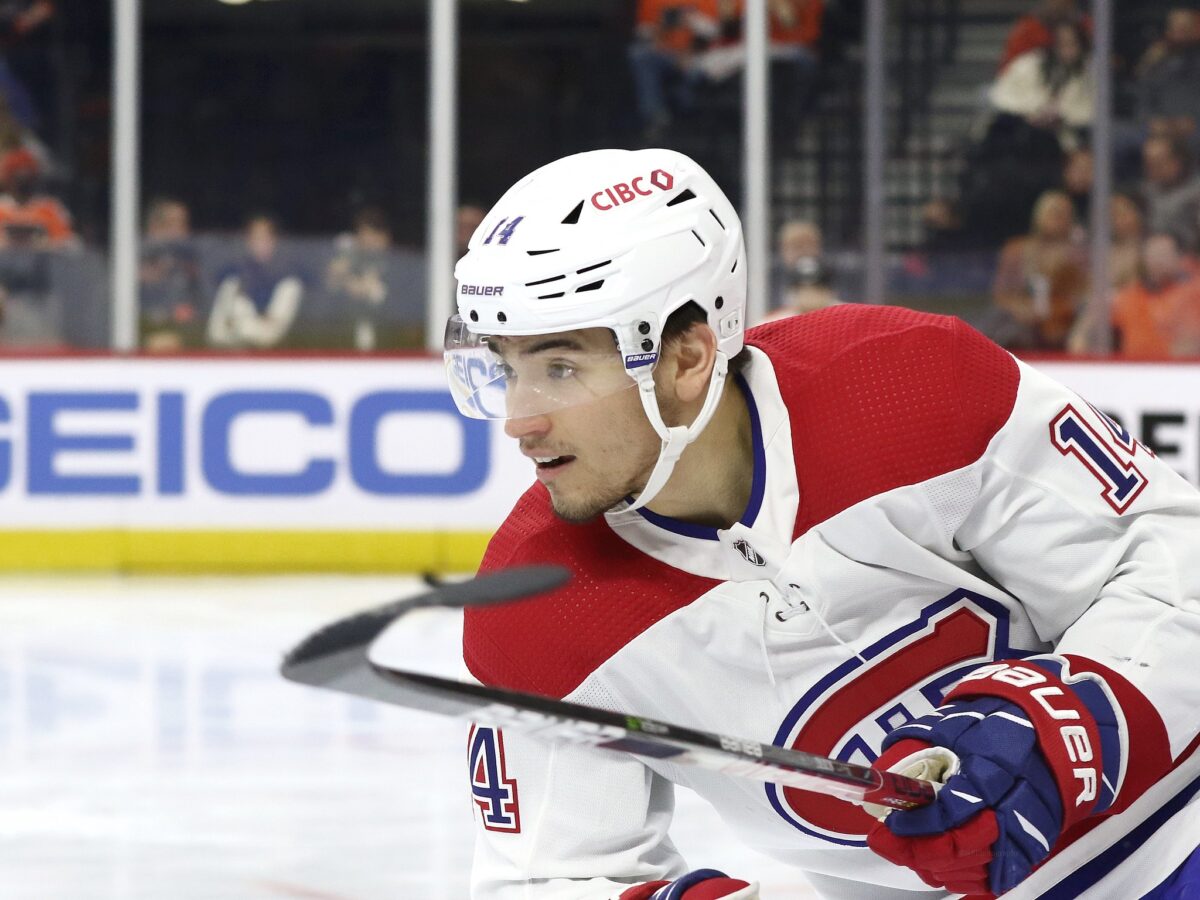 Without much pressure from Laval to take any spots away in Montreal, the center position is set for the Canadiens next season. The question will be, who will be the fifth pivot if needed? Pitlick has some experience in the center position, and so does Byron, but as mentioned before, Byron will probably not be playing for some time. This is where the center depth is lacking for the Canadiens unless they make a move for another one – which is highly unlikely – as they only have Nathan Schnarr, Anthony Richards, and Stephens as well as rookie Cameron Hillis. All four will play for Laval next season, with Hillis most likely spending the entire season there. The only hope is that one of Schnarr, Richards and Stephens becomes the Laurent Dauphin of 2022-23.
Canadiens' Defence Will Look Different
The Canadiens' defence has had almost a complete overhaul since their long playoff run from the season before in 2021-22. Gone are Petry, Ben Chiarot, Shea Weber, and Brett Kulak, giving way to Mike Matheson, Justin Barron, Jordan Harris and Chris Wideman. The team is heavy on left-handed defensemen but lacks any depth on the right side; this could cause an issue next season. On the left side, they have Matheson, Joel Edmundson, Harris, Corey Schueneman, Mattias Norlinder and rookie Kaiden Guhle, while the right side has David Savard, Barron, Wideman and Madison Bowey, who signed with the club this summer.
Related: Canadiens Defence Will Have a Different Look Under Hughes
Fortunately for the Canadiens, they have a couple of left-handed defensemen that can play on the right side as Schueneman, Matheson and Edmundson can all play there if need be, but it is not ideal. They also have Gianni Fairbrother and Otto Leskinen, who can play both sides but will spend most of their season in Laval. Montreal has four roster spots set in stone with Edmundson, Savard, Matheson and Wideman already on the team; Ghule, Norlinder, Barron, Schueneman, Harris and rookie Arber Xhekaj will be battling for the final two or three spots left on the team's back end. So that's five lefties and one righty fighting for one left and one right place on the team next season.
Goaltending will all be determined by whether or not Carey Price is healthy to start the season; if he is, then it will be Price and Jake Allen handling the goaltending duties. If Price isn't ready to go, it will be Allen and Sam Montembault, with Cayden Primeau in Laval if he needs to be recalled to the NHL.
Canadiens Predicted Lineups
The lineups will likely not have many young players, especially at forward. With a glut of veterans on the wing, there isn't much room for a young player to get into the lineup, at least until the trade deadline when some of the expiring contracts are moved off the team or injuries start piling up. The defence will be young and inexperienced but have a nice mix of veterans to guide them during the season; here is what the lineups could – and probably will – look like this upcoming season:
Forwards
Slafkovsky – Suzuki – Caufield
Drouin – Dvorak – Anderson
Hoffman – Dach – Gallagher
Dadonov – Evans – Armia
Defence
Matheson – Savard
Edmundson – Barron
Harris – Wideman
Goaltending
Price – Allen
Extra
Pitlick – Pezzetta – Schueneman
Slafkovsky may only play the first nine games or not play in the NHL next season and the young defenders like Harris and Barron could rotate in and out of the lineup with Schueneman. Ghule will probably also get some NHL experience but probably not right away. Training camp will determine whether or not Ghule and Slafkovsky are in the NHL; if Slafkovsky doesn't make it, then Pitlick will get into the lineup on the third line, as Jonathan Drouin will get his chance to play with the dynamic duo of Suzuki and Caufield.
This of course could all change with injuries, trades and of course at the trade deadline when players like Drouin and Dadonov are moved. Byron could also come back at some point, but his contract is over at the end of this season, so if he is healthy, he will probably be traded as well. Of course, everyone will have their views of the lineup, so feel free to let us know what your lines will look like.
---
---