Tampa Bay Lightning defensemen Victor Hedman, Mikhail Sergachev, and Erik Cernak have all won back-to-back Stanley Cups. You can add new Lightning defenseman Ian Cole to that rare list, as he was instrumental in helping the Pittsburgh Penguins win back-to-back Cups in 2016 and 2017. Now, the hard-working 33-year-old from Ann Arbor, Michigan, will be shoring up the defensive holes left by the losses of Ryan McDonagh and Jan Rutta, and the short-term absence of Zach Bogosian. Joining Cole are newly-acquired defensemen Philippe Myers and Haydn Fleury as well.
Can the Lightning's proven veterans, along with the three new defensemen and Cal Foote, who is starting his third year with the team, improve upon last season's defense and make it back to the Stanley Cup – and win it? One thing is for sure, the new players are defensive-defensemen, so what McDonagh and Rutta occasionally brought to the scoresheet may not be what Cole, Myers, and Fleury bring in 2022-23. However, if you ask goalie Andrei Vasilevskiy, he'll be more impressed with their shot blocking and goal crease awareness than shots on goal. They have offensive superstars to cover that area, after all.
Welcome to Tampa Bay
The Lightning now have a nice mix of younger defensemen along with proven veteran talent. Let's examine the newest members of Tampa's defense.
When Lightning general manager Julien BriseBois traded McDonagh to the Nashville Predators, he acquired Myers, a 6-foot-5, 210-pound defenseman. At 25 years old, he has played 142 career NHL games. He also has some postseason experience, playing 16 games with the Philadelphia Flyers in 2020, where he scored four points and had 50 hits. The Flyers then traded him the following season to the Predators where he ended up only playing 27 games but recorded 50 hits and 17 blocks.
Now, no one is imagining that Myers will take over for McDonagh, or even Rutta. He just doesn't have the experience of playing as a top-four defenseman. However, with his size, he can be a presence on the ice for penalty kills and puck retrievals.
Related: Lightning's 2022 Draft Recap: Another Classic BriseBois Class
When the announcement was made that the Lightning had signed Cole to a one-year contract worth $3 million, fans took notice. Having played against him as a member of the Carolina Hurricanes, the Lightning players, coaches and fans are not under-estimating the 6-foot-1, 225-pounder. Drafted 18th in the first round of the 2007 NHL Draft by the St. Louis Blues, he went to Notre Dame, where the team went all the way to the Frozen Four championship. Leaving the Fighting Irish before his senior year, he signed with the St. Louis Blues and shuttled between the American Hockey League and the NHL for three seasons. In 2014-15, the Blues found a permanent roster spot for him, where he spent five years playing 167 games before being sent to the Pittsburgh Penguins.
As a member of the Penguins, Cole had a breakout season in 2016-17. The dependable defenseman missed only one game during the regular season and scored five goals and added 21 assists. He also logged 1,605 total minutes while blocking 194 shots and administering 164 hits to get his team into the playoffs and eventually win their second Stanley Cup. His durability is exactly what the Lightning need to complement their top two defensive pairings.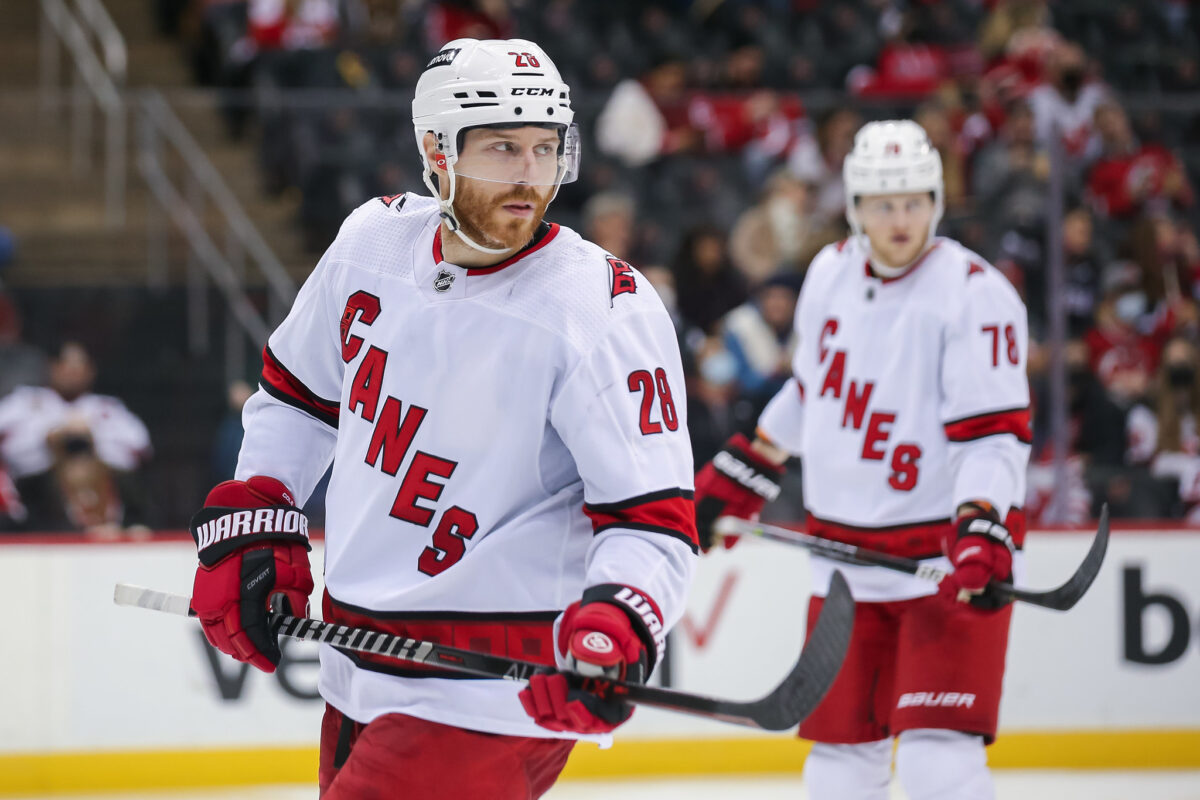 To compete next season, BriseBois needed to add depth to his defensive corps, and he did so by adding Fleury. He is a 6-foot-3, 208-pound Saskatchewan native, whose tour through the NHL has seen him go from the East Coast to the West Coast, collecting 215 career games along the way. He was drafted by the Hurricanes with the seventh-overall pick in the 2014 NHL Draft and spent four seasons with the team, appearing in 17 playoff games before being traded to the Anaheim Ducks in 2021.
The Ducks left Fleury unprotected, and he was selected by the Seattle Kraken in the 2021 Expansion Draft, where he played 36 games and had 62 blocked shots and 60 hits during their inaugural season. Then, the Lightning signed him as a free agent this offseason to a two-year contract worth $762,500. At 26 years old, he should be hitting his prime, but he has yet to play a full season in the NHL. Although how much ice time he will see this season may depend upon Myers' integration into the lineup and the timetable for Bogosian to return from surgery.
Lightning's 2021-22 Defense
The Lightning are fortunate to secure some top-notch defensive players that may help the team advance to their fourth consecutive Stanley Cup Final this season. Even though the team has enjoyed a lot of success, there was some concern about the Lightning's defense going into last season's playoffs. Critics noted that the defense was not as good as they had been in their two Stanley Cup-winning seasons. As was well publicized during the 2022 Playoffs, it wasn't for a lack of effort, as players sacrificed their bodies blocking shots and forechecking – and McDonagh and Cernak were often the recipients of many blocked pucks that took them off the ice for extended periods of time.
For example, when Brayden Point went out with an injury in the first round of last year's Stanley Cup Final, coach Jon Cooper often started seven defensemen and only 11 forwards. It proved to be a smart move when defensive players rotated in and out of the locker room to attend to various injuries—often from blocked shots. Cernak, who is one of the Lightning's toughest players, had to leave Game 4 of the Stanley Cup Final because of a lower-body injury from blocking a shot from the Colorado Avalanche's Nathan MacKinnon.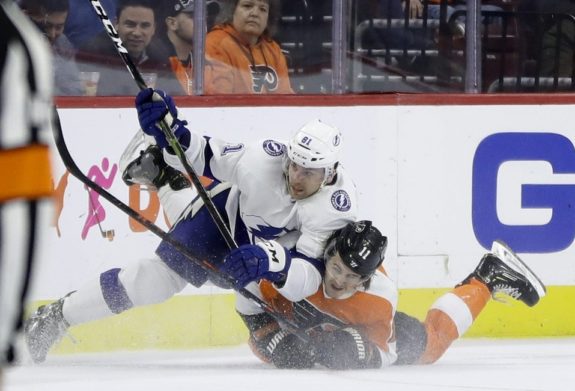 However, even with tremendous effort and contributions from the entire defensive unit last postseason, the Lightning's defense was not as good on the penalty kill, stopping only 78.1% of opposing power plays. In the previous two seasons, when they won the Stanley Cup, their penalty killing percentages were at 82.9% and 80.9%, respectively. Of course, this could be attributed to the fact that they faced tougher offensive opponents last season in the Toronto Maple Leafs, Florida Panthers, New York Rangers and Avalanche, who were all among the top power-play units in the NHL during both the regular season and postseason.
Help for the Veteran Players
If the Lightning hope to extend their playoff streak, they're going to need more than Hedman, Sergachev and Cernak. Fans are waiting for Foote, the 6-foot-4, 227-pounder to take on a larger role with the team. For the past two seasons, he has averaged around 13 minutes per game. Drafted in the first round by the Lightning in 2017, 14th-overall, he is only 23 years old and has played in 91 career regular season games. By comparison, Sergachev is one year older and has already played 362 regular season games, and Cernak, who is 25, has 226 regular season games under his belt. Foote has great potential, and the team needs him to continue progressing. He played well at home in Game 6 of the Stanley Cup Final against the Maple Leafs, where he had over 20 minutes of ice time, three hits, three blocks and two shots on goal in the Lightning's overtime win to force a Game 7.
Now that defensemen Sergachev and Cernak are signed to long-term contracts and Victor Hedman is signed through 2025, the Lightning's revamped defensive unit is in a good position to help the team reach the postseason again. Cole should see plenty of ice time, and he has proven that he can handle the workload. With veteran leaders, the younger players who have logged less ice time during their careers, can benefit from being on a team with a history of winning.
Fans will have to wait to see if the Lightning will be better defensively than they were last season now that the team lost two integral players in McDonagh and Rutta. The offensive production of McDonagh will be hard to replace and so will his leadership skills on and off the ice. However, with coach Cooper's emphasis on defense, the players should rise to the challenge.
---
---
---
Latest News & Highlights
---